Special Edition Tour de France News, July 18, 2008
Edited by Laura Weislo & Ben Abrahams
Millar: 'Riccò was too good to be true'
By Gregor Brown in Narbonne
Riccò - too good to be true?
Photo ©: AFP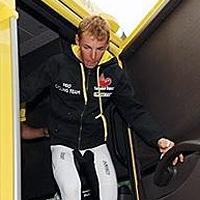 David Millar has said his former team-mate Riccardo Riccò was "too good to be true" following the surprise announcement Thursday morning that Riccò had been kicked out of the Tour de France for failing a drugs test for Erythropoietin (EPO).
"It is bullshit... I think it's unfortunate that when things look too good to be true, generally they are too good to be true - and he did look pretty f***ing good," Millar told Cyclingnews. "It is just amazing that he is that irresponsible and doesn't have any love or care for the sport."
Millar himself returned to racing after serving a ban for EPO use, but since his return in 2006 the Scot has been an outspoken advocate for clean cycling. He raced for two years in the same team as Riccò, Saunier Duval, before switching to Garmin-Chipotle at the beginning of 2008.
"Maybe there is someone behind Riccò who has told him he won't go positive," added Millar. "We need to find out who is behind this, where is he getting his stuff from and who the f*** has told him he can get through controls. It is just bullshit."
At last year's Tour, the news of Alexandre Vinokourov's dismissal affected Millar in a similar way. He believes the sport will change, but it will take time.
"It is not going to happen overnight, this is going to take years. There will be a positive next year - no doubt - and the year after. The bottom line is that teams like ours are changing it. One day there will be 20 teams here with the attitude we have. At the moment, we only have three teams that are really like us - Columbia and CSC - that is not enough, every other team needs to be doing what we are doing."
Millar's Garmin-Chipotle team, Columbia and CSC-Saxo Bank use independent internal testing programmes that are designed to closely monitor the health of their riders and detect any abnormal or suspicious activity.
Prior to Riccò, this year's Tour has seen tests failed by Liquigas' Manuel Beltrán and Barloworld's Moisés Dueñas, all for the same form of EPO. Beltrán, at 37 years old, was considered one of cycling's 'old guard' and the hope was that cycling was moving in a new direction. However, the failed test of 24 year-old Riccò, who shot to fame in 2006 after defeating Paolo Bettini in a stage of the Settimana Ciclistica Internazionale Coppi-Bartali, appears to shoot holes in this theory.
Coming up on
Cyclingnews will cover the 60th edition of the Dauphiné Libéré live as of stage 4 on Wednesday, June 10, at approximately 15:00 local Europe time (CEST)/ 23:00 Australian time (CDT)/ 9:00 (USA East).

WAP-enabled mobile devices: http://live.cyclingnews.com/wap/

"They have this culture embedded in them and they honestly believe it is not possible to do these things without [doping] and it is sad," Millar continued. "They are in teams or have been with people from a young age that have told them that the only possible way to do it is to dope - that is just not true.
"You see that Christian [Vande Velde] is third overall and he is doing it without injection, without anything. He is as clean as can be and he is third overall. If you can't do it like Christian then you are not good enough and you don't need dope, and it is as simple as that.
"There is no model, it is difficult to accuse someone due to their up bringing, it is also the circumstances and the people around them. I think Beltrán and Riccò, maybe they have just surrounded themselves with the same people - the ones that are convinced you can't do it without taking drugs."
However, Millar believes that Mauro Gianetti, Saunier Duval's team manager, has good intentions and Riccò was more likely misled by others.
"I think that Mauro Gianetti has been taken advantage of and he is someone I have a lot of respect for," said Millar. "He does not deserve this and he has a good heart. He has perhaps put a lot of trust in people that he shouldn't have and he will learn from this.
"I guarantee - you watch Mauro - he will have an independent anti-doping programme within the team by the end of the year. He was close to doing it last year, and now he is going to have to extend his budget and get that programme in place. It is by doing that the sport will change."
WADA ahead of the curve with Mircera
By Laura Weislo
The World Anti-doping Agency (WADA) has been working with drug makers to develop new tests for potential performance enhancing drugs before they can make their way into the peloton, the agency spokesman told Cyclingnews Thursday.
That fact became clear when news broke that Riccardo Riccò had failed a doping control at the Tour, and it was revealed that the drug which was found in his system was a third-generation EPO with the trade name Mircera. The drug, also known generically as CERA (Continuous Erythropoietin Receptor Activator), was only approved for sale in the United States last year (although patent disputes are blocking its distribution), and was made available in Europe at the start of 2008.
CERA is the latest form of EPO, and is similar to the previous drugs, except that it is connected to a chemical called polyethylene glycol (PEG), which makes it last longer in the body. The drug was rumoured to be blocked from the kidneys due to its size and therefore undetectable by urine-based doping controls.
WADA's spokesman, Frédéric Donzé, said that the news of Riccò's positive test "is a further indication that the net is closing on those athletes who still take the risk to dope".
Donzé revealed that the agency had worked with the drug's manufacturer, Roche Pharmaceuticals, to learn of new potentially performance enhancing agents and to develop tests for them before they can enter the market and be used by athletes.
"This case shows the significant work that WADA conducts in anticipating doping trends, including by closely cooperating with pharmaceutical companies at very early stages of the development of molecules or substances for therapeutic purposes to develop detection methods for anti-doping purposes.
"WADA is very much aware of the development of new EPOs and bio-similar EPOs in an expanding market," he said. "A number of these new EPOs and bio similar EPOs are well known and can be detected through current tests."
He was able to confirm that co-operation in the case of Mircera has enabled its detection by WADA-accredited laboratories. "Thanks to the co-operation of the manufacturer of this substance (Roche) and of WADA-accredited laboratories, WADA received the molecule well in advance and was able to develop ways to detect it.
"WADA will continue to further enhance its detection methods for EPO as it does with every test, in order to further maximize chances of catching cheaters."
Saunier Duval-Scott stops racing, Riccò in custody
The Saunier Duval team did not start stage 12.
Photo ©: AFP

Following the announcement that its rider Riccardo Riccò had failed a doping control, Saunier Duval-Scott withdrew from the Tour de France and has voluntarily suspended itself from competition, the team announced Thursday. The team was informed "an hour before the start" of stage 12 by the French anti-doping agency AFLD that Riccò had failed a test conducted after the stage four individual time trial.
A statement from the team said, "Although the Tour organisers allow teams to continue to participate after a positive test, given Riccò's important role to the team in the race, Saunier Duval-Scott have decided to withdraw in order to preserve the positive image of the team's sponsors and the Tour de France itself."
The team also suspended Riccò pending the counter-analysis of his B sample, and ceased all competition, not just its participation in the Tour, "until this unfortunate incident is clarified."
The team had not originally scheduled the young Italian to compete in the Tour de France, but Riccò was brought in as a late addition at the rider's request. The team's directeur sportif Pietro Algeri expressed his disappointment. "Mauro Gianetti and I did all of this work to be here, and now this happens," he told Cyclingnews. "It is a catastrophe."
Meanwhile, Riccò remains in the custody of French police at Mirepoix, around 20 kilometres north of Lavelanet where he was initially arrested on Thursday morning. According to l'Equipe, the Italian was questioned around 13.00 local time and is expected to spend Thursday night behind bars.
Duenas carried "a small pharmacy"
Moises Dueñas Nevado (Barloworld)
Photo ©: Roberto Bettini

Barloworld rider Moises Duenas, who was removed from the Tour de France after he failed a doping control for EPO, was found to have not just some doping products, but a "small pharmacy" in his room, AFP reported Thursday. Duenas appeared before a French court in Tarbes Thursday to face criminal charges for "use and possession of plants and poisonous substances".
Prosecutor Gerard Aldige described the items uncovered in the rider's belongings, "In the cupboard and among the rider's personal belongings gendarmes found many things including medical material," adding that "syringes, needles and blood bags" as well as "a multitude of other products .. in liquid and sachet form" were seized.
Duenas could face up to two years in prison and a 3,750 euro fine, and because one of the drugs found was not authorized for import into France, he could get an additional three years for illegally bringing it into the country.
Barloworld team manager Claudio Corti, speaking before the start of the 12th stage in Lavelanet on Thursday, denied all knowledge of the discovery and said he had yet to speak to Duenas.
While the Saunier Duval-Scott team withdrew its entire team from the race after Riccardo Riccò failed a doping control, the Barloworld manager Claudio Corti insisted that his team will remain in the race. The squad is down to just four riders after the injuries of Mauricio Soler, Felix Cardenas, Paolo Longho Borghini, and the abandon of Baden Cooke on Thursday's stage.
"If he (Duenas) is the only one implicated then why should the whole team pay for it? We are cooperating and trying to deal with this together," Corti said. "If it turns out that Duenas has been doing all of this behind our backs, then we will start proceedings against him."
Are anti-doping authorities "winning the game"?
By Laura Weislo
In the hours after the news of Riccardo Riccò's failed doping control, ASO president Patrice Clerc declared that this news, and the positive tests of Manuel Beltran and Moises Duenas serve as proof that the anti-doping authorities are beginning to "win the game". Yet the number of doping cases has nearly equalled that of last year's Tour - how is the game being won?
After last year's Tour fiasco, where the leader of the race, Michael Rasmussen, was removed for lying to anti-doping authorities about his whereabouts prior to the Tour, and prominent riders Alexandre Vinokourov and his team-mate Andrey Kashechkin were declared positive for blood transfusions, the riders must have been prepared for stricter doping tests.
Several teams, Team Columbia, CSC-Saxo Bank and Garmin-Chipotle have instituted strict anti-doping programs in addition to the normal testing, and the UCI has stepped up its game by instituting the so-called biological passport. Both the team programs and the UCI's passport use a process known as 'longitudinal testing' to look at a rider's blood values over time. In this way, the tests can detect the effects of doping, rather than having to rely on testing for specific drugs.
Using this method, it was thought that the testers could stay ahead of the cheats by being able to detect doping by looking for fluctuations in a rider's haematocrit, or the volume of red blood cells in a rider's blood. Red blood cells carry oxygen from the lungs to the rest of the body, something that is very important for a cyclist.
EPO, or Erythropoietin, is a natural protein hormone which stimulates red blood cell production, and riders took to using the synthetic versions of the hormone in the 1990's as a means to improve oxygen carrying capacity. This allowed a significant performance boost, but anti-doping authorities only developed a test for the synthetic EPO in advance of the 2000 Olympic Games. Until then, and even now, riders are checked for haematocrit, and are held to a limit of 50% (the normal range is between 34-48% for men).
Some riders can have a naturally high haematocrit value, and can show the UCI a history of their blood values and be given a certificate which allows them to escape the normal 14-day stop for too-high values. Ironically, Riccó has such a certificate, and has claimed to have had a high haematocrit since he was young.
Why Mircera?
The first generation of EPO drugs such as Epogen and Procrit were made by pharmaceutical companies by putting the human gene for EPO into animal cell cultures. The animal cells changed the protein in a way that made it distinguishable from the body's normal EPO, allowing anti-doping experts to easily detect it. Second generation drugs like Dynepo were manufactured in human cells, making the process more difficult.
With both first and second generation drugs, the injectable hormone was used up by the body very quickly, disappearing from the system in a matter of hours or days. The effect of the drug would not be seen in mature red blood cells for several weeks, so testing at a race was unlikely to uncover its use. Once the use of the drug was stopped, a rider's haematocrit would fall back to normal over time.
The fluctuations in a rider's haematocrit as well as in other blood parameters such as the percentage of new red blood cells to mature ones could give a clear signature in the biological passports. The third-generation of EPO, the new drug called Mircera, or CERA, which was made commercially available only this year, has a much longer survival rate in the body. Instead of 8 hours, its half-life is 130 hours, so instead of having to inject every other day, a rider would only have to use the drug every two weeks or every month to keep his red blood cells high.
This could also mean his blood parameters would be less likely to raise suspicion in longitudinal testing, which would be a blow to the biological passport proponents. But, if confirmed in the case of Riccò, the testers are ahead of the game and are apparently already detecting it in riders.
(All rights reserved/Copyright Future Publishing Limited 2008)