Tour de France Cycling News, July 8, 2008
Edited by Greg Johnson
French cycling revived with Dumoulin win
By Brecht Decaluwé in Nantes
Samuel Dumoulin (Cofidis) took a brilliant win in Nantes
Photo ę: AFP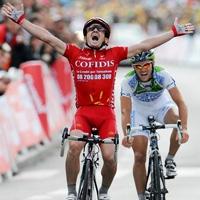 The third stage of the Tour de France became a glorious day for French cycling. A stage win and a yellow jersey were the result of a well timed attack that included Samuel Dumoulin and Romain Feillu. Dumoulin secured his first stage win in the Tour de France, while Feillu's third place on the stage was enough to give him the overall lead, the first time since Cyril Dessel took yellow on stage 10 in 2006. During the post race press grill the French journalists couldn't hide their emotions with a big round of applause for the heroes who have put France back on the map of cycling.
The two new French stars embraced stardom by successfully rounding up a breakaway attempt that took off after just one kilometre of racing. While some riders expressed their aversion towards the region of Brittany, both Feillu and Dumoulin will always look back with a smile on the face when they think about this unique French region.
Coming up on
Cyclingnews will cover the 60th edition of the Dauphiné Libéré live as of stage 4 on Wednesday, June 10, at approximately 15:00 local Europe time (CEST)/ 23:00 Australian time (CDT)/ 9:00 (USA East).

WAP-enabled mobile devices: http://live.cyclingnews.com/wap/

"When we left I thought we had only 5 percent chance of making it to the finish," Dumoulin said. "I was a bit frustrated as I had been feeling bad throughout the first days, and decided to have a go anyway because it's better to ride up front in these nervous stages than in the peloton. When there were less than 50 kilometres to cover I started to believe we would make it."
Dumoulin's breakaway companion, Feillu was more upbeat about their chances of success. "Right from the start! I believed in it all day long," he declared to the delight of the Frebch press. "I knew I had a good chance to take the jersey if we made it, as I was only trailing Valverde by 18 seconds.
"The co-operation was good. We could [all] communicate as Frischkorn spoke French. With Paolo we could talk in Spanish. We decided not to go full out, in an attempt to keep control over the peloton. We knew there was a tailwind in the final twenty kilometres that offered us a chance to stay away," explaining the tactics during the breakaway attempt.
To read the full report, click here.
McEwen disappointed with day three
By John Trevorrow
Robbie McEwen (Silence-Lotto) out-sprinted birthday boy
Photo ©: Roberto Bettini

Australia's Robbie McEwen has put the third stage's successful breakaway down to the composition of teams in this year's Tour de France. With no teams built completely around a sprinter, the peloton is struggling to take control and chase down breakaways, according to the Silence-Lotto rider.
"I really don't know, they all just sitting there looking at each other," he said. "I said this to a few guys before the start of the Tour. There aren't any teams that are completely built around a sprinter. Some teams are split with general classification guys and a sprint train but there's no one to do the 'shit' work if you like."
McEwen was referring to the third stage's successful breakaway, which saw four riders go away in the first kilometre and hold their lead through to the finish. Samuel Dumoulin (Cofidis) won the sprint out of the reduced group, which managed to hold two minutes of its lead - which had blown out to 15 minutes - to the finish in Nantes.
"They then have to decide who's going to do the work and who's going t sit behind and by the time they sought all that out the break's got 15 minutes and your just nor going to catch it," added McEwen.
The Australian was disappointed with the outcome of the day. McEwen had been hoping for a sprint finish to stretch his legs, after multiple crashes prevented him from being a contender on the previous day's stage.
"I felt really good today, it's just a shame I wasn't sprinting for a stage win," he said.
McEwen claimed the bunch sprint for fifth place, 2.03 minutes behind the stage winner.
Valverde: Sprinters missed their chance
Race leader Alejandro Valverde (Caisse d'Epargne)
Photo ©: AFP

Tour de France contender Alejandro Valverde (Caisse d'Epargne) believes the sprinting teams missed their chance on Stage 3 of the Tour de France. Valverde's Caisse d'Epargne squad was happy to let the yellow jersey go to the breakaway of riders, who won't pose a general classification threat once the mountains arrived.
The Spaniard was however surprised that the sprinter's teams didn't work on the front sooner to set up a sprint finish. "One more time, the stage was hard because of the wind," he said. "We controlled the race in its first part. In the final, we thought that the teams of the sprinters would co-operate some more to chase behind the breakers but they did not seize the opportunity they had to win a stage, despite the fact that the course suited them perfectly.
Valverde expected to lose the yellow jersey on this week. As soon as the peloton crossed the start line on the third stage a group of four got away, and managed to stay down the road through to the stage finish.
"We knew that if it was not today we were supposed to lose the yellow jersey [we would] tomorrow, so that does not change a lot of things for us," he said. "For me the goal was to start later than the other big favorites tomorrow so that I can be informed of the gaps during the race and it will be the case."
The Spanish rider believes the time trial will be suited to his style. Valverde has already contested the course once, in the Cholet-Pays de Loire earlier this year.
"I think it is a good one for me," he said. "Not too long, with less than 30 kilometers and rather technical. The kind of time trial I like."
Frischkorn: Tour not just another race
By Gregor Brown in Nantes, France
United States of America's William Frischkorn (Team Garmin-Chipotle p/b H30) came tantalizingly close to taking a stage win in his first Grand Tour, the third stage of the 95th Tour de France. The 27 year-old formed part of a four-man move that went clear within the first kilometre and managed to stay until the end, where he was bettered by Frenchman Samuel Dumoulin (Cofidis).
"I think that today it felt like it was just not another race," Frischkorn examined on the Quai de la Fosse finishing straight.
The escape - also including Paolo Longo Borghini (Barloworld) and Romain Feillu (Agritubel) - gained nearly 15 minutes on the maillot jaune group of Alejandro Valverde (Caisse d'Epargne). The gap was pulled back down to two minutes at the finish, but it was enough for Frenchman Feillu to take the race leader's yellow jersey.
"I think about 50K to go, when we had eight minutes, I knew we had a good chance," Frischkorn said of the stage that crossed the gusty Briton landscape in northwestern France. "The directeurs said 'if you can have three minutes with 10 kilometres to go then you have it, once you get that tailwind'."
The harmony of the group broke down after it passed the two-kilometre marker. Dumoulin opened the attacks by firing on Rue Sembat, at 1500 remaining. Frischkorn bridged and the duo briefly held a lead until Feillu came across.
The new race leader Feillu took a small gap that Frischkorn tried to close. "I had thought of attacking right when the first attack went [by Dumoulin], but my directeur was in the ear-piece saying 'don't pull now, careful of Dumoulin'," he added. "I led Dumoulin back on unfortunately, I should had forced him to chase.
"So close," he smiled. "It was exiting, but very disappointing at the same time."
He realised that he proudly represented his team, who is competing in its second Grand Tour. Team Garmin-Chipotle p/b H30 recently contested the Giro d'Italia, where it led the race with Christian Vande Velde after winning the team time trail in Palermo.
"It was great for the morale and the team, but a stage win would have been cool," he added.
Menchov loses time, as does Ricc˛
By Shane Stokes in Nantes, France
Menchov and Riccò did not look happy
Photo ©: Roberto Bettini

Last year's Vuelta a Espa˝a winner Denis Menchov came to the Tour de France hoping to improve on his sixth place in 2006. However the Russian lost time to the other general classification winners when the peloton split towards the end of the stage to Nantes. He finished 38" behind the Alejandro Valverde (Caisse d'Epargne) group, which was itself 2'03" adrift of the stage winner Samuel Dumoulin (Cofidis), Will Frischkorn (Garmin Chipotle) and the new yellow jersey, Romain Feillu (Cofidis).
Menchov had talked briefly to journalists at the start of the stage, and was asked then if victory in the stage four time trial was possible. "It is important for everybody," he said. "I don't know if I can win it, it is hard to say.
"For me, the most important thing is to do it well against the other GC contenders, as for sure there are other riders who are specialists in time trials," he added.
It was put to him that if he won the test, he could well find himself in the yellow jersey. "If that happened, it would be a good sign to get it earlyůbut there are many tough stages to come," he said.
Menchov is still in with a chance of the victory, but losing so much time on Stage 3 makes it unlikely that he could take the maillot jaune on Tuesday. His general classification chances are not over, by any means; however he'll need to ride well then and in the first mountain stages to get back on terms with the other race favourites.
Fortunately Menchov seems happy enough with his form. "I am feeling okay," he said. "Normally I ride well in the second Grand Tour [of a season]."
Several other big names also finished in the Menchov group, amongst them Riccardo Ricc˛ (Saunier Duval), Philippe Gilbert (Franšaise des Jeux), Tour de Suisse winner Roman Kreuziger (Liquigas) and AG2R La Mondiale's general classification hope Cyril Dessel. Ricc˛ is not known for having a particularly charismatic nature, although it's understandable why he wasn't in the best of spirits at the end.
When asked his reaction to losing time, he played down the significance of that. "Perhaps you journalists don't understand that I am not here to work for the classification," he snapped. When it was pointed out that Saunier Duval were chasing hard at the head of his group, he claimed it was for team-mate Juan Jose Cobo.
Menchov's general classification rival Cadel Evans (Silence-Lotto) was happy to learn of the buffer created on Stage 3. "Any seconds you can gain in this period, or rather not lose any, is always the idea of this first week," said Evans. "All day blowing crosswinds like crazy then finally Quick Step took the initiative to split it. That was an advantage to Devolder of course but also an advantage for us."
Hinault takes down French protester
By Gary Boulanger, Bikeradar.com
But the Badger quickly showed him
Photo ©: Roberto Bettini

Although Bernard Hinault was the last Frenchman to win the Tour de France in 1985, the 53-year-old from Brittany, nicknamed 'the Badger' for his tenacity on and off the bike, hasn't lost his fire. One famous quote from his racing days sums it up: "As long as I breathe, I attack".
Now a public relations man with Amaury Sports Organization (ASO), which runs Paris-Roubaix and the Tour, Hinault, on the podium in Nantes while Stage 3 winner Samuel Dumoulin was receiving his applause, once again found himself in the position of breathing and attacking. A French protester hopped on stage before Hinault, dressed in ASO-issued blue blazer and khakis, adroitly shoved the man off the podium and into the arms of a waiting gendarme.
That, my friends, was a moment to remember. He's not called the Badger for nothing!
According to a posting on Hinault's Wikipedia page, the five-times Tour winner was prominent in a riders' strike at Valence d'Agen in the 1978 Tour to protest against split stages, in which the riders had to ride a stage in the morning and another in the afternoon. He also imposed discipline and often cooperation among riders, once decreeing that "there will be no attacks today because tomorrow's stage will be difficult". He was respected by riders but feared by many for his temperament. If he felt slighted by another rider he would use his strength to humiliate the offender.
A protester tried to steal the show
Photo ©: Roberto Bettini

To the public, Hinault was often arrogant, remote and shy of publicity. When an interviewer suggested he devote more attention to fans, Hinault replied, "I race to win, not to please people".
Belgian Eddy Merckx, who retired in early 1978 after winning the Tour five times, was so dominant that most in the peloton feared the one they called 'the Cannibal'. But not Hinault. No, the Frenchman, making his Tour debut that year, when asked if he feared Merckx, responded: "He has a head, two arms, two legs, just as I."
Now the world knows why Greg LeMond, a teammate of Hinault's in the early and mid 1980s, couldn't sleep much during the 1986 Tour. One just has to wonder if the French protester realized who he was messing with in Nantes Monday evening.
Even more Tour: Video highlights and podcasts
Just can't get enough of the Tour? Well fear not because Cyclingnews has expanded its coverage once again this year to bring you video highlights of every stage plus daily podcasts courtesy of Bikeradar.com and Procycling magazine. Our video comes directly from Tour de France owners Amaury Sport Organisation (ASO), and will be online shortly after the finish of each stage. We've also got highlights from classic Tours of the past so click here to see the full archive.
Check out the podcasts page in our Tour de France section for a full round-up of news and views from the Tour.
(All rights reserved/Copyright Future Publishing Limited 2008)