Recently on Cyclingnews.com
An interview with Lance Armstrong - part two, July 2, 2008
Lance Armstrong talks Tour
...Continued from part one.
The decisive moment of the 2001 Tour de France on Alpe d'Huez.
Photo ©: AFP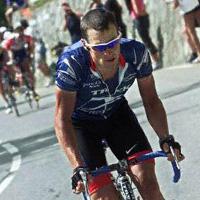 Procycling: Who was the rider you were most concerned with at the Tour?
LA: Jan Ullrich. He was the most naturally talented, he'd won the Tour before, he had the support of his team and his country, and was a complete rider in the sense that he could climb and time trial. Tactically, he probably wasn't the best, but he was definitely a well-rounded rider.
Procycling: And what are your predictions for the upcoming Tour?
LA: That's where it gets harder, because I don't follow pro racing that much. [Laughs] I follow enough to be able to say that I like Cadel Evans. He had a good ride last year, and he's riding well this year - though that could be a good or a bad thing. I was never able to have a great Classics season and then be competitive in the Tour. It would be super-cool if someone could, so if he's able to do that and win the Tour, then hey, that's great! I mean, who else is there?
Procycling: Well, Damiano Cunego is riding pretty well...
LA: But he'll never win the Tour. Those Tour climbs... he can't climb like that. And he can't time trial like that. And that's not a slap at him. He's a little guy. I just don't think he's a Tour rider.
Procycling: There's quite a bit of difference between the Giro d'Italia and the Tour.
"I'm all for dreaming, but the thing is, European bike racing is just so hard. If you're mentally or physically frazzled, you're not going to make it."
- Armstrong says it takes a special kind of rider to even be competitive at the Tour de France.
LA: Yeah, a huge difference. That first week of theTour is intense! The Giro d'Italia simply doesn't compare.
Procycling: Who do you see as future Tour winners? Do you think the US is going to spawn any?
LA: If I could pick one guy and say, "Let's make this a project", I'd pick Stijn Devolder. I think he can win the Tour some day. He can climb well enough, and he's lean, skinny, and can certainly time trial. Tactically, I don't know, it's a little different from winning the Tour of Flanders, but he's got a good team and smart guys around him, so that should work.
As far as the Americans go, I'd say we're at least a couple of years away. Those riders who have been talked up as the Great White Hopes haven't really panned out. That's not a criticism, it's just that European cycling is very different from the Tour de Georgia or Redlands or a VO2 test in the lab.
Procycling: Tom Danielson seemed like he had the potential, but the injuries he's been dealing with haven't made it easy for him. Despite the team that Jonathan Vaughters is building, you can't have a buckshot approach to see who's going to come out strongest come July.
What's on Lance's iPod
Procycling: You're quite the music buff. What's new on your iPod right now?
LA: One of the coolest songs I have ever heard, I was just talking to somebody about it today. Have you ever heard of the band Death Cab for Cutie? Their new single is one of the most kick-ass songs I have heard in a long time. It's called I Will Possess Your Heart and it's eight and a half minutes long, it's so bad-ass. What else did I get lately? I can't run without music, I can tell you that much.
Two old bands that I thought were gone forever which have done good new records are Big Head Todd And The Monsters, and The Black Crowes. The new Black Crowes' album is very good. Eddie Vedder's soundtrack to the movie Into the Wild is insane; the new Foo Fighters is insane, too; Jack Johnson - the new one - is great, different from the others I've just described. Missy Higgins, check out Missy Higgins, too. Nada Surf have a great new record. The new Radiohead album, In Rainbows, is also amazing.
LA: That's a dream, that kind of stuff. I'm all for dreaming, but the thing is, European bike racing is just so hard. If you're mentally or physically frazzled, you're not going to make it. And I'm not singling anybody out for being mentally or physically frazzled, but if you are, then you need to pick your races selectively. There are races over there for a guy like Tom - nobody climbs as fast as he does. I mean, pick a Romandie or a really hilly race in Spain, but they're not the Tour. That first week of the Tour is too tough and the long time trials are too tough. And the stress... I mean, God, just the stress of it!
Procycling: How do you feel about the direction that Tour organisers ASO are taking?
LA: Well, it's their race so they can do whatever they want. As for the decision to leave out Astana, at the same time ASO are allowing in a lot of other teams that are in the same situation, or certainly potentially in more of a "devious" situation. Astana 2008, aside from the sponsor, are certainly not anything like Astana 2007. Leaving them out is simply a decision [ASO] took as a Johan Bruyneel/Lance Armstrong penalty. And if that's the way they want to run their event, they're going to be managing a very small group of people real soon.
You can't make those decisions in world sport. And they have double standards by keeping in the CSCs and the Rabobanks, all the guys that have a laundry list of problems. If you want to kick one out, kick them all out. They're just playing games, and that's a disservice to the sport, to the fans, to the media, and certainly to a guy like [2007 Tour winner] Alberto Contador. It's not fair.
Procycling: And the sponsors as well?
LA: Right. My advice to Johan was just, "Look, ASO are stubborn. And they're not going to change their mind. The best thing you can do is to run a great, first class, world-class programme in 2008." I suspect Astana will be back in 2009. They certainly can't afford any more [doping issues], which nobody can guarantee when you put together a team of 25 grown men. You certainly can't monitor them 24 hours a day. But Johan just needs to be consistent and strong all year, and then come back. I mean, there's no doubt Contador is the best cyclist on the planet today for the Tour de France.
Procycling: You pretty much called it last year when you guys decided to disband Tailwind Sports, saying, "How can I bring in a brand-new, high-dollar sponsor and not be able to guarantee the biggest platform show in the world?"
LA: Yeah, but the thing is, let's say we'd have brought in Oracle [as sponsors instead of Astana], and [the team included] Johan Bruyneel and Lance Armstrong and the CSE management team, with Contador and Levi Leipheimer and all those guys. Astana would still be in the Tour de France, but Oracle would be out. This 2008 decision was not an anti-Alexandre Vinokourov-based decision. It was an anti-Bruyneel-Armstrong decision. If they want to play games like kids, then play games, but the record will show that ASO and the sport of cycling was prosperous during our time winning seven editions. And the record will show that, since then, it has not done well. And I'm not taking any credit, I'm just saying, for the record, the facts are what they are.
For more great in-depth features and interviews, subscribe to Procycling and find out more details about a free two-hour DVD featuring the best stages of the last 20 years of the Tour de France!