Adam Hansen's Tour diary
Adam Hansen
Photo ©: Team High Road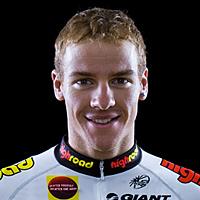 In an almost bookend fashion to our other Aussie Cyclingnews diarist, Stuart O'Grady, Adam Hansen is riding in his first Tour de France. The Team Columbia domestique is in his second year at the top level of the sport, and is ready to give his all for his teammates. While he does that the Australian time trial champion will let us peek in on the day-to-day life of a (first) Tour rider.
Friday, July 18, 2008
Coffee, coffee everywhere
Hello Cyclingnews readers!
So I survived... my first rest day, that is. People talk about how ironic it is that they call it a rest day when rest is the last thing anyone does.
It was not a rest day by any means. We got up, had breakie, then a press conference full of interviews. Then we went training (which was nice because it was the first time all day we didn't have to think!) Then we had physio checks, massage, more interviews and then dinner. I think the whole day I only had two hours to myself!
I think I have more free time on a race day! So I guess I am happy we are back racing. Of course it is much easier when your teammate is first across the line. How about that Mark Cavendish, eh?
Sure, we would love to still have the yellow jersey, but it takes a lot of pressure off of us. And it's good in a way because we can focus on winning stages, like we did today! I think that is important too.
That is the biggest hardship for a team like ours - the more we help Kim for the overall the more Mark suffers, and the more we help Mark in the sprint, the more Kim suffers. We had the yellow and defended it well. We are happy with that and now we are prepared to help the sprinters. Mark has won three stages already and that is just ideal!
As for the jersey, we are still a strong team and Kim still has high hopes. He said he always rides well in the Alps. If he does we will support him still. He was actually pretty happy with his ride on the day he lost the jersey because he lost less than two minutes and he did the whole climb by himself.
I should probably talk about the big news of the race, the exit of Ricco and his team. Everyone was surprised, obviously. It was a bit of a scare because I wasn't sure if the Tour was going to even continue after that. But I guess it's good in some ways, we don't want dopers here and they are getting caught. But it's not good for the riders or the race.
But this one was different I guess because the other ones were more individual and here the whole team didn't start. There are a lot of question marks about why the whole team left. We don't know anything at all, but it did seem a bit peculiar because the whole team left.
There was a lot of talk about it during the stage. Normally we are chatting with our friends in the peloton but there were a lot of questions that day.
Overall I feel healthy. I took a few easy days where I tried to get into the breaks and then sit-on and relax to wait to help Mark in the finish. I wouldn't say the mountains here are harder but we sure go over them much faster!
One of the questions I was asked in an interview is if the food is any different for Le Tour, compared to other races we do. We have a personal chef who comes to many of the big races and he is extremely good. But this is such a hard race we all look forward to something special.
For me, it's honey waffles before each stage. It's just plain ol' waffles with honey in the centre. It's extremely high in sugar and calories and quite tasty. It's more for before and after the stage because it would get a little messy on the bike. But I even think it would be worth the mess! But the Powerbars are a bit easier to handle. I wonder if they can make a honey waffle flavour?
I mention that in part because the last time I mentioned a product here there was an immediate response. I got an email from Nescafe just the other day, so I guess someone is reading this!
Coffee update
You wouldn't believe it but after the day I wrote about the bun-gee cord on the coffee machine, all the management staff and riders were gathered on the bus... Brian [Holm], Bob [Stapleton] and everyone else. They were all sitting at the table when the coffee machine fell off the table and landed on Brian with coffee all over his pants.
And the machine was full, of hot coffee, used coffee grounds and more coffee beans. It went all over the floor and created a HUGE mess. Brian jumped straight away and everyone was lifting their bags up because it was going everywhere.
No new machine still, but I'm sure something has to happen now!
The funniest thing is Bob cleaned it up while Brian was standing over him saying, "Oh, you missed a spot over there..."
Hello to everyone back home. Sorry we lost the jersey but we'll try to get it back for ya!
Cheers,
Adam