Tour de France Cycling News, July 11, 2008
Edited by Hedwig Kröner and Greg Johnson
Lead change shrouded in controversy
Gerolsteiner's Stefan Schumacher gets up as the yellow jersey rides into the distance
Photo ©: Roberto Bettini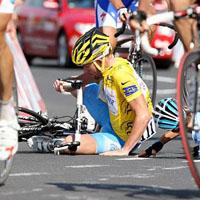 The finish of stage 6 was somewhat controversial, with Gerolsteiner's Stefan Schumacher crashing within sight of the line and conceding the yellow jersey to closest rival Kim Kirchen (Team Columbia). Cyclingnews' Shane Stokes gets reactions to a dramatic finale at Super Besse.
With the Tour de France moving into the mountains on Thursday, it was clear that there was going to be a shakeup in the race. Gerolsteiner's Stefan Schumacher had a narrow lead over several dangerous rivals including Team Columbia's Kim Kirchen - who started the day just twelve seconds back. Several of those close to the sport tipped that the Luxembourg rider would take over at the top.
That's what ultimately happened, but the manner of his doing so was utterly unexpected. Schumacher rode superbly on the stage, remaining in the front group while other better-regarded climbers such as Damiano Cunego (Lampre) lost time. With 500 metres to go it not only looked like he would hold on, but it appeared that he would be one of those actually sprinting for the victory. But then it all went terribly wrong.
Coming up on
Cyclingnews will cover the 60th edition of the Dauphiné Libéré live as of stage 4 on Wednesday, June 10, at approximately 15:00 local Europe time (CEST)/ 23:00 Australian time (CDT)/ 9:00 (USA East).

WAP-enabled mobile devices: http://live.cyclingnews.com/wap/

Alejandro Valverde (Caisse d'Epargne) found himself on the front after team-mate Oscar Pereiro pulled off. He moved from the left to right side of the road, presumably to try to get one of the other riders to come by, but this created a ripple effect which made Kirchen swing over and - unintentionally - clip Schumacher's front wheel. The German went straight down, hitting the road hard. While he remounted immediately and set off in pursuit, he crossed the line 32 seconds behind stage winner Riccardo Ricc˛ (Saunier Duval-Scott) and 31 adrift of Valverde, Cadel Evans (Silence-Lotto), Frank Schleck (Team CSC) and Kirchen.
Confusion then reigned. On normal stages, any mishaps inside the final three kilometres have no effect on the rider's time, unless the group splits. However on mountain stages this doesn't normally apply, due presumably to the possibility of riders faking problems. There was nevertheless a lot of uncertainly; Schumacher initially declined to speak to the media circled around the team bus, being clearly gutted about losing yellow. A team worker told those gathered there that he wouldn't talk due to the disappointment of this loss happening due to a crash.
Click here to read the full feature.
Vande Velde ready for overall
By Hedwig Kr÷ner and Shane Stokes
Vande Velde will now look at his own chances for GC
Photo ©: Gregor Brown

After putting in an excellent performance on the way to Super-Besse yesterday, finishing 19th, 23 seconds behind the winner, Garmin-Chipotle's Christian Vande Velde was happy with how the race went for him so far. And he even thought about trying to find out exactly how far he can go on the overall classification of this year's Tour de France, on which he is now ranked fourth, a mere 44 seconds away from the lead.
"I shouldn't understate myself and I should really start looking after myself more for the overall," he told Cyclingnews after the stage, in which he initially wanted to work for team-mate David Millar, who had a chance to go for the overall lead. But the final 10 percent gradient ramp up to the ski station proved to be too much for the time triallist's legs.
Vande Velde broke away in the company of Leonardo Piepoli (Saunier Duval) some five kilometres to the line. "The attack was planned. I was going to go and then David would have a free ride to the finish. I didn't see how he got on, though," said the American.
"My legs felt great. I was away with Piepoli who is probably the best climber in the world. I found myself a little out-gunned, in a no-man's land I didn't want to be in."
The pair was caught by the favourites' field as they tackled the final, hardest bit of the climb. Vande Velde held on well but Millar lost 51 seconds to the winner of the stage, Kim Kirchen (Columbia). Nevertheless, Garmin-Chipotle will continue its aggressive riding and hopefully score a victory. "The team will keep attacking... not just on the climbs but everywhere," concluded Vande Velde.
Riis holds the line in CSC's three-pronged front
By Gregor Brown in Super-Besse
Bjarne Riis, the Saxo Bank/CSC manager, was happy with his riders' performance so far
Photo ©: Roberto Bettini

Bjarne Riis, CSC-Saxo Bank's mastermind, will stick to the team's three-pronged approach, following the race's first mountain stage.
"The plan is to hit our rival teams with the Sastre/Schleck front. Carlos Sastre and brothers Frńnk and Andy Schleck all fighting for the overall classification." Riis otold Cyclingnews.
The trio did well yesterday despite Andy Schleck being caught up in the maillot jaune crash at 300 metres out. It was shortly after that moment that his older brother attacked - a move that kicked-started the move by eventual stage winner, Riccardo Ricc˛.
Frńnk Schleck faded slightly in the end and finished fourth, but moved up by 12 seconds in the classification, into 17th position at 1'56 back from leader Kim Kirchen. He is one spot up on his brother. Andy Schleck was 1'29 back going it the day, but slipped down to 1'58" - mostly due to nearly crashing with Stefan Schumacher.
Sastre kept within sight of the leaders and remains in a protected position. He finished eighth for the day and is now 12th overall at 1'34.
"Pretty okay, I think," was Riis' summary of the team's performance. "We did what was expected. The climbs we did today were not that hard and it is still a long way to go."
The race contains another four mountaintop finishes scatted across the Pyrenees and Alps. Riis thinks that the remaining competitors will be fleshed out over those demanding days. "With a couple kilometres to go today, there were still a lot of riders," he warned.
Also see: An interview with Frńnk and Andy Schleck.
Ten abnormal blood results before Tour start
French newspaper Le Monde revealed on Friday that there were ten abnormal blood values found in samples taken by French Anti-Doping Agency AFLD before the Tour de France. The tests were conducted on July 3 and 4, while the Tour got underway on July 5.
According to the newspaper, the results of the tests showed unusual hematocrit and/or haemoglobin values. A high hematocrit result can be an indication of blood doping, through EPO or blood transfusion, but there are also other natural explanations possible.
The names of the riders involved were not published. The results were also sent to the UCI for inclusion in the blood passport programme.
Aldag close to realizing his dream
By Shane Stokes in Super-Besse
Columbia DS Ralf Aldag
Photo ©: Gregor Brown

Rolf Aldag was, along with the rest of Team Columbia, celebrating Kim Kirchen's yellow jersey after the finish of stage six. It took a while to receive confirmation that the Luxembourg rider had indeed taken over the maillot jaune but once that was announced, the directeur sportif gave his reaction to Cyclingnews. He was happy to have the race lead, but felt that the chance of the stage victory had slipped away due to incorrect information about the final run to the line.
"It was really, really close," he said. "With four kilometres to go there was a little bit of a descent and we asked the team to bring him to the front there, step by step, and then until the last corner. I feel a bit guilty because the description we had from the final was kind of wrong. We heard that from the last bend it is slightly uphill, but it is clearly downhill.
"I think Kim wouldn't have lost four seconds if he knew the finish. You could just sprint to the corner and then just roll to the finish, but if you expect it goes uphill you do it differentlyů I am kind of mad at myself, we should have known better. It shouldn't happen in the Tour de France that you don't have the right information."
The team has had a superb Tour thus far, with Kirchen holding the yellow and green jerseys, Thomas L÷vkvist leading the best young rider classification and Mark Cavendish winning stage five. Aldag was happy, but felt it was too soon to talk about Kirchen as a winner of the Tour.
"We are happy with the yellow jersey. We have to sit back and see what we are going to do. We will have to look at the upcoming days and see what makes sense and what doesn't make sense for us.
"For me he is still not the favourite. It is still about Valverde and about Evans with the big climbs coming up. We have no clue so far [what to expect].
"I said before the start that if I had a dream, it was to get two stages wins and top five in GC. Let's base things on that expectation. We had hoped to take the second win today but that didn't work out. But no worries, things are going great so far."
Kelly assesses stage six finish
By Shane Stokes in Super-Besse
Former world number one Sean Kelly was both a man for the Classics and also for the Grand Tours. The Irishman was not a climbing specialist, but could limit his losses in the high mountains when his form was good. Cyclingnews spoke to the Eurosport commentator after stage six to Super-Besse, and got his assessment of Stefan Schumacher's crash.
"Yesterday I said that Schumacher wouldn't have a chance of holding on, but when I did the final climb today I said yes, I think he had a very good chance," he said. "If he hadn't fallen over in the last 350 metres, he was certainly on for keeping the jersey. That's a huge disappointment for him and the team because without that, he could have held on to it for another two days."
Many riders lost time, amongst them Damiano Cunego (Lampre). Kelly said that the first climbing stage can throw up some surprises.
"It is always difficult with the way they race and the fact that it is the first day in the mountains, of course. It is tough to change, having been doing some very fast racing on the flat, and then suddenly going to the climbers' gears. It's hard for a lot of riders to adapt, and I think you could see the results of that today."
As Kelly suggested, it was clear from the way things unfolded that Schumacher would have kept yellow had he not fallen. Did he therefore think that the jury's decision was fair? "Well, that is the regulation," he answered. "In the mountain top finishes, you are not covered by the three-kilometre rule governing crashes or mechanical problems. It is understandable because if you allow that in there, the riders will abuse that situation on hilltop finishes like today."
Stuart O'Grady diary
Mingling with the Royalty
Every day before we start a stage we have to 'sign on'. You ride down to the podium, park your bike and sign a large sheet, over your name and number. As I was climbing back down the stairs the Director of the race called me over and introduced me to someone standing beside him. It was none other than Prince Albert II, the ruler of my 'home country', Monaco.
We had a quick chat about the stage ahead and a few other things and he followed the entire stage in the lead car. It was pretty cool to be rubbing it with Royalty before the race! I asked if he wanted to change seats for the day, but he wasn't too keen!
It was another hard stage, up and down all day with two hard climbs near the end. The first climbs of the Tour always are difficult after nearly a week of racing on the flat roads.
Click here to read O'Grady's full diary entry.
Sylvain Chavanel diary
Let's keep cycling exciting!
Sylvain Chavanel gained the polka dot jersey
Photo ę: Isabelle Duchesne

As I'm writing this, I have the maillot Ó pois, getting ready to leave the hotel for today's stage seven to Aurillac. It's really nice to be able to wear it! Yesterday, I was on the attack again together with two other French riders. But as we didn't get the chance to go all the way to the finish, the only thing I could do was to take the KOM points.
I was only two minutes away on GC, so it was normal the bunch went after us. But they never gave us more than five minutes of a lead, so it was pretty obvious that we wouldn't be able to stay away until the finish. All I wanted was to be the first to pass the penultimate climb, which I did. That's what gave me the polkadot jersey, at least for today.
I'm not sure about keeping it, though. This jersey isn't won on these small stages where there are just a few points to win. It's in the high mountains, the big cols of the Tour that you win it. Which means I need to try for another great escape later, in the Pyrenees or in the Alps. I might lose it as soon as today, actually - and that's fine. If Voeckler wants it, he can have it! I'll take it back in the next few days!
Of course, against the pure climbers, it will be hard. In the last climbs of the high mountain stages, the points count double, which means I have to be there with the best - that'll be difficult. But I don't think too much about it right now, I prefer to take it day by day.
Click here to read more about Chavanel's thoughts on this year's Tour and why he's been constantly on the attack.
Taking it easy at Le Tour: Adam Hansen
At the Giro d'Italia in May Adam Hansen
Photo ©: Roberto Bettini

Even though Adam Hansen wears the Australia national champion strip for the time trial, he finished in 106th place in his first ever Tour de France time trial. But such is the life of a domestique, sacrificing himself for the glory of his teammates. The 27 year-old is a seemingly tireless worker that is here to lead-out his sprinters and protect the general classification riders learns Cyclingnews' Mark Zalewski.
It might be surprising for an uninformed fan to see a national champion soft-pedal in the world's biggest race, but that is what Team Columbia's Adam Hansen did in his first ever Tour de France time trial. Of course, for the experienced fan, it is easy to assume that there were tactics behind this move. Indeed, in an ironic twist, Hansen was under orders to recover as much as possible in the time trial to prepare his body for the tortures that are to come.
"I was under instructions to go easy and recover," said Hansen. "I thought I was going easy, but I passed the first time check and they told me to go even easier!
"The pressure on me is to support Mark [Cavendish] and Gerald [Ciolek] in the lead-out and I've also been told I have to help Kim [Kirchen] in the mountains," he said. "So there are no real rest days for me except for the TT."
After two desperate attempts on the opening stages by Kim Kirchen, Cavendish delivered the recently renamed squad a stage victory on Stage 5. Hansen knew it was just a matter of time before the Cavendish/Ciolek duo knocked out a stage win.
"Mark and Gerald are perfect together," he said. "They are extremely good sprinters and they never cross wheels. Mark is the type of rider who doesn't want the team to work for him if he thinks he can't win. He'll stand up and say no, work for Gerald. Especially in an uphill sprint like on stage one."
To read the full feature, click here.
Stage 6 Video highlights and podcasts
Just can't get enough of the Tour? Well fear not because Cyclingnews has expanded its coverage once again this year to bring you video highlights of every stage plus daily podcasts courtesy of Bikeradar.com and Procycling magazine.
Our video comes directly from Tour de France owners Amaury Sport Organisation (ASO), and will be online shortly after the finish of each stage. We've also got highlights from classic Tours of the past so click here to see the full archive.
Check out the podcasts page in our Tour de France section for a full round-up of news and views from the Tour.
(All rights reserved/Copyright Future Publishing Limited 2008)