News Feature, July 8, 2008
Garmin-Chipotle aiming high
It's been a wildcard team for both the Giro d'Italia and now the Tour de France, but Garmin Chipotle has shown that it is capable of mixing with the ProTour squads. On Monday Will Frischkorn went close to a stage victory in Nantes; today, the squad is aiming for a big result in the time trial. Jonathan Vaughters talked to Cyclingnews' Shane Stokes.
David Millar is Garmin-Chipotle's leader
Photo ©: Roberto Bettini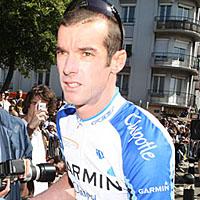 Day three of the Tour de France was a big one for the Garmin-Chipotle team. Will Frischkorn went close to taking the stage victory, just missing out to Samuel Dumoulin (Cofidis), and the squad was also best team on the day and jumped to the top of that particular GC classification.
It's an important moment for the American team which gained a wildcard selection for this Tour de France and only found a title sponsor in recent weeks. Together with earlier results such as the stage one victory in the Giro d'Italia (and thus a spell in the Maglia Rosa for Christian Vande Velde), Garmin-Chipotle has shown that it is now a big player in the world of cycling.
The riders will line out on stage four with another chance of success. David Millar starts the day as one of the favourites for the time trial, while Vande Velde will also hope to ride well and thus stay towards the top of the classification. Even if yellow is not possible today, staying in the hunt keeps alive the team's chance of a day (or more) in the maillot jaune at a later point.
"It is a big day for us, for sure," said team manager to Jonathan Vaughters on Monday, approximately an hour before Frischkorn took second. "I think it has yet to be determined how it will go. We are a new team, we have got five riders who have never ridden the Tour before. I don't know what will happen – heck, Danny Pate could end up going faster than David tomorrow. We don't know.
"We came into the race with the thought that if David could get a little bit of time on Cancellara, which he has, that we could go into the time trial with the possibility of getting the yellow jersey. And even if he didn't get it tomorrow, you have the stage six hilltop finish to Super Besse. In my opinion - and we will have to see how David is climbing on the day because he is a little bit inconsistent in his climbing - on his day he will be able to stay in the first group there, the first 15 or 20 guys. Whereas I don't think Cancellara could.
"I think he has got two shots at the jersey, one is [stage 4] and the other is two days later."
-Vaughters weighs Millar's chances of taking the yellow jersey.
"So I think he has got two shots at the jersey, one is tomorrow and the other two days later. And it is the same thing for Christian – I think he has got two shots as well. In the time trial, and maybe even a better shot on Super Besse."
Millar has taken two big time trial victories in recent years. He won a stage of the Vuelta a España in 2006 and then took the prologue of Paris-Nice the following season. He's also been a little inconsistent, though; some days he's close to the top of the leaderboard, while on others he can be a bit more adrift.
Vaughers admits this is the case, but said that he is feeling hopeful. "His TT form does bounce up and down. But I think he is in good form here, we have every indication of that, going by the first stage…he was eleventh there and was with the best climbers up that hill. So it is a pretty good indication of where he is, fitness-wise.
"Okay, he is a little bit unpredictable, his time trialing tends to be either…well, he is on the podium, or he is a little bit anonymous. There is not much in-between. But that is all right.. The way I see it, at that distance tomorrow, he is the only person who has beaten Cancellara in the last two years. He has got a better shot than anyone, really."
Cancellara said as much, naming Millar as the rider he was most worried about for the time trial. As Vaughters said, even if Millar doesn't get the stage victory, moving closer to yellow could give him a chance to take the maillot jaune in the days ahead.
This is not exactly the first Tour de France for Vaughters, who started the race several times during his career. However it's certainly his first time here in the capacity of team manager, and he said that he is enjoying the experience.
Garmin signed on as title sponsor
Photo ©: Roberto Bettini

"It has been fun so far," he said, smiling. "The six weeks leading up to it were nerve-wracking, but now we are well-organised. I'm actually enjoying the Tour. Tonight and tomorrow would be stressful, because the guys lean on me a lot when it comes to time trialing and so I get kind of wound-up before the time trials, but I like that. As a directeur I am no better than other guys at stuff like that, but for the time trial I have my own little perspective. It seems to help the guys out quite a bit. I will be following David tomorrow.
"Other than that, I think it has been fun. Our team is the happy-go-lucky underdogs that will hopefully sneak away with the jersey for a little while."
Going close
Longo Borghini leads Frischkorn
Photo ©: Roberto Bettini

Frischkorn almost snuck away with something else on Monday; the stage victory. He was clear for much of the stage to Nantes and was narrowly beaten by Dumoulin. Vaughers said afterwards that he was happy to see his team fighting it out for the win and, had Firschkorn had a little bit more experience, he might have pulled it off.
"It was a little bit of Tour jitters, and also a case of not knowing the guys," he told the media after the stage. "He was just a little strong on the throttle. I think the miscalculation was when Feillu attacked and Will immediately went on to him, dragging Dumoulin across. Everything else up to that point was fine, but if he was going to attack off Dumoulin, he needed to get a pretty good run at him and not just do it right off this wheel.
"That said, with the type of rider that Will is, he is going to be in that position a whole lot more in the remaining seven or eight years of his career. The other guys have been in that position a lot more."
He was asked by one journalist if second place meant that the Tour was already a success. He played this notion down, describing it more as a first step. "Come on - we have got a little more to go," he said. "Obviously it is a great start, and hopefully this will bring the morale of everybody up for tomorrow, which is a really big day for us. Then we will go from there.
"Like I said all along, the first 10 days of the Tour are what makes or breaks the race for us. Once we are into the mountains, we have a more inexperienced team at that point, we don't have quite as many climbers. But we will give it a few more shots in these first 10 days, I can guarantee that.
David Millar is the team's hope for yellow
Photo ©: Roberto Bettini
Frischkorn's timing was good, in that Vaughters was entertaining his Garmin sponsors in the VIP area of the Tour while things were being fought out. Speaking before the finish, he told Cyclingnews that both he and the executives are enjoying the experience.
"It is fun with the Garmin people here. One of the big things that I have been doing this week is educating them. They have never been to a bike race before, so it is a case of showing them what it is all about, bringing them around. They have a thousand questions, they want to read anything they can, they want to see everything they can.
"They made the decision to sponsor the team based on marketing metrics. They weren't cycling fans before, but now I think they are really starting to enjoy the sport, and fall in love with it like the rest of us. They are also a little bit surprised at the scale of the Tour… I can say that they definitely feel like they are getting their money's worth!"
Prior to their involvement, the team was financed mainly by contributions by benefactor Doug Ellis, as well as smaller sponsorships by companies such as Chipotle and H3O. Getting a big-name brand on board has made things a lot easier. "It is a big relief, obviously, " he said. "Clearly, depleting an individual's bank account to run a Tour a France-level cycling team is far from ideal. There aren't many individuals in the world who are willing to support the burden a very long…so it is great to get something sorted."
Tight bonds due to beliefs
The riders are guided through the Tour
Photo ©: Roberto Bettini

Like Team Columbia, there is much talk from management and riders alike as to how close everyone is. That certainly seems to be the case and, hardly surprisingly, a group effort is what Vaughters said gave him most pride this year.
"I would say getting the Maglia Rosa is the highlight," he said. "And that was really indicative of what we are as a group, because that was won as a team, not as an individual. It has by far been our biggest victory, and that to me is kind of what we are all about. There isn't a team time trial every day, but that really shows that our strength is as a unit rather than as individuals.
"The whole thing is that on this team, the guys are really good friends, the staff are getting along really well, the directeurs are too. In some ways, developing the anti-doping culture really eliminates a lot of the undertone that pulls people apart and makes them not be friends. The guys tend to bond together rather than spread apart. It is interesting, it is an unanticipated side-effect, but it is a very positive side to things."
If the team manages to win the time trial or another stage – or, indeed, take yellow during the race – this new culture will also be a very positive sign for cycling. The team was set up with the big goal of doing things in an open, transparent way, after all. That approach has already enticed a new, big sponsor to come into the sport; landing Tour de France success would also be a fine payback for the Argyle armada.