Tour de France News feature, July 19, 2008
Cavendish unstoppable in fourth stage victory
By Brecht Decaluwé in Nîmes
Mark Cavendish (Team Columbia)
Photo ©: John Pierce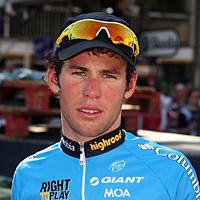 23-year-old Mark Cavendish proved once again that he is the fastest sprinter of the peloton on Friday by taking his fourth Tour de France stage win in Nîmes. The Team Columbia rider now brought himself equal with great sprinters like Mario Cipollini and Alessandro Petacchi in the number of stage wins in a single Tour. In the past 20 years, only Lance Armstrong has won more stages (five, 2004).
Cavendish's feat is all the more remarkable given the small number of stages in this year's Tour which were suited for the sprinters. In fact, the only bunch sprint where the British rider lost was on stage two, when Thor Hushovd won, and Cavendish finished 27th. Even that finish in Saint Brieuc was more suited to his team-mate Kim Kirchen, who took second, thanks to a tough little uphill before the line.
It is clear that on a pure sprinters' stage, Cavendish is practically unstoppable. Cavendish explained after the finish line that the other sprinters feel as if he's taking the bread out of their mouths. "Today there was a joke going through the peloton about it. I received text messages from the other sports directors asking me why I'm doing this," Cavendish laughed.
"It's unfortunate for the other guys that I have to do my job."
-Mark Cavendish explains that he can't just stop winning so the others can have a chance..
"It's unfortunate for the other guys that I have to do my job. But at the end of the day I've won four stages and I'm still not in the green jersey. It just shows that I'm winning while the other guys are being a bit more consistent than me," Cavendish said.
Though he may not wear the green jersey of points classification leader, his fourth win moved him up from fifth to second place behind current leader Oscar Freire, and tied on points with Hushovd. With at least two more possible bunch sprint finishes before Paris, it is clear that Mark Cavendish still has a chance to capture the green jersey, although whether he will choose to suffer his way through the Alps or leave to prepare for the Olympic Games remains to be seen.
Even if he were to depart, Cavendish would leave the race with four rather nice souvenirs. "My favourite win was the first win, because it was the first one in the Tour de France," he said. "The team held it so well together and in the end I was able to keep it going although I went from so far out of the finish.
"Today was the hardest though. I was really tired today. The team had to work very early and in the finale I had to jump from train to train. The first one definitely is my favourite, today's was the hardest. Every win is a win of course and after the line I thank the boys because they prepared it again and I did my job."
Cavendish will also carry home a few less desirable souvenirs in the form of scars on his right arm. He crashed on the stage to Hautacam, when a ball bounced into his path during a descent early in the stage. The British rider had his arm wrapped in bandages, but clearly the injury didn't slow him down. "It doesn't hurt me so much when I'm sprinting. The adrenaline is going through my body so much that it doesn't bother me too much elsewhere. It doesn't affect me at all. I'm a bit soft with all those bandages, but it's the Tour de France and you've got to do what you've got to do for the television," Cavendish joked.
Mark Cavendish (Team Columbia) takes win number four
Photo ©: John Pierce

Being so relaxed at the Tour de France is not abnormal when you've got four stage wins under your belt, but Cavendish explained the magic behind his tricks. "Everybody gets on so well in our team. We're a group with mostly young guys, and one really old guy being George [Hincapie]. We are guys who have a passion for the sport.
"We don't see cycling just as a job, it's more of a passion. We're all working towards the same goal, with the same ethics. We get along well, also off the bike. It works in whatever combination we are, in whatever race. The team is always having a joke when we're at the restaurant. There are so many individual characters in the team and they all work so well and so unselfishly. It shows in our results and I'm glad to be part of it. I love all these guys as my brothers."
A Dutch journalist asked his home on the Isle of Man and how Cavendish fell in love with the sport. "The Isle of Man is famous for its motor bike race, so speed is a part of life on the island," Cavendish explained. "There is a big passion for cycling in Man, while it isn't so much like that in the rest of Great Britain.
"Since I learned to ride the bike when I was younger I always liked to do it. I always sprinted to school and it just developed from there. I heard there was a race and I wanted to take part in it. I was riding my BMX and finished last each day. I thought that if I had a racing bike like the others that I could be competitive. I got it for my birthday and the next day I won the race. It started from there really."
Tomorrow's stage from Nîmes to Digne-Les-Bains could provide the fifth win for Cavendish, although the category four climb at only 9.5 kilometres from the finish line might be tackled hard by the other sprinter teams to get rid of their British foe.