Tour de France Cycling News, July 22, 2008
Edited by Ben Abrahams & Laura Weislo
Schleck enjoying the moment but ready to defend yellow
By Gregor Brown in Cuneo, Italy
Schleck isn't worrying about tactics, he just wants to enjoy the day
Photo ©: Roberto Bettini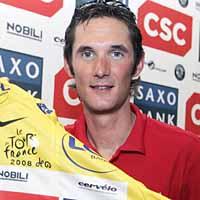 After an evening spent enjoying a glass or two of good wine with his CSC team-mates, a relaxed Fränk Schleck was basking in the glory of Tour de France leader as he met with the press on Monday morning in Cuneo. With the Tour's two decisive mountain stages looming large, the 28 year-old was eager to enjoy the moment and not be drawn too much into the battles that lie ahead.
"I had a lot of messages and phone calls, but I could not answer them all," revealed Schleck. "I received 106 messages, it was a nice feeling getting all the congratulations - it meant a lot to me."
The lanky Luxemburger knows that his current margin of eight seconds over Cadel Evans could be wiped out in an instant by the Australian's superior time trialling abilities, but after Sunday's performance feels he has the strength to gain more time in the coming days.
"Yesterday I saw that Evans was just following me," said Schleck. "I saw that he was suffering. I had Bjarne Riis and Kim Anderson in the radio and they told me he was really suffering. I knew that if I was going to take the second I should take it on the last kilometres."
Coming up on
Cyclingnews will cover the 60th edition of the Dauphiné Libéré live as of stage 4 on Wednesday, June 10, at approximately 15:00 local Europe time (CEST)/ 23:00 Australian time (CDT)/ 9:00 (USA East).

WAP-enabled mobile devices: http://live.cyclingnews.com/wap/

By the time an exhausted Evans crossed the line in Prato Nevoso, that gap was up to nine seconds. Enough to give Schleck the lead, but just barely. The race leader has no less than five riders within a 49 seconds of him. Of those five, Schleck picked out former team-mate Christian Vande Velde as the other rider he's most concerned about besides Evans.
"Christian looks very good, very thin - he looks sharp," noted Schleck. "He is a great guy and also a friend. After he was pulling on Hautacam and I did not get the jersey by the one second, he sent me a message and it said 'I owe you a couple of beers'. Then he was one of the first ones to write me a message after I took the yellow jersey.
"If he comes to the final time trial, going really fast, he can end up on the podium too. Maybe he might take the yellow to Paris. I never have seen him so strong in the climbs. I wish him good luck, but we will fight against him. Drop him? Yes, of course. And there are others to drop as well."
Tuesday's stage to Jausiers, despite featuring two beyond category climbs including the 2802-metre Col de la Bonette-Restefond, does not end in a mountain-top finish. Instead, the following day's stage to Alpe d'Huez is likely to seriously re-shape the general classification before Saturday's final time trial. And while CSC will naturally try to make its numerical advantage count on the climbs, Schleck refused to be drawn on the team's exact plans.
"We have not set a plan yet," he said. "We are taking it day by day - I want to enjoy the day today."
His younger brother, Andy, revealed slightly more. "We have to try to do something," said the younger Schleck brother. "He has to try to get the maximum he can and then try to do a good time trial.
"He has the yellow jersey in the third week and having that is not just based on luck or being in the right escape - if you get it you are strong. I think he can keep it, at least until the time trial."
Evans fears Menchov and Vande Velde
By Hedwig Kröner in Cuneo, Italy
Cadel Evans (Silence-Lotto)
Photo ©: Roberto Bettini

Australian Cadel Evans, currently ranked third on general classification at eight seconds behind Fränk Schleck (CSC) considers his biggest opponents at this Tour to be Denis Menchov (Rabobank) and Christian Vande Velde (Garmin-Chipotle). Both riders have shown great performances in the time trial, as well as in the mountains, which is why the Silence-Lotto leader rated them as his greatest rivals.
"I saw Denis Menchov yesterday, who had some bad luck when he crashed on the climb," Evans said in a short rest day press conference in the team's hotel. "For him to come back like he did afterwards, and to attack again, just shows that he was very, very good. The next threat on that list is Christian Vande Velde. He's been the most regular of all the riders and also the second strongest, I'd say. He also showed in the first time trial that he was right there. He's just been so consistent, and riding a bit out of the limelight, too.
"In the first press conference we did at the Tour, someone asked me who is favourite for yellow, and I said 'Denis'. I don't think I'd change that now. Moreover, he's the rider I probably know least. I raced head to head with him in the Vuelta last year, but he was on another level there. Christian and I raced a lot against, but actually not head to head in GC."
Evans lost seven seconds to the American in yesterday's mountain top finish in Prato Nevoso, and 27 seconds to the Spaniard. But he explained that he did not get dropped by the pair because of a lack of endurance in the final kilometre to the line. "On the final climb, the road was so wet that I pulled off a bit in the last kilometre, as I was scared of crashing." Seeing Menchov hit the deck earlier on the climb, and the terrible crash of Oscar Pereiro before that was enough to make him ride cautiously.
"Yesterday wasn't my best day at the Tour, but looking at the odds - three against one - losing eight seconds on GC isn't too bad, all things considered. My race yesterday went almost perfectly, but not quite. I got a little bit cold on the descent from the Col Agnel, as it was raining halfway down. I should have been prepared for that. And the crash with Pereiro gave me a huge scare."
Tomorrow's stage to Embrun as well as the epic stage to L'Alpe d'Huez on Wednesday will be decisive, but Evans couldn't decide which suited him better. "The distance, and the amount of climbing make L'Alpe d'Huez the more dangerous of the two stages. But I never had a good day here, that's my problem. I think this will be the third time I race L'Alpe d'Huez, so maybe third time lucky. We hope!"
Evans, who is "still not quite at a hundred percent" after his crash prior to the Pyrenees, admitted his team wasn't as powerful as Team CSC, who will be defending the yellow jersey. "They have a much stronger team than we do. I'm just being honest, no disrespect to my guys. But they have a really strong team and it showed again yesterday: When the selection was made in the final climb and three out of the eight remaining riders were from CSC - need I say more?"
Still, the Australian believes that "it's going to be a close call coming out of the Alps, into the time trial. It is such a close Tour, if not the closest ever with six riders within 49 seconds, so it'll probably go all the way to Paris like that."
Menchov counting on experience
By Hedwig Kröner in Cuneo, Italy
Denis Menchov (Rabobank)
Photo ©: Roberto Bettini

Without intending to, green jersey wearer Oscar Freire revealed Rabobank's general classification strategy at the Tour's second rest day in Cuneo, Italy. Nicely seated under shady pavilions nearby the hotel pool, journalists asked the triple world champion if he was confident to carry the jersey to Paris. The Spaniard replied: "I won a stage and scored more points, and as we hope Denis will be the overall leader after the time trial...". By that time he realised that maybe it hadn't been a good idea to put it this way, and everybody laughed.
Call it a slip of tongue, but Freire's assessment could be pretty close to the reality of the Dutch team's wishes for the rest of the race. Denis Menchov, double winner of the Vuelta a España is not only a respected climber, but even more so a gifted time triallist. Compared to some of his current rivals, this could provide him with the necessary advantage to realise an overall Tour de France victory.
The Russian is currently ranked fourth, 30 seconds behind Cadel Evans (Silence-Lotto), still the favourite for the top spot on the Champs Elysées in Paris. Asked what sort of margin he needed on the Australian to take the yellow jersey at the race's final time trial, Menchov answered: "If I could choose, I'd prefer three minutes! But if the gap remains as it is, it could be enough. It's only 30 seconds. I feel strong, and I think that he's not much stronger than me in the time trial. After three weeks, everything is possible.
"I think we are in a really good position right now. It's better than it was after Hautacam - almost half a minute less [Menchov was 57 seconds down on Evans after the first Pyrenean mountain stage - ed.]."
The Rabobank leader thus relies on a small margin in front of Evans, which could see him just follow the rest of the favourites during the next two days in the Alps, before the race heads back to the French plains. But he said that he felt good and confident enough to try and drop some of his rivals in the mountains again, explaining that he rated stage 16 to Jausiers as dangerous as the next day to L'Alpe d'Huez, even though the route on Tuesday does not involve a mountaintop finish.
Vande Velde plugging towards the podium
By Gregor Brown in Cuneo, Italy
Christian Vande Velde (Garmin-Chipotle)
Photo ©: Hedwig Kröner

American Christian Vande Velde is quietly moving closer to the coveted race leader's maillot jaune thanks to consistent performances in the Pyrénées and Alps. Yesterday, despite a crash that left tiger paw-like scares on his right forearm, Vande Velde stuck with the leaders' group on the climb to Prato Nevoso.
"I need to keep on plugging away. Just keep being good in the mountains - day by day. I will be happy if Wednesday turns out like yesterday," he told Cyclingnews on the Tour's second rest day.
The 32 year-old Garmin rider lost time to CSC's Carlos Sastre and Gerolsteiner's Bernard Kohl, but gained on previous race leader Cadel Evans. He's now fifth overall - one of six riders who are within a minute of the race lead. Following the Garmin team's one and a half hour training ride, Vande Velde explained that he was thrilled for his former team-mate Fränk Schleck when the Luxemburger took the race lead on Sunday.
"I was happy for Fränk and I was looking for him because I wanted to give him a big hug," said Vande Velde. "He sent me a photo of himself smiling while wearing the yellow jersey."
Despite Schleck moving into the lead, Vande Velde tips Sastre as the biggest threat from his former team. "He can time trial much faster than Fränk. Those are the facts. The team has cards to play. The team has never had it at this point in the race."
Vande Velde hopes the race will stick together as it did on stage nine over the Col d'Aspin to Bagnères de Bigorre. Tuesday's final climb, the Col de la Bonette-Restefond, tops out at 2802 metres, but leaves 23.5 kilometres to race - a significant distance to hold any advantage gained on the climb.
"I hope the weather is okay," said Vande Velde. "After seeing yesterday, with a bad crash and rain, I don't want it to be insane and have anyone get hurt. Cycling is dangerous enough without having a kamikaze downhill descent to the finish line.
"It is going to come down to Alpe d'Huez. It will be a long day with three massive climbs. If CSC continue to climb like they have been, they will have a great opportunity to take more time out of the peloton."
Like Schleck, Vande Velde needs time in hand over riders like Denis Menchov and Cadel Evans before the Saint Amand Montrond time trial of 53 kilometres.
"At the end of a three-week race, 52 kilometres is a long way to ride. You don't know how your body will go. Bernard [Kohl] time trials very well, he looks like a little scrapper and you don't think he can go so well, but he goes. Menchov goes well and Carlos time trials very well. And that does not even mention Cadel."
Nibali defends maillot blanc through difficult Prato Nevoso stage
By Gregor Brown in Cuneo, Italy
Best young rider Vincenzo Nibali
Photo ©: Roberto Bettini

Italy's Vincenzo Nibali defended the maillot blanc of best young rider in the Tour de France despite a fall and difficult day to Prato Nevoso. The high-mountain Alpine test was made worse when Nibali crashed in a group that included Belgian Stijn Devolder (Quick Step) at kilometre 124.
"The crash really complicated the day out for me," said Nibali. "From that point on to the finish I felt bad, pain in my leg, a burning feeling. I crashed on the same injury I had from the Giro d'Italia - a little bit of bad luck."
The team's press officer pushed Nibali to the bus so he could finally let off the pedals with pain coming from his left hip. Nibali carries the white jersey into stage 16 with 1'53" over team-mate Roman Kreuziger. The grinta that carried him to 11th overall in the Giro d'Italia in May might also insure he keeps the white jersey at the Tour de France.
Your chance to win in the Cyclingnews-Felt TdF competition!
You can win this!
Photo ©: Felt
Here's your chance to win some great prizes while the 2008 Tour de France is underway, featuring a prize roster of kit that is being tested in the world's greatest bike race by some of the world's leading cyclists.
Our lead prize is the 2009 model Felt AR road frame, currently being ridden in the Tour de France by members of the Garmin-Chiplotle professional cycling team, as well as supplementary prizes from Craft - manufacturer of team clothing to CSC-Saxo - and eyewear from BBB, supplier to Team Barloworld.
The US-based Felt Bicycles is becoming one of the world's leading bicycle manufacturers, with its bikes now being raced by the USA's Garmin-Chipotle in the 2008 Tour de France. The team are riding the 2009 model Felt AR, which combines Felt's expertise in time trial and track bike technology, while maintaining the necessary ride and handling characteristics of premium road bikes.
But wait! There's more. All entrants in the Cyclingnews-Felt 2008 TdF competition will also go into the draw to win great supplementary prizes from our friends at Craft and BBB. Cyclingnews also has four 2008 model Team CSC jerseys, designed and made by Craft, one of the world's leading technical clothing manufacturers, as well as 10 sets of BBB's BSG-29 Attacker eyewear, the exact eyewear used by riders from Team Barloworld in this year's TdF.
Our thanks to our friends at Felt, Craft and BBB for providing such awesome prizes. Hurry and enter now to be in the draw. Good luck!
Stage video highlights and podcasts
Just can't get enough of the Tour? Well fear not because Cyclingnews has expanded its coverage once again this year to bring you video highlights of every stage plus daily podcasts courtesy of Bikeradar.com and Procycling magazine.
Our video comes directly from Tour de France owners Amaury Sport Organisation (ASO), and will be online shortly after the finish of each stage. We've also got highlights from classic Tours of the past so click here to see the full archive.
Check out the podcasts page in our Tour de France section for a full round-up of news and views from the Tour.
(All rights reserved/Copyright Future Publishing Limited 2008)