Recently on Cyclingnews.com
Tales from the peloton, June 29, 2008
The quiet storm
Denis Menchov is certainly no quote-machine, but, at the age of 30, the Russian thinks the time has come to sew his doubters' lips as tightly shut as his invariably are. Procycling's Daniel Friebe tried to decipher the Russian enigma.
Menchov knows how to suffer
Photo ©: Roberto Bettini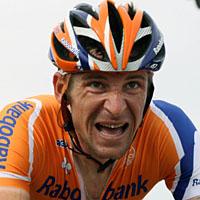 Thankfully for some, yellow jerseys aren't awarded for charisma. If they were, it's safe to say the only way five-time Tour winner Miguel Induráin could have got his hands one was by scouring eBay or mail order catalogues. The same, we're afraid to say, now applies to Russia's Denis Menchov…
Perhaps it's got something to do with Pamplona, the northern Spanish city that gave us Induráin (aka "The Bore de France"), and which Menchov has made his home since emigrating to Spain as an amateur. But the common ground isn't purely geographical; Menchov started his career with the Banesto team where Induráin once ruled, he's not totally unlike "Big Mig" in stature or riding style, his attacks are as rare as Induráin's once were, plus – as we've established – to call both men "monosyllabic" would be to overestimate their loquaciousness.
There is, though, also one crucial difference: Induráin did win those five Tours de France, while Menchov has yet to win even one. In fact, the 30 year-old has never really threatened to become Russia's first Tour champion, except briefly after a Pyrenean stage win in 2006, followed shortly afterwards by an unseemly collapse in the Alps.
Last year, Menchov's only mention in the same breath as the yellow jersey came amid rumours that he was one of the few individuals who knew where team-mate Michael Rasmussen was hiding in the build-up to the Tour. When Menchov finally quit the race on stage 17 – the day after Rasmussen's exit – his exhaustion was as much mental as it was physical.
With precedents like these, you might well ask why Menchov features in anyone's list of favourites this year. The answer resides partly in his two Vuelta a España wins, in 2005 and 2007, and partly in the fact that Menchov is one of the last men standing after the mass cull of cycling's stage race royalty that has taken place in recent years. Of the men who occupied the top 10 places at the end of the 2005 Tour, retirement, doping scandals and politics dictate that only two, Oscar Pereiro and Cadel Evans, are likely to be present in Brest on July 5.
The Russian can come across as cold
Photo ©: Roberto Bettini
Menchov would also tell you that a change to his Tour buildup may unlock the key to recreating his Vuelta success in July. In previous years, the Russian has kept a profile so low he's been practically subterranean in the spring months, but that changed this year as he lined up for the Giro d'Italia for the first time.
Asked to account for the discrepancy between his past Tour and Vuelta performances, Menchov told the Diario De Navarra in January: "First of all, it's because I ride with less pressure in the Vuelta, and secondly, it's because I get to the Vuelta already well raced. I find it easier to ride my second major tour in a season than my first. That's why I want to ride the Giro before the Tour, and get to the Tour with more racing under my belt…
Denis Menchov – Need to know
Born: January 25, 1978, in Orel, Russia Height: 180cm Weight: 65kg
Team: Rabobank
Tour record: 2007: DNF 2006: fifth 2005: 85th 2004: DNF 2003: 11th 2002: 93rd 2001: 47th
Major victories: 2007: Vuelta a España, stage and overall 2006: Dauphiné Libéré, stage 2005: Vuelta a España, two stages and overall 2004: Tour of the Basque Country, stage and overall; Paris-Nice, stage; Vuelta a España, stage 2003: Tour de France, best young rider classification 2002: Dauphiné Libéré, stage
"I still think that I've got time to win a Tour de France – I'm not afraid of it," he continued. "I feel as though I haven't had a lot of luck at the Tour, and that I'm good enough to win it one day. I certainly still feel in love with the Tour." For France and the Tour to start reciprocating the feeling, Menchov will have to conjure up a more accomplished display than he managed last year – and not only in press conferences. Although Menchov maintains that harmony reigned between him and Rasmussen in last year's race, he might well be relieved that Rabobank will start this year's Tour with one less ego to accommodate. Rasmussen's remark after the second Alpine stage last year – "It's just a shame that Menchov couldn't get his ass over the [Col du] Galibier" – hinted that the pair were hardly Sonny and Cher.
The ghost of Rasmussen still looms large over Rabobank. One of the richest teams in the sport, the Dutch powerhouse has reshuffled and regrouped after the fiasco surrounding Rasmussen's missed dope tests before the 2007 race, but new boss Harold Knebel also knows that any further faux pas can't and won't be tolerated.
The last thing they needed, then, was for Menchov, Rasmussen, Joost Posthuma, Pieter Weening and the now retired Michael Boogerd to be speculatively linked to an Austrian laboratory allegedly performing illegal blood transfusions in January. Emanating from Germany, the reports were flatly denied by Rabobank and the lab in question, and Knebel will be praying that they don't resurface between now and July. Menchov's response was typically laconic: "A time comes when nothing surprises you any more," he said.
One thing that would surprise many people would be a Menchov victory in this year's Tour. Or even just a decent soundbite…
Photography
For a thumbnail gallery of these images, click here
Images by Roberto Bettini/www.bettiniphoto.net
For more great in-depth features and interviews, subscribe to Procycling and find out more details about a free two-hour DVD featuring the best stages of the last 20 years of the Tour de France!