An interview with Cadel Evans, June 30, 2008
Tour favourite Evans relies on strong team
Tour de France favourite Cadel Evans was worried about his knee but the week of racing at the Critérium du Dauphiné Libéré reassured him about his chances to be at the peak of his form in the Tour de France next week, he told Cyclingnews' Jean-François Quénet in the French Alps.
Evans attacked the favourites in the Dauphiné and showed good form
Photo ©: Roberto Bettini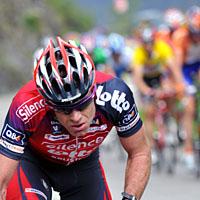 Cadel Evans seemed pretty relaxed at the end of the mountain stages in the Critérium du Dauphiné Libéré. He came in second overall again – a position he claimed last year behind Christophe Moreau, before getting the same result at the Tour de France behind Alberto Contador. He was not afraid to attack Alejandro Valverde while climbing up to La Toussuire, although the headwind didn't give him much hope. "I'm climbing well but not well enough for the win," was his first comment after the stage.
Quickly, he admitted: "I don't want to be getting too good too soon." Evans likes the Dauphiné, the format of the race – one week of competition comprising sprints, mountains and time trials – and the environment of the French Alps. Race organiser Thierry Cazeneuve testified, "Cadel is the only rider who came and thanked me, it was after the podium ceremony last year. He said the race was perfect." This is just an example of how polite the Australian is and how much he is appreciated in the world of cycling. The image of an individualist he carried when he switched from mountain-biking to road racing is no longer valid.
He came back to the Dauphiné this year with a different approach and a lot of worries. As a runner-up in the Tour de France last year, he's the logical hot favourite in the absence of Alberto Contador and Michael Rasmussen. "When I look back at last year's Tour, I think I rode a really good Tour. I got there on the results board, I avoided mishaps and so on. I'm happy with that. It's done. I don't have to bother about it now. I'm thinking at 2008 only." Still, had he kept a steady pace when Rasmussen and Contador went for ballistic attacks in the Pyrénées, instead of trying to follow them, he could have saved the 23 seconds missing in the end.
"I don't have to bother about it now. I'm thinking at 2008 only."
- Evans has put the lost Tour last year behind him.
Evans is a very organised champion. He likes to plan everything but his Tour preparation was interrupted by a knee injury. "The last few weeks have been rough for me," he explained during the Dauphiné. "It was kind of a worrying period for me. I don't like not being in control of my progress and training, especially when it comes close to the Tour. I had to take a bit of a diversion from my program. Now I'm happy, I'm back at a good level. It's going well. So far, so good."
Capitalising on his image as a polite guy, he said: "I have to apologise. Many journalists were calling me, emailing me, but I was concentrating on [treating] my injury and getting back on track towards the Tour."
The last week of May, when he was forced to not touch a bike, he missed part of his time trial training. "I tried to adapt to a new time trial position but I didn't have quite as much time as I wanted," he regretted. During the prologue and the time trial of the Dauphiné, he showed up with his new look: as low as possible. Many cyclists would like to have such a flexible body for such an aerodynamic position.
Evans is not afraid of attacking and that will help him in the Tour
Photo ©: Roberto Bettini

There's a big team effort behind Evans' preparation to the Tour de France. Never in the history has a Belgian team won the world's biggest race, so the staff of Silence-Lotto is doing all they can to bring their champion into the best position. They even appointed Belgian policeman Serge Borlée, the former bodyguard of Lance Armstrong and Alexandre Vinokourov, for the Tour de France.
"We're looking to [control] all the details," explained Cadel, who attracted the directeur sportif he trusted the most to the Belgian staff. It is Roberto Damiani, whom he met during his years at Mapei. "Half a percent is a lot in the end. The input of the mechanics, the cook, the dietician at the races this year are expected to shave off seconds and maybe minutes."
Cadel Evans may run out of time trial kilometres this year – there is not even a prologue
Photo ©: Roberto Bettini

Silence-Lotto has indicated to Robbie McEwen that he'd have to work the sprints out by himself as the team will be mostly focused on the general classification for Evans. "I've always had the idea I want to prove the team what I'm capable of, so I can win its faith and hopefully what I'm capable of is winning its belief in me," Evans said. "They will work for me and work 110%. Two years ago I wasn't sure of myself – if I could win the Tour and now all the indications are there that I can, so…
"Of course people are looking to us, we have a very good team but I don't want to ask the guys to ride at the front from start to finish. We're not going to control the race. The other team in the history of the Tour that could do that was Discovery Channel, and US Postal before; maybe Rabobank could have done it last year. I'm not going to ask that from our team," he warned.
There is a main reason for that. "In this year's Tour without the past champions, we might have a bit of an open Tour again, something like what we had after 2006 when there wasn't any real favourite. With no prologue and no time bonuses, the first part is going to be probably from [the spectator's] part interesting, and from our part stressful."
The history of Oscar Pereiro being so special, Evans is the only one of the 2008 Tour de France favourites to have been in a winning position at this race before and it could be tactically to his advantage. "I didn't give that any thought actually, it might well be…" he answered. "I learned from my first Giro that a leader's jersey is very heavy." He wore the pink jersey with three days to go but lost 17 minutes in the nine last kilometers of the 222-kilometre long stage 17 to Folgaria.
Evans now leads the ProTour standings
Photo ©: Roberto Bettini

He doesn't want to speculate anymore about the absence of Contador this year. "It's just the way it is," he said. "A lot of people ask me about him but I'm not the one who makes the rules." He admits to be "a little more focused than last year." He's just worried about the last mountain stage of the 2008 Tour de France. "I've never had a good day at L'Alpe d'Huez," he recalled. "But if you look at the mountains and the mountain days all together, it's similar to last year, so if you are good, you go good…"
We might see a more aggressive Evans this year, as he already indicated by attacking Valverde up to La Toussuire during the Dauphiné. "It's not like I'm scared to attack," he made clear. "It's just that I don't always have the legs."
"I went to my first Tour three years ago and I thought: maybe I can do top 10. I didn't know what I could do. Now we're nearly there…" Cadel said "we" because he knows that he will not win the Tour de France by himself but with the precious help of his staff and his team-mates.
Photography
For a thumbnail gallery of these images, click here
Images by Roberto Bettini/www.bettiniphoto.net