Tour de France Cycling News, July 26, 2008
Edited by Ben Abrahams & Laura Weislo
Persistence pays off for die-hard Chavanel
Frenchman consecrated by Tour de France victory after years of criticism
By Hedwig Kröner in Montluçon
Chavanel delighted the French crowd
Photo ©: Roberto Bettini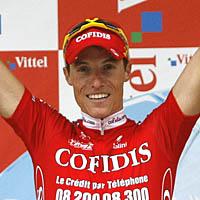 Cyclingnews diarist Sylvain Chavanel burst into tears after crossing the finish line in Montlucon at the finish of stage 19. Seeking refuge in the arms of his team assistant as the media descended upon him, the Frenchman celebrated a very special moment in his career. More than 'just' winning a stage at the Tour de France, Chavanel once and for all stuffed the mouths of his numerous critics, that claimed his ever-attacking way of racing was forever doomed to be unfruitful.
But the rider who scored the record for the most kilometres spent in breakaways at this Tour de France - 415, to be exact - quickly got a grip on himself again and was overjoyed to receive his very first Tour stage win podium honours.
"This victory proves that if you don't give up, you can one day achieve something," he commented about his habits of breaking away, that did pay off several times for him already this year. "Today was my day. I missed out several times at this Tour, and if I hadn't won today, I would have been frustrated, one more time. But I would have tried again!"
Coming up on
Cyclingnews will cover the 60th edition of the Dauphiné Libéré live as of stage 4 on Wednesday, June 10, at approximately 15:00 local Europe time (CEST)/ 23:00 Australian time (CDT)/ 9:00 (USA East).

WAP-enabled mobile devices: http://live.cyclingnews.com/wap/

Chavanel's feelings were very personal. "It's a big relief, and so emotional as you could see at the finish. I thought about my best friend who passed away one year ago, last year at the start of the Vuelta. If he would have still been here, he'd would have gone berserk with joy. I also thought of my family and my children. So many things came out as the pressure disappeared..."
The 29 year-old took off on his sixth attack 78 kilometres into today's stage, and was finally rewarded. Despite some back problems he's been having since the beginning of the season - which he will have to follow up on after the race - Chavanel was motivated as always to try his luck. "I didn't believe in it very much," he said. "Last night, I couldn't move anymore because my back was killing me. This morning, I got up and I wasn't sure at all about what I could do today.
Riis hoping Sastre can draw strength from 'yellow jersey factor'
By Daniel Benson in Montluçon
Will yellow give Sastre extra strength in the time trial?
Photo ©: Roberto Bettini

If tomorrow lives up to its billing as a super Saturday stage, Carlos Sastre won't find much better support and experience than that of his manager Bjarne Riis and his directeur sportif Scott Sunderland.
Riis of course knows all about time trialing in yellow and wearing it to Paris as he did in 1996 and in the prologue in 1997. However he also knows all too well what can happen when things go wrong. Who can forget his nightmare on the roads around Disneyland Paris in the '97 Tour? His repeated mechanical problems and now infamous and YouTube-esque highlight as he hurled his futuristic Pinarello Swan time trial bike into a nearby French ditch.
Now though, the cool and collected Dane is in a entirely different position, as he guides his mercurial Spanish talent into what would surely be the ride of his life, if, and it's a big if, he holds onto the yellow jersey.
At the finish of Friday's stage a relaxed-looking Riis personified confidence. "Carlos needs to start fast, increase the speed and then sprint to the finish," he said with that all too familiar grin of his. "Seriously though, the yellow jersey will of course be a factor, we just don't know how much by."
Sunderland was more open when it came to the importance of the time trial. "He needs to start fast, but without sprinting off from the blocks. On the start line it's going to be the same for everyone who wants to win the stage or the overall."
But where does the pressure lie? With the Spanish climber, who is leading the race for the first time in his career, or with the all-rounder Cadel Evans? "At this point I think the pressure weighs on both of their shoulders. Evans maybe has more on his as he is the one that has to make up that time. Whether he's better or not isn't that important. He still has to get the work done," said Sunderland pragmatically.
If Sastre were to pull it off and ride into Paris triumphant - becoming the third Spaniard to win the race in as many years - Sunderland believes the Tour de France couldn't find a more deserving winner. "Carlos has been around for many years, and has missed the podium on occasions. For Australian cycling it would be fantastic if Cadel won but for cycling in general it would also be good for Carlos to win, especially after what's happened in Spanish cycling in the last few years. He'd be a great champion and a great ambassador for the sport."
Sergeant quietly confident in Evans' chances
By Gregor Brown in Montluçon
Cadel Evans (Silence-Lotto)
Photo ©: Roberto Bettini

On the eve of Saturday's crucial time trial, Silence-Lotto team manager Marc Sergeant said Cadel Evans has a "fair chance" to claw back the 1'34 deficit on Carlos Sastre and win the 2008 Tour de France.
"We have a fair chance, although it is a pretty big gap," said Sergeant to Cyclingnews following Friday's stage to Montluçon. "It is after three weeks of racing, and in the past he has always showed good form in the time trial. We are pretty confident, 1'34 to the yellow jersey - it will be hard."
In Evans' favour is the added pressure that will fall on Sastre's shoulders, but there is also the possible lift the Spaniard could gain from the yellow jersey. "Sastre is in yellow and has the confidence. The yellow jersey can help, but it can also block you with stress," Sergeant added.
Evans will have seen the course on two separate occasions before rolling down the start ramp Saturday afternoon. He visited once before the Dauphiné Libéré and will see it again tomorrow morning before the stage. Besides the reconnaissance however, Sergeant insisted there was little else that could be done at this point. "There is no plan for tomorrow, just to go as fast as possible. We will do the normal preparations. Cadel is feeling good."
As for the remaining podium places, Sergeant believes the battle will be confined to the current top five. "There are a few guys who want to stand on the podium. The first five guys will have an open battle for the podium. From Vande Velde onwards, it will be real hard to take more than two minutes on Cadel or Menchov. You will see the winner come from the first five."
Cancellara paying the price for selfless teamwork
By Daniel Benson in Montluçon
Fabian Cancellara (CSC-Saxo Bank)
Photo ©: Gregor Brown

After finishing a surprisingly low fifth in the first time trial at the Tour de France, world time trial champion Fabian Cancellara remains a favourite for tomorrow's final race of truth.
And on any other course at any other race the Swiss ace, who recently signed a new three-year contract with Team CSC-Saxo Bank, would find himself as favourite. However in the last three weeks he has found himself working at the helm, first for Fränk Schleck and now Carlos Sastre. Dropped from the bunch on Friday's stage Cancellara was quick to admit that his body is starting to pay the price.
"I've used a lot of energy at the Tour and today was one of the hardest stages. There was no rest as it was the last chance for many riders to win something. Now I have look forward and be positive for tomorrow," he said.
Despite his aim to go for the win tomorrow he'll still be riding within the remit of the dutiful team-mate. Starting before Sastre, he will surely be relaying any course information for his leader's benefit.
"I don't have to give advice to Carlos, he just needs to give his best that he can. It's 53 kilometres so it's not like the first time trial, but it's the end of the Tour and a lot of riders will be tired."
When asked what wearing yellow might do for Carlos, Cancellara smiled, perhaps remembering his days in yellow last year. "The yellow will give you more, you have something different inside you. It makes you go over you limits and Carlos will not want to give it away on the last day. The team knows that he will do his best."
Before ducking into the team bus for a well-deserved rest he added, "Cadel has much more pressure on him. He's been riding to save time and has followed wheels in this race, not taking risks. Tomorrow we'll see a big battle for the yellow jersey."
Vande Velde ready for time trial showdown
By Daniel Benson in Montluçon
Christian Vande Velde (Garmin-Chipotle)
Photo ©: Roberto Bettini

There are exactly 53 kilometres of time trialing standing between a podium place for Christian Vande Velde after the 32 year-old American and Garmin team leader finished safely in the bunch on Friday's 19th stage between Roanne and Montluçon. Despite it being a relatively uneventful day for the overall contenders, Vande Velde was quick to reveal that it had it had been tougher than he'd expected.
"Today was hard. Perhaps it was one of the hardest stages in the Tour so far. It was relentless all day long, but I have no idea why they [the peloton] were pulling so fast at the end of the stage with one kilometre to go."
When asked of his chances of climbing onto the podium in Paris, he was relaxed but confident. "I'm gonna give it all I've got. I don't want to get too excited and I'm not gonna change my style of riding for tomorrow.
"I've not even seen the course yet, but with today being hard it bodes well for me."
Vande Velde currently lies in sixth position, 4'41 down on the yellow jersey and 3'11 behind third placed Bernhard Kohl of Austria.
Millar relaxed as career enters new phase
By Daniel Benson in Montluçon
David Millar's dreams of yellow
Photo ©: Isabelle Duchesne

With the final individual time trial on Saturday, Britain's David Millar was in a relaxed and buoyant mood as the race moved towards its finale in Paris on Sunday. Happy with how his Garmin team had performed in the Tour, the Scot discussed his chances in the time trial, his team's performance, and his own future as a Tour rider.
Racing in its debut Tour, the US outfit - formally known as Team Slipstream - has constantly been in the thick of the action. Christian Vande Velde remains in podium contention, Millar himself just missed out on yellow in the first time trial and Will Frischkorn and Danny Pate have almost pulled off courageous stage wins.
"We're over the moon and we've had a fantastic race on so many levels. It's another big step for us," said Millar before the start of stage 18. With the team sitting outside of the ProTour, it was handed a wild card by race organisers ASO, but unlike many ProTour teams who've not lived up to their billing, Garmin has played a significant part. Earlier in the year, they pulled off a huge coup by winning the opening team time trial at the Giro d'Italia, putting Vande Velde into the leader's jersey.
"I don't think we're the underdogs anymore. We've come here and done so well, especially when you think that five of our team hadn't even been at the Tour de France before," Millar added.
Millar has also been instrumental in passing on his experience to his fledging young teammates. "They have learned a lot about themselves. Most importantly, that they can compete on the world stage and at the Tour de France. It has been a great experience for them. It can only be seen as stepping stone for next year."
On his role for the remaining few stages, the Scot was pinning his chances on the time trial and not necessarily on an escape. "I'm feeling tired and my strength is shrinking day-by-day. I feel fine on the bike but I'm having problems recovering off it. Perhaps I just trained too much after the Giro, but I'm paying for it now."
Millar could be entering a new phase of his career, that of a super domestique for Vande Velde. "With Christian being our GC guy now it gives me other goals that I can train for and to help him suits me. I can still do other races during the year and then come here and work for Christian at the Tour. It gives me a lot of pleasure."
Those other goals start soon enough though, at the World Time Trial Championships in September. "I'm going to take a short holiday but I'm going to fix my eyes on the Worlds. I've got my time trialling confidence back for now."
Flecha: 'I will never attack again'
By Gregor Brown in Montluçon
Spaniard Juan Antonio Flecha regretted his attack on stage 19 of the Tour de France that forced him to chase and end his day outside of the time limit. "Shit happens. I will never attack again," Flecha said after entering the team Rabobank bus, according to directeur Sportif Erik Dekker.
The Spaniard finished the stage nearly a half hour behind the main peloton with Frenchman Romain Feillu (Agritubel) and German Fabian Wegmann (Gerolsteiner).
"He blew himself up with the attack on the first climb with Vincenzo Nibali and Jens Voigt - Flecha has the talent to blow himself up," said Dekker. "He was first working alone to chase back and then he was joined by Feillu and Wegmann. They were going well - they were 20 minutes back in the feed and then 29 by the finish.
"Flècha did not feel the pain in his legs after crossing the line, but more in his heart."
Dekker worked with Gerolsteiner and Agritubel in an attempt to persuade the race jury to change the maximum time limit. The stage was classified as 'flat stage' and therefore had a nine percent time cut based upon the winner's time, equating to a time of 19'33 after the winner. "I talked with Gerolsteiner and Agritubel to see if we could get the limit lifted - it did not work. It was at nine percent, and if it was a medium-mountain stage it would have been at 17 percent."
Flecha will now travel back to Barcelona. He plans to ride the GP Plouay and possibly the Clásica San Sebastián before the Vuelta a España. "I want to finish the Vuelta and then race the Worlds - the Spanish team is always strong."
Schleck senior upset with handling by French police
By Gregor Brown in Montluçon
Johnny Schleck, the father of CSC-Saxo Bank riders Fränk and Andy Schleck, did not mind the French police doing its job when they searched his car Thursday afternoon, but he did not appreciate the way in which the officers conducted themselves. The search, which ultimately revealed nothing, raised eyebrows and provided headlines in what was an otherwise straightforward day of racing at the Tour.
"It is normal, when a rider is good there is suspicion of him. I am just upset with the way the police handled themselves," said Schleck, a former professional rider and now a car driver within the Tour de France. "If they stopped me normally, had me go to the side, I would do that. It was in the race, I was only 30 or 40 seconds ahead of the race but I had to stop and get out to one side. It could have been possible that I caused a big crash."
The only items of interest to police were Schleck's medications. "They found medications that I use to treat my knee and for my urine - they found those and that's it. I don't mind all the focus on anti-doping and what they did with me, but just not how they did it."
Your chance to win in the Cyclingnews-Felt TdF competition!
You can win this!
Photo ©: Felt
Here's your chance to win some great prizes while the 2008 Tour de France is underway, featuring a prize roster of kit that is being tested in the world's greatest bike race by some of the world's leading cyclists.
Our lead prize is the 2009 model Felt AR road frame, currently being ridden in the Tour de France by members of the Garmin-Chiplotle professional cycling team, as well as supplementary prizes from Craft - manufacturer of team clothing to CSC-Saxo - and eyewear from BBB, supplier to Team Barloworld.
The US-based Felt Bicycles is becoming one of the world's leading bicycle manufacturers, with its bikes now being raced by the USA's Garmin-Chipotle in the 2008 Tour de France. The team are riding the 2009 model Felt AR, which combines Felt's expertise in time trial and track bike technology, while maintaining the necessary ride and handling characteristics of premium road bikes.
But wait! There's more. All entrants in the Cyclingnews-Felt 2008 TdF competition will also go into the draw to win great supplementary prizes from our friends at Craft and BBB. Cyclingnews also has four 2008 model Team CSC jerseys, designed and made by Craft, one of the world's leading technical clothing manufacturers, as well as 10 sets of BBB's BSG-29 Attacker eyewear, the exact eyewear used by riders from Team Barloworld in this year's TdF.
Our thanks to our friends at Felt, Craft and BBB for providing such awesome prizes. Hurry and enter now to be in the draw. Good luck!
Stage video highlights and podcasts
Just can't get enough of the Tour? Well fear not because Cyclingnews has expanded its coverage once again this year to bring you video highlights of every stage plus daily podcasts courtesy of Bikeradar.com and Procycling magazine.
Our video comes directly from Tour de France owners Amaury Sport Organisation (ASO), and will be online shortly after the finish of each stage. We've also got highlights from classic Tours of the past so click here to see the full archive.
Check out the podcasts page in our Tour de France section for a full round-up of news and views from the Tour.
(All rights reserved/Copyright Future Publishing Limited 2008)