Tour de France news feature, July 10, 2008
Predicting yellow: Showdown on Super Besse?
The first big mountain stage could change many things in the Tour de France, including the identity of the rider in the yellow jersey. On the eve of stage six, some of those from the peloton and the media give their predictions to Cyclingnews' Shane Stokes.
Stefan Schumacher wants to add to his wardrobe
Photo ©: AFP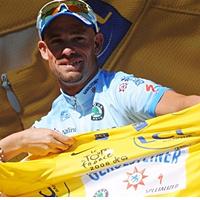 Showdown on Super Besse? Well, it's not exactly that, as the finish of the Tour de France is still over two weeks away. But there will nevertheless be a lot of interest in the first mountain stage of the race. Friday's stage could take the general classification and thoroughly shake it up or, alternatively, the fact that it comes so early in the Tour could lead the race favourites to opt for caution and hold back.
Tuesday's time trial victor Stefan Schumacher will head into the stage with a slender lead over many others. The Gerolsteiner rider has a 12-second advantage over Kim Kirchen (Team Columbia) and David Millar (Garmin Chipotle H3O), with Cadel Evans (Silence Lotto) 21 seconds back.
The fifth-placed rider, Fabian Cancellara (Team CSC) is likely to lose time on the climb, but the others in the top eight - Christian Vande Velde (Garmin Chipotle H3O), George Hincapie and Thomas Lövkvist (both Team Columbia) are all within 50 seconds of yellow and will be aiming to strike.
Super Besse is prominent in people's minds mainly because it is the first big mountain of this year's Tour, and because it is a summit finish. However it's not the hardest ascent in the race, by any means; it is only a second category climb, lasting eleven kilometres and gaining approximately 500 metres. Of these, the first 7.4 clicks average 5.7 percent, it then flattens out and descends slightly for two kilometres, and then ramps up to 10 percent for the final 1500 metres.
It is preceded by the second category La Croix-Morand Pass and this could provide a springboard for an early attack. The close gaps mean that Gerolsteiner will have to keep a tight control on the bunch; it's going to be difficult for them to do so throughout the stage, so it's conceivable that Schumacher may only have one or two helpers on the final climb.
Who to watch?
With so many riders close to yellow and their form untested in the mountains of this year's Tour, the possible contenders for yellow on Thursday are many. Of course, some of those mentioned may falter on the road to the finish but, at this point, there are many opinions as to who will have the race lead.
"Twelve years ago, Abdoujaparov finished in the front group there. So if he can climb Super Besse, then Stefan Schumacher should be able to do the same."
-French journalist Jean-François Quénet says the climb to Super Besse is not that difficult.
Cyclingnews spoke to a small number of riders and journalists in order to ascertain who they feel are the most likely to fight it out. Not surprisingly, the former tended to go for their team-mate if one was in contention.
Team Columbia's Thomas Lovkvist went for the rider currently in second place. "I think Kim Kirchen has a very good chance. It is a very good climb for him with a small dip at the end and the last kilometre uphill. I think he will be a very strong contender for that."
Garmin Chipotle riders Trent Lowe and Danny Pate went for another from their own team. "There are a lot of guys who are going to try to get yellow. David Millar is one of those, and it's possible [to do it] if we are close for him," said Lowe.
Pate gave a one word answer as to the rider he expected - "Millar!"
As for the Scot himself, he said that he will do the utmost to achieve his big goal of the Tour. However he's a little worried about Kirchen. "Unfortunately Kim is ahead of me, it is going to be hard to get time. But we will see, anything can happen," he stated.
Simon Gerrans (Crédit Agricole) and Baden Cooke (Barloworld) both went for the current leader. "Schumacher will hang on," said Gerrans, confidently. Cooke echoed this. "I think Schumacher can hang onto it up that climb. I don't think he can hold it to the end of the race but I wouldn't be surprised if he can keep it up there on Super Besse."
The media's expectation
Kim Kirchen (Columbia) could be in yellow
Photo ©: AFP

Looking to those in the press room, Schumacher and Kirchen were the firm favourites. Marco Pastonesi of La Gazzetta dello Sport thinks the Luxembourg rider has the best chance. "I think Kirchen is in very, very good shape and I feel that the climb is not so hard," he told Cyclingnews. "It should be him for those reasons, and also because all the biggest riders will be watching each other.
"For me, Kirchen is the third man behind Valverde and Evans, in terms of those going for the overall. I think that Evans is the big favourite. But tomorrow I think that Kirchen can take yellow and that [Saunier Duval rider Ricardo] Riccò has a very good chance of winning the stage.
Compatriot Paolo Tomaselli (Corriere Della Sport) went for the same choice. "Everybody talks about Kirchen for tomorrow," he said. "I just talked to Roberto Damiani, the directeur sportif of Cadel Evans, and he said that Kirchen could take the jersey. I think so, but let's look to Cadel as well. He is nine seconds behind Kirchen and on a final climb such as this, he could also grab the jersey tomorrow. That said, maybe the fact that Kirchen is in pole position for the yellow jersey will suit the Silence Lotto team.
"I do also think that there is a chance that Schumacher can remain in yellow. For Millar, a 10 percent climb may be quite tough, but Schumacher might just hold on."
Two others were convinced that the German could do it. "For me, I think it will be Stefan Schumacher," said Jean-François Quénet of Le Parisien. "He is a good climber, and I don't think there will be a major battle between the favourites. None of the favourites wants to be in yellow so early...they won't put up a big fight, so under those conditions Gerolsteiner should be able to hold on.
Cadel Evans (Silence-Lotto) lies in wait
Photo ©: AFP

"Also, the climb is not that hard. Twelve years ago, Abdoujaparov finished in the front group there. So if he can climb Super Besse, then Stefan Schumacher should be able to do the same."
Guy van den Langebergh of the Gazet van Antwerpen echoed this. "Stefan Schumacher is strong enough to keep the jersey on Super Besse," he said. "We don't know him as a climber. Yet I'm quite convinced that while he is not good enough for the big climbs like the Alps, he should be able to hold the jersey on Super Besse."
Millar was mentioned by compatriot Richard Moore (The Scotsman) as being in with a chance. "I have to go for a Scot," he said. "But I think Schumacher will probably hold on... My heart says Millar, my head says Schumacher."
Ellis Bacon (Procycling/Bike Radar.com) would also like to see the Garmin Chipotle rider do it, but thinks the jersey will go elsewhere. "I reckon Millar has got a chance, but Schumacher is worried about tomorrow and so I think that Kim Kirchen is in a pretty good position," he said. "For me, Super Besse should suit him...he can climb well, and should do better than Millar on that there. Evans is only 21 seconds behind so he is also a possibility. But, for me, Kirchen is the favourite."
This view was shared by a man who sees much more of the action that the journalists. "I think it will be Kirchen," said photographer Graham Watson. "I think he has a small window to get the jersey, because he's not really a big mountain climber. His team will also really go for it; they want to get immediate success, and will worry about the rest of the Tour later."
Judging by these assessments, the general expectation is that the jersey will either stay with Schumacher or pass to Kirchen. Evans and Millar have a chance - and so too the other riders who were not mentioned - but the nature of tomorrow's parcours, the early positioning within the Tour and the fact that the race favourites may elect to keep their powder dry leads most to believe that the time gaps will be relatively small.