Stuart O'Grady's Tour diary
Stuart O'Grady has a lot of Tour experience
Photo ©: Jon Devich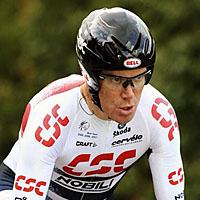 Australian Staurt O'Grady rides for Team CSC and is one of the most experienced riders in this year's Tour de France. The Aussie has already used up all the bad luck for the past year, returning from a horrible crash in the 2007 Tour and a broken collarbone in the 2008 Giro. O'Grady has won two stages in the Tour de France. He finished second in the points classification four times and has worn the yellow jersey. Things are looking promising for 2008 and Stuey will keep Cyclingnews' readers informed via his diary.
Stage 2 - Sunday, July 6: Auray - Saint Brieuc, 164.5km
Once again the wind was blowing a gale at the start line and the rain was falling. All this just makes the peleton SO nervous and chaotic its crazy.
Everyone wants to be up the front ,all the directors are in the cars telling their riders to stay up the front. But the roads are only so big. It's a constant battle to get to the front and even harder to stay there. It may come across easy on TV but let me tell you... IT ISN'T!
We were flying in the last 40 odd kilometres and once we hit the last 25k it was seriously full speed ahead. I was doing my best to protect Carlos and keep him up the front, and the other guys in the team were doing well staying up there also.
If you see your team-mate struggling a bit in the gutter, as you ride past you yell at him to get on the wheel and take as many team-mates with you on the way up. It's all part of the fun in the finale!
There were quite a few crashes and we only just missed the one in the final km but all's good for another day. I think tomorrow will be pretty much the same thing as today but after the TT things should be settled in the GC and the first day nerves of the Tour should be replaced by legs that are starting to get tired already. Then the bunch will be a lot calmer.
We'll see what happens demain!
Stuey