Adam Hansen's Tour diary
Adam Hansen
Photo ©: Team High Road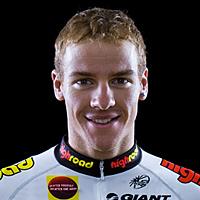 In an almost bookend fashion to our other Aussie Cyclingnews diarist, Stuart O'Grady, Adam Hansen is riding in his first Tour de France. The Team Columbia domestique is in his second year at the top level of the sport, and is ready to give his all for his teammates. While he does that the Australian time trial champion will let us peek in on the day-to-day life of a (first) Tour rider.
Wednesday, July 9, 2008
Coffee problems on Le Tour
Hello Cyclingnews fans,
This is my first diary entry in my first Tour de France so I'll try to catch you up on what's been happening.
Today was the time trial and I had some instructions to take it easy to recover. I'm here to work for Mark and Gerald in the sprints and help over the early mountain passes. I thought I was going easy but then I got to the first time check and I was told to go even a bit easier! We have three guys in the top 10 and we don't need any more. So I was pretty happy about that because very other day is going to be really hard.
I was asked what is different about this race compared to all the others, including the other grand tours, and for sure the sheer number of people on the side of the road is incredible! In any other race we'll go though a small village and there are always a few out there watching, but here there are thousands of people everywhere!
There are heaps more media, photographers and fans. Everything is bigger. We also have more of everything than normal. More souigners, mechanics... trying to encourage us to win I guess.
So far things have been rather normal. We've had some opportunities for Mark and Gerald but things just didn't work out. But that's not the only racing going on here...
The team busses have their own race before the start to make sure they are the first team there, to get the best parking spots. Sometimes they will leave so early. Our bus left at 8.30 this morning and we were the second to last bus there! The race didn't even start until 11.30!
The biggest problem so far is we had the coffee machine break in the bus. Someone, we don't know who exactly, put water where the coffee beans are supposed to go. We had two days without a coffee machine!
Then someone said to buy another one and then everyone started sounding off with what they wanted. Bob Stapleton was standing there not knowing which side to take. Luckily we did have a spare that we'll use until we get a new one.
I'm an espresso fan -- I have a Saeco machine with these different pods called Nespresso for different flavours. My mum has one too and I know that I can get the exact same coffee there that I get at home, so I'm voting for that. It's owned by Nestle and they own Power Bar, which is a sponsor of the team -- so it's kinda like just another sponsorship. (nudge nudge!)
To all my family and fans, thanks for the support, and keep watching on the Cyclingnews live ticker!
Adam