Recently on Cyclingnews.com
An interview with Juan José Oroz, July 18, 2008
Juan Jose Oroz: Emerging from anonymity
Underneath the well-known names of the Tour, a few taps of the 'page down' key on the results below the Schlecks, Evanses and Valverdes of the world, you'll find the heart of cycling's peloton. These workers, like taxi drivers or waiters, perform essential jobs for their teams all the while dreaming of their day on the big stage. One such rider, Juan José Oroz, emerged briefly from obscurity when he launched a brave attack on stage 12. Cyclingnews' contributors Peter Hymas and Monika Prell learned more about this Basque rider.
Oroz is trying to escape anonymity
Photo ©: AFP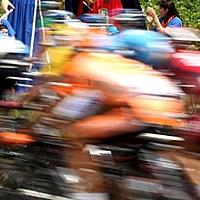 You'll be excused if you've never heard the name of Euskaltel-Euskadi pro Juan José Oroz Ugalde. The third year professional does not have any victories in his palmarés, photographs of him outside the confines of Euskaltel-Euskadi's web site are downright J.D. Salinger-esque in their rarity, and unfortunately for Oroz the most attention he's received in 2008 ignominiously involves surrendering the mountain leader's maglia verde on the final day of Tirreno-Adriatico.
Even when Oroz launched an attack up the unclassified climb of the Col d'Extreme on stage 12 of this year's Tour in order to bolster a floundering two-man break on a sprinter's stage, the photographers failed to capture his 45 kilometres at the front of the world's biggest bike race. Even the television commentators could not come up with a single thing to say about the man in orange.
Unfortunately for 'Juanjo', any report on his feat was overshadowed by the news of Riccardo Riccó's positive. However, it's not as if Oroz hasn't made a concerted attempt to escape from obscurity.
Riding in his first Grand Tour, Oroz said that he found the first few stages to be stressful. "The pace was very high, and there were many attempts to break away until one group was finally able to escape," he said of the stage starts. "It's difficult on the body, so if you have been in a breakaway group during one stage, the next day you are only able to ride in the last part of the peloton. But slowly you are able to get accustomed to the rhythm, even if you notice the fatigue, and surely we will notice it even more in the next two weeks."
After his 45km breakaway with Arnaud Gerard (Française des Jeux) and Samuel Dumoulin (Cofidis), Oroz gained some momentum for the final push to Paris. "For being my first Tour, things are going very well. I am starting to get confidence in my abilities. There are still many stages to go and we will try again, hopefully with more luck."
Monumental achievements
Oroz is a rare Spanish classics hunter
Photo ©: Roberto Bettini

One of the old adages of professional cycling, intended to underscore the importance of utilizing reliable equipment, states, "You can't win a race if you don't cross the finish line." And while Oroz has yet to achieve victory as a professional, he has been reliably crossing quite a few significant finish lines for Euskaltel-Euskadi.
In fact, Oroz can lay claim to an achievement which no other professional cyclist has duplicated in the six month period from last October's Tour of Lombardy through April's concluding Spring Classic at Liège-Bastogne-Liège. During that span of time Juan Jose Oroz was the sole professional to complete all five Monuments of Cycling*.
Not only that, Oroz was completing his first year's tenure on a ProTour squad, so each Monument was his first attempt. And not simply content to duke it out in the Monuments, Oroz managed to complete the sweep of Flanders week events at Gent-Wevelgem and complete the trifecta of Ardennes week races by surviving Amstel Gold and Fleche-Wallonne to boot.
Only three men have won all five of cycling's Monuments: Rik van Looy, Roger De Vlaeminck, and (no surprises here) Eddy Merckx. Even finishing all five Monuments is a significant accomplishment, particularly in this contemporary era of specialization. Approximately 1100 professionals have finished at least one of the Monuments over the past 10 years, but only 33 (most recently Juan Jose Oroz) have finished all five events. This Monuments fraternity includes current standouts such as Alessandro Ballan, Juan Antonio Flecha, Stijn Devolder, Vladimir Gusev, and Philippe Gilbert plus an impressive assembly of retired professionals such as Michele Bartoli, Rolf Sorensen, Andre Tchmil, Franco Ballerini, Dimitri Konyshev, Maximilian Sciandri, and Andrea Tafi.
Cyclingnews spoke with Oroz earlier this year to find out first-hand his impressions of the Monuments and the other Northern Classics. When asked if he was even aware of his accomplishments [finishing all five Monuments], Oroz laughed, "Yes, and I am very satisfied about this fact. I really liked to compete in them! I don't really have a favourite one. Perhaps Liège-Bastogne-Liège, even if it is very hard and the difficulties are almost mountains. And I liked the Flèche Wallonne, even if I crashed [laughs]. The Flèche Wallonne was perhaps the one that fits best my characteristics. Liège-Bastogne-Liège is the hardest for its climbs."
Juan José Oroz (Euskaltel-Euskadi) in a break in Tirreno-Adriatico
Photo ©: Roberto Bettini

Oroz continued, "I loved the public in Paris-Roubaix and the ambiance in the Tour of Flanders. The animation, the cheers: that is something that fascinates a rider. I saw it [Paris-Roubaix] as a little boy on the television, and living it in reality is a great feeling. From Paris-Roubaix I remember most the Arenberg Forest. Until this moment, I had passed quite well along the pavé and I was enjoying the ride. But from then on the race was only pain. When I reached the velodrome, the only thing I felt was relief because my hands and arms hurt a lot from the pavé. When I entered the velodrome, I only thought, 'Finally, it's finished!' Paris-Roubaix is a bit inhuman, but it's a really nice race."
When asked if Oscar Freire's and Juan Antonio Flecha's performances in the Classics had any influence on his riding, he replied, "Yes, of course. You see, Flecha is not Belgian, but he performs very well in these races. You can't any longer make excuses saying that those races are only for Belgians. This is a fact that's really true! And the advice of riders like Pedro Horrillo who also is riding the Classics are really helpful before you confront those races."
It's no surprise that a Euskaltel-Euskadi professional would have a predilection for stage races, but Oroz's exposure to the Classics has perhaps sparked a new interest in one-day events. "Until now, I had not competed in any Classics, so I would have said I'd prefer stage races. Now I must confess that I like the Classics, but I don't have a real preference."
Juan Jose Oroz turned professional in 2006 for the Spanish Kaiku squad at the relatively late age of 25. "I did not win a lot as amateur", he explained. "In 2003 I had a bad crash and I injured my back. I was not able to pedal for one and a half years, until the end of 2004. After having recuperated, I became a professional in 2006 with the [Pro Continental] team Kaiku.
"After its disappearance, I got an offer from the [amateur] team Orbea-Oreka [in 2007] and later I moved up to the Euskaltel-Euskadi team. I did very well in Orbea-Oreka, I had some second places, and so Euskaltel-Euskadi called me and offered me a place in their team [in May 2007]. The fact that they had a free place was also caused by the bad crash and the end of the career of Roberto Laiseka. I would not have minded if he had continued – it was bad luck for him." [Laiseka crashed in the 12th stage of the Giro d'Italia in 2006 and broke his right knee cap.]
When asked if he'll keep the Monuments streak alive with this October's Tour of Lomabardy, Oroz was a bit unsure of his fate. "I love this race, it's very nice. But you know, it's very late in the season, and you never know what will happen. I would like to compete in it, but I still have no idea of how my season will develop."
Juan Jose Oroz's 2007-2008 highlights:

2008 Tour de France (after stage 12), 102nd @ 1.19.44
2008 Critérium du Dauphiné Libéré, 86th @ 1.10.51
2008 Tirreno-Adriatico, 59th @ 21.56
*2008 Liege-Bastogne-Liege, 42nd @ 4.09
2008 Flèche-Wallonne, 105th @ 7.38
2008 Amstel Gold Race, 100th @ 7.42
*2008 Paris-Roubaix, 91st @ 16.57
2008 Gent-Wevelgem, 46th @ 0.00
*2008 Ronde van Vlaanderen, 50th @ 9.14
*2008 Milano-San Remo, 144th @ 12.35
*2007 Giro di Lombardia, 92nd @12.37
* - the five Monuments of cycling.