Tour de France Cycling News, July 20, 2008
Edited by Laura Weislo & Ben Abrahams
Freire one step closer to green dream
By Brecht Decaluwé in Digne les Bains
Oscar Freire (Rabobank)
Photo ©: Roberto Bettini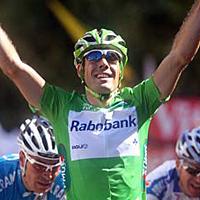 Spanish sprinter Oscar Freire at last added his name to the list of 2008 Tour de France stage winners on stage 14, thanks in part to a category four climb before the finish that put quadruple sprint winner Mark Cavendish out the back of the bunch. The win padded his lead in the green jersey competition, which he has earned through eight top ten stage finishes, a remarkable level of consistency from the Spaniard.
Freire brought himself level on points with Team Columbia's Kim Kirchen after stage eight, with a fourth place finish behind Cavendish. He then lost the green jersey to Kirchen on the mountainous finish at Bagnéres de Bigorre on stage nine, where Kirchen placed 12th. Thanks to Kirchen's lead in the overall classification, Freire was wearing green the following day which finished on the major climb to Hautacam. On that day, Freire made a brilliant move to get into the early breakaway. The twelve points he scooped up in the intermediate sprints more than made up for Kirchen's climbing abilities. Even though the Luxembourger lost the yellow jersey, he still finished 15th, earning a single point.
From the tenth stage on, Freire wore the green jersey and after Saturday's stage win he seems to have paved the way for the overall victory in the points classification in Paris. Although Cavendish has dominated the flat stages, Freire is happy with his Tour so far. "Cavendish proved that he is the fastest sprinter this year, but his absence today doesn't take anything away from my performance in this Tour de France; I was there in all the other sprints," Freire said.
Coming up on
Cyclingnews will cover the 60th edition of the Dauphiné Libéré live as of stage 4 on Wednesday, June 10, at approximately 15:00 local Europe time (CEST)/ 23:00 Australian time (CDT)/ 9:00 (USA East).

WAP-enabled mobile devices: http://live.cyclingnews.com/wap/

However, Freire was not so confident of his green jersey changes after coming fifth behind Cavendish on stage 13. "It's not in the pocket yet," he said after that stage, realizing that there were probably two sprints left in the Tour de France: one on the Champs Elysees in Paris and one in Digne-les-Bains.
Freire, with a 28-point lead on the British rider after the sprint in Nîmes, feared that if Cavendish took both stage wins – a likely scenario since he was unbeatable in all but one other sprints – he would take the green jersey in Paris. "This morning I asked Cavendish if he was planning to go for the green jersey in Paris, and he said he would. Maybe he has changed his mind now," Freire said following Saturday's stage win that brought him into a comfortable lead of 47 points on Thor Hushovd.
Barloworld riders confident in team's future
By Brecht Decaluwé in Digne-les-Bains, France
Chris Froome (Barloworld)
Photo ©: AFP

One of the four remaining Barloworld riders at the Tour de France has said he is confident the team will continue in cycling until at least 2009, following the news that title sponsor Barloworld, a multi-national brand management company headquartered in South Africa, will withdraw its sponsorship after the race. The company's decision follows Spaniard Moisés Dueñas' failed doping test for EPO, and subsequent revelations that the rider had banned substances in his hotel room.
"I'm convinced the team will find the best solution for us. It's not going to be a problem. They will find a win-win solution for everybody," said Christopher Froome, a Kenyan-born rider who now races under British nationality. "We're all just waiting to find out more. I think it's going to end up being a team that continues in the same way as it did before, but maybe under a different name. I'm not too sure, but I think the sponsorship until 2009 is still confirmed.
"It's not a good way to end things, but I can understand the sponsor's point of view, that they don't want to link themselves to doping in any way."
Team-mate Gianpaolo Cheula said that he too understood the decision of sponsor Barloworld, and expressed disappointment in Dueñas. "Only Dueñas knows the details, but the team is certainly clean; there is no doping organized by Barloworld," Cheula said. "I'm angry at Dueñas, because it's his fault the sponsor pulled out. I hope that in the coming years the riders understand that doping in cycling is no longer possible."
Froome was also angry with Dueñas for risking so much for personal success. "It all actually goes back to one person in one event, who was selfish enough to take away almost 45 people's jobs. It's a huge shame. I don't know if he understood the consequences fully when he did it, but it was a very selfish act on his part," Froome said.
Froome said he still couldn't understand how nobody in the team knew about Dueñas' EPO use. "We've spoken to [Felix] Cardenas and [Paolo Longo] Borghini who both shared a room with him. They swore that they didn't see anything. I find it incredible that he has been hiding it from everyone like that. What I find even more amazing is that he thought that he could come to the Tour de France and get away with it. You know that you're going to be tested in the Tour, so what's the deal."
Froome added that Dueñas was well-liked within the team, making the news of his failed test even harder to swallow. "Moisés got along with everybody in the team and I actually really liked him," said Froome. "I thought he was a really decent guy, so it was a real shock. People put us all in the same boat now. They see someone in the Barloworld kit and think that he might be doping. It's terrible that people put you in the same boat. It makes me very angry, but what can you do about it?
"The best thing for me to do is not to see [Dueñas] or I may get assault charges against me," Froome said.
The team is still hoping for a stage win at the Tour, and puts its trust in South African sprinter Robbie Hunter. "I try what I can to get Robbie first over the line one day, but it's not easy in the race. It feels like you're picking up bottles every 20 minutes when you're only with four riders."
And despite the team's low morale, Froome said there were a few perks to having just four riders left. "It's a small compact unit," he said. "There's a lot of space in the bus and you don't need to wait in order to take a shower."
Cavendish may leave the Tour
Team Columbia's sprinting sensation Mark Cavendish is unlikely to start stage 15 of the Tour de France on Sunday, according to his manager Bob Stapleton. The British rider, who has won four stages already, struggled home on the 14th stage to Dignes-les-Bains and has only one realistic chance of adding to his tally - the final stage to Paris next Sunday.
Stapleton indicated that he would talk with Cavendish on Saturday evening about the prospect of pulling out, in order to preserve the 23 year-old's chances for the Olympic Madison race in Beijing.
"He is clearly very tired," Stapleton told Eurosport. "I think we have to seriously consider him stepping out. That's something we need to give full consideration to. It's important for us that he is part of that decision so we'll talk with him when he feels better."
Recharged Cunego ready to face the Alps
By Gregor Brown in Digne-les-Bains
Damiano Cunego (Lampre)
Photo ©: Roberto Bettini

A recharged Damiano Cunego is ready for the next mountain battles through the Alps after a disappointing few days in the Pyrénées. The 26 year-old Italian faced a blow last Monday when the group of overall favourites, including race leader Cadel Evans, left him behind on the road to Hautacam. His 3'34" loss that day put him in 14th overall, 5'37" back from maillot jaune Evans.
"I have definitely felt better in this last week," Cunego told Cyclingnews outside the Arena of Nimes at the start of stage 14.
Cunego has a chance to made amends in the Alps, when the race heads into Italy with a finish up to Prato Nevoso on Sunday. Following a rest day in Cuneo on Monday, there are two more demanding stages to Jausiers and Alpe d'Huez.
"It seems as though I have become better, but I don't know if I will try something on Prato Nevoso," Cunego added. "On the Alpe d'Huez, which will be harder because it is the third day in the mountains, I might have a chance to show myself better."
His wife and daughter will visit him at the finish of Prato Nevoso and the rest day. "They will give me extra morale, definitely."
Cunego's day at the Tour regularly ends with a visit to the French anti-doping agency's (AFLD) camper van, where he is required to provide a urine sample. The organisation, replacing the International Cycling Union (UCI) at this year's Tour de France, tests the stage winner of the day in addition to other targeted riders. Cunego is often on the AFLD list posted at the stage finish.
"For sure, it is not a problem to do the controls," he said. "Day in and day out, it can become irritating. I want to rest, take a shower and go change after the stage. You always have to rush to get there. But what can I do?"
Asked for his opinion on the AFLD's testing protocols, and whether they were better than those adopted by the UCI, Cunego replied simply: "I don't know, let's hope so."
Flecha ready to be at Menchov's service
By Hedwig Kröner in Digne-les-Bains
When the Tour de France leaves the pre-Alpine thermal town of Digne-les-Bains, things will get serious for the overall classification. The ranking is far from being set in stone, and the most interesting stages are yet to come. Looming near to the holder of the yellow jersey Cadel Evans are a number of final podium contenders - one of which won the Vuelta a España last year. Denis Menchov, although a discreet character, is one of them and shouldn't be underestimated, according to Rabobank team-mate Juan-Antonio Flecha.
Moreover, many of the other GC contenders have been citing Menchov as a top favourite. "Of course - they see that Menchov rides really relaxed," said Flecha at the start of stage 14 in Nîmes. "They see that he is confident about himself."
Flecha looks forward to supporting his team captain in the upcoming decisive stages in the Alps, and didn't hesitate to put himself to Menchov's service, even though today's stage to Digne-les-Bains would have suited the Spaniard's racing characteristics. "Menchov deserves our protection. Tomorrow's stage is an important day for him, for the classification. Today is a nice stage, but I will continue riding like I've done these past few days: Saving energy in case Denis needs it."
Although Flecha usually has a rather aggressive riding style, he currently holds his horses to help Menchov to a possible Tour de France victory. "I'm feeling quite okay; I think I've been performing well," he said on his overall state going into the third week of the event. "I haven't shown myself much until now but that doesn't mean anything. I think I'm climbing quite well. I have a lot of hopes for the next few days, for myself as well as Menchov. I think he's one of the few riders who really has a chance of winning the Tour. He's less than one minute behind Cadel, and an excellent time triallist."
Kirchen plans defensive Prato Nevoso ride
By Gregor Brown in Digne-les-Bains
Luxembourg's Kim Kirchen, the former race leader and currently seventh overall, says he will ride defensively on the Tour de France's first day in the Alps. Stage 15 covers 183 kilometres and two high-mountains. The 2744-metre Col Agnel is the gateway into Italy and the 1440-metre final climb to Prato Nevoso offers the race's second summit finish.
"Tomorrow will be a hard day, I will try to stay with the favourites," Kirchen told Cyclingnews on the eve of the stage into Italy.
Kirchen, 30, lost the maillot jaune on the last summit finish to Hautacam. He is currently lying seventh overall, 1'56" behind race leader Cadel Evans, after a successful start to the Tour where he wore the yellow jersey for four stages.
Ahead of Kirchen are Evans, Fränk Schleck, Christian Vande Velde, Bernhard Kohl, Denis Menchov and Carlos Sastre. He will watch these men closely and seek to defend his place in the classification.
"I prefer to wait for the last climb than go for an escape group or attack," he said. "I will aim to just follow."
Schumacher relying on element of surprise
By Brecht Decaluwé in Digne-les-Bains, France
German Stefan Schumacher (Gerolsteiner)
Photo ©: AFP

Gerolsteiner's Stefan Schumacher tried to grab another stage win on the fourteenth stage of the Tour de France, jumping away with Frenchman Romain Feillu (Agriubel) less than 500 metres from the finish in Dignes-les-Bains. The move ultimately came to nothing after the pair were swept up by the sprinters, but Schumacher said he has to use the element of surprise against pure sprinters like stage winner Oscar Freire.
"There were not so many teams to control the race, and after that climb I had a good position," Schumacher said. "I came a bit from the back and ended up on the wheel of Feillu. If he could've gone a bit longer then I would've had a chance. I had to pass him early and with 150 metres to go the sprinters came and it was over for me; it was too early.
"I have to take a long shot because when it comes down to a man-to-man sprint with guys like Freire, then I'm lost," added Schumacher. "I can keep my speed a little longer, but I don't have their acceleration in the last 50 metres. I have to surprise the sprinters."
The German has been trying to win stages right from the start of the Tour in Brest. During the first stage he had a gap on the uphill finish in Plumelec, but just like today it ended up being an effort that began too early. Schumacher took the stage four time trial around Cholet and held the yellow jersey for two days, before an untimely crash on the stage to Super Besse ended his run.
Two weeks into the race, the rider who turns 27 on Monday is still able to battle for stage wins, but acknowledged that the efforts are finally catching up with him.
"I'm really tired and I was surprised that I was in the front," he said of Saturday's finale. "The Tour is really long and actually it feels like it has been longer than two weeks now. The hard stages are still to come. We'll do our job for Bernhard [Kohl] for the general classification, but for me the general classification is not so important.
"Then I'm getting ready for the Olympic Games. I am really motivated for that."
Kohl aiming for top-10 in Paris
By Gregor Brown in Nîmes
Bernhard Kohl wants a top-10 finish
Photo ©: Isabelle Duchesne

Austria's Bernhard Kohl is targeting a top-10 finish in Paris ahead of the Tour's crucial Alpine stages starting Sunday. The 26 year-old Gerolsteiner rider currently lies fourth overall, 46 seconds behind race leader Cadel Evans (Silence-Lotto) after shooting up from 13th to fourth following a powerful ride to Hautacam on stage 10.
"I will try to stay in the top-10, for me that is important. If I arrive in the top ten it would be a big victory," Kohl told Cyclingnews on the morning of stage 13 to Nîmes.
"The first part of the race was really hard and it has not let up now with the wind. There is a lot of stress, but now my legs are feeling good. But it is the same for everyone riding for the GC, so that is normal."
Kohl is also three points behind team-mate Sebastian Lang in the mountains competition. He will not put his main focus on gaining the polka-dot jersey, but admits a strong performance in the Alps could see it shift from one Kerosene rider to another.
"If I am riding for the general classification then it is also possible to gain the points jersey," he said. "When I am on the mountains I can take the points and in that case I may take the mountains jersey."
Andy Schleck dreams of Alpe d'Huez
By Gregor Brown in Nîmes
Andy Schleck (CSC-Saxo Bank)
Photo ©: Gregor Brown

Luxemburger Andy Schleck dreams of conquering the same mythical Alpe d'Huez climb that his brother Fränk won two years ago when the Tour de France arrives on Wednesday.
"Try on Alpe d'Huez? Yes. Why not? It would more than a dream for me," said Schleck to Cyclingnews Friday morning in Nîmes.
Schleck arrived at the Tour de France thinking about winning the race's overall. A bad day in Monday's stage leading to Hautacam put him out of contention. He lost nearly seven minutes to Team Silence-Lotto's Cadel Evans. Team CSC will focus on Fränk Schleck, who is one second off the race lead of Evans, and Carlos Sastre for the overall classification,
"I hope I can be back in the Alps as I showed I was in the race the first days. I had a really bad day. The sunshine is coming and I hope the sun will be great for me."
Schleck weighed his first ride in La Grande Boucle as positive despite some bad news. One of the low-points was the news of Riccardo Riccò's drug-related dismissal.
"The race has been nice so far. I had one really bad day - a hunger flat. Bad things happen - Riccò's positive. It is not good for all of sport, but it is good for us. It shows the system is working and that the anti-doping agency is doing a hell of a good job," said Schleck.
He summarised that Riccò was not so popular amongst his colleagues. "He did not have too many friends in the peloton. I am happy I don't have to ride against him now, at least for the next two years. It was shit and it is good that he is gone now."
AG2R out for team classification
By Hedwig Kröner in Digne-les-Bains
Going into the Alps, French team AG2R La Mondiale has a clear vision of its objectives: getting into the breakaways to achieve a possible stage win, and ride well enough to maintain its position in the Tour de France team classification. "Except Tadel Valjavec and Vladimir Efimkin, who are well-placed on GC and will try to stick to the favourites, our goal is to get into escape groups," said Cyril Dessel one day before the race was destined to move into Italy.
"It's important to be in front, as we value the teams classification very much. At the moment, we are placed second, and in order to keep a spot within the top five in Paris we'll have to be represented up front in the coming mountain stages."
Dessel, whose excellent form during the month of June was rewarded with stage wins at the Volta a Catalunya and the Dauphiné Libéré, has not been able to keep his peak shape at the Tour.
"I feel better now, but I was very tired prior to the first rest day. After a week of racing, I just felt fatigue settling in. I had some health problems and couldn't train as I wanted to between the Dauphiné and the Tour, so I lost a bit of form then."
Nevertheless, Dessel hoped to be able to redeem himself in the Alps. "It would be great to win a stage at the Tour - I finished second, or third already, that's not too bad, is it?" he laughed, referring to stage 9 in the Pyrenees, won by Riccardo Riccò who later failed a drugs test for EPO.
"One stage that always makes you dream is of course the Alpe d'Huez, because it's mythical," he added, on a more serious note. "But I know that the Col Agnel tomorrow is definitely going to be very hard, too."
Your chance to win in the Cyclingnews-Felt TdF competition!
You can win this!
Photo ©: Felt
Here's your chance to win some great prizes while the 2008 Tour de France is underway, featuring a prize roster of kit that is being tested in the world's greatest bike race by some of the world's leading cyclists.
Our lead prize is the 2009 model Felt AR road frame, currently being ridden in the Tour de France by members of the Garmin-Chiplotle professional cycling team, as well as supplementary prizes from Craft - manufacturer of team clothing to CSC-Saxo - and eyewear from BBB, supplier to Team Barloworld.
The US-based Felt Bicycles is becoming one of the world's leading bicycle manufacturers, with its bikes now being raced by the USA's Garmin-Chipotle in the 2008 Tour de France. The team are riding the 2009 model Felt AR, which combines Felt's expertise in time trial and track bike technology, while maintaining the necessary ride and handling characteristics of premium road bikes.
But wait! There's more. All entrants in the Cyclingnews-Felt 2008 TdF competition will also go into the draw to win great supplementary prizes from our friends at Craft and BBB. Cyclingnews also has four 2008 model Team CSC jerseys, designed and made by Craft, one of the world's leading technical clothing manufacturers, as well as 10 sets of BBB's BSG-29 Attacker eyewear, the exact eyewear used by riders from Team Barloworld in this year's TdF.
Our thanks to our friends at Felt, Craft and BBB for providing such awesome prizes. Hurry and enter now to be in the draw. Good luck!
Stage video highlights and podcasts
Just can't get enough of the Tour? Well fear not because Cyclingnews has expanded its coverage once again this year to bring you video highlights of every stage plus daily podcasts courtesy of Bikeradar.com and Procycling magazine.
Our video comes directly from Tour de France owners Amaury Sport Organisation (ASO), and will be online shortly after the finish of each stage. We've also got highlights from classic Tours of the past so click here to see the full archive.
Check out the podcasts page in our Tour de France section for a full round-up of news and views from the Tour.
(All rights reserved/Copyright Future Publishing Limited 2008)