Sylvain Chavanel's Tour diary
Sylvain Chavanel will ride the time trials in the jersey of the French National Champion.
Photo ©: Fabrice Lambert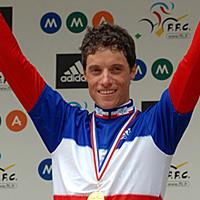 Sylvain Chavanel of Team Cofidis was France's next big thing for a long time... too long. In 2008, he finally confirmed the hopes of his nation and scored five important victories in the first part of the season.
He proved his worth on medium mountain stages, but also on the hostile terrain of the Flemish spring classics. There's no doubt about it: Chavanel is on a roll this year, and now hopes to make his biggest dream come true - a stage win at the Tour de France.
Tuesday, July 15, 2008
Hello again... I'm calling in just after waking up, but it's already 4.30pm! In fact I took a three-hours siesta this afternoon. That feels so good! Rest days always fly by so quickly. This morning, I got up at about 9am, and we rode out for an hour and a half at 11am. Then, I had lunch, and then I slept... now, I'll get a good massage, followed by dinner, and then, it's bed time again! A pretty relaxed day, isn't it?
Other riders had their families coming for the day, but mine is too far away. They were with me at the beginning of the Tour, but couldn't come so far South.
The race here in the Pyrenees has become quite hard. I try to manage my efforts as best as I can. But with the pure climbers centre-stage, I'm bound to stick to leftover groups that ride my pace. Compared to the pure climbers, it's been practically impossible to continue competing for the maillot à pois, so I've stopped thinking about that. I finished the stages within the time limit and tried to focus on the days to come, Wednesday, Thursday and Friday.
The next stages correspond more to my profile as a rider; they will suit me better than the high mountains. I'll try to get into the right breakaway again and hopefully get the best possible result, i.e. a stage victory. We'll see how my body will react after a day's break.
Sometimes, after a rest day, the machine has a hard time to get going again. But I've already has some great days after a rest day, for example when I finished ninth at L'Alpe d'Huez two years ago. And I hadn't done a single metre on the bike on the day before! So it really depends on your fatigue and how well you recuperated.
Today, I didn't want to get on the bike initially, but then I still went, just to get out a bit. Otherwise, it's too boring at the hotel...
Overall, I feel tired, but I'm already used to it. After a while, you start living with your fatigue as if it was a normal state. In any case, I'm still motivated to get into the mix at the race!
Off I go the massage. Thanks for reading and I'll be back soon!
A bientôt
Sylvain