Sylvain Chavanel's Tour diary
Sylvain Chavanel will ride the time trials in the jersey of the French National Champion.
Photo ©: Fabrice Lambert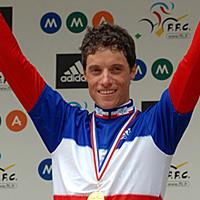 Sylvain Chavanel of Team Cofidis was France's next big thing for a long time... too long. In 2008, he finally confirmed the hopes of his nation and scored five important victories in the first part of the season.
He proved his worth on medium mountain stages, but also on the hostile terrain of the Flemish spring classics. There's no doubt about it: Chavanel is on a roll this year, and now hopes to make his biggest dream come true - a stage win at the Tour de France.
July 7, 2008
A beautiful day at Le Tour
Sorry I wasn't able to send in a diary entry last night, but I really had to relax and recuperate from that stage and the media attention that followed. As you will probably know, yesterday was a beautiful day for me, even though there was a bit of disappointment after I crossed the line. It could have turned out differently, but that's the sport... Afterwards, you turn the page and think of tomorrow.
Initially, I wasn't going to break away early in yesterday's stage at all, as I didn't want to waste any energy. I ended up doing it because an important escape formed with guys like Voigt and Wegmann in it. So I had to join them. Moreover, you never know what can happen on a course like that one - with such a bumpy profile, previous Tours have shown that even the yellow jersey could have been for grabs, so...
Sylvain Chavanel (Cofidis) in the break
Photo ©: AFP

After a few guys sat up, we insisted with Wegmann and a rider from Liquigas, while Bouygues Telecom was chasing us. They caught us on the first categorized climb, but I was able to score the points anyway. Behind me, Voeckler went for the second place at the KOM, so we got together on the descent.
We rode on, and the bunch let us. With Voeckler, we had an agreement that we'd share the mountain points equally. If I would have taken all the points at all four categorized climbs, I wouldn't have had the polka dot jersey anyway. So we decided to share so both of us were happy.
During that long phase when we had a big gap, it wasn't actually that hard - it was only when Moreau and Le Lay joined us that we really gave it full gas. During those last 30 kilometres, we were really going fast. I don't know the average speed we had but it was impressive, because we had the wind in our favour.
In the finale, when the bunch came back on us, I tried again on my own. There was a bit of a headwind, and the guys behind rode like hell, so I ended up getting caught, unfortunately.
Still, it's good to see that the legs are there. I felt good, and this is only the beginning. I know I will get better every day.
Today, I hope that we will have a headwind more or less, because that would allow the peloton to ride tranquille, and I would have the chance to recuperate. Although I don't feel particularly tired this morning, so that's good. I just hope we won't get any echelons with the wind. It should be okay, and a pure sprinter's stage.
Today, I will also wear the red back number of most combative rider. It's nice, and a good sign of recognition for the spectators, but it's not anything I came here for. It doesn't change anything for me. It just proves that I was on the attack yesterday, that's all... I don't need a different back number to remind me of that!
If today's cool and I'm able to recuperate well, I hope I'll do a good time trial tomorrow. I will do it Ó bloc, flat out, that's for sure. I hope for a good result, but if not, I'll quickly focus on something else, too. As of Thursday, the stages will be even more demanding with regard to their profile, so we'll be attacking every day.
Anyway, wish me luck. I'll be back soon!
A bient˘t
Sylvain