Stuart O'Grady's Tour diary
Stuart O'Grady has a lot of Tour experience
Photo ©: Jon Devich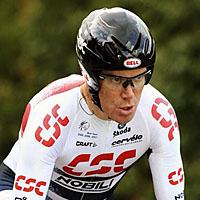 Australian Staurt O'Grady rides for Team CSC and is one of the most experienced riders in this year's Tour de France. The Aussie has already used up all the bad luck for the past year, returning from a horrible crash in the 2007 Tour and a broken collarbone in the 2008 Giro. O'Grady has won two stages in the Tour de France. He finished second in the points classification four times and has worn the yellow jersey. Things are looking promising for 2008 and Stuey will keep Cyclingnews' readers informed via his diary.
Thursday, July 3, 2008
Getting ready
Just got back from a few days in the mountains with the family, rode up a few bergs and got some fresh air and now I'm ready for the Tour!
The early season looked good and I was pleased with my ride in Paris-Roubaix. But after missing out on so much of the season last year, I thought it wouldn't be a bad idea to get a Grand Tour under my belt and get the engine back into gear.
I thought riding the Giro as preparation for the Tour would help me get another step up before the Tour. Well, obviously that didn't work out. But after seeing the rest of the Giro on TV I think maybe everything happens for a reason. It (the broken collarbone) could have been a blessing in disguise.
A couple of weeks later I was racing the Bayern Rundfahrt and I was pretty happy that my shoulder had recovered so quickly and it was an important race to be able to get right back into it and then straight on to the Tour of Luxembourg. After that a training camp and bang, straight into the Tour of Switzerland.
As for the Tour, personally, my main job is to look after Carlos (Sastre), keeping him out of trouble, look after him at the start and finish. Use my experience in areas of the race where I can be of special assistance. Look after the tactics out on the road.
CSC has a very strong team and we could have picked two Tour teams – our depth is so good. The Schleck brothers will be strong this Tour and Jens (Voigt) will be in every breakaway there is – you can bet on that one with the bookmakers!
Of course I will have a crack for a stage win but my number one objective is to look after the team. If it looks like a dangerous start with plenty of crosswinds then it will be me, Jens and Kurt (Asle Arvesen) to go with the breaks to control the race from that point of view. I reckon we will manage that pretty well.
I suppose it is my experience and being the captain out on the road I guess. Seeing how the race is being run and relaying information to the bosses in the car. Definitely no green jersey aspirations this year.
10 Aussies in the Tour is fantastic and they are 10 bloody good Aussies. There are a lot of expectation on Cadel (Evans). It is going to be an exciting 2008 Tour!
Cadel has been in unbelievable form all year and he has shown the maturity and responsibility like he is a five-time Tour winner already. It is just going to be interesting to see how it all pans out because the Tour is very much based around your team-mates and how strong they are as well.
Cadel has a pretty strong team so good luck to him.