An interview with Alejandro Valverde, July 3, 2008
Valverde: "I'm not afraid to be a favourite"
With a newly earned Spanish championship jersey and a win in the Critérium du Dauphiné Libéré, Alejandro Valverde's name has been pushed onto the list of Tour de France favourites. Cyclingnews' Jean-François Quénet talked with Valverde about his ambitions for the coming French Grand Tour.
New Spanish champion Alejandro Valverde, 28, not afraid to be favourite number one for the Tour de France.
Photo ©: Isabelle Duchesne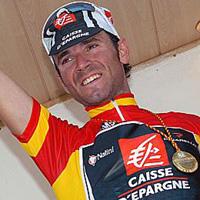 It's 'Viva España!' in the world of sport these days. Spain won its first football European Championship in 44 years, and Alejandro Valverde donned the first Spanish champion jersey of his career. After finishing second twice, once to Francisco Mancebo in 2004 and another time to his team-mate Joaquím Rodríguez last year, Valverde will now wear the gold and red jersey in this year's Tour de France in place of his black and red Caisse d'Epargne strip.
Had he been riding ten years ago, Valverde might not have had the chance to hold that title, as it was not fashionable in the Spanish teams to have the national champion jersey. Until he authorised Laurent Jalabert to become the French champion in 1998, famous Spanish director Manolo Saiz had forbidden his riders to win the national title because he wanted everybody to look the same under the colours of ONCE. It was similar at the rival team of Banesto; Miguel Indurain started the 1992 Tour de France with only the colours of the Spanish flag on his arm bands because the sponsor wanted the maximum exposure.
Nowadays, national pride has been restored, and the Caisse d'Epargne squad, which was built out of the same staff as Banesto, has no problem with its riders replacing its colours with the national jersey. The team not only won in Spain, but came close to the win in France as well with Arnaud Coyot finishing second to Nicolas Vogondy.
Valverde the unbeaten
"I'm not afraid to be one of the favourites because that's what I am at all the races I take part in."
-Alejandro Valverde is handling the pressure of his Tour expectations...
In his young days, Valverde was nicknamed 'the Imbatido' ('The Unbeaten') because he won almost all the races he took part in. His winning ways have certainly resumed this year: he took Liège-Bastogne-Liège for the second time in his career, won the Dauphiné Libéré, took a rest and then returned successfully with a win at the Spanish Championship.
While his physical preparation should be spot on, Valverde's mental approach of the Tour de France must also be perfect. However, Valverde, 28 years old and in his eighth professional season, doesn't rank himself as the star of Grand Tours as he actually hasn't won any yet. "Well, Alberto Contador has won two Grand Tours in two years," he said of his compatriot. "He is the number one for the three-week long races. I'm not there yet."
Valverde feels sorry for Contador, part of the temporarily banned Team Astana, who is not able to defend his title at this year's Tour de France. "I get on well with Alberto, we're just rivals when we're racing, some of the aficionados [fans - ed.] cheer for him, others cheer for me, but there's no war between the two camps, it's pretty quiet actually."
Tour number four
Spain's Alejandro Valverde showed on track with his wins in the Dauphiné Libéré.
Photo ©: Roberto Bettini

This year will be Valverde's fourth attempt to win the Grande Boucle, but the Spaniard isn't worried that the win hasn't come yet – his idol Indurain started the race six times before winning it five times in a row.
"I'm confident that I can get a better result in Paris than last year," Valverde continued. "I finished sixth, but that was the first time I finished. From the first one I did in 2005, I keep a fond memory of winning in Courchevel in front of Lance Armstrong, but later I had to abandon because of a sore knee. The second one, I can't say much about it. I crashed in stage three with a broken collarbone. Last year, I could have done better, especially in time trials."
He was more than six minutes down on Alexander Vinokourov in the time trial of Albi. "But please don't take that as a reference," he reminded. "That day was just a bad day. No, it was an awful day. When I woke up, I felt bad. All day I felt bad."
He prefers to remember how well he won the time trial in the Dauphiné this year. "But it will be very different at the Tour de France as well, so there's no comparison to be drawn there either," he said. "There's less time trialling at the Tour with 82 kilometres in total, which pleases me. I've seen the one of Cholet [when he rode the local race Cholet-Pays de Loire in March - ed.], it's shorter than usual [29km] but it's pretty difficult."
In between his races and training camps in the Sierra Nevada, Valverde went to reconnoitre some of the Pyrénéan and Alpine stages. "I didn't know Hautacam was so hard," he revealed. "But the Alps are even harder with La Lombarde, La Bonnette and L'Alpe d'Huez. These three days in the mountains being so close to the finish, they will be terrible stages. I prefer to have the Pyrénées before the Alps, like most of the Spanish riders do. We feel close to home in the Pyrénées and we have many fans there."
Handling the pressure
Phenomenal: Valverde takes the Spanish Championships – his first in seven years of professional racing.
Photo ©: Isabelle Duchesne

As one Spain's top names for the Tour, the Murcian is understandably feeling the heat of the Tour being cranked up. "The pressure is big at the Tour, it's complicated to win it," he declared. "I'm not afraid to be one of the favourites because that's what I am at all the races I take part in, whether it's at the Tour of Murcia or at the Dauphiné. It was the same at the Classics although I didn't go there at the best of my condition and with the maximum of ambitions. I pushed myself to get a result in the Amstel Gold Race and in Liège-Bastogne-Liège, but doing so I didn't jeopardise my chances at the Tour de France. My preparation has actually been phenomenal this year."
"Phenomenal" is also a word that Valverde uses a lot whether he talks about his team-mates or his results at the prologue and time trial of the Dauphiné. In his world, Caisse d'Epargne is an "equipo fenomenal" and that is very likely to be the case again this July as the team has the only former Tour de France winner who is still racing.
"Oscar Pereiro isn't just a team-mate for me," Valverde underlined firmly. "He's my room-mate, he's my mate. His experience of racing is phenomenal. It's great to have him, especially when we have a hard time because he knows what it is to be in an uncertain situation."
Equipo fenomenal: Valverde has excellent team support from Caisse d'Epargne for the Tour de France.
Photo ©: Roberto Bettini

Pereiro became the winner of the 2006 Tour de France in September 2007 after the disqualification of Floyd Landis for doping.
Valverde also knows what it means to be in trouble. If he had ups and downs last year at the Tour de France, it was also a consequence of the Operación Puerto in which he was accused to be a patient of Dr Eufemiano Fuentes under the code name "Valv-Piti" and the number 18. "It's been a difficult time for me," Valverde admits. "But it's over now. I have no problem with it. I've managed to stay focus on my cycling."
The new Spanish champion looks so much more relaxed than last year. Everything seems to be in his favour this time. "But don't forget that I have adversaries as well," he warned. "Last year Cadel Evans was only 23 seconds down on Contador and I said Contador is a better Tour rider than I am. There will be other guys to beat like Cunego, Sastre, Menchov, the Schlecks... I still think Evans is the most dangerous of my opponents."
Photography
For a thumbnail gallery of these images, click here
Images by Isabelle Duchesne/www.photoscycling.com
Images by Roberto Bettini/www.bettiniphoto.net