Tales from the peloton, July 22, 2008
The nearly team of 1981
In 1981, five years before 7-Eleven became the first American team to ride the Tour de France, an invitation was extended to another US team to participate in cycling's greatest race. Though many of the details have been lost in the 27 years since, the story of this team's near participation makes for an interesting sidelight to today's American invasion of the Tour, as Bruce Hildenbrand found out.
The 1981 Tour de France presentation with race organisers Jacques Goddet and Felix Levitan.
Photo ©: AFP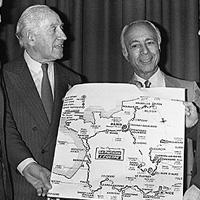 It must be remembered that back in the 1980s the Tour de France was run by two Frenchman, Jacques Goddet and Felix Levitan. The pair were not the best of friends, but put aside their differences just enough to organise and promote a bike race.
Levitan, a Jew, was forced into hiding when the Nazis occupied Paris during World War II where he was offered sanctuary by an unnamed businessman. The story goes that this businessman then emigrated to the States and when contacted by Levitan to assemble a squad, started looking for riders and personnel.
Mike Fraysse, a former racer and longtime coach had been taking US amateur teams to France to compete and also had a business interest with a French bicycle manufacturer, Dangre-Starnord, which was producing his Paris Sport line of bicycles. Given his background, Fraysse was the perfect choice for team manager.
The road boss or directeur sportif position fell to Mike Neel. Neel had recently retired as a pro rider, once finishing top-10 in the professional world road race championships. He had been the first American to ride Spain's Grand Tour, the Vuelta a España, so he had experience with three-week races.
In 1981 there were very few US racers in the European pro peloton. In fact, only Jonathan 'Jock' Boyer who was under contract to the French Renault-Elf-Gitane squad and George Mount who was under contract to the Italian Sammontana-Benotto team were riding in Europe. If Fraysse wanted to field a squad for the Tour, he would have to look at top US amateur riders for his team.
Back in the early 1980s, however, there was no Pro/Am category in the US domestic racing circuit, so if a rider turned pro his career in the US would be all over. For most of the top US amateurs this proved to be enough of a deterrent.
Additionally, while road racing in the US today is experiencing a revival, back in the 1980s the racing was predominantly known for its criterium events. Could US amateurs weaned on 100km crits last 200km in the Alps? While the actual roster of the team has vanished, Skunk River Cyclist-Raliegh rider Lindsay Crawford was one of those chosen and was typical of the type of rider Fraysse and Neel were looking for.
Crawford wasn't a crit specialist, his forte was long, hard road races - the longer and harder the better. Crawford had set several endurance records up to 12 hours and had, the previous year, broken the veterans 25-mile TT record at the National Championships. A full-time pilot for United Airlines, Crawford's accomplishments were even more remarkable.
To entice the amateurs to turn pro, the financial offer was simple. Five thousand dollars to start the race, and a further five thousand for those who made it to Paris. The team's sponsors were RTL, a French telecommunications company, and Dangre-Starnord, who were to provide the bikes.
This would all have been a memorable chapter in the world's greatest bike race but for one small detail. The team's invitation was rescinded a month before the start. Try as I might, I have been unable to determine exactly what the reason for the withdrawal could have been. Fraysse, Neel and Crawford don't remember either, but does it really matter?
There is, however, a great epilogue to this tale. Mike Fraysse ended up bringing a team to the Tour de France. It was 1984 and his Paris-Sport women's team won the first ever Grand Boucle Feminin with rider Marianne Martin. Mike Neel went on to direct Team 7-Eleven at the Tour, presiding over four stage wins and a few days in the yellow jersey. And Lindsay Crawford finally got to ride the Tour, too, participating in the Etape du Tour where he won his age group in 2003.