Tour de France News feature, July 8, 2008
The revival of French cycling
By Brecht Decaluwé in Nantes
Samuel Dumoulin (Cofidis) took a brilliant win in Nantes
Photo ©: AFP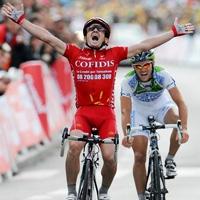 The third stage of the Tour de France was a glorious day for French cycling. A well timed attack by Samuel Dumoulin gave him his first ever stage win in the Tour de France, while Romain Feillu's third place on the stage was enough to give him the overall lead. It was the first time a Frenchman has worn yellow since Cyril Dessel took that jersey on stage 10 in 2006.
During the post-race press conference, the French journalists couldn't hide their emotions and gave a big round of applause for the heroes who have put France back on the map of cycling.
The two took on the stardom with a day-long breakaway that took off after just one kilometre of racing. While some riders expressed their aversion towards the region of Brittany, with its howling winds and driving rain, both Feillu and Dumoulin will look upon this unique region with a smile.
"When we left I thought we had only 5% chance of making it to the finish," Dumoulin said. "I was a bit frustrated as I had been feeling bad throughout the first days, and decided to have a go anyway because it's better to ride up front in these nervous stages than in the peloton. When there were less than 50 kilometres to cover I started to believe we would make it."
Dumoulin's breakaway companion, Feillu was more upbeat about their chances of success. "Right from the start! I believed in it all day long," he declared to the delight of the French press. "I knew I had a good chance to take the jersey if we made it, as I was only trailing Valverde by 18 seconds.
"We're no longer less good than the others, but now we know why that is."
-Samuel Dumoulin speaks about the state of French cycling at the moment
"The co-operation was good. We could [all] communicate as Frischkorn spoke French. With Paolo we could talk in Spanish. We decided not to go full out, in an attempt to keep control over the peloton. We knew there was a tailwind in the final twenty kilometres that offered us a chance to stay away," Dumoulin said.
In the finale, the four kept working together and eventually it was the fastest man - on paper - who began the hostilities with an attack 1.5 kilometres from the finish line in the industrial city of Nantes.
"I wanted to go early. Sure I'm fast, but Feillu isn't slow either. I don't know why I attacked but I had told Feillu that since he already had the jersey he shouldn't be going after me, and he kept his word," Dumoulin laughed.
Dumoulin's first attack was chased down by Frischkorn, with the counter coming from Feillu as soon as they made contact. It was only because Frischkorn and Dumoulin worked together that Feillu didn't clinch both the stage win and the jersey "I know, but I'm happy anyway. I've spotted that both the Barloworld and the Slipstream guy were tired, and Samuel and I had some sort of alliance, even though we ride for different teams." Feillu and Dumoulin may well share the front page news in France tomorrow, but it seems neither are overly concerned.
Nobody could stop Feillu's quest for yellow
Photo ©: Roberto Bettini

The French coalition that brought glory to back to French cycling expressed their hope for more in this Tour de France. "I can't judge the impact of this. Of course it's not a mountains stage. Hopefully a lot of young guys are inspired by our performance and jump on a bike," the proud wearer of the yellow jersey declared.
Surely Dumoulin was proud as well that he could help French cycling back to the front pages. "We're no longer less good than the others, but now we know why that is. Christian Prudhomme told us that it was a Tour de France for those who attempt, and that's just what I did. This will give a dynamic for a whole new generation. Hopefully the other French riders can be in the attack as well in the next stages.
"For me it's a dream that comes through, although in my wildest dreams I would be French champion and win a stage in the Tour de France wearing the tricolour," Dumoulin continued. "I worked for it for so many years; all those kilometres in the cold, the heat, the rain and so on. A lot of people have been supporting me, and that surely helped. I know that I haven't got the ideal figure for a cyclist, but I'm courageous and I keep trying."
The Frenchman has a 35-second lead
Photo ©: AFP

For Romain Feillu this moment of glory was rather unexpected since he had been out of competition for ten weeks, struggling with toxoplasmosis. Actually he was out of the selection for a while until he could convince the Agritubel team management that he was doing up to the challenge in a Breton race. "And now I'm winning in Brittany again. I had a hard time when I was on my own in the Cote d'Azur, in Cannes. I felt too tired for a walk out, but once it was possible to get back on the bike I had a great hunger.
"For me it isn't too hard to get back in form, it's more difficult for me to keep my form." Tomorrow there's a 30 kilometres long time trial in Cholet and Feillu has to defend an advantage of less than two minutes on big guns like Fabian Cancellara. "I think it's going to be close. The last time trial I did as a leader was back when I was a junior. I had 10 seconds on Chazal, but I finished second and I made it. Hopefully it turns out that way again," Feillu crossed his thumbs for another day of glory on Tuesday.