Tour de France News feature, July 20, 2008
Freire one step closer to green dream
By Brecht Decaluwé in Digne les Bains
Oscar Freire (Rabobank)
Photo ©: Roberto Bettini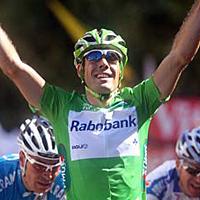 Spanish sprinter Oscar Freire at last added his name to the list of 2008 Tour de France stage winners on stage 14, thanks in part to a category four climb before the finish that put quadruple sprint winner Mark Cavendish out the back of the bunch. The win padded his lead in the green jersey competition, which he has earned through eight top ten stage finishes, a remarkable level of consistency from the Spaniard.
Freire brought himself level on points with Team Columbia's Kim Kirchen after stage eight, with a fourth place finish behind Cavendish. He then lost the green jersey to Kirchen on the mountainous finish at Bagnéres de Bigorre on stage nine, where Kirchen placed 12th. Thanks to Kirchen's lead in the overall classification, Freire was wearing green the following day which finished on the major climb to Hautacam. On that day, Freire made a brilliant move to get into the early breakaway. The twelve points he scooped up in the intermediate sprints more than made up for Kirchen's climbing abilities. Even though the Luxembourger lost the yellow jersey, he still finished 15th, earning a single point.
From the tenth stage on, Freire wore the green jersey and after Saturday's stage win he seems to have paved the way for the overall victory in the points classification in Paris. Although Cavendish has dominated the flat stages, Freire is happy with his Tour so far. "Cavendish proved that he is the fastest sprinter this year, but his absence today doesn't take anything away from my performance in this Tour de France; I was there in all the other sprints," Freire said.
However, Freire was not so confident of his green jersey changes after coming fifth behind Cavendish on stage 13. "It's not in the pocket yet," he said after that stage, realizing that there were probably two sprints left in the Tour de France: one on the Champs Elysees in Paris and one in Digne-les-Bains.
Freire, with a 28-point lead on the British rider after the sprint in Nîmes, feared that if Cavendish took both stage wins – a likely scenario since he was unbeatable in all but one other sprints – he would take the green jersey in Paris. "This morning I asked Cavendish if he was planning to go for the green jersey in Paris, and he said he would. Maybe he has changed his mind now," Freire said following Saturday's stage win that brought him into a comfortable lead of 47 points on Thor Hushovd.
"If you lose one day then you can lose everything."
-Oscar Freire explains why he must be consistent to win the green jersey..
"I realized that today was my chance when Cavendish was dropped on that last climb. If you lose one day then you can lose everything," Freire said. Cavendish said after the finish that he hadn't expected a bunch sprint, and as a result he sat up on the last hill.
Before his stage win, Freire said he wasn't feeling very good in the sprints. "Last year and in the beginning of this year I was much better than now," he said. "Today was much better though. For the first time I was positioned well and it was in my advantage that there were less riders in the peloton; I didn't have to sprint before the actual sprint to obtain a good position and that's the first time this year," Freire said.
Despite having one of his most successful Tours of his career, Freire's favourite race is still the one he's won three times. "My preferred one-day race is the world championships," he said. However, even though he's won the race in 1999, 2001 and 2004, the Spaniard explained that he is lacking the respect he deserves in Spain. "In the Spanish newspapers it's only about football, and if they write about cycling, then it is about the general classification," Freire said.
"All the Spanish journalists congratulate me, but they only write about the yellow jersey. I don't think that winning the green jersey would make a stir in Spain. Maybe the Olympic Games could do something. They are important for cycling in general."
Freire will go to Beijing, even though he feels the course doesn't suit him very well. "It's something for Valverde and Contador. I hope that I can perform better than four years ago in Athens when I crashed shortly after the start," Freire said.
Triple green on the podium
Photo ©: Isabelle Duchesne

Freire, a friendly and approachable person off the bike, has been inconsistent in his racing throughout his career – rather than race a full season like most sprinters, Freire bags his wins, vanishes, and then appears seemingly out of nowhere to win the world championships. This year things are different though, but Freire agreed that he wasn't the most normal cyclist around. "I also like to enjoy the normal life. I'm another person when I step off the bike. For me it is really complicated to think about cycling and bikes all the time.
"There's a chance that if I would be so focused that I would not be performing like I'm doing now; it's my mentality. I need it because otherwise I would be really tired," Freire said to Cyclingnews earlier this year. "I don't like to work after cycling. I like to go the city, to the forest. I don't like to stay at home," Freire said in decent English.
The Spaniard would like to get better in the language but he isn't using the language too often. "When I am with the team-mates they're speaking in Dutch, so I'm not picking up on my English. I learn it from television and maybe after my career I should move to England to learn it well. I would like to speak it better. In the peloton the Spanish and Italian riders only speak their own language, not English. It's very strange to see a Spaniard talking English."