News feature, July 4, 2008
Tactical advantage for battle-ready Garmin-Chipotle at the Tour de France
By Brecht Decaluwé in Brest, France
David Millar was looking lean in the new Garmin-Chipotle jersey.
Photo ©: AFP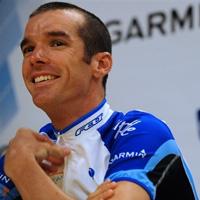 Addressing a packed media centre in Brest on Thursday afternoon, team manager Jonathan Vaughters presented his re-branded Garmin-Chipotle squad and its new jersey at the Tour de France. A clearly proud Vaughters was joined by Garmin's vice-president of marketing Jon Casset and Scotsman David Millar, who is also a part-owner of the team.
"We have an agreement with Garmin for the next two years," began Vaughters. "It was a long search for us to find a fitting partner. In the next three weeks we are bringing in the new technology and it will be exciting for us to make use of it."
Casset, who will be following the Tour for the entire three weeks, explained what his company stood for and how its technology could benefit a cycling team. "We are a technology brand with our speciality being GPS-equipment, and actually we are the world leader in car navigation," he said. "Next to that we are focusing on fitness, and cycling in particular. We had to take a deep dive in how the team is run, because it's all new for us.
"But I'm convinced that with our GPS-enabled cycling computers we can bring a new level of technology to the sport," he added. "It's a unique opportunity to use the technology for us, but also for the fans."
Asked about the specific advantages of the technology to his team, Vaughters explained: "When we are in the team car behind the riders, all we are doing is conveying a map, warning for sections where the course turns into the wind and the race will be torn into pieces. Due to poor radio quality and language barriers, there is a lot of error. I know people tend to think we are playing with joysticks and that we are ordering the riders what to do when we want, but you can't take good tactical decisions when you're driving one mile behind the race.
"They believe in the image this sport gives to the public, which is a strong sign in the current state of the sport. Think about that."
-Jonathan Vaughters on Garmin's investment in his team.
"The Garmin 705 allows riders to make effective decisions themselves. If we can cut down on radio, it will be better for everybody. The riders can focus on the race because radio distracts."
From a sporting point of view, the Garmin team has a tough job ahead in the next three weeks. The squad received a wild card from Tour organisers back in March and its lineup consists of no less than five riders in their first Tour de France, alongside more experienced names such as Christian Vandevelde and Millar. The Scotsman joined Slipstream last year after restarting his career at Saunier-Duval.
"I recall that this morning I felt amazed when I looked out the window and saw the whole fleet of Garmin trucks and cars. It's not a new start, but another step up the ladder of our success," said Millar.
Despite its relative inexperience, Millar said the team will ride aggressively and target stage victories. "Winning stages is fairly realistic, and Christian [Vandevelde] can do well in the general classification," he said. "We want to be protagonists and ride in the front for three weeks in a row."
The Scotsman has focused 100 percent on the Tour de France.
Photo ©: AFP

And while it's impossible to predict how the five newcomers will fair in the hectic circus of the Tour de France, the 31 year-old Millar said the team was wise beyond its years. "I only realised it the other day in Cholet [where the time trial is held on July 8]. I went over to Martijn [Maaskant] and poked him by asking if he was nervous. He simply raised his shoulders and said no. These guys are 23, but they seem 29. It's a cool group of guys and I'm sure they will have a great race, and a lot of other Tours de France ahead of them."
But for Millar himself, age is gradually becoming a disadvantage and he agreed that the clock was ticking. "I never used to think about the amount of Tours I could be riding in my career, but that has changed," he admitted. "That's probably why I was motivated to go out for an altitude training camp with the four of us right after the Giro d'Italia. In total, it was an eight-week training camp, which was risky.
"I focused 100 percent on the Tour de France but that was the plan. Jonathan allowed me to do so and it's turned out fantastic because now I am stronger than ever. I'm a bit nervous because I did everything for these three weeks, but I'm also confident because I did everything right."
The competition in his favourite discipline - the time trial - is extremely high with a certain Fabian Cancellara blowing away the competition this year. "The bottom line is that Fabian is at another level, but I'm not going to be far away," said Millar. "I want to be among the general classification contenders as I am in the best form of my career. Now we want to enjoy it, be part of it. We want to show off our kit."
Vaughters concluded the press conference by adding that, in a time when some teams are struggling to find sponsors, Garmin had chosen to support his team from a business point of view. "They believe in the image this sport gives to the public, which is a strong sign in the current state of the sport. Think about that."