Sylvain Chavanel's Tour diary
Sylvain Chavanel will ride the time trials in the jersey of the French National Champion.
Photo ©: Fabrice Lambert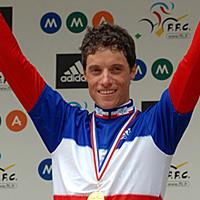 Sylvain Chavanel of Team Cofidis was France's next big thing for a long time... too long. In 2008, he finally confirmed the hopes of his nation and scored five important victories in the first part of the season.
He proved his worth on medium mountain stages, but also on the hostile terrain of the Flemish spring classics. There's no doubt about it: Chavanel is on a roll this year, and now hopes to make his biggest dream come true - a stage win at the Tour de France.
Sunday, July 27, 2008
Silencing the critics
As you probably know I won my first stage of the Tour de France yesterday. What else can I write! It was awesome. It was really a huge relief, such a great moment for me personally. It was the logical succession of my great beginning to the season, the icing on the cake.
It also showed that my way of racing works, at least for me. All these past years, I was constantly criticised for my attacking style. People now ask me what has changed this year, and I can proudly say: nothing. I still race the same way, and proved that it works! Not all the time, of course, but if you don't try, you'll never find out, right?
I don't care what the critics say anymore. I'm a big boy now, and I can judge for myself what I think is the right thing to do. I just want to please myself when racing, give a good show and pull off a win if possible. I got the reward for my attacks yesterday.
Initially I had planned to preview the time trial course last night, but the whole ceremony and talking to the press took so much time that I didn't get to do that. With my team we had a small celebration over dinner, and a bottle of champagne, but that was it.
It was great to hear my three year-old son over the phone. He said, "you're the best, daddy!". My one year-old son Maxence of course can't talk yet. It was such a great moment also for my family.
Today I rode the time trial flat out again. I wanted to honour my French time trial championship jersey. I finished 19th to Stefan Schumacher, at 3'10" minutes. That's a good result; I'm satisfied with it as I had aimed at top 20.
Tomorrow we're riding home into Paris. A great Tour de France will end. I hope - like many others - that I can show myself again on the Champs-ElysÚes, the most beautiful boulevard in the world. I'd definitely like to give the public another spectacle!
Thanks for reading. Until next time!
A bient˘t
Sylvain