Tour de France News feature, July 10, 2008
Cavendish: Full steam ahead for Manx Express
By Brecht Decaluwé in Châteauroux
Mark Cavendish (Columbia)
Photo ©: Roberto Bettini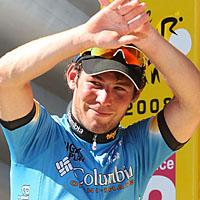 When Mark 'the Manx Express' Cavendish crossed the line in Châteauroux, it was clear he had pulled off something extraordinary - he had added a Tour stage victory to his palmarés at the young age of 23. Already the winner of two Grand Tour stages at the Giro d'Italia, the Team Columbia rider was exhilarated by his stage five finish.
"Oh my god," Cavendish screamed as he came to a stop. A gleam of pride shone in the Brit's eyes as he looked around and saw all the TV-crews sprinting towards him. Unimpressed by the media scrum, Cavendish spotted his Austrian team-mate Bernhard Eisel and gave him a big hug. He spotted several other team-mates like George Hincapie and thanked them for their lead-out work. "This was great guys, brilliant work," Cavendish shouted before he was pulled away towards the podium for the ceremony.
A few moments later the curly haired Brit hopped in the musty interview truck next to the finish line in Châteauroux. Cavendish still couldn't believe what he had just achieved. "Although I won quite a lot in the past, the only thing that mattered was a win in the Tour de France. I was anxious to do it. Today I'm proud to be on top of the podium. Even though I am only 23, this means a lot to me."
Cavendish was sure to give full credit to his team for the stage win. "When you have a team like I have, it's impossible not to win. We've got such a diverse team. We had a lot of top-5 finishes. We're able to switch positions. In the end we had the whole team - all nine riders - in front," he said.
That confidence in his team was evident at the Columbia team presentation in Brest, where he weighed his chances at a stage win. "People should be happy if they beat me. I just say what I think. If I think that I am the fastest, I'll say it," he smiled. "I don't have fear to lose a sprint, but I am just a bad loser. Honestly with such a team behind you - they do so much for me - I see it as a failure if I don't win a sprint."
"I'm not here to prepare for the Olympics. I'm here because the Tour is a real goal."
-Mark Cavendish explains that he intends to finish the Tour..
Well able to put his disastrous Tour debut of 2007 behind him, Cavendish, another year older and wiser, is much more relaxed about this year's race. "It's easy to get carried away in this circus, but it all should be fine. We should remember it is still just a bike race," he said.
Cavendish has notched up a number of impressive wins in his career, but a Tour stage win is what every sprinter wants on his palmarés. His first big win was in Belgium at the Scheldeprijs Schoten 2007; a race he won again this year. In 2008 he proved that he had become one of the fastest riders in the peloton with two wins in the Giro d'Italia, again two in the Driedaagse De Panne-Koksijde, but also by winning the prologue in the Tour of Romandie.
In between the 2007 and 2008 season Cavendish also raced on the track, and together with Bradley Wiggins captured the world title in the Madison event. The pair will try to repeat that performance at the Olympic Games in Beijing, and confident as usual, Cavendish assessed his chances in China. "It's harder to win a stage in the Tour de France than to win the Madison in Beijing," he said.
While some riders might exit the Tour early in order to be fresh for the Games, Cavendish told Cyclingnews before the Tour that he intends to finish it. "Why not? I am aiming to make it to Paris. After that there are still three and a half weeks before the Olympics for me, which means there should be time enough to recover. I'm not here to prepare for the Olympics. I'm here because the Tour is a real goal," he said.
With 35 points for a first, a stage winner cannot help but move up in the classification for the green jersey, but although he is in sixth place behind new leader Thor Hushovd, Cavendish discounts his ability to take that jersey home. "The green jersey is a bit out of my capabilities; I'm a bit too young for that, but maybe in a few years I can have a go. I'm too much of a pure sprinter. I'm not diverse enough to battle along in the intermediate sprints, especially during mountainous stages," he said.