Tales from the peloton, June 28, 2008
USA pioneer Joe Magnani
Lance Armstrong, well known for his sketchy knowledge of cycling history, would have had trouble identifying Louison Bobet, let alone the man who opened the way to his seven Tours. And yet this pioneer came seventh in the 1947 World Championships in Reims in conditions that forced even Fausto Coppi to quit. Seventh and last, incidentally, because it was tough. Les Woodland recalls the USA rider that everyone has forgotten.
Joe Magnani, 35, entered the 1947 World Championships (here won by Theo Middelkamp) in Reims to finish seventh and last in a field that included Fausto Coppi, Albert Sercu, Fiorenzo Magni.
Photo ©: AFP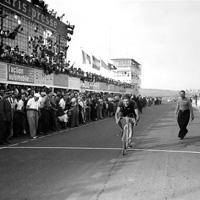 Joe Magnani was a poor boy from a family of farmers in the middle of Illinois, south of Chicago. It's an Italian name, of course, but that's because France worried about its dwindling population and invited thousands of Italians to cross the border. Such was the density of Italian descendants in the south-east corner of the land decades later that it was occupied during the war not by the Germans but by Italy.
Magnani's parents valued their joint French and Italian origins and in 1928, they sent their son and daughter to live where the family had once lived. It appealed so much to Magnani, said Le Miroir des Sports at the end of 1935, that he tried to get those left in Illinois to join him.
When Magnani raced, he did it on a USA licence. To his delight, he found it was signed by Frank Kramer, a USA rider who had trounced Europe a generation earlier when Yankee track riders were the best in the world.
"By my reckoning, that makes him the only USA rider to have raced with Coppi and Bartali and the others."
- Peter Nye on Magnani's pioneering days.
Peter Nye, the writer and historian who uncovered the story from the dust which had gathered on it, said, "Magnani joined a local amateur team sponsored by Urago. He had some success and he turned pro in 1935 and raced as a pro until 1948, including coming ninth in Paris-Nice in 1938 and seventh in the 1947 World Championship. He rode the first Giro after the war. By my reckoning, that makes him the only USA rider to have raced with Coppi and Bartali and the others."
He was also the first USS rider to compete in the Giro.
With talent like that, he could have ridden the Tour de France. It was still possible until the Second World War to take part as a private entrant, a touriste-routier. Sadly, the days when anyone could ride had passed and the organiser, Henri Desgrange, demanded quality even if he wasn't prepared to pay for it – because these lone soldiers paid all their own expenses. He'd been caught out by some bad experiences.
Magnani's pal, Alfred Weck, knew how to do it: he went to the Paris area where Desgrange lived, and he raced there and did well enough to get a place. Magnani, though, was more cautious and he stayed in the closed world of the south-east and his talent went unnoticed.
Maybe it was pique that Weck had ridden, even if he hadn't finished, that led Magnani to demand a place for the USA in the following year's World Championship. That should have caught Desgrange's attention.
He came 10th. There's no doubt that Desgrange must have known. It's less clear whether Magnani applied for the Tour. It's a shame if he didn't because there was an Anglo-Canadian team that year and it wouldn't have been hard to give Magnani a place. The team might even have had a finisher.
The war started in 1939 and the following year the Germans invaded France. The south, where Magnani lived, was initially better treated than the north, and the Italians who ran that corner of France were a lot less oppressive. Bike races continued in some fashion, but little was offered in prizes and travel restrictions and rationing made life hard. By then, riding with the France-Sport team, Magnani could race as far north as the division between the unoccupied south and the occupied north.
On December 7, 1941, the Japanese bombed Pearl Harbor. The authorities came looking for Magnani, now an enemy alien. In February of 1943, he was arrested when the Germans moved into the south of France as well. His family sent him food parcels.
When peace came, an Italian rider called Giuseppe Olmo, who'd won a gold medal at the Los Angeles Olympics in 1932 and had held the world hour record, formed a team under his own name. He hired Magnani as a domestique. Magnani did the job well, then crashed and pulled out.
Magnani, now 35, entered the World Championships Road Race in Reims, over a hilly course laid for car racing. He came seventh and last in a field that included Fausto Coppi, Albert Sercu, Fiorenzo Magni and Theo Middelkamp. The irony is that when Mike Neel finished 10th in 1976, many feted him as the highest place USA rider ever to compete in the Worlds... forgetting Magnani almost 30 years earlier.
Living out of a suitcase, always working for something better, proved too much. In 1948, Magnani and his French wife had a holiday in the USA and never went back.
Schwinn, the bike company, contracted him to ride the six-day circuit. It was a crash in the six-day at the Buffalo six that ended his career.
He grew ill in the 1970s and he died with Parkinson's disease on November 30, 1975. Forgotten, sadly, by many.
Photography
For a thumbnail gallery of these images, click here
Images by AFP Photo