Tour de France feature, July 23, 2008
John Vande Velde proud of his son
John Vande Velde is a former US Olympic and national champion cyclist, successful six-day track racer, former vice president of USA Cycling, builder of the infamous Vandedrome portable velodrome... oh, and father of current Tour de France GC contender Christian Vande Velde of Garmin-Chipotle. He is currently working with the Chicago 2016 Olympic bid committee on the cycling event venues and courses from his home in nearby Lemont, Illinois. Cyclingnews' North American Editor Mark Zalewski caught up with the elder Vande Velde while he and his mother were taking in some local cycling at Superweek.
John Vande Velde saw his son go from super-domestique to team leader
Photo ©: John Vande Velde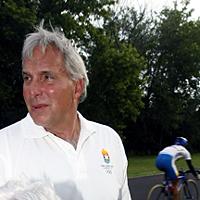 "I was screaming at the TV!" John Vande Velde, father of Christian Vande Velde, said about watching the 10th stage of the Tour de France where his son was climbing in the lead group of contenders on the climb to Hautacam. "I was between praying, exercising and yelling at the TV! I woke everyone up in the household because I was going crazy."
It is a familiar tale to have one's own father be your number one fan, and the tale is not any different with America's top Tour de France hope Christian Vande Velde. But having your father understand the intricacies of your sport at the highest level is a little more rare – such as with Tiger Woods and his father – for John Vande Velde is himself a former top-level cyclist that competed in two Olympics (1968 and 1972) and was a top six-day racer in Europe. This gives him enhanced insight into his son's ability and performance – though always taken with a grain of salt, as he is understandably biased.
When the Garmin-Chipotle team won the opening team time trial of the Giro d'Italia this year Christian was the one to don the maglia rosa, and he called his father from behind the podium just before the moment.
"He called me immediately after the team time trial in the Giro," said John. "He was standing behind the podium ready to get his pink jersey and he said, 'Dad, do you believe this?' And I said, 'Yeah, I believe it!'"
A similar situation arose during the Tour when Christian found himself up near the top of the overall. "He was saying the same thing to me the other day and I just told him that he has to believe in himself."
"This transition from a super-domestique to a leader is huge."
-John Vande Velde is proud of his son's accomplishments this year.
John said that he felt Christian had a special ride in him since the Giro, but really knew it just a couple of days into the Tour. "I had to see him for a couple of stages," he said. But he told me that since the Giro – where he was pretty fit – that he lost four pounds, took a pound off his bike and cut his hair... which is another half-pound, at least!"
"I knew he was really dedicated and he sounded right. He made a lot of physical and mental sacrifices. He's been away from his wife and daughter for the last two months. But he did everything right. The team he is on now, not that CSC was bad, but Jonathan [Vaughters] and Alan Lim have put a lot of thought process in to preparing and recovering right. They recovered at altitude in Switzerland and then came back and went to the Pyrenees. That's where he has been riding every day for two weeks. He has really, truly put the physical and mental preparation into it and he is now prepared to do a really great Tour."
It takes a strong family to understand what needs to be done in order to prepare for a race like the Tour de France, and John again used his knowledge as a racer to explain it. "I told his father-in-law and mother-in-law the things that he has been doing for the last two months are paying dividends now."
Those dividends were most evident on Hautacam where Christian showed that he belonged at the top of the leader board with the other contenders. "He rode beautifully because you never saw him. When I was racing the six-days there were guys that you never saw the whole time and then they were suddenly two laps ahead of you! That is exactly what you have to do – stay out of trouble, keep your nose clean and stay upright."
"He told me after the stage [10] he wasn't pressed. He was mad at himself for not going with Kohl, but like he said, he doesn't want any more 'would've, could've or should've.' The whole team is behind him now and are riding well for him."
Un-taming the racer within
Christian Vande Velde during the Giro d'Italia
Photo ©: Roberto Bettini

Christian has spent much of his professional career working for others, first for Lance Armstrong on the US Postal teams and then on the CSC team, before coming to Garmin-Chipotle as a leader. This change from a worker to a leader has required him to shift his whole paradigm of racing, something that his father said has taken some work.
"This transition from a super-domestique to a leader is huge. Physically is one thing but mentally is absolutely enormous. And what he is doing as the team leader now is phenomenal."
According to John, the part of racing he has had to relearn the most is aggressiveness – something that is taken out of the quiver of a support rider. "Riding for Lance he lost all of his aggressiveness that made him a great bike rider. Yeah it was a great experience but he had to have that mindset of helping Lance all the time. He was tamed and didn't know how to attack anymore! Now he is finally relearning that and was just with five of the best climbers in the world and hanging tough."
Vande Velde lost four pounds of body weight and, as his dad joked, half a pound of hair since the Giro
Photo ©: Roberto Bettini

According to his father, Christian did have some time in the role of team leader early in his career – when he raced and roomed with his now boss Jonathan Vaughters. "When he was riding Redlands as a first year pro, Jonathan [Vaughters] and Christian were rooming together. Jonathan won it that year and Christian called me and said, 'Dad, I am really, really tired. Being up front is so hard. I can't wait until people are riding for me!' "
"The next year he beat Jonathan in the time trial, so Jonathan was riding for him. He won it that year and while we were flying back he was kicking back saying it was not hard at all. That is the difference between going back and getting bottles, breaking the wind and being a leader. Now the responsibility is on him for these guys to bust their butts for him. He realises that responsibility and he accepts it and relishing in it. The more days he has like Hautacam they will have a tough time getting rid of him."
Predictions dad?
While John did not want to give any rivals a hint at what his son is capable of, since being relatively unknown has been a good weapon for him, he did give some nod as to what to expect. For one, he did give his son some wise advice. "I told him to make friends in the peloton, which he has a lot. And to choose your hard spots and find the guy who is going to bring you to the jersey. Just lay back because it will be really hard for a while."
As the Tour winds down and there are only a few more stages where anyone can make a run at the overall, John gave a hint at where to look for his son. "I don't want to give anything away, but he is not afraid of Alp d'Huez. He's ridden it four times already, so as long as he stays healthy and upright, maybe has a few more burritos I think he'll be good!"
If he does get within striking distance of the lead, the final push will be the time trial on the Tour's penultimate day. "Christian wasn't pressed in the first time trial. It's going to be very interesting!"
Photography
For a thumbnail gallery of these images, click here
Images by John Vande Velde
Images by Roberto Bettini/www.bettiniphoto.net