Stuart O'Grady's Tour diary
Stuart O'Grady has a lot of Tour experience
Photo ę: Jon Devich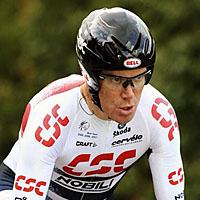 Australian Staurt O'Grady rides for Team CSC and is one of the most experienced riders in this year's Tour de France. The Aussie has already used up all the bad luck for the past year, returning from a horrible crash in the 2007 Tour and a broken collarbone in the 2008 Giro. O'Grady has won two stages in the Tour de France. He finished second in the points classification four times and has worn the yellow jersey. Things are looking promising for 2008 and Stuey will keep Cyclingnews' readers informed via his diary.
Stage 1 - Saturday, July 5: Brest - Plumelec, 197.5km
A chaotic start to the Tour
It's always nice to get the first stage of the TDF outta the way. The few days sitting around before a big race are the worst. It feels like every day is never ending.
It was really strange starting without a prologue. It's the first time in my last 12 Tours de France that we haven't had a prologue and I must admit, you can't beat the feeling of rolling down the start ramp, nerves and adrenalin pumping.
It seemed like a bit of a shame just rolling outta Brest and racing without a maillot jaune in the peloton. Still, it certainly made for a chaotic, nervous and dangerous opening stage because 99 percent of the guys on the start line were 'dreaming' they'd be in yellow tonight.
So with the wind blowing a gale, it was always going to be a hectic start. We rode well, kept under the radar and outta trouble.
So the first stage is raced and won. Tomorrow it'll be more or less the same thing.
Au revoir for today!
Stuey