Adam Hansen's Tour diary
Adam Hansen
Photo ©: Team High Road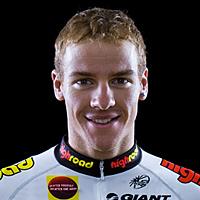 In an almost bookend fashion to our other Aussie Cyclingnews diarist, Stuart O'Grady, Adam Hansen is riding in his first Tour de France. The Team Columbia domestique is in his second year at the top level of the sport, and is ready to give his all for his teammates. While he does that the Australian time trial champion will let us peek in on the day-to-day life of a (first) Tour rider.
Sunday, July 13, 2008
Working hard for the coffee!
Hello Cyclingnews readers!
It would have been nice to do a first-time Tour just sitting at the back, relaxing and trying to enjoy the whole experience. But to be on one of the best teams means you have to be at the front, doing all the work and under pressure. I think that is really special too.
Friday was the hardest race I have ever done...ever! The other guys were saying it was the hardest Tour stage ever. We had to close every gap with huge crosswinds. We were a little surprised we all made it through and then surprised we could keep going today and keep Kim in the yellow!
Bernie [Eisel] and I were surprised we could even get on the bike today.
It's funny, the team meeting today was all about keeping Kim in yellow, and we didn't even discuss anything about a lead-out. It was up to the director to see how we were going in the end. We had a little hiccup in the middle with four riders getting dropped on the climb. But after that we controlled it into the finale. With 20 kilometres to go a few attacks went but we shut them down and we kept the pace high for Gerald and Mark. That caused a little drama for the other sprinters because they had to keep up.
To get the stage win is perfect. Bernhard, Marcus and I crossed the line about a minute back from the field, and when you cross the line and find out you got first and second on the stage it makes you forget the pain... well, at least for a few hours!
The plan is to try to keep it together for the start of the mountains because Kim is riding really well.
I was asked if the positive test by Beltran is being talked about in the peloton, and I honestly don't know... because we are always on the front and there is no time to chit-chat! But we were all disappointed hearing about it. It's sad that it happened, but it's showing the testing is working and things are moving forward.
As for other important matters, we still don't have the coffee machine problem settled. We don't know what to do! We do have a temporary machine from a different camper. It isn't permanently installed, as in it's not drilled onto the table - it's held down by bungee cords. So when the bus is going through the mountains someone has to actually sit by it and hold it down!
But we have our coffee, and it's not bad coffee, so it's all good. And we've really needed it these last few days!
Thanks for reading, I'll check back in soon.