An interview with Thor Hushovd, July 4, 2008
Hushovd: Gunning for another green
A winner of the points competition in the Tour de France three years ago, Thor Hushovd appears on top of the list of the favourites for the green jersey this year. But he told Cyclingnews' Jean-François Quénet that the competition between the sprinters shouldn't be underestimated.
Norwegian Thor Hushovd, 30, takes his fifth career win in the Tour de France
Photo ©: Roberto Bettini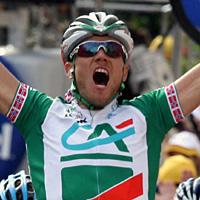 Norwegian pride in the history of cycling got a huge boost when Thor Hushovd won the stage to Quimper in 2004 with the jersey of national champion on his shoulders. The then 26 year-old stormed to the line and celebrated with his hands on the red and blue cross jersey.
Four years on from that epic victory, Hushovd flew from his home base in Switzerland to contest the national championship in Bergen. However he never made it to the start in the Hanseatic town on the west coast of the North Sea. "The first morning I woke up at home in Grimstad, I felt tired and I had a cold," he explained with regret. "I was in good form and very lean, that's probably why I was so susceptible to illness. So I decided it was a better choice not to compete at the nationals and preserve my health and my chances for the Tour de France."
He flew back to Switzerland on Sunday morning, June 29, while hearing the news that in Bergen CSC rider Kurt-Asle Arvesen won the national title once again. "The weather was crazy," Hushovd explained. "It was a very hard course and the race became harder and harder, to such a point that only eight riders finished without being lapped. When I heard about the conditions of racing up there, I had no regret that I missed it."
The critical week
Cool and concentrated for the sprint
Photo ©: Roberto Bettini

He had to cancel a press conference scheduled with Norwegian media in Bergen and opted for a telephone conference in which he repeated that his goal for this year's Tour de France is to get the points leader's maillot vert again. He responded to a different variation of the same question he often hears; this time regarding the absence of sprint rival Daniele Bennati, who joined Tom Boonen – albeit for different reasons – in the ranks of the non starters.
"I prefer to compete against the best riders."
- Hushovd on his sprint competition
"I don't think the absence of riders like Boonen and Bennati increases my chances of winning the green jersey," Hushovd explained. "I prefer to compete against the best riders.
"When all the sprinters are there, many teams feel concerned about bunch sprint finishes, now it will be different. Look at all the sprinters that are still around. Robbie McEwen just showed at the Tour de Suisse that we still have to contend with him. People say he's got no team because Silence-Lotto is focused on Cadel Evans for GC, but Robbie has never had a full team working for him in the past few years and it didn't prevent him from winning."
Hushovd continued to list his rivals, "Erik Zabel is a contender for the green jersey with all these kind of uphill finishes. It's also the case for Oscar Freire, who can be stronger than ever at the Tour. And what about the sprinting armada put together by Team Columbia with Mark Cavendish, Gerald Ciolek, Bernhard Eisel, et cetera. Don't forget that Gert Steegmans beat me twice in uphill sprint finishes at Paris-Nice. Sébastien Chavanel is also a strong competitor. Sprinting is not all about Boonen!"
The first week of the Tour de France is crucial for sprinters. "I've looked a bit at the course and what I have to expect," Hushovd explained. "The uphill finishes of stage one and stage two are not to my disadvantage actually, stage three and five could be traditional bunch sprints, but there is not to many options those.
"Maybe in Toulouse where I used to live... There are two flat stages between the Pyrénées and the Alps, but quite often in these stages, breakaways go and not many teams are committed to a bunch sprint finish."
Fully committed
Team Green puts the hammer down for its captain
Photo ©: Roberto Bettini

Crédit Agricole's green machine, without a true classification rider, revolves around Hushovd. Manager Roger Legeay had the choice between 15 riders capable of starting the Tour and he opted for leaving at home the likes of Sébastien Hinault and Patrice Halgand, who are the experienced men of the team.
"I had my idea of what the ideal team would be for the Tour and I came up with exactly the same names as the management," Hushovd revealed. Alongside the Norwegian, there will be some new faces at the Tour de France: Frenchmen Rémi Pauriol and Jimmy Engoulvent – who is able to pace in front of bunch for kilometres and kilometres – and Australia's Mark Renshaw, who has proven to be Hushovd's perfect lead-out man, together with William Bonnet. The remaining workers will be Simon Gerrans, Christophe Le Mevel, Dimitri Fofonov and Alexandre Botcharov.
It means the team is fully committed to Hushovd's goal of bringing the green jersey to Paris once again. "But the guys will still have freedom to go in breakaways in middle-mountain stages," Hushovd opined. "It's one of the best teams we've ever had since I've ridden the Tour de France."
It will be Hushovd's eighth Tour de France with Crédit Agricole and the last one as well. After ten years in cycling, the French bank has decided to stop its sponsorship and it remains unknown whether or not Legeay already has a new sponsor for the coming seasons.
"I know nothing about it," said Hushovd, who has an option for staying if the team continue to exist. "And I'd like to continue with the same organisation because I feel very comfortable there and I work well with them."
Legeay's deadline for informing his riders about the continuation of his team has been set for August 1, during the week following the end of the 2008 Tour de France.
Photography
For a thumbnail gallery of these images, click here
Images by Roberto Bettini/www.bettiniphoto.net