Recently on Cyclingnews.com
Tour de France News feature, July 25, 2008
Focused Burghardt returns victorious
By Hedwig Kröner in Saint-Etienne
Burghardt takes the win
Photo ©: Roberto Bettini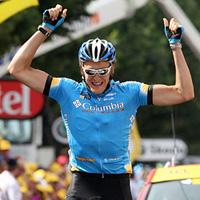 Today, Team Columbia's Marcus Burghardt offered his directors the fifth victory in the Tour de France. After Briton Mark Cavendish scored the first four in bunch sprint finishes, the German delivered his first Tour win in an exciting head-to-head duel against Quick Step's Carlos Barredo on the finish line of stage 18 in Saint-Etienne.
Burghardt said that he had targeted this stage before coming to the Tour, knowing that he'd be working for Cavendish and team general classification leader Kim Kirchen in the first part of the race. "I really wanted to win this stage," said a delighted Burghardt in the finish. "It's a huge success for me and for our team. Even before the Tour, I had focused on today's and tomorrow's stages as perfect opportunities for a break and for a win, and it worked out!"
Burghardt and Barredo escaped the bunch after 68 kilometres into the 196 kilometre-stage starting in Bourg d'Oisans. The German had tried his luck in the very first break of the day, too, but got reeled in by the bunch. "Yesterday, as well as the day before, I took it very easy in the Alps to save some energy," he explained. "It was an extremely hard day today. I was in the first break right away, but we got caught after 30 kilometres. Still, I told myself not to give up, and jumped away again. Fortunately, it worked out!"
The pair managed to get a maximum lead of over ten minutes, and even though a chase group formed behind them, about three minutes adrift, the pair was safe to make it to the finish and battle out the victory between them. Barredo, a less gifted sprinter and better climber than Burghardt, tried to drop his rival several times, but Burghardt easily dominated him. "In the finale, Barredo said he wouldn't lead anymore because he has the weaker legs in the sprint," said the German. "I was very concentrated, because he always tried to get into second position and wanted to attack when I stop focusing."
"Fortunately, I had a good track school, which may have been the key to my success here today."
-Marcus Burghardt explains how he beat Carlos Barredo in the sprint.
In the last kilometres, the Spaniard even placed an attack while Burghardt was reaching for his opened jersey to zip it up. But the Columbia rider had no hard feelings. "Quick Step didn't have such a great Tour this year, so he had to try everything to get the victory."
In the final two kilometres, the pair delivered a track-like sprint show, almost coming to full stops. But Burghardt had enough experience - as well as the legs - not to get tricked by Barredo. "Fortunately, I had a good track school, which may have been the key to my success here today. When I was 13 years old, my club back home arranged for track training, as this was part of our cycling school. You learn so much for the sprint on the track, which paid off today!"
The German had also kept good contact with his directeur sportif in the team car. "We were lucky that the chasers were so far away," said Rolf Aldag, the team's sports director. "We could play out all tactical possibilities, and it worked out well in the end. I was surprised that Barredo didn't attack in the last climb. We thought that he was also aware that he wouldn't win in a sprint. He then stopped leading out as well, so I told Burghardt not to lead too much, either... it was a breathtaking finale; I almost lost it in the car. But he showed that he won because he was the best."
Burghardt celebrates while Barredo is left wondering
Photo ©: Roberto Bettini
Although he had to put himself at the service of his team-mates in the first half of the Tour, the winner of 2007 Gent-Wevelgem still had enough juice left after some hard stages in the Alps to jump in a breakaway and go for the victory. "It was important to prepare the sprints for Mark in the first half of the Tour, and help Kim for the classification. Still I felt really good as I had a great preparation for the Tour, together with my trainer. I think that is probably why I still have so much energy in the final week," he said.
Team manager Bob Stapleton was also delighted about the squad's fifth success and full of praise for the tall German. "We knew that if he was in a breakaway he had a good chance to win, and that what he did. 'Burgi' worked all through this race for others, and now he got his chance for some personal success. He's exhausted, but he held on here to win," said Stapleton.
On top of motivation, another reason for Burghardt's success could be that he missed out on the Spring Classics this year because of a knee injury, and could therefore return to racing only late this season. "He's only got maybe 30-35 race days in his legs," explained Stapelton. "We weren't really sure how he would do in the overall Tour. But maybe this saved him here, as he's still pretty fresh. He'll have a great second half of the season. Now, I think he's just really well positioned for Deutschland Tour and the other races ahead."
One year after crashing over a freely roaming dog on the road of the Tour de France, Burghardt didn't leave anything to chance on the day he planned to ride for himself. "Yesterday at dinner, Rolf told me to wear a new jersey for good luck. So that's what I did - and a lucky day it was!"