Stuart O'Grady's Tour diary
Stuart O'Grady has a lot of Tour experience
Photo ę: Jon Devich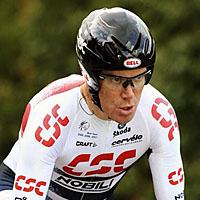 Australian Staurt O'Grady rides for Team CSC and is one of the most experienced riders in this year's Tour de France. The Aussie has already used up all the bad luck for the past year, returning from a horrible crash in the 2007 Tour and a broken collarbone in the 2008 Giro. O'Grady has won two stages in the Tour de France. He finished second in the points classification four times and has worn the yellow jersey. Things are looking promising for 2008 and Stuey will keep Cyclingnews' readers informed via his diary.
Tuesday, July 8, 2008
Rain, rain, go away
The weather really isn't on our side this year. It has rained for most of the racing season so far, besides the Tour Down Under of course! And the added wind blowing across Brittany is causing all types of chaos through the bunch. We never had a moment to relax today, even though it wasn't really a hard tempo being set. We still had to stay concentrated on keeping our position in the front of the peloton.
The breakaway rode very smart today. The four went out to 15 minutes but then backed off. When the peloton accelerated, so did they!
The cross winds really blew things to bits in the final and a few bad crashes split it up even more. In the end we came out of the day really well, with most of the team being in the front group. Nicki [S°rensen] crashed hard but finished and some X-rays on his wrist revealed that nothing is broken.
Hats off to the boys who won the stage and took the jersey. Just goes to show that in the Tour de France anything is possible. It's only a short time trial tomorrow but I think two minutes to Cancellara probably won't be enough for those guys to hold him off.
Let's wait and see!
Stuart