Tour de France News Flash, July 17, 2008
Edited by Hedwig Kröner
Riccò fails doping test – Saunier Duval out of Tour
Taken into police custody
Riccardo Riccò was taken away from the start of stage 12 in Lavelanet
Photo ©: AFP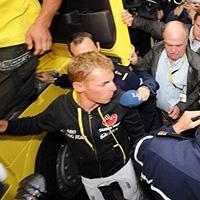 Italian rider Riccardo Riccò of Saunier Duval has tested positive for blood booster Erythropoietin (EPO), French sports daily L'Equipe reported on its website on Thursday. According to the paper's Damien Ressiot, one of the climber's urine samples collected by the French Anti-Doping Agency AFLD showed traces of a third generation EPO called CERA (Continuous Erythropoietin Receptor Activator).
The team's buses and cars were reportedly stopped by gendarmes and searched, and the police were seen taking bags of items away.
The Saunier Duval team has voluntarily withdrawn itself from the Tour de France, and said it would not compete in any races until further notice. Directeur sportif Joxean Fernandez Matxin said he was as surprised as anybody. "We only found out ten minutes ago. The entire team will stop racing, not only in the Tour de France. We suspend the activities of the team until we understand what has happened."
Riccò, who won two stages in the Tour de France (the sixth and ninth), was ninth on general classification before the news broke on Thursday morning. The Italian's impressive performances have in the past been explained by his naturally high hematocrit level.
The Italian from Spanish team Saunier Duval was part of a targeted group of riders. Since the start of the race in Brest, the AFLD performed numerous anti-doping tests on him, at least four according to L'Equipe.
At the start of stage 12 from Lavelanet to Narbonne, Riccò was taken from his team bus into a team car, which took him to the police station. Cyclingnews' Gregor Brown confirmed that the Italian was taken into police custody for questioning.
Fernandez described the final moments before Riccò was driven off. "He sat in the team bus and was not able to say anything. We didn't want to make a scene with the police. They let us drive him away in the team car. A police officer accompanied him in the car."
First reactions
In initial reactions riders and directeurs sportifs weighed in. George Hincapie of Team Columbia said, "We can look at the positive side and that we're catching riders that cheat. The sport is doing what it can and it's [putting out] more effort than any other sport out there.
"We have to look to the future and I think we're doing everything we can to clean up our sport."
The Italian emerged from his team bus
Photo ©: AFP

Hincapie's sports director, Rolf Aldag, was not too happy. "This is really disappointing. There have been a lot of rumours about him in the last few days but this a step back as he's a big fish and he's from a different generation. It was supposed to be a young and new breed but they need to know that they risk more than their careers. They risk the whole sport of cycling. He's caused a lot of damage to the Tour."
David Millar (Garmin Chipotle - H30), who used to ride for Saunier Duval for two seasons, wanted to know where the EPO was coming from and how Riccò got through the controls.
The Scot didn't think this was the last case of a positive. "We will catch more this year, next year and the year after." Cyclingnews will have more on Millar's reaction in the next news edition.
Alberto Volpi, the directeur sportif of Barloworld, couldn't quite understand what was going in Riccò's head. "I didn't think someone would do that after the events that happened before. For me personally, it is catastrophic. It is incomprehensible. After the Barloworld affair, I didn't think someone would do something like that."
Barloworld made the headlines with Moisés Dueñas' positive test case.
Doping expert speculates on Riccò's test
Professor Michel Audran is one of the world's leading experts on blood doping. He is also one of nine independent experts chosen to act as consultants in the formulation of the UCI's biological passport. Daniel Friebe, Procycling features editor spoke to Audran this morning within minutes of L'Equipe's website announcing that Riccardo Riccò has tested positive for an EPO derivative after stage four of the Tour de France, the individual time trial around Cholet.
Daniel Friebe: In the last twenty minutes we've heard that Riccardo Riccò has tested positive for an EPO-like product. The early reports suggest that Riccò used CERA or Micera. a so-called third generation EPO. What's your reaction?
Michel Audran: Wow. I'm stunned. I'm amazed they're saying it's Micera, simply because there's no validated test for that yet. The World Anti-Doping Agency is working on a test, but it certainly doesn't exist yet.
DF: What exactly is CERA, or Micera to give it its commercial name?
MA:It's a delayed-action EPO, which has a different molecular mass from EPO. It's only been commercially available since the start of the year. We can tell when someone's used it but we can't declare them positive. In that respect it's like Dynepo, another EPO-like product. We know that Micera was being used on the Giro, so I'm not surprised that it's also turned up at the Tour. But I would be very surprised if they AFLD had declared Riccò positive for Micera, for the reasons I've just mentioned. Maybe they searched Riccò's room and found the product itself...
Continue to the full interview.
Cyclingews will update this Newsflash as the story unfolds.
Photography
For a thumbnail gallery of these images, click here
Images by AFP Photo
(All rights reserved/Copyright Future Publishing Limited 2008)