Tour de France News feature, July 9, 2008
Yellow a confirmation for Schumacher
By Brecht DecaluwÚ in Cholet
Schumacher waves to the crowd
Photo ©: Roberto Bettini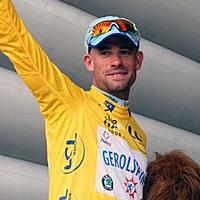 Gerolsteiner scored an important victory in the Tour's stage four time trial, where Stefan Schumacher took the stage win and the leader's yellow jersey. The team is in search of a replacement for the bottled water company, whose support runs out at the season's end. The victory in France might be just what the squad needed to seal a new deal.
Schumacher, who has had significant victories like the 2007 Amstel Gold Race and two stages and a stint in the 'maglia rosa' in the 2006 Giro d'Italia, still wasn't amongst the favourites to take the win and yellow in Cholet. That honour belonged to world time trial champion Fabian Cancellara and Garmin-Chipotle's David Millar. But Schumacher didn't count himself out.
"I've never focused on the time trial ľ for instance at the world championships - but two years ago I've done well in the Giro d'Italia [4th] and I've won the time trial in the Tirrenno-Adriatico [in 2007, ed.]. I must admit that I was surprised to take yellow. I know I was going well, but this is amazing."
"I wanted to wear the jersey and win a stage and that's what I achieved; everything else is bonus."
-Stefan Schumacher explained he is not out to win the Tour.
Schumacher expects to hold onto the yellow jersey after tomorrow's stage, which is suited to the sprinters, but knows that the 11 kilometre uphill finish in Super-Besse the following day will present the biggest challenge to his defense of the GC lead. "The stage to Super-Besse will be very difficult.
"Guys like Kirchen are only at twelve seconds and they'll surely attack me. I will need very good legs to keep the jersey," he said. "Anyway, I'm not here to win the Tour de France. I wanted to wear the jersey and win a stage and that's what I achieved; everything else is bonus. We know that it will be difficult to keep it for a series of days."
The German compared the feeling of Tuesday's victory to his stage win in the 2006 Giro d'Italia - his first Grand Tour. "It was amazing and maybe it's the same feeling that I have now because this is the Tour de France and everybody dreams of wearing this jersey. I'll never forget the moment on the podium [in 2006]: you see it a 1000 times on television and then you're there yourself, it's impossible to imagine; it's extraordinary to be on the podium in this jersey."
Future at team Gerolsteiner uncertain
Schumacher wants the team to keep going
Photo ©: Roberto Bettini

Gerolsteiner team manager Hans-Michael Holczer has admitted that the search for a new sponsor hasn't been completed, but the uncertainty of the team's future doesn't translate to concerns for his own career, especially after his success in the Tour.
"We were not happy with the news we received because we have a really good team. There's so much potential in this team that I can't imagine that it would be over," Schumacher said. "The team could and should go on. I'm one of those guys who are really optimistic about this. It's not bad to win a stage in the Tour de France and to wear the yellow jersey. So I think it was a good day for us."
"For me personally the case is that I'm still on a contract with Holczer with who I get along very well. I'm sure that he'll allow me to go somewhere if it comes that far. For now I can't believe that's going to happen because this is a great team. I want Gerolsteiner to continue, and especially because it is so important for the future of German cycling."
The Tour is always a hotbed of contract negotiations, and Schumacher confirmed that he has already been in talks with other teams, just in case. "I already had an informal meeting, but that's it. It's not an obstacle if another team would show up. I'm just hoping that we can continue.
"I cannot imagine that this team would stop. For me there's no problem, but for other young guys it isn't that easy. They are the future of German cycling," Schumacher said. "When Jan Ullrich started to ride well everybody talked about cycling, but after all the doping problems in cycling most of the attention disappeared. Hopefully it will go back the other way now."
The delicate dance
German Stefan Schumacher (Gerolsteiner) probably likes the pain of time trialing better than explaining himself to the press
Photo ©: AFP

It is clear that the peloton is cleaning up its act when it comes to performance enhancing drugs, but Schumacher, like Belgian Tom Boonen, has had his embarrassing moment with out-of-competition partying. While Boonen tested positive for cocaine and was not allowed to start the Tour de France, Schumacher was caught driving drunk last fall.
He admitted that it was a dark moment, but said his case does not compare with Boonen's. "It wasn't an easy time for me. After the world championships I had some problems. I drove my car while being drunk and I'm not proud of that. I'm a public figure and you also have to be an example for other guys."
"Then again, I didn't take drugs. I came out of a disco. It was a bad story. I was stupid on that moment," Schumacher explained. "I feel you can't compare his case and mine. I wasn't tested in a doping test. It was a police control. It was only 'micro stuff'. I didn't consume this shit," Schumacher said.
Schumacher fell under suspicion when a pre-Worlds blood test turned up with irregular values, which were explained by intestinal problems. He was cleared of doping when his blood and urine tests came back negative, but it was that experience which led to his driving incident.
Schumacher doesn't think it was right to keep Boonen out of the Tour. "I don't understand why he's not in the Tour de France, because he's a great champion who is being missed in the sprints and in the fight for the green jersey. He tested positive in a test, but that product wasn't in the WADA code so I'm not sure why he's not in the Tour."
"I don't know much about the details but surely he will not be proud on what he did. It was a stupid thing to do, but he knows that of course. That's my opinion on this case. Now I'm focused on my own Tour. Too bad it happened, especially for Boonen because he's a big champion. It's a pity for cycling," Schumacher said.
"There two sides on cases like this. There's the moral side, which says that this is a bad example. But then there's also the official side with the rules, which neither he nor I broke. Of course it is dangerous to drive drunk," Schumacher admitted, but then made a strong conclusion. "We need to have clear rules."
Schumacher has had his own time of being looked upon with suspicion. In 2005, he won all but one stage in the Bayern Rundfahrt, and afterwards it turned out that he tested positive in this race, for a stimulant called cathine. He was acquitted of any offense when it was shown that the drug was part of allergy medication prescribed to him which was not banned.
On that other Schumacher...
Before heading out the German had to endure something that probably happens in every interview: the typical comparison with retired Formula 1 star Michael Schumacher. Cyclingnews has been chasing Stefan a couple of times lately and here are some of his answers. "He would've gone faster than me, but he would've used different equipment," and also," hopefully the people in Germany will now know there's also a certain Stefan Schumacher besides Michael, and no I've never met him in person."