Tour de France News feature, July 27, 2008
Sastre's sacrifices pay off
With reporting by Hedwig Kröner in Saint Amand Montrond
Carlos Sastre (CSC-Saxo Bank)
Photo ©: Roberto Bettini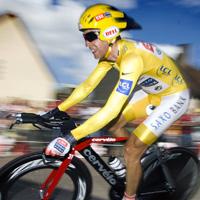 At age 33, Carlos Sastre is on the eve of realising the dream of his ten year career: he is riding into Paris in the yellow jersey, nearly assured of the final Tour de France victory. Coming into the time trial in Saint Amand Montrond, the majority of fans and journalists only gave Sastre an outside hope of stopping Cadel Evans from gaining back the one minute 34 seconds needed to strip the maillot jaune off his shoulders, but were all proven wrong.
Sastre wasn't sure how Evans felt on the course, but knew that he himself gave everything to win the Tour. As the leader of the Tour, he was the last man to start. As such, he could measure himself against the times of Evans as well as those of his team-mates including world time trial champion Fabian Cancellara. "I had the advantage of having the intermediate times of Cancellara and all of those that rode out before me," he said.
Sastre put in the ride of his life, only conceding 29 seconds to the Australian.
"It's a fantastic feeling and I'm not sure I've taken it all in yet. I felt strong and my legs were good already during warm-up. And as it was hot and there was no wind I knew the conditions would suit me perfectly. The rest was up to me and I gave everything I had – and I couldn't expect more from myself so it was all or nothing basically," said Sastre after the stage.
For Sastre, winning the Tour is a culmination of years of either working at the service of others during the French race or falling short of expectations, mainly due to his lack of prowess in the time trials. He finished in the top ten of the Tour no fewer than five times, and has been on the podium of a Grand Tour twice before.
"I'm very happy, and serene. All my life, I sacrificed so much for this; and all of my family sacrificed so much for me to realise this dream," Sastre said. "I feel so relaxed now that I succeeded. I worked all my life for this, ever since I became a professional. It's hard to realise that I finally achieved it."
Looking back over the Tour, Sastre's favourite moments came in the mountains, where he sat quietly with the favourites group. Even on stage 15 to Prato Nevoso, the Spaniard hardly raised any attention by slipping away with Bernhard Kohl to gain 47 seconds on Evans because his team-mate Frank Schleck had taken over the yellow jersey.
"All of my team-mates did such a sensational job for me to win this yellow jersey," said Sastre. "Since the very first day, I had all the confidence of Bjarne Riis, of my team-mates and the whole team. The most important things were motivation and confidence. I was confident in them, and they were confident in me.
"There will always be suspicions about us, as cheating is part of this world. But I want to say out loud that there are people in this world that train every day and sacrifice themselves every day to achieve their goals and dreams."
-Carlos Sastre responds to the sport's doping scandals and suspicions of riders who win.
When he stormed away to the win atop Alpe d'Huez, Sastre did so with the knowledge that his move put all the other favourites on the defensive: should they try to attack or chase hard enough to bring him back, they'd be immediately counter-attacked by one of the Schlecks. But Sastre wanted to point out that his other team-mates worked equally hard to ensure a team victory.
"Many people don't know what Cancellara, O'Grady or Arvesen did for me in the mountains. I'm not a person who talks much; I listen. I listen to my team-mates, and I know what they would do for me. I know that they renounced their own moments of glory for my success. Like Cancellara, who I believe sacrificed a time trial victory for me for all his efforts in the first part of the race, where he rode and protected me. The same goes for the Schleck brothers on L'Alpe d'Huez, for example.
"I think the key to our victory was to care for one another. And to take decisions in the right moments, knowing what we wanted and how we wanted it. We believed in ourselves, and that's how we won the Tour de France."
Many people might forget that Sastre has placed in the top three of the Tour de France before. He was pushed down into fourth overall by Floyd Landis in 2006, but after the American was disqualified for doping, he was given the final podium place, but without the honour of standing in front of the crowds on the Champs Élysées. At the Vuelta a Espana in 2005, he again placed behind a disqualified rider, this time Roberto Heras who tested positive for EPO and was stripped of that title moving Sastre into second.
With three doping scandals in this year's Tour, Sastre knows that there is still suspicion on any rider who wins. "I know who I am and how I've sacrificed everything to achieve this victory," he said. "There will always be suspicions about us, as cheating is part of this world. But I want to say out loud that there are people in this world that train every day and sacrifice themselves every day to achieve their goals and dreams.
"There have been, there are and there will always be people who cheat, in cycling or in society in general. But there also are also people who work hard and honestly, far away from that."
Carlos Sastre can now relax
Photo ©: AFP

Yet, to be in the position of wearing the yellow jersey on the final day into Paris was something that was never assured for Sastre coming into the Tour de France.
"Physically and mentally, I was better than ever. I knew that the opportunity of a lifetime lay ahead of me. There were many situations to deal with throughout the race, and it was never clear," he said of his prospects. "I didn't think too much about the yellow jersey; I concentrated to try and race well and take the right decisions to achieve this goal. But until I get to Paris, I haven't won yet!
As he crossed the line in Saint Amand Montrond, Sastre took a moment to cross himself - a gesture which he explained later. "I'm a person who believes in some things, which have always helped me. I knew José Maria Jimenez, the 'Chava', as he was my brother-in-law, and he taught me some things about life," said Sastre, referring to the rider, known for his attacking style, who died of a heart attack in 2003.
"We shared everything when he was still alive. Today, I would have liked to share my triumph with him. I feel like he's here with me today. I won, but I also won for him. I would have wanted him to be here."