95th Tour de France - GT
France, July 5-27, 2008
Main Page Results Overall standings Intermediate timing Stage Details Live report Previous Stage Next Stage
Stage 20 - Saturday, July 26: Cérilly - Saint Amand Montrond (ITT), 53km
Sastre flies in yellow, Schumacher fastest again
Spaniard credits "my mind, my team, my form"
By Laura Weislo & Bjorn Haake with reporting from Gregor Brown & John Trevorrow in Saint Amand Montrond
Carlos Sastre (CSC-Saxo Bank) rode the time trial of his life
Photo ©: AFP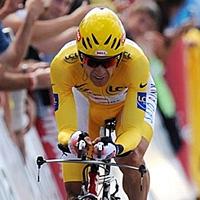 Spaniard Carlos Sastre held up under the pressure that the 53 kilometre time trial would win or lose the Tour de France, and held off the challenge of Cadel Evans to hold his yellow jersey by 1'05". The CSC-Saxo Bank rider put in one of the best time trial performances of his career, even catching team-mate Fränk Schleck, who started three minutes ahead, within the final five kilometres.
Evans, on the other hand, never gained the kind of time he would need to make up the 1'34" deficit to Sastre. While he inched ahead at each time check, it was clear that he wasn't having a great day and would not be winning the Tour. In fact, Evans struggled at the first time check to hold the pace of Bernhard Kohl (Gerolsteiner), and was four seconds behind the Austrian, but was able to pull out the single second he needed to move up into second overall by the finish.
Kohl, in the polka dot jersey of best climber, rode a solid time trial to hold onto the final podium placing heading into the parade into Paris. The Gerolsteiner rider finished in ninth, and kept a 40 second lead over Rabobank's Denis Menchov in the general classification.
Sastre had the upper hand coming into the time trial with the yellow jersey already in his grasp, and he arrived there with the help of the Tour's strongest team. Of course, the 'race of truth' separates a man from his team and is a true test of will - of mind over pain - and Sastre may have taken lessons from his team-mate Jens Voigt in telling his legs to just shut up and do what he says.
"When I started today I wanted to do a good time trial but if I was able to defend my yellow jersey today it was because of three factors: my mind, my team, my form," the Spaniard explained.
"I suffered a lot in this time trial because it was essential that I rode a bloc [flat out]," said Sastre. "I went a little bit slower in the final five kilometers." But over that mainly downhill distance, Sastre knew his jersey was secure. "Ultimately, I am grateful because I knew that I was going to keep the yellow jersey. It was very difficult to retain it but still I managed to do it. Now I'm happy because I have a guarantee that it will all end well tomorrow."
Sastre rolls down the start ramp
Photo ©: AFP

With team manager Bjarne Riis removing pressure from his rider by declaring that no matter what happened, the team's Tour was a success, Sastre was able to sleep well and start the day relaxed. "I was calm. I slept for hours," Sastre said. "It was the chance of my life. My wife and kids are here. Now I want to spend some time with my family, as I missed them. It is a dream come true and I want to share it with them."
After nearly three weeks of racing, Sastre was able to benefit from having a strong team which allowed him to use less energy throughout the race. "Winning the Tour de France is a dream come true. Above all, it's a special day for the whole CSC-Saxo Bank team. It was impossible to do this without them. It is extremely motivating to know that all the riders were ready to be at my service."
"I've prepared better than ever for this race. I arrived at the Tour in the best shape of my career and what has happened is really a dream for every professional," said Sastre."I felt better and better as the race went on," the Spaniard said of his Tour. "Also, I recover well. The team really sacrificed itself. The Schleck brothers sacrificed their own chances."
Riis agreed that Sastre was fresher than the other GC challengers in the final week. "It is well known that Carlos goes better in the third week. He may not do as much as others the rest of the year. But I saw him going well here. He showed that he was the strongest in the mountains," said Riis. Many of the CSC riders on with the team are at the end of their contracts, including Sastre. "I hope he will stay with the team. I will do everything to keep him," said Riis.
Evans 'not devastated'
Cadel Evans (Silence-Lotto)
Photo ©: AFP

Evans said he was not devastated after missing out on a Tour victory for the second consecutive year, but he was disappointed. "I felt I rode a good time trial. I started well and got a time check from my car after six kilometres and I was similar to Cancellara. For me that is a good start... I tried my best but didn't quite deliver in the end.
"I need some time to have a little look and analysis of the time checks. But, you know, first I've got to be happy that I finished the race. I'm still a bit sore and aching in places. After that crash I was lucky to be able to finish the stage."
The Australian expressed his disappointment that his team, once more, was not there at his side when he needed them. "I would have liked some more support in the high mountains. At least one team member to ride with me and help at the tough end of a climbing stage," he said. "I would also have expected a bit more help from some other key riders when the pressure was on in the big climbs."
He was able to take some positives away from this year's race as he looked forward to the Olympic Games next month. "When I look back, I have to be happy with my Tour. To get the yellow jersey and defend it against the best, well I have to be pleased with that."
Evan's team manager Marc Sergeant looked to the future for another chance for his team to take a Tour victory. "The team thought it would be a tight battle. I think he didn't have the legs today. It was win or lose today," Sergeant said.
The Silence-Lotto team has received criticism for not being strong enough to support its Tour contender. Evans was isolated against the attacks of Team CSC-Saxo Bank, despite the hiring of Yaroslav Popovych to be his mountain domestique, but Sergeant hoped to change that if Evans returns with the team next season. "We will try to strengthen the team for next year. Popovych was supposed to be there, but he didn't go as well as we had hoped."
Successful Tour for Gerolsteiner
Stefan Schumacher (Gerolsteiner)
Photo ©: AFP

The surprise performances of the day came from German Stefan Schumacher and Christian Vande Velde. Schumacher took home his second stage win against the clock of this year's Tour after the stage four test in Cholet. The Gerolsteiner rider beat world time trial champion Fabian Cancellara by 21 seconds. Vande Velde was the best of the GC contenders, coming fourth behind Team Columbia's Kim Kirchen.
Schumacher amazed even himself by taking his second stage win, and said that he began to feel better as the Tour went along, and was surprised at how good he felt after three weeks of racing. "In the final, after such a long time trial, you find yourself being cross-eyed from the effort. I didn't know anything about my time when I hit the finish line so I had to ask, 'Which place?' And I heard first and as I'd already beaten the time of [Fabian] Cancellara I knew I had a good chance to win," said Schumacher.
"I am happy with myself. I had a good rhythm today and when we saw the circuit I knew it would be perfect for me - it was nearly the same type of circuit as Cholet.
"I never even thought I was going to win. It wasn't even in my mind. I only tried to find my rhythm and give it 100 percent," he added, revealing that he did most of the race without any feedback from his team. "After 25 kilometres my radio was no longer working – I don't know what happened, perhaps I hit the wrong button but I didn't hear anything – but I had the time at the second check and I still wasn't sure if it was enough to win the stage."
Bernhard Kohl (Gerolsteiner)
Photo ©: Roberto Bettini

Like most of the riders, Schumacher was focused on the gradual climb which ended with five kilometres to go as the critical point on the course. "I was sure that the last climb on the course would decide the winner. I was feeling heavy after 45 kilometres, and to arrive at the last climb which is more than one kilometre long like that was hard but I had the power to go over the top," he said. "In the last 10 kilometres I had a good ride and that was very important for me.
The two stage wins and Bernhard Kohl's polka dot jersey made for an unexpectedly successful Tour de France, and even Schumacher was incredulous at how it turned out for the team. "I don't think anybody outside of the team thought that we could do a Tour like this so it's unreal. I've been talking a lot with Bernhard [Kohl] and we're always saying, 'Hey, this isn't just any bike race. It's the Tour!' And I cannot believe what we've done. He said that he'd be happy with fifth and now he's third and the King of the Mountains... so it's been an incredible adventure."
Team manager Hans-Michael Holczer was equally amazed. "I did not think it was possible. I thought, 'ok, this is the price he has to pay for his really aggressive riding in the last three stages,' but in the end, in the last 12 kilometres he found an unbelievable rhythm."
Schleck in white again
In the race for the best young rider, Andy Schleck provided another good result for Team CSC-Saxo Bank by holding off a strong challenge from Liquigas' Roman Kreuziger. Schleck lost 36 seconds to the Czech rider, but had enough time thanks to his ride on L'Alpe d'Huez to take home the white jersey.
Roman Kreuziger couldn't overhaul Andy Schleck
Photo ©: Roberto Bettini
The Luxembourger, who last year took second in the Giro d'Italia and the best young rider classification, has been tipped as a future winner of the Tour. But after having a terrible day on stage ten, he fell out of contention and into the service of his team. But Schleck doesn't regret sacrificing his chances to work for brother Fränk and Sastre. "I was here to learn. I didn't think I would be going that well in the Alps," he said.
The emotions which have built up during the Tour came to a head at the end of the time trial, and Schleck admitted he was so happy at the finish that he "almost cried for Carlos".
As for his future prospects, the younger Schleck has vowed to return to try to win the Tour. "I am honoured that a great champion like Laurent Jalabert thinks I can win the Tour. I may have the means to do it, but it requires a lot of work."
"I simply bonked at Hautacam. I am only 23 years old, I don't have the experience. But maybe everything happens for a reason..."
Schleck will get to test out the view from the podium when he steps up with the rest of CSC-Saxo Bank to receive the prize for best team. "It is pretty big. I am going to be standing on the Champs Élysées, on the podium, it is pretty big," said Schleck. "It is fantastic that Sastre will also take the yellow jersey."
How it unfolded
Sylvain Chavanel (Cofidis)
Photo ©: AFP

There was some worry about the overnight rains, but the weather cleared in the morning and the sun came out for the favourites, and the roads were dry. The first rider to set off was Bernhard Eisel (Columbia). Eisel scored an important 'victory' over Wim Vansevenant (Silence-Lotto) in the Lanterne rouge competition by losing 15 minutes yesterday.
Eisel set off at 11:18. He ended 9'21 down on the winner, while the experienced Wim Vansevenant (Silence-Lotto) started after Eisel and had all the time checks. He finished the day almost 11 minutes down and dropped back to last, set to clinch the title of last placed rider for the third time.
Danny Pate started what would be a strong day for the Garmin-Chipotle team, setting a 1h06'44. Ryder Hesjedal would edge him out of 13th place on the day, putting the team second on the stage.
British TT champion David Millar (Garmin-Chipotle)
Photo ©: AFP

Exactly one hour after Pate, Fabian Cancellara (CSC-Saxo Bank) took the start. He quickly showed off his ambitions, being the first one to average more than 50km/h at the first check (km 18). Cancellara rode home with the best time, 1h04'12. His average had dropped below 50km/h by the end thanks to a gradual rise in the final 20 kilometres, but he was over two minutes faster than previous best time Sebastian Lang (Gerolsteiner).
David Millar (Garmin Chipotle - H30) was a good minute adrift of the world champion at 1h05'27, but his time would stand up for fifth on the day.
Stage 19 winner and French time trial champion Sylvain Chavanel (Cofidis) rode a strong first leg, but faded to 19th overall in the difficult second half of the course. George Hincapie (Columbia) put in a solid effort despite being bandaged up from a crash in the previous days, and slotted into the top ten with a 1h06'19.
Stefan Schumacher (Gerolsteiner) set off at 15:19 to try for his second stage win of the Tour. Despite using up quite a bit of energy on breakaway attempts in the Alps and on Friday's stage, he equalled Cancellara's time on the first check. The German faded back to 12 seconds behind the Swiss rider on the second check, but then clawed his way back into the race. At kilometre 47.5, Schumacher was again ahead of Cancellara by 14 seconds, and then came home with a new best time of 1h03'50 – 21 seconds faster than Cancellara.
Luxembourg time trial champion Kim Kirchen (Columbia)
Photo ©: AFP

The battle for the white jersey of best young rider provided some entertainment as the fans awaited the arrival of the yellow jersey contenders. Roman Kreuziger was seeking to put 1'58" into Andy Schleck, and while the Luxembourger started out well, Kreuziger really put the hammer down. At check two, he was 1'03 faster and looked to trouble Schleck. In the end, however, Schleck recovered and saved the day with a 1h07'52, only 39 seconds behind Kreuziger.
Denis Menchov (Rabobank) kicked off battle of the GC contenders, and put in a storming first time check. The Russian was third fastest over the 18 kilometre mark, just 22 seconds slower than Cancellara and Schumacher. Cadel Evans (Silence-Lotto) was threatened at that check by Bernhard Kohl (Gerolsteiner), who was four seconds faster. Meanwhile, Fränk Schleck (CSC-Saxo Bank) could only manage a 22'57, and his podium dream slipped away rapidly.
All eyes were on yellow jersey of Carlos Sastre (CSC-Saxo Bank), who put in a courageous ride. He had lost only eight seconds to Evans after 18 kilometres, and with a 1'34 lead over the Australian on the general classification, his hopes of winning the Tour began to rise.
Denis Menchov (Rabobank) moved up to fourth
Photo ©: AFP

Menchov wasn't able to keep up his momentum over the middle section, and faded to sixth at the second check with a 43'46. Kim Kirchen (Columbia) made up lost ground and posted a 43'35. Christian Vande Velde (Garmin Chipotle - H30) was only one second slower at this point.
The race for the podium was still tight at the second check. While Kohl hung tough, coming by in 44'11, Evans had only made up three seconds, which left him only two seconds ahead of the Austrian in GC. It became clear that Sastre was on a brilliant ride, and the Spaniard came in just 23 seconds slower than Evans after 36 kilometres. Fränk Schleck was out of the picture (46'27).
Christian Vande Velde (Garmin-Chipotle)
Photo ©: Roberto Bettini

With the third check just 5.5 kilometres from the finish, the winner of the day and the Tour would be revealed well before the line. Denis Menchov was the sixth and last rider to break the one-hour barrier (59'50). Kirchen posted a 59'08, Vande Velde a 59'18 - none of them coming within a minute of Schumacher.
Evans was the next, across the line and would see his dreams of yellow vanishing as he ceded three seconds to his Spanish rival. On the bright side, he had managed to pull 15 seconds ahead of Kohl, so at least a spot on the podium was still in sight.
Sastre took the tight turns in the final kilometres carefully, and was able to take a moment to celebrate his achievement with a sign of the cross and a modest pump of the fist at the line, just 29 seconds slower than Evans.
Photography
For a thumbnail gallery of these images, click here
Images by AFP Photo
Images by Roberto Bettini/www.bettiniphoto.net
Results

1 Stefan Schumacher (Ger) Gerolsteiner                         1.03.50 (49.817 km/h)
2 Fabian Cancellara (Swi) Team CSC - Saxo Bank                    0.21
3 Kim Kirchen (Lux) Team Columbia                                 1.01
4 Christian Vande Velde (USA) Team Garmin-Chipotle p/b H30        1.05
5 David Millar (GBr) Team Garmin-Chipotle p/b H30                 1.37
6 Denis Menchov (Rus) Rabobank                                    1.55
7 Cadel Evans (Aus) Silence - Lotto                               2.05
8 Sebastian Lang (Ger) Gerolsteiner                               2.19
9 Bernhard Kohl (Aut) Gerolsteiner                                2.21
10 George Hincapie (USA) Team Columbia                            2.28
11 Thomas Lövkvist (Swe) Team Columbia                            2.29
12 Carlos Sastre Candil (Spa) Team CSC - Saxo Bank                2.34
13 Ryder Hesjedal (Can) Team Garmin-Chipotle p/b H30              2.36
14 Danny Pate (USA) Team Garmin-Chipotle p/b H30                  2.54
15 Jens Voigt (Ger) Team CSC - Saxo Bank                          2.58
16 Christopher Froome (Ken) Barloworld                            3.00
17 Amaël Moinard (Fra) Cofidis - Le Crédit par Téléphone          3.04
18 Kanstantsin Siutsou (Blr) Team Columbia                        3.07
19 Sylvain Chavanel (Fra) Cofidis - Le Crédit par Téléphone       3.10
20 Joost Posthuma (Ned) Rabobank                                  3.13
21 Samuel Sanchez Gonzalez (Spa) Euskaltel - Euskadi              3.14
22 Marzio Bruseghin (Ita) Lampre                                  3.19
23 Roman Kreuziger (Cze) Liquigas                                 3.21
24 Pierrick Fédrigo (Fra) Bouygues Telecom                        3.27
25 Sébastien Rosseler (Bel) Quick Step                            3.31
26 Maxime Monfort (Bel) Cofidis - Le Crédit par Téléphone         3.34
27 Tadej Valjavec (Slo) AG2R La Mondiale                          3.36
28 Leif Hoste (Bel) Silence - Lotto                               3.50
29 Yaroslav Popovych (Ukr) Silence - Lotto                        3.58
30 Andy Schleck (Lux) Team CSC - Saxo Bank                        4.02
31 Carlos Barredo Llamazales (Spa) Quick Step                     4.05
32 Brett Lancaster (Aus) Team Milram                              4.10
33 Vladimir Efimkin (Rus) AG2R La Mondiale                        4.12
34 Stuart O'Grady (Aus) Team CSC - Saxo Bank                          
35 Luis Leon Sanchez Gil (Spa) Caisse d'Epargne                   4.13
36 Alejandro Valverde Belmonte (Spa) Caisse d'Epargne             4.25
37 Christophe Riblon (Fra) AG2R La Mondiale                       4.27
38 Laurent Lefèvre (Fra) Bouygues Telecom                         4.32
39 Benoît Vaugrenard (Fra) Française des Jeux                     4.35
40 Yoann Le Boulanger (Fra) Française des Jeux                    4.37
41 Sylvester Szmyd (Pol) Lampre                                   4.45
42 Stef Clement (Ned) Bouygues Telecom                            4.49
43 Sandy Casar (Fra) Française des Jeux                               
44 Markus Fothen (Ger) Gerolsteiner                               4.54
45 Jurgen Van De Walle (Bel) Quick Step                           4.58
46 Koos Moerenhout (Ned) Rabobank                                 5.01
47 Peter Velits (Svk) Team Milram                                 5.02
48 Dmitriy Fofonov (Kaz) Crédit Agricole                          5.16
49 Bram Tankink (Ned) Rabobank                                    5.22
50 Vincenzo Nibali (Ita) Liquigas                                 5.28
51 David Moncoutié (Fra) Cofidis - Le Crédit par Téléphone        5.32
52 Björn Schröder (Ger) Team Milram                               5.33
53 Martin Elmiger (Swi) AG2R La Mondiale                          5.36
54 Frank Schleck (Lux) Team CSC - Saxo Bank                       5.38
55 Gorka Verdugo Markotegi (Spa) Euskaltel - Euskadi              5.39
56 Marco Velo (Ita) Team Milram                                   5.41
57 Haimar Zubeldia Agirre (Spa) Euskaltel - Euskadi               5.43
58 Kurt-Asle Arvesen (Nor) Team CSC - Saxo Bank                   5.47
59 William Bonnet (Fra) Crédit Agricole                           5.51
60 Jérôme Pineau (Fra) Bouygues Telecom                           5.52
61 Adam Hansen (Aus) Team Columbia                                    
62 Paolo Tiralongo (Ita) Lampre                                   5.57
63 José Iván Gutierrez (Spa) Caisse d'Epargne                     6.01
64 Hubert Dupont (Fra) AG2R La Mondiale                           6.03
65 David Le Lay (Fra) Agritubel                                   6.06
66 Laurens Ten Dam (Ned) Rabobank                                     
67 Mikel Astarloza Chaurreau (Spa) Euskaltel - Euskadi            6.07
68 Martin Müller (Ger) Team Milram                                6.09
69 Stéphane Goubert (Fra) AG2R La Mondiale                        6.19
70 Nicolas Vogondy (Fra) Agritubel                                6.27
71 Gianpaolo Cheula (Ita) Barloworld                              6.29
72 Ruben Perez Moreno (Spa) Euskaltel - Euskadi                   6.31
73 Nicolas Portal (Fra) Caisse d'Epargne                          6.32
74 Cyril Dessel (Fra) AG2R La Mondiale                                
75 Juan José Oroz Ugalde (Spa) Euskaltel - Euskadi                6.33
76 Christian Knees (Ger) Team Milram                              6.36
77 Simon Gerrans (Aus) Crédit Agricole                            6.42
78 Stéphane Augé (Fra) Cofidis - Le Crédit par Téléphone          6.43
79 Johan Van Summeren (Bel) Silence - Lotto                           
80 Xavier Florencio Cabre (Spa) Bouygues Telecom                  6.47
81 Alexandre Botcharov (Rus) Crédit Agricole                      6.53
82 Egoi Martinez De Esteban (Spa) Euskaltel - Euskadi                 
83 Florent Brard (Fra) Cofidis - Le Crédit par Téléphone          7.01
84 Amets Txurruka (Spa) Euskaltel - Euskadi                       7.09
85 Filippo Pozzato (Ita) Liquigas                                 7.13
86 Murilo Fischer (Bra) Liquigas                                  7.14
87 David Arroyo Duran (Spa) Caisse d'Epargne                      7.17
88 Arnaud Gérard (Fra) Française des Jeux                         7.21
89 Christophe Le Mével (Fra) Crédit Agricole                          
90 Aleksandr Kuchynski (Blr) Liquigas                             7.24
91 José Luis Arrieta Lujambio (Spa) AG2R La Mondiale              7.25
92 Geoffroy Lequatre (Fra) Agritubel                              7.28
93 Gerald Ciolek (Ger) Team Columbia                              7.29
94 Rémy Di Grégorio (Fra) Française des Jeux                          
95 Robert Hunter (RSA) Barloworld                                 7.34
96 Oscar Freire Gomez (Spa) Rabobank                              7.37
97 Ronny Scholz (Ger) Gerolsteiner                                7.38
98 Mario Aerts (Bel) Silence - Lotto                                  
99 Robert Förster (Ger) Gerolsteiner                              7.44
100 Leonardo Duque (Col) Cofidis - Le Crédit par Téléphone        7.46
101 Nicki Sørensen (Den) Team CSC - Saxo Bank                     7.47
102 Eduardo Gonzalo Ramirez (Spa) Agritubel                       7.49
103 Pieter Weening (Ned) Rabobank                                 7.51
104 Rémi Pauriol (Fra) Crédit Agricole                            7.54
105 Jérémy Roy (Fra) Française des Jeux                           8.00
106 Iñaki Isasi Flores (Spa) Euskaltel - Euskadi                  8.02
107 Ralf Grabsch (Ger) Team Milram                                8.03
108 Sebastian Langeveld (Ned) Rabobank                            8.05
109 John-Lee Augustyn (RSA) Barloworld                            8.08
110 Volodymir Gustov (Ukr) Team CSC - Saxo Bank                       
111 Philippe Gilbert (Bel) Française des Jeux                     8.10
112 Manuel Quinziato (Ita) Liquigas                               8.12
113 Robbie McEwen (Aus) Silence - Lotto                           8.15
114 Niki Terpstra (Ned) Team Milram                               8.19
115 Erik Zabel (Ger) Team Milram                                  8.20
116 Alessandro Ballan (Ita) Lampre                                8.26
117 Marco Marzano (Ita) Lampre                                        
118 Arnaud Coyot (Fra) Caisse d'Epargne                           8.31
119 David López García (Spa) Caisse d'Epargne                     8.36
120 William Frischkorn (USA) Team Garmin-Chipotle p/b H30         8.37
121 Matteo Tosatto (Ita) Quick Step                               8.38
122 Trent Lowe (Aus) Team Garmin-Chipotle p/b H30                 8.58
123 Thor Hushovd (Nor) Crédit Agricole                            9.06
124 Sven Krauss (Ger) Gerolsteiner                                9.12
125 Steven De Jongh (Ned) Quick Step                              9.14
126 Freddy Bichot (Fra) Agritubel                                 9.17
127 Martijn Maaskant (Ned) Team Garmin-Chipotle p/b H30           9.21
128 Bernhard Eisel (Aut) Team Columbia                                
129 Gert Steegmans (Bel) Quick Step                               9.23
130 Samuel Dumoulin (Fra) Cofidis - Le Crédit par Téléphone       9.25
131 Dario David Cioni (Ita) Silence - Lotto                       9.30
132 Matteo Carrara (Ita) Quick Step                                   
133 Julian Dean (NZl) Team Garmin-Chipotle p/b H30                9.34
134 Matteo Bono (Ita) Lampre                                      9.38
135 Marcus Burghardt (Ger) Team Columbia                          9.58
136 José Vicente Garcia Acosta (Spa) Caisse d'Epargne                 
137 Heinrich Haussler (Ger) Gerolsteiner                         10.04
138 Massimiliano Mori (Ita) Lampre                               10.20
139 Frederik Willems (Bel) Liquigas                              10.39
140 Johann Tschopp (Swi) Bouygues Telecom                        10.52
141 Daniele Righi (Ita) Lampre                                   10.54
142 Wim Vansevenant (Bel) Silence - Lotto                        10.56
143 Jimmy Engoulvent (Fra) Crédit Agricole                       11.04
144 Matthieu Sprick (Fra) Bouygues Telecom                       11.12
145 Thomas Voeckler (Fra) Bouygues Telecom                       11.19
 
Points
 
Saint-Amand-Montrond - 53.0 km
1 Stefan Schumacher (Ger) Gerolsteiner                              15 pts
2 Fabian Cancellara (Swi) Team CSC - Saxo Bank                      12
3 Kim Kirchen (Lux) Team Columbia                                   10
4 Christian Vande Velde (USA) Team Garmin-Chipotle p/b H30           8
5 David Millar (GBr) Team Garmin-Chipotle p/b H30                    6
6 Denis Menchov (Rus) Rabobank                                       5
7 Cadel Evans (Aus) Silence - Lotto                                  4
8 Sebastian Lang (Ger) Gerolsteiner                                  3
9 Bernhard Kohl (Aut) Gerolsteiner                                   2
10 George Hincapie (USA) Team Columbia                               1
 
Young riders
 
1 Thomas Lövkvist (Swe) Team Columbia                          1.06.19
2 Christopher Froome (Ken) Barloworld                             0.31
3 Roman Kreuziger (Cze) Liquigas                                  0.52
4 Maxime Monfort (Bel) Cofidis - Le Crédit par Téléphone          1.05
5 Andy Schleck (Lux) Team CSC - Saxo Bank                         1.33
6 Luis Leon Sanchez Gil (Spa) Caisse d'Epargne                    1.44
7 Peter Velits (Svk) Team Milram                                  2.33
8 Vincenzo Nibali (Ita) Liquigas                                  2.59
9 Arnaud Gérard (Fra) Française des Jeux                          4.52
10 Gerald Ciolek (Ger) Team Columbia                              5.00
11 Rémy Di Grégorio (Fra) Française des Jeux                          
12 Eduardo Gonzalo Ramirez (Spa) Agritubel                        5.20
13 Jérémy Roy (Fra) Française des Jeux                            5.31
14 Sebastian Langeveld (Ned) Rabobank                             5.36
15 John-Lee Augustyn (RSA) Barloworld                             5.39
16 Niki Terpstra (Ned) Team Milram                                5.50
17 Trent Lowe (Aus) Team Garmin-Chipotle p/b H30                  6.29
18 Sven Krauss (Ger) Gerolsteiner                                 6.43
19 Martijn Maaskant (Ned) Team Garmin-Chipotle p/b H30            6.52
20 Matteo Bono (Ita) Lampre                                       7.09
21 Marcus Burghardt (Ger) Team Columbia                           7.29
22 Heinrich Haussler (Ger) Gerolsteiner                           7.35
 
Teams
 
1 Gerolsteiner                                                 3.16.10
2 Garmin Chipotle                                                 0.38
3 Team CSC Saxo Bank                                              1.13
4 Team Columbia                                                   1.18
5 Cofidis Credit Par Telephone                                    5.08
6 Silence - Lotto                                                 5.13
7 Rabobank                                                        5.29
8 AG2R-La Mondiale                                                7.35
9 Quick Step                                                      7.54
10 Bouygues Telecom                                               8.08
11 Francaise des Jeux                                             9.21
12 Lampre                                                             
13 Euskaltel - Euskadi                                            9.56
14 Caisse d'Epargne                                               9.59
15 Team Milram                                                   10.05
16 Liquigas                                                      11.22
17 Barloworld                                                    12.23
18 Credit Agricole                                               13.09
19 Agritubel                                                     15.21
 
General classification after stage 20
 
1 Carlos Sastre Candil (Spa) Team CSC - Saxo Bank             84.01.00
2 Cadel Evans (Aus) Silence - Lotto                               1.05
3 Bernhard Kohl (Aut) Gerolsteiner                                1.20
4 Denis Menchov (Rus) Rabobank                                    2.00
5 Christian Vande Velde (USA) Team Garmin-Chipotle p/b H30        3.12
6 Frank Schleck (Lux) Team CSC - Saxo Bank                        4.28
7 Samuel Sanchez Gonzalez (Spa) Euskaltel - Euskadi               6.32
8 Kim Kirchen (Lux) Team Columbia                                 7.02
9 Alejandro Valverde Belmonte (Spa) Caisse d'Epargne              7.26
10 Tadej Valjavec (Slo) AG2R La Mondiale                          9.12
11 Vladimir Efimkin (Rus) AG2R La Mondiale                       10.02
12 Andy Schleck (Lux) Team CSC - Saxo Bank                       11.32
13 Roman Kreuziger (Cze) Liquigas                                12.49
14 Sandy Casar (Fra) Française des Jeux                          19.23
15 Amaël Moinard (Fra) Cofidis - Le Crédit par Téléphone         23.31
16 Mikel Astarloza Chaurreau (Spa) Euskaltel - Euskadi           23.40
17 Kanstantsin Siutsou (Blr) Team Columbia                       25.02
18 Alexandre Botcharov (Rus) Crédit Agricole                     27.18
19 Dmitriy Fofonov (Kaz) Crédit Agricole                         28.31
20 Vincenzo Nibali (Ita) Liquigas                                28.33
21 Stéphane Goubert (Fra) AG2R La Mondiale                       31.50
22 Laurens Ten Dam (Ned) Rabobank                                32.59
23 Maxime Monfort (Bel) Cofidis - Le Crédit par Téléphone        35.48
24 Yaroslav Popovych (Ukr) Silence - Lotto                       36.31
25 Stefan Schumacher (Ger) Gerolsteiner                          37.34
26 Sylvester Szmyd (Pol) Lampre                                  44.43
27 Marzio Bruseghin (Ita) Lampre                                 45.19
28 Cyril Dessel (Fra) AG2R La Mondiale                           46.31
29 Christian Knees (Ger) Team Milram                             47.50
30 David Arroyo Duran (Spa) Caisse d'Epargne                     48.23
31 Mario Aerts (Bel) Silence - Lotto                             48.58
32 Pierrick Fédrigo (Fra) Bouygues Telecom                       50.19
33 Markus Fothen (Ger) Gerolsteiner                            1.01.04
34 Koos Moerenhout (Ned) Rabobank                              1.05.45
35 George Hincapie (USA) Team Columbia                         1.08.22
36 Matteo Carrara (Ita) Quick Step                             1.09.25
37 Jens Voigt (Ger) Team CSC - Saxo Bank                       1.11.55
38 Jérôme Pineau (Fra) Bouygues Telecom                        1.12.58
39 Eduardo Gonzalo Ramirez (Spa) Agritubel                     1.20.06
40 Christophe Le Mével (Fra) Crédit Agricole                   1.20.24
41 Thomas Lövkvist (Swe) Team Columbia                         1.25.27
42 David Moncoutié (Fra) Cofidis - Le Crédit par Téléphone     1.26.12
43 Erik Zabel (Ger) Team Milram                                1.26.54
44 Marco Velo (Ita) Team Milram                                1.26.56
45 Haimar Zubeldia Agirre (Spa) Euskaltel - Euskadi            1.27.07
46 Volodymir Gustov (Ukr) Team CSC - Saxo Bank                 1.29.49
47 Ryder Hesjedal (Can) Team Garmin-Chipotle p/b H30           1.33.12
48 John-Lee Augustyn (RSA) Barloworld                          1.36.21
49 Paolo Tiralongo (Ita) Lampre                                1.36.47
50 Egoi Martinez De Esteban (Spa) Euskaltel - Euskadi          1.36.50
51 David López García (Spa) Caisse d'Epargne                   1.39.27
52 Amets Txurruka (Spa) Euskaltel - Euskadi                    1.41.59
53 Leonardo Duque (Col) Cofidis - Le Crédit par Téléphone      1.44.38
54 Johann Tschopp (Swi) Bouygues Telecom                       1.47.12
55 Hubert Dupont (Fra) AG2R La Mondiale                        1.47.24
56 José Iván Gutierrez (Spa) Caisse d'Epargne                  1.48.34
57 Kurt-Asle Arvesen (Nor) Team CSC - Saxo Bank                1.49.40
58 Peter Velits (Svk) Team Milram                              1.49.49
59 Rémy Di Grégorio (Fra) Française des Jeux                   1.49.54
60 Bram Tankink (Ned) Rabobank                                 1.50.24
61 Sylvain Chavanel (Fra) Cofidis - Le Crédit par Téléphone    1.54.15
62 Luis Leon Sanchez Gil (Spa) Caisse d'Epargne                1.55.39
63 Pieter Weening (Ned) Rabobank                               1.55.52
64 Nicolas Vogondy (Fra) Agritubel                             1.55.54
65 Fabian Cancellara (Swi) Team CSC - Saxo Bank                1.57.23
66 Nicolas Portal (Fra) Caisse d'Epargne                       1.58.16
67 David Millar (GBr) Team Garmin-Chipotle p/b H30             1.59.19
68 Filippo Pozzato (Ita) Liquigas                              1.59.27
69 Joost Posthuma (Ned) Rabobank                               2.05.10
70 Oscar Freire Gomez (Spa) Rabobank                           2.06.00
71 Martin Elmiger (Swi) AG2R La Mondiale                       2.06.35
72 José Luis Arrieta Lujambio (Spa) AG2R La Mondiale           2.07.23
73 Gorka Verdugo Markotegi (Spa) Euskaltel - Euskadi           2.08.13
74 Yoann Le Boulanger (Fra) Française des Jeux                 2.08.40
75 Sebastian Lang (Ger) Gerolsteiner                           2.09.23
76 Murilo Fischer (Bra) Liquigas                               2.13.17
77 Trent Lowe (Aus) Team Garmin-Chipotle p/b H30               2.13.31
78 Jurgen Van De Walle (Bel) Quick Step                        2.13.50
79 Simon Gerrans (Aus) Crédit Agricole                         2.14.15
80 David Le Lay (Fra) Agritubel                                2.16.33
81 Rémi Pauriol (Fra) Crédit Agricole                                 
82 Benoît Vaugrenard (Fra) Française des Jeux                  2.19.24
83 Dario David Cioni (Ita) Silence - Lotto                     2.19.35
84 Christopher Froome (Ken) Barloworld                         2.21.10
85 Laurent Lefèvre (Fra) Bouygues Telecom                      2.23.06
86 Geoffroy Lequatre (Fra) Agritubel                           2.23.18
87 Johan Van Summeren (Bel) Silence - Lotto                    2.26.54
88 Gianpaolo Cheula (Ita) Barloworld                           2.29.43
89 Carlos Barredo Llamazales (Spa) Quick Step                  2.30.36
90 Stef Clement (Ned) Bouygues Telecom                         2.32.09
91 Marco Marzano (Ita) Lampre                                  2.33.58
92 Ronny Scholz (Ger) Gerolsteiner                             2.34.02
93 Ruben Perez Moreno (Spa) Euskaltel - Euskadi                2.34.09
94 Alessandro Ballan (Ita) Lampre                              2.35.22
95 Danny Pate (USA) Team Garmin-Chipotle p/b H30               2.36.19
96 Thomas Voeckler (Fra) Bouygues Telecom                      2.38.03
97 Matteo Tosatto (Ita) Quick Step                             2.38.07
98 Sébastien Rosseler (Bel) Quick Step                         2.40.12
99 Thor Hushovd (Nor) Crédit Agricole                          2.45.34
100 Björn Schröder (Ger) Team Milram                           2.48.33
101 Xavier Florencio Cabre (Spa) Bouygues Telecom              2.53.51
102 William Bonnet (Fra) Crédit Agricole                       2.55.29
103 Juan José Oroz Ugalde (Spa) Euskaltel - Euskadi            2.56.12
104 Iñaki Isasi Flores (Spa) Euskaltel - Euskadi               2.57.51
105 Martin Müller (Ger) Team Milram                            2.58.21
106 Gerald Ciolek (Ger) Team Columbia                          2.58.48
107 Robert Hunter (RSA) Barloworld                             3.04.16
108 Adam Hansen (Aus) Team Columbia                            3.04.59
109 Stuart O'Grady (Aus) Team CSC - Saxo Bank                  3.07.46
110 Julian Dean (NZl) Team Garmin-Chipotle p/b H30             3.08.11
111 Gert Steegmans (Bel) Quick Step                            3.08.37
112 Philippe Gilbert (Bel) Française des Jeux                  3.08.44
113 Frederik Willems (Bel) Liquigas                            3.13.28
114 Samuel Dumoulin (Fra) Cofidis - Le Crédit par Téléphone    3.14.44
115 Arnaud Coyot (Fra) Caisse d'Epargne                        3.16.00
116 Matteo Bono (Ita) Lampre                                   3.16.16
117 Robert Förster (Ger) Gerolsteiner                          3.16.25
118 Nicki Sørensen (Den) Team CSC - Saxo Bank                  3.17.01
119 Florent Brard (Fra) Cofidis - Le Crédit par Téléphone      3.17.45
120 Marcus Burghardt (Ger) Team Columbia                       3.20.35
121 Jérémy Roy (Fra) Française des Jeux                        3.21.22
122 Robbie McEwen (Aus) Silence - Lotto                        3.22.50
123 Ralf Grabsch (Ger) Team Milram                             3.23.17
124 Leif Hoste (Bel) Silence - Lotto                           3.23.43
125 Steven De Jongh (Ned) Quick Step                           3.24.22
126 Heinrich Haussler (Ger) Gerolsteiner                       3.25.41
127 Daniele Righi (Ita) Lampre                                 3.25.56
128 Aleksandr Kuchynski (Blr) Liquigas                         3.26.54
129 Sebastian Langeveld (Ned) Rabobank                         3.27.38
130 Brett Lancaster (Aus) Team Milram                          3.27.43
131 Manuel Quinziato (Ita) Liquigas                            3.27.53
132 Arnaud Gérard (Fra) Française des Jeux                     3.29.50
133 William Frischkorn (USA) Team Garmin-Chipotle p/b H30      3.30.47
134 Martijn Maaskant (Ned) Team Garmin-Chipotle p/b H30        3.31.08
135 Freddy Bichot (Fra) Agritubel                              3.32.32
136 Niki Terpstra (Ned) Team Milram                            3.33.30
137 Jimmy Engoulvent (Fra) Crédit Agricole                     3.35.30
138 Christophe Riblon (Fra) AG2R La Mondiale                   3.35.31
139 Stéphane Augé (Fra) Cofidis - Le Crédit par Téléphone      3.35.42
140 Massimiliano Mori (Ita) Lampre                             3.37.12
141 José Vicente Garcia Acosta (Spa) Caisse d'Epargne          3.39.26
142 Matthieu Sprick (Fra) Bouygues Telecom                     3.48.18
143 Sven Krauss (Ger) Gerolsteiner                             3.51.55
144 Bernhard Eisel (Aut) Team Columbia                         3.53.58
145 Wim Vansevenant (Bel) Silence - Lotto                      3.54.51
 
Points classification
 
1 Oscar Freire Gomez (Spa) Rabobank                                244 pts
2 Erik Zabel (Ger) Team Milram                                     202
3 Thor Hushovd (Nor) Crédit Agricole                               198
4 Leonardo Duque (Col) Cofidis - Le Crédit par Téléphone           164
5 Kim Kirchen (Lux) Team Columbia                                  155
6 Alejandro Valverde Belmonte (Spa) Caisse d'Epargne               125
7 Robert Hunter (RSA) Barloworld                                   115
8 Robbie McEwen (Aus) Silence - Lotto                              105
9 Cadel Evans (Aus) Silence - Lotto                                101
10 Julian Dean (NZl) Team Garmin-Chipotle p/b H30                   99
11 Filippo Pozzato (Ita) Liquigas                                   98
12 Stefan Schumacher (Ger) Gerolsteiner                             89
13 Gerald Ciolek (Ger) Team Columbia                                86
14 Robert Förster (Ger) Gerolsteiner                                85
15 Frank Schleck (Lux) Team CSC - Saxo Bank                         80
16 Sylvain Chavanel (Fra) Cofidis - Le Crédit par Téléphone         79
17 Gert Steegmans (Bel) Quick Step                                  78
18 Martin Elmiger (Swi) AG2R La Mondiale                            77
19 Samuel Dumoulin (Fra) Cofidis - Le Crédit par Téléphone          74
20 Alessandro Ballan (Ita) Lampre                                   73
21 Jérôme Pineau (Fra) Bouygues Telecom                             72
22 Carlos Sastre Candil (Spa) Team CSC - Saxo Bank                  68
23 Heinrich Haussler (Ger) Gerolsteiner                             67
24 Andy Schleck (Lux) Team CSC - Saxo Bank                          62
25 Samuel Sanchez Gonzalez (Spa) Euskaltel - Euskadi                61
26 Christian Vande Velde (USA) Team Garmin-Chipotle p/b H30         59
27 Iñaki Isasi Flores (Spa) Euskaltel - Euskadi                     59
28 Vladimir Efimkin (Rus) AG2R La Mondiale                          55
29 Ruben Perez Moreno (Spa) Euskaltel - Euskadi                     54
30 Denis Menchov (Rus) Rabobank                                     51
31 Cyril Dessel (Fra) AG2R La Mondiale                              49
32 Roman Kreuziger (Cze) Liquigas                                   46
33 Martijn Maaskant (Ned) Team Garmin-Chipotle p/b H30              46
34 Geoffroy Lequatre (Fra) Agritubel                                45
35 Xavier Florencio Cabre (Spa) Bouygues Telecom                    44
36 Jérémy Roy (Fra) Française des Jeux                              42
37 William Frischkorn (USA) Team Garmin-Chipotle p/b H30            42
38 David Millar (GBr) Team Garmin-Chipotle p/b H30                  42
39 Bernhard Kohl (Aut) Gerolsteiner                                 40
40 Sebastian Lang (Ger) Gerolsteiner                                37
41 Mikel Astarloza Chaurreau (Spa) Euskaltel - Euskadi              36
42 Dmitriy Fofonov (Kaz) Crédit Agricole                            33
43 Philippe Gilbert (Bel) Française des Jeux                        32
44 Fabian Cancellara (Swi) Team CSC - Saxo Bank                     30
45 Carlos Barredo Llamazales (Spa) Quick Step                       29
46 Steven De Jongh (Ned) Quick Step                                 28
47 Kurt-Asle Arvesen (Nor) Team CSC - Saxo Bank                     27
48 Benoît Vaugrenard (Fra) Française des Jeux                       27
49 Yaroslav Popovych (Ukr) Silence - Lotto                          27
50 Matteo Carrara (Ita) Quick Step                                  27
51 Simon Gerrans (Aus) Crédit Agricole                              26
52 Marcus Burghardt (Ger) Team Columbia                             26
53 Matteo Tosatto (Ita) Quick Step                                  26
54 Tadej Valjavec (Slo) AG2R La Mondiale                            24
55 George Hincapie (USA) Team Columbia                              24
56 Christophe Riblon (Fra) AG2R La Mondiale                         23
57 Nicolas Vogondy (Fra) Agritubel                                  20
58 Florent Brard (Fra) Cofidis - Le Crédit par Téléphone            20
59 Koos Moerenhout (Ned) Rabobank                                   20
60 Christophe Le Mével (Fra) Crédit Agricole                        20
61 Arnaud Coyot (Fra) Caisse d'Epargne                              20
62 José Luis Arrieta Lujambio (Spa) AG2R La Mondiale                19
63 Freddy Bichot (Fra) Agritubel                                    18
64 Sandy Casar (Fra) Française des Jeux                             17
65 Pierrick Fédrigo (Fra) Bouygues Telecom                          17
66 Laurent Lefèvre (Fra) Bouygues Telecom                           16
67 Alexandre Botcharov (Rus) Crédit Agricole                        16
68 Danny Pate (USA) Team Garmin-Chipotle p/b H30                    16
69 Luis Leon Sanchez Gil (Spa) Caisse d'Epargne                     15
70 David Arroyo Duran (Spa) Caisse d'Epargne                        15
71 Marco Velo (Ita) Team Milram                                     15
72 Christian Knees (Ger) Team Milram                                14
73 Egoi Martinez De Esteban (Spa) Euskaltel - Euskadi               13
74 John-Lee Augustyn (RSA) Barloworld                               13
75 Vincenzo Nibali (Ita) Liquigas                                   12
76 Maxime Monfort (Bel) Cofidis - Le Crédit par Téléphone           12
77 Thomas Voeckler (Fra) Bouygues Telecom                           12
78 Leif Hoste (Bel) Silence - Lotto                                 12
79 Aleksandr Kuchynski (Blr) Liquigas                               10
80 Arnaud Gérard (Fra) Française des Jeux                           10
81 Amets Txurruka (Spa) Euskaltel - Euskadi                         10
82 Nicolas Portal (Fra) Caisse d'Epargne                            10
83 Amaël Moinard (Fra) Cofidis - Le Crédit par Téléphone             9
84 Kanstantsin Siutsou (Blr) Team Columbia                           9
85 Peter Velits (Svk) Team Milram                                    8
86 Christopher Froome (Ken) Barloworld                               8
87 Niki Terpstra (Ned) Team Milram                                   7
88 Stéphane Goubert (Fra) AG2R La Mondiale                           7
89 Sven Krauss (Ger) Gerolsteiner                                    7
90 José Iván Gutierrez (Spa) Caisse d'Epargne                        6
91 Rémy Di Grégorio (Fra) Française des Jeux                         6
92 Thomas Lövkvist (Swe) Team Columbia                               6
93 Sebastian Langeveld (Ned) Rabobank                                6
94 Eduardo Gonzalo Ramirez (Spa) Agritubel                           5
95 Jens Voigt (Ger) Team CSC - Saxo Bank                             4
96 Bram Tankink (Ned) Rabobank                                       4
97 Björn Schröder (Ger) Team Milram                                  4
98 William Bonnet (Fra) Crédit Agricole                              4
99 Stéphane Augé (Fra) Cofidis - Le Crédit par Téléphone             3
100 David Moncoutié (Fra) Cofidis - Le Crédit par Téléphone          2
101 Volodymir Gustov (Ukr) Team CSC - Saxo Bank                      2
102 David Le Lay (Fra) Agritubel                                     2
103 Gianpaolo Cheula (Ita) Barloworld                                2
104 Juan José Oroz Ugalde (Spa) Euskaltel - Euskadi                  2
105 Bernhard Eisel (Aut) Team Columbia                               2
106 Brett Lancaster (Aus) Team Milram                                1
107 Laurens Ten Dam (Ned) Rabobank                                  -5
108 Paolo Tiralongo (Ita) Lampre                                    -5
109 Joost Posthuma (Ned) Rabobank                                   -5
110 Dario David Cioni (Ita) Silence - Lotto                         -5
111 Manuel Quinziato (Ita) Liquigas                                 -5
 
Mountains classification
 
1 Bernhard Kohl (Aut) Gerolsteiner                                 125 pts
2 Carlos Sastre Candil (Spa) Team CSC - Saxo Bank                   80
3 Frank Schleck (Lux) Team CSC - Saxo Bank                          80
4 Thomas Voeckler (Fra) Bouygues Telecom                            65
5 Stefan Schumacher (Ger) Gerolsteiner                              61
6 John-Lee Augustyn (RSA) Barloworld                                61
7 Sebastian Lang (Ger) Gerolsteiner                                 60
8 Alejandro Valverde Belmonte (Spa) Caisse d'Epargne                58
9 Rémy Di Grégorio (Fra) Française des Jeux                         52
10 Egoi Martinez De Esteban (Spa) Euskaltel - Euskadi               51
11 Simon Gerrans (Aus) Crédit Agricole                              50
12 Yaroslav Popovych (Ukr) Silence - Lotto                          49
13 Cyril Dessel (Fra) AG2R La Mondiale                              49
14 Denis Menchov (Rus) Rabobank                                     48
15 Andy Schleck (Lux) Team CSC - Saxo Bank                          47
16 Cadel Evans (Aus) Silence - Lotto                                46
17 Samuel Sanchez Gonzalez (Spa) Euskaltel - Euskadi                46
18 Vladimir Efimkin (Rus) AG2R La Mondiale                          44
19 Kanstantsin Siutsou (Blr) Team Columbia                          42
20 José Luis Arrieta Lujambio (Spa) AG2R La Mondiale                40
21 Peter Velits (Svk) Team Milram                                   37
22 Danny Pate (USA) Team Garmin-Chipotle p/b H30                    37
23 Sandy Casar (Fra) Française des Jeux                             36
24 Christian Vande Velde (USA) Team Garmin-Chipotle p/b H30         34
25 David Arroyo Duran (Spa) Caisse d'Epargne                        33
26 Christophe Le Mével (Fra) Crédit Agricole                        33
27 Luis Leon Sanchez Gil (Spa) Caisse d'Epargne                     31
28 Vincenzo Nibali (Ita) Liquigas                                   30
29 Sylvain Chavanel (Fra) Cofidis - Le Crédit par Téléphone         27
30 Kurt-Asle Arvesen (Nor) Team CSC - Saxo Bank                     24
31 Carlos Barredo Llamazales (Spa) Quick Step                       22
32 Aleksandr Kuchynski (Blr) Liquigas                               22
33 Amaël Moinard (Fra) Cofidis - Le Crédit par Téléphone            20
34 Leonardo Duque (Col) Cofidis - Le Crédit par Téléphone           20
35 Mikel Astarloza Chaurreau (Spa) Euskaltel - Euskadi              20
36 Pierrick Fédrigo (Fra) Bouygues Telecom                          20
37 George Hincapie (USA) Team Columbia                              20
38 Jérémy Roy (Fra) Française des Jeux                              19
39 Jens Voigt (Ger) Team CSC - Saxo Bank                            18
40 Kim Kirchen (Lux) Team Columbia                                  18
41 Alessandro Ballan (Ita) Lampre                                   17
42 Tadej Valjavec (Slo) AG2R La Mondiale                            16
43 Hubert Dupont (Fra) AG2R La Mondiale                             16
44 Ruben Perez Moreno (Spa) Euskaltel - Euskadi                     16
45 Markus Fothen (Ger) Gerolsteiner                                 14
46 Marcus Burghardt (Ger) Team Columbia                             14
47 Roman Kreuziger (Cze) Liquigas                                   13
48 Dmitriy Fofonov (Kaz) Crédit Agricole                            13
49 Amets Txurruka (Spa) Euskaltel - Euskadi                         12
50 Nicolas Portal (Fra) Caisse d'Epargne                            12
51 Freddy Bichot (Fra) Agritubel                                    12
52 Laurent Lefèvre (Fra) Bouygues Telecom                           11
53 Fabian Cancellara (Swi) Team CSC - Saxo Bank                     10
54 Benoît Vaugrenard (Fra) Française des Jeux                       10
55 Florent Brard (Fra) Cofidis - Le Crédit par Téléphone             9
56 Björn Schröder (Ger) Team Milram                                  9
57 David Moncoutié (Fra) Cofidis - Le Crédit par Téléphone           9
58 José Iván Gutierrez (Spa) Caisse d'Epargne                        8
59 Maxime Monfort (Bel) Cofidis - Le Crédit par Téléphone            8
60 Filippo Pozzato (Ita) Liquigas                                    8
61 Oscar Freire Gomez (Spa) Rabobank                                 8
62 Christopher Froome (Ken) Barloworld                               8
63 Gorka Verdugo Markotegi (Spa) Euskaltel - Euskadi                 6
64 Sébastien Rosseler (Bel) Quick Step                               6
65 Niki Terpstra (Ned) Team Milram                                   6
66 David Millar (GBr) Team Garmin-Chipotle p/b H30                   5
67 Matteo Carrara (Ita) Quick Step                                   5
68 Alexandre Botcharov (Rus) Crédit Agricole                         4
69 Samuel Dumoulin (Fra) Cofidis - Le Crédit par Téléphone           4
70 Bram Tankink (Ned) Rabobank                                       3
71 Jérôme Pineau (Fra) Bouygues Telecom                              2
72 Yoann Le Boulanger (Fra) Française des Jeux                       2
73 Ronny Scholz (Ger) Gerolsteiner                                   2
74 Arnaud Gérard (Fra) Française des Jeux                            2
75 Christophe Riblon (Fra) AG2R La Mondiale                          2
76 Marco Velo (Ita) Team Milram                                      1
77 David Le Lay (Fra) Agritubel                                      1
78 Geoffroy Lequatre (Fra) Agritubel                                 1
 
Young rider classification
 
1 Andy Schleck (Lux) Team CSC - Saxo Bank                     84.12.32
2 Roman Kreuziger (Cze) Liquigas                                  1.17
3 Vincenzo Nibali (Ita) Liquigas                                 17.01
4 Maxime Monfort (Bel) Cofidis - Le Crédit par Téléphone         24.16
5 Eduardo Gonzalo Ramirez (Spa) Agritubel                      1.08.34
6 Thomas Lövkvist (Swe) Team Columbia                          1.13.55
7 John-Lee Augustyn (RSA) Barloworld                           1.24.49
8 Peter Velits (Svk) Team Milram                               1.38.17
9 Rémy Di Grégorio (Fra) Française des Jeux                    1.38.22
10 Luis Leon Sanchez Gil (Spa) Caisse d'Epargne                1.44.07
11 Trent Lowe (Aus) Team Garmin-Chipotle p/b H30               2.01.59
12 Christopher Froome (Ken) Barloworld                         2.09.38
13 Gerald Ciolek (Ger) Team Columbia                           2.47.16
14 Matteo Bono (Ita) Lampre                                    3.04.44
15 Marcus Burghardt (Ger) Team Columbia                        3.09.03
16 Jérémy Roy (Fra) Française des Jeux                         3.09.50
17 Heinrich Haussler (Ger) Gerolsteiner                        3.14.09
18 Sebastian Langeveld (Ned) Rabobank                          3.16.06
19 Arnaud Gérard (Fra) Française des Jeux                      3.18.18
20 Martijn Maaskant (Ned) Team Garmin-Chipotle p/b H30         3.19.36
21 Niki Terpstra (Ned) Team Milram                             3.21.58
22 Sven Krauss (Ger) Gerolsteiner                              3.40.23
 
Teams classification
 
1 Team CSC Saxo Bank                                         251.54.35
2 AG2R-La Mondiale                                               15.49
3 Rabobank                                                     1.05.33
4 Euskaltel - Euskadi                                          1.16.40
5 Silence - Lotto                                              1.17.29
6 Caisse d'Epargne                                             1.20.42
7 Team Columbia                                                1.23.14
8 Lampre                                                       1.26.24
9 Gerolsteiner                                                 1.28.01
10 Credit Agricole                                             1.37.23
11 Cofidis Credit Par Telephone                                1.51.49
12 Liquigas                                                    2.13.42
13 Bouygues Telecom                                            2.18.53
14 Garmin Chipotle                                             2.31.12
15 Francaise des Jeux                                          2.41.14
16 Team Milram                                                 3.13.52
17 Barloworld                                                  3.33.16
18 Quick Step                                                  3.44.38
19 Agritubel                                                   4.16.04

Intermediate timing

                                                             Finish     18km          36km       47.5km  
1 Stefan Schumacher (Ger) Gerolsteiner                      1.03.50  0.21.30  (1)  0.42.50  (2)  0.58.12  (1)
2 Fabian Cancellara (Swi) Team CSC - Saxo Bank                 0.22     0.00  (1)    -0.12  (1)     0.14  (2)
3 Kim Kirchen (Lux) Team Columbia                              1.01     0.24  (4)     0.45  (3)     0.56  (3)
4 Christian Vande Velde (USA) Team Garmin-Chipotle p/b H30     1.05     0.28  (5)     0.46  (4)     1.06  (4)
5 David Millar (GBr) Team Garmin-Chipotle p/b H30              1.37     0.43  (9)     0.51  (5)     1.24  (5)
6 Denis Menchov (Rus) Rabobank                                 1.55     0.22  (3)     0.56  (6)     1.38  (6)
7 Cadel Evans (Aus) Silence - Lotto                            2.06     0.38  (7)     1.18  (7)     1.52  (7)
8 Sebastian Lang (Ger) Gerolsteiner                            2.19     0.56  (18)    1.22  (9)     2.00  (8)
9 Bernhard Kohl (Aut) Gerolsteiner                             2.21     0.34  (6)     1.21  (8)     2.07  (9)
10 George Hincapie (USA) Team Columbia                         2.29     0.51  (14)    1.29  (11)    2.08  (10)
11 Thomas Lövkvist (Swe) Team Columbia                                  0.46  (10)    1.26  (10)    2.17  (12)
12 Carlos Sastre Candil (Spa) Team CSC - Saxo Bank             2.35     0.46  (10)    1.41  (14)    2.12  (11)
13 Ryder Hesjedal (Can) Team Garmin-Chipotle p/b H30           2.37     1.12  (28)    1.46  (15)    2.28  (13)
14 Danny Pate (USA) Team Garmin-Chipotle p/b H30               2.55     0.47  (12)    1.37  (12)    2.35  (14)
15 Jens Voigt (Ger) Team CSC - Saxo Bank                       2.59     1.15  (32)    1.58  (18)    2.35  (14)
16 Christopher Froome (Ken) Barloworld                         3.01     0.54  (17)    1.57  (17)    2.40  (16)
17 Amaël Moinard (Fra) Cofidis - Le Crédit par Téléphone       3.05     0.53  (16)    2.06  (22)    2.44  (17)
18 Kanstantsin Siutsou (Blr) Team Columbia                     3.08     0.58  (19)    1.54  (16)    2.46  (18)
19 Sylvain Chavanel (Fra) Cofidis - Le Crédit par Téléphone    3.11     0.41  (8)     1.40  (13)    2.47  (19)
20 Joost Posthuma (Ned) Rabobank                               3.13     1.29  (41)    2.21  (27)    2.53  (20)
21 Samuel Sanchez Gonzalez (Spa) Euskaltel - Euskadi           3.15     0.49  (13)    2.00  (20)    2.55  (21)
22 Marzio Bruseghin (Ita) Lampre                               3.20     1.06  (23)    2.00  (20)    3.01  (22)
23 Roman Kreuziger (Cze) Liquigas                              3.22     0.52  (15)    1.59  (19)    3.03  (23)
24 Pierrick Fédrigo (Fra) Bouygues Telecom                     3.27     1.11  (27)    2.16  (24)    3.08  (24)
25 Sébastien Rosseler (Bel) Quick Step                         3.32     1.05  (22)    2.20  (26)    3.14  (25)
26 Maxime Monfort (Bel) Cofidis - Le Crédit par Téléphone      3.35     1.07  (24)    2.11  (23)    3.20  (27)
27 Tadej Valjavec (Slo) AG2R La Mondiale                       3.36     1.07  (24)    2.26  (28)    3.15  (26)
28 Leif Hoste (Bel) Silence - Lotto                            3.50     0.58  (19)    2.26  (28)    3.21  (28)
29 Yaroslav Popovych (Ukr) Silence - Lotto                     3.59     1.07  (24)    2.26  (28)    3.39  (30)
30 Andy Schleck (Lux) Team CSC - Saxo Bank                     4.02     1.27  (39)    3.02  (44)    3.49  (32)
31 Carlos Barredo Llamazales (Spa) Quick Step                  4.06     1.18  (35)    2.41  (32)    3.45  (31)
32 Brett Lancaster (Aus) Team Milram                           4.11     1.37  (46)    2.53  (40)    3.57  (35)
33 Vladimir Efimkin (Rus) AG2R La Mondiale                     4.12     1.14  (30)    2.45  (34)    3.49  (32)
34 Stuart O'Grady (Aus) Team CSC - Saxo Bank                            1.29  (41)    2.50  (38)    3.51  (34)
35 Luis Leon Sanchez Gil (Spa) Caisse d'Epargne                4.13     1.03  (21)    2.18  (25)    3.32  (29)
36 Alejandro Valverde Belmonte (Spa) Caisse d'Epargne          4.25     1.14  (30)    2.48  (35)    4.07  (39)
37 Christophe Riblon (Fra) AG2R La Mondiale                    4.27     1.20  (36)    2.54  (41)    3.59  (36)
38 Laurent Lefèvre (Fra) Bouygues Telecom                      4.32     1.51  (52)    3.20  (47)    4.05  (38)
39 Benoît Vaugrenard (Fra) Française des Jeux                  4.36     1.28  (40)    2.42  (33)    3.59  (36)
40 Yoann Le Boulanger (Fra) Française des Jeux                 4.37     1.21  (37)    2.36  (31)    4.08  (40)
41 Sylvester Szmyd (Pol) Lampre                                4.46     1.55  (54)    3.10  (45)    4.19  (41)
42 Stef Clement (Ned) Bouygues Telecom                         4.50     1.37  (46)    3.15  (46)    4.29  (46)
43 Sandy Casar (Fra) Française des Jeux                                 1.15  (32)    2.52  (39)    4.23  (43)
44 Markus Fothen (Ger) Gerolsteiner                            4.55     1.50  (51)    3.30  (50)    4.30  (47)
45 Jurgen Van De Walle (Bel) Quick Step                        4.59     1.35  (44)    3.01  (42)    4.23  (43)
46 Koos Moerenhout (Ned) Rabobank                              5.01     1.24  (38)    2.49  (36)    4.21  (42)
47 Peter Velits (Svk) Team Milram                              5.03     1.12  (28)    3.01  (42)    4.28  (45)
48 Dmitriy Fofonov (Kaz) Crédit Agricole                       5.17     1.41  (48)    3.32  (51)    4.48  (48)
49 Bram Tankink (Ned) Rabobank                                 5.22     1.46  (49)    3.42  (56)    5.01  (51)
50 Vincenzo Nibali (Ita) Liquigas                              5.29     1.59  (61)    3.40  (55)    4.57  (50)
51 David Moncoutié (Fra) Cofidis - Le Crédit par Téléphone     5.32     1.59  (61)    3.55  (62)    4.51  (49)
52 Björn Schröder (Ger) Team Milram                            5.34     2.57  (121)   4.04  (68)    5.14  (57)
53 Martin Elmiger (Swi) AG2R La Mondiale                       5.36     1.58  (58)    3.24  (49)    5.01  (51)
54 Frank Schleck (Lux) Team CSC - Saxo Bank                    5.38     1.31  (43)    3.37  (54)    5.14  (57)
55 Gorka Verdugo Markotegi (Spa) Euskaltel - Euskadi           5.40     2.18  (89)    4.17  (79)    5.09  (54)
56 Marco Velo (Ita) Team Milram                                5.42     2.07  (73)    3.35  (52)    5.09  (54)
57 Haimar Zubeldia Agirre (Spa) Euskaltel - Euskadi            5.43     2.14  (81)    3.49  (57)    5.17  (58)
58 Kurt-Asle Arvesen (Nor) Team CSC - Saxo Bank                5.47     1.57  (57)    3.50  (58)    5.07  (53)
59 William Bonnet (Fra) Crédit Agricole                        5.52     1.46  (49)    3.36  (53)    5.17  (58)
60 Jérôme Pineau (Fra) Bouygues Telecom                        5.53     2.03  (66)    3.55  (62)    5.20  (61)
61 Adam Hansen (Aus) Team Columbia                                      1.35  (44)    3.20  (47)    5.19  (60)
62 Paolo Tiralongo (Ita) Lampre                                5.58     2.46  (112)   3.52  (60)    5.20  (61)
63 José Iván Gutierrez (Spa) Caisse d'Epargne                  6.01     1.16  (34)    2.49  (36)    5.10  (56)
64 Hubert Dupont (Fra) AG2R La Mondiale                        6.04     2.00  (63)    4.08  (71)    5.41  (67)
65 David Le Lay (Fra) Agritubel                                6.06     2.04  (68)    3.56  (64)    5.20  (61)
66 Laurens Ten Dam (Ned) Rabobank                              6.07     1.58  (58)    4.09  (72)    5.37  (65)
67 Mikel Astarloza Chaurreau (Spa) Euskaltel - Euskadi                  1.55  (54)    3.50  (58)    5.39  (66)
68 Martin Müller (Ger) Team Milram                             6.09     2.01  (64)    4.01  (66)    5.34  (64)
69 Stéphane Goubert (Fra) AG2R La Mondiale                     6.20     1.58  (58)    4.13  (74)    5.44  (68)
70 Nicolas Vogondy (Fra) Agritubel                             6.28     2.05  (71)    4.15  (77)    5.51  (70)
71 Gianpaolo Cheula (Ita) Barloworld                           6.30     2.20  (93)    4.13  (74)    5.51  (70)
72 Ruben Perez Moreno (Spa) Euskaltel - Euskadi                6.32     2.05  (71)    4.15  (77)    6.00  (76)
73 Nicolas Portal (Fra) Caisse d'Epargne                       6.33     2.03  (66)    4.06  (69)    5.53  (72)
74 Cyril Dessel (Fra) AG2R La Mondiale                                  1.55  (54)    3.53  (61)    5.53  (72)
75 Juan José Oroz Ugalde (Spa) Euskaltel - Euskadi             6.34     2.11  (79)    4.29  (81)    6.03  (78)
76 Christian Knees (Ger) Team Milram                           6.36     2.04  (68)    4.03  (67)    6.02  (77)
77 Simon Gerrans (Aus) Crédit Agricole                         6.42     2.07  (73)    4.12  (73)    5.54  (74)
78 Stéphane Augé (Fra) Cofidis - Le Crédit par Téléphone       6.43     2.04  (68)    4.07  (70)    5.58  (75)
79 Johan Van Summeren (Bel) Silence - Lotto                             1.53  (53)    3.56  (64)    5.49  (69)
80 Xavier Florencio Cabre (Spa) Bouygues Telecom               6.48     2.18  (89)    4.38  (88)    6.16  (80)
81 Alexandre Botcharov (Rus) Crédit Agricole                   6.53     2.14  (81)    4.41  (89)    6.12  (79)
82 Egoi Martinez De Esteban (Spa) Euskaltel - Euskadi          6.54     2.09  (77)    4.29  (81)    6.21  (81)
83 Florent Brard (Fra) Cofidis - Le Crédit par Téléphone       7.02     2.15  (83)    4.37  (86)    6.25  (83)
84 Amets Txurruka (Spa) Euskaltel - Euskadi                    7.10     2.15  (83)    4.43  (90)    6.37  (86)
85 Filippo Pozzato (Ita) Liquigas                              7.13     2.07  (73)    4.35  (85)    6.24  (82)
86 Murilo Fischer (Bra) Liquigas                               7.14     2.16  (86)    4.20  (80)    6.25  (83)
87 David Arroyo Duran (Spa) Caisse d'Epargne                   7.17     2.16  (86)    4.51  (95)    6.46  (91)
88 Arnaud Gérard (Fra) Française des Jeux                      7.21     2.17  (88)    5.12  (104)   6.46  (91)
89 Christophe Le Mével (Fra) Crédit Agricole                   7.22     3.03  (127)   5.25  (112)   6.55  (96)
90 Aleksandr Kuchynski (Blr) Liquigas                          7.25     2.07  (73)    4.37  (86)    6.39  (88)
91 José Luis Arrieta Lujambio (Spa) AG2R La Mondiale           7.26     2.32  (98)    4.47  (92)    6.37  (86)
92 Geoffroy Lequatre (Fra) Agritubel                           7.28     2.34  (100)   4.54  (96)    6.44  (90)
93 Gerald Ciolek (Ger) Team Columbia                           7.29     2.10  (78)    4.33  (84)    6.39  (88)
94 Rémy Di Grégorio (Fra) Française des Jeux                   7.30     2.36  (103)   5.00  (101)   6.49  (93)
95 Robert Hunter (RSA) Barloworld                              7.34     2.30  (97)    4.29  (81)    6.50  (94)
96 Oscar Freire Gomez (Spa) Rabobank                           7.38     2.11  (79)    4.14  (76)    6.36  (85)
97 Ronny Scholz (Ger) Gerolsteiner                                      2.37  (105)   4.58  (99)    6.51  (95)
98 Mario Aerts (Bel) Silence - Lotto                           7.39     2.43  (109)   5.32  (118)   7.00  (98)
99 Robert Förster (Ger) Gerolsteiner                           7.45     2.19  (92)    4.46  (91)    6.58  (97)
100 Leonardo Duque (Col) Cofidis - Le Crédit par Téléphone     7.47     2.26  (96)    4.56  (98)    7.01  (99)
101 Nicki Sørensen (Den) Team CSC - Saxo Bank                           2.51  (114)   5.19  (108)   7.04  (102)
102 Eduardo Gonzalo Ramirez (Spa) Agritubel                    7.49     2.38  (106)   4.47  (92)    7.02  (100)
103 Pieter Weening (Ned) Rabobank                              7.51     2.18  (89)    5.17  (106)   7.03  (101)
104 Rémi Pauriol (Fra) Crédit Agricole                         7.55     2.35  (101)   5.11  (102)   7.10  (103)
105 Jérémy Roy (Fra) Française des Jeux                        8.00     2.43  (109)   5.19  (108)   7.18  (107)
106 Iñaki Isasi Flores (Spa) Euskaltel - Euskadi               8.02     2.52  (115)   5.31  (116)   7.23  (109)
107 Ralf Grabsch (Ger) Team Milram                             8.03     2.36  (103)   5.11  (102)   7.16  (105)
108 Sebastian Langeveld (Ned) Rabobank                         8.05     2.33  (99)    5.13  (105)   7.16  (105)
109 John-Lee Augustyn (RSA) Barloworld                         8.08     2.56  (120)   5.19  (108)   7.27  (112)
110 Volodymir Gustov (Ukr) Team CSC - Saxo Bank                8.09     3.04  (129)   5.36  (119)   7.21  (108)
111 Philippe Gilbert (Bel) Française des Jeux                  8.10     2.53  (118)   5.43  (122)   7.29  (113)
112 Manuel Quinziato (Ita) Liquigas                            8.13     2.15  (83)    4.55  (97)    7.24  (110)
113 Robbie McEwen (Aus) Silence - Lotto                        8.15     2.35  (101)   4.58  (99)    7.10  (103)
114 Niki Terpstra (Ned) Team Milram                            8.19     2.02  (65)    4.47  (92)    7.24  (110)
115 Erik Zabel (Ger) Team Milram                               8.20     2.41  (107)   5.20  (111)   7.41  (115)
116 Alessandro Ballan (Ita) Lampre                             8.26     2.43  (109)   5.42  (120)   7.50  (118)
117 Marco Marzano (Ita) Lampre                                 8.27     3.18  (136)   6.15  (132)   7.51  (119)
118 Arnaud Coyot (Fra) Caisse d'Epargne                        8.31     2.52  (115)   5.26  (113)   7.45  (116)
119 David López García (Spa) Caisse d'Epargne                  8.36     3.04  (129)   5.55  (125)   7.49  (117)
120 William Frischkorn (USA) Team Garmin-Chipotle p/b H30      8.38     2.48  (113)   5.17  (106)   7.40  (114)
121 Matteo Tosatto (Ita) Quick Step                            8.39     2.24  (95)    5.31  (116)   7.53  (120)
122 Trent Lowe (Aus) Team Garmin-Chipotle p/b H30              8.58     3.27  (139)   6.12  (131)   8.16  (122)
123 Thor Hushovd (Nor) Crédit Agricole                         9.07     2.52  (115)   5.42  (120)   8.19  (123)
124 Sven Krauss (Ger) Gerolsteiner                             9.12     2.53  (118)   5.45  (123)   8.26  (125)
125 Steven De Jongh (Ned) Quick Step                           9.15     3.04  (129)   6.07  (129)   8.31  (127)
126 Freddy Bichot (Fra) Agritubel                              9.17     2.59  (124)   6.22  (134)   8.32  (129)
127 Martijn Maaskant (Ned) Team Garmin-Chipotle p/b H30        9.22     2.41  (107)   5.30  (115)   8.31  (127)
128 Bernhard Eisel (Aut) Team Columbia                                  3.12  (133)   5.53  (124)   8.24  (124)
129 Gert Steegmans (Bel) Quick Step                            9.24     2.22  (94)    5.29  (114)   8.15  (121)
130 Samuel Dumoulin (Fra) Cofidis - Le Crédit par Téléphone    9.25     2.58  (123)   5.59  (128)   8.34  (130)
131 Dario David Cioni (Ita) Silence - Lotto                    9.30     3.03  (127)   5.55  (125)   8.30  (126)
132 Matteo Carrara (Ita) Quick Step                            9.31     2.57  (121)   5.58  (127)   8.53  (134)
133 Julian Dean (NZl) Team Garmin-Chipotle p/b H30             9.34     3.45  (142)   6.30  (138)   8.51  (133)
134 Matteo Bono (Ita) Lampre                                   9.39     3.14  (135)   6.28  (137)   8.49  (131)
135 Marcus Burghardt (Ger) Team Columbia                       9.59     3.12  (133)   6.31  (139)   9.05  (135)
136 José Vicente Garcia Acosta (Spa) Caisse d'Epargne                   3.35  (141)   6.10  (130)   8.50  (132)
137 Heinrich Haussler (Ger) Gerolsteiner                      10.05     3.00  (125)   6.22  (134)   9.09  (136)
138 Massimiliano Mori (Ita) Lampre                            10.21     3.59  (145)   6.49  (140)   9.27  (137)
139 Frederik Willems (Bel) Liquigas                           10.39     3.00  (125)   6.23  (136)   9.27  (137)
140 Johann Tschopp (Swi) Bouygues Telecom                     10.53     3.29  (140)   7.18  (144)   9.50  (139)
141 Daniele Righi (Ita) Lampre                                10.54     3.50  (144)   7.16  (143)   9.51  (140)
142 Wim Vansevenant (Bel) Silence - Lotto                     10.57     3.49  (143)   7.21  (145)  10.00  (144)
143 Jimmy Engoulvent (Fra) Crédit Agricole                    11.05     3.10  (132)   6.49  (140)   9.57  (141)
144 Matthieu Sprick (Fra) Bouygues Telecom                    11.12     3.22  (138)   6.19  (133)   9.58  (143)
145 Thomas Voeckler (Fra) Bouygues Telecom                    11.19     3.20  (137)   7.02  (142)   9.57  (141)