Stuart O'Grady's Tour diary
Stuart O'Grady has a lot of Tour experience
Photo ę: Jon Devich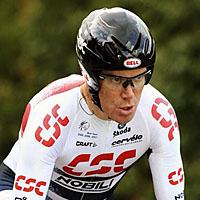 Australian Staurt O'Grady rides for Team CSC and is one of the most experienced riders in this year's Tour de France. The Aussie has already used up all the bad luck for the past year, returning from a horrible crash in the 2007 Tour and a broken collarbone in the 2008 Giro. O'Grady has won two stages in the Tour de France. He finished second in the points classification four times and has worn the yellow jersey. Things are looking promising for 2008 and Stuey will keep Cyclingnews' readers informed via his diary.
Friday, July 18, 2008
Focusing on the task at hand
Well once again the Tour is under the microscope for all thje wrong reasons. I seriously cannot believe these idiots are still ruining our sport. Enough is enough! Bring in a LIFE ban for anyone going positive for EPO. No more 'health tests' or two year holidays, just piss them off out of the sport forever. There is no other way.
I just cannot fathom the mentality of these select few guys. And it really is a minority. I am sure. We are now really seeing the importance of the 'in house team testing' such as Team CSC - Saxo Bank and a few other teams do. If this was done on every team then the riders would have been caught before the Tour de France had begun.
It's sad. We should be celebrating an Aussie in Yellow, Cavendish winning his 4th stage. My team-mates ripping it up in the mountains, but this dark cloud is constantly hanging over the sport. Hopefully that's the End.
The race will go on, we'll keep focused on the job at hand and we'll continue racing with our hearts and character. Hopefully the supporters will continue to believe in us and realise that in any branch of life, no matter what it is, there is always someone trying to cheat the system and take short cuts to be successful.
It's not those few who we should remember but let's look to the clean champions out there now, today, who are racing and look ahead to a clean-bright future.
Eventually every single cyclist and hopefully athlete in the world will realise that if you try to cheat, you WILL get caught.
Keep the dream alive!
Stuart