An interview with Mark Renshaw, July 6, 2008
Building his career as a lead-out man
A pre-ride cappuccino for Mark Renshaw in Monaco.
Photo ©: JF Quenet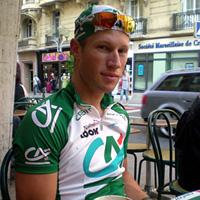 Among the rookies at this year's Tour de France, Mark Renshaw will be a name to watch. The 25 year-old Australian could have a direct impact on the results sheet in his new role as lead-out man for Thor Hushovd. Cyclingnews' Jean-François Quénet caught up with him in Monaco as he completed his training on the French Riviera.
Now in his fifth year as a professional and third at Crédit Agricole, Mark Renshaw has finally received the call up to the world's biggest bike race. Had that call not come this year, the rider who learnt his trade with Bradley McGee at Française des Jeux says he may have quit the sport he's been devoted to since the age of nine. His selection process inside the French team started back in October last year, two days before Paris-Tours, when Crédit Agricole held its gathering to prepare for the following season.
Just as fellow French squad Cofidis developed Sylvain Chavanel for the Belgian classics after losing some of its specialists, Crédit Agricole looked inside its own ranks for a successor to Julian Dean. The New Zealander's departure for Slipstream (now Garmin) had left a vacancy for a lead-out man for Thor Hushovd, a role in which the Norwegian had previously described Dean as the best in the world.
"I sat down with Thor and I told him that I definitely thought I had the power to do it," explained Renshaw, while sitting on a terrace in Monaco near to his French home. Before accepting his new role, the former track cycling star from Bathurst in New South Wales had just been one more fast guy on the B program of Crédit Agricole, looking for secondary success at the minor races. What's more, his performances in Europe had showcased little of the speed that had made him famous in the southern hemisphere.
"Thor is unbelievable... Some days I think he's not human. "
- Renshaw has plenty of admiration for his leader, but hopes to be a leader himself some day.
"After that meeting I changed things and became a lead-out man," Renshaw continued. "We needed a bit of racing together. Once it happened, we matched really well at the Four Days of Dunkirk and the Tour of Catalunya and we sealed the deal. Coming out of my wheel, Thor won a bunch sprint at both these two races. Normally I would have gone with him at the Dauphiné as well but the Tour de Suisse appeared to be a better preparation for me."
The Tour de France was his sole focus. "I know it's not gonna be the same," Renshaw said realistically. "In our train, William Bonnet takes both of us to five or six hundred meters to go, then I get Thor to two hundred to go. But it's gonna be tough at the Tour, it might take a few stages to get used to it, especially because stage one will not be a real sprint day with this uphill finish in Plumelec. I don't know yet what my role will be that day."
Getting some advice on sprinting from Baden Cooke.
Photo ©: JF Quenet

Despite the uncertainty, Renshaw is excited to go to Brest. "It has always been a dream for me to ride the Tour de France," he continued. "But it's not a dream come true because I actually dreamed not to just ride it but also to finish it. I really want to finish. But I also don't want to be the guy who does nothing but just completes the course. I also want to show that I can become one of the best sprinters in the world.
"When I was at Française des Jeux, coming from tack cycling, I had a lot of power but not the endurance. I've lost weight, I've lost power but I climb better now. I still have more power than some guys. It was when I raced as an amateur at SCO Dijon in France that I got the wake up call to become a sprinter on the road. On the track I started as a sprinter and I switched to the endurance program. It's a bit of a round circle. Now I know that sprinting on the road is the most enjoyable effort in cycling and it's a lot more gratifying than the track."
It was only when he got the phone call from his directeur sportif Serge Beucherie on Sunday evening that Renshaw knew for certain that he'd be on the Tour team, but his mother had already booked her plane ticket from Australia. She'll be at the road side with his girlfriend Christina.
Today's training ride will head towards Italy.
Photo ©: JF Quenet

"At the Tour de Suisse, the team still wouldn't give me a direct answer but I had confidence in them taking me to Brest. Thor doesn't have a big say when it comes to selecting the riders but they listen to him and his confidence in me was a big plus."
It's certainly an honour for Renshaw to back the massive Norwegian in July. "Thor is unbelievable," he said. "Some days I think he's not human. He's big but sometimes he can even get over the mountains with the climbers. For the last two years during the time I've spent with him at Crédit Agricole, I've realised he's a really good guy as well. He's down to earth, he doesn't have a big head. He talks with everybody in the bunch when there are people who think they are much bigger than what they are in reality."
But despite putting himself at Hushovd's service for now, Renshaw still harbours ambitions of his own for future years. "As great as Thor is, I don't want to work for him for the rest of my career," he said. "I want to become a great sprinter myself. At 25, I think I have a lot of possibilities in front of me. What I do for Thor now is a good start and it's fantastic because he has the same morale as me. I give 100 percent for him and I know that he'd give 100 percent for me."
Starting a sprinter's career as a lead-out man is probably the best way for Renshaw to enter the big time.
Photography
For a thumbnail gallery of these images, click here
Images by Jean-Francois Quenet