Stuart O'Grady's Tour diary
Stuart O'Grady has a lot of Tour experience
Photo ę: Jon Devich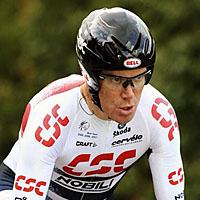 Australian Staurt O'Grady rides for Team CSC and is one of the most experienced riders in this year's Tour de France. The Aussie has already used up all the bad luck for the past year, returning from a horrible crash in the 2007 Tour and a broken collarbone in the 2008 Giro. O'Grady has won two stages in the Tour de France. He finished second in the points classification four times and has worn the yellow jersey. Things are looking promising for 2008 and Stuey will keep Cyclingnews' readers informed via his diary.
Monday, July 14, 2008
Ricco a danger man?
Well the 'real' racing has begun. Today's stage was very long and pretty hard, but it's only a teaser for what lies ahead.
The aim for the general classification contenders was not to lose time and save as much energy for the coming stages. The 25 kilometre downhill after the last category one climb made it pointless for the big guns to unleash any fury today.
Ricardo Ricco is certainly flying uphill, but because he lost over three minutes in the time trial no-one was too concerned about reeling him in. They better be careful, though, because he's obviously got unreal form and if you let a guy like that get a sniff of the win he's not going to hesitate.
It was a scary day for Cadel, who had a nasty crash. He showed his real Aussie grit and determination by not only pushing through the pain but also not losing any time.
Our boys did well with Andy Schleck taking the white jersey and our three general classification guys staying right up there amongst it.
Personally I felt about the best I have this Tour. It's taken a while to find my rhythm, but as I know already it takes a while to get my motor running in tune. I did my work early on in the stage and then left the work to the capable hands of my team-mates.
Everything is running along smoothly so far, but I think tomorrow's stage is going to see some real damage done and probably a change of the yellow jersey.
Off to bed,
Stuart