Stuart O'Grady's Tour diary
Stuart O'Grady has a lot of Tour experience
Photo ©: Jon Devich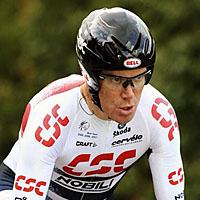 Australian Staurt O'Grady rides for Team CSC and is one of the most experienced riders in this year's Tour de France. The Aussie has already used up all the bad luck for the past year, returning from a horrible crash in the 2007 Tour and a broken collarbone in the 2008 Giro. O'Grady has won two stages in the Tour de France. He finished second in the points classification four times and has worn the yellow jersey. Things are looking promising for 2008 and Stuey will keep Cyclingnews' readers informed via his diary.
Tuesday, July 8, 2008
Mingling with the Royalty
Every day before we start a stage we have to 'sign on'. You ride down to the podium, park your bike and sign a large sheet, over your name and number. As I was climbing back down the stairs the Director of the race called me over and introduced me to someone standing beside him. It was none other than Prince Albert II, the ruler of my 'home country', Monaco.
We had a quick chat about the stage ahead and a few other things and he followed the entire stage in the lead car. It was pretty cool to be rubbing it with Royalty before the race! I asked if he wanted to change seats for the day, but he wasn't too keen!
It was another hard stage, up and down all day with two hard climbs near the end. The first climbs of the Tour always are difficult after nearly a week of racing on the flat roads.
The bunch split pretty quickly and the first grupetto formed of this year's Tour (it won't be the last!)
The other boys did a good job, being up the front in the finish. It was just bad luck for Andy [Schleck], who crashed in the last few hundred metres, together with the yellow jersey, to lose 40 odd seconds.
Plenty of racing left yet, though, so there's no need for him to stress too much!
Stuart