Tour de France News feature, July 16, 2008
Schleck must attack for a podium finish
Riis estimates Schleck and Sastre need three minutes on Evans
By Brecht Decaluw├ę in Pau, France
Fränk Schleck is one second from yellow
Photo ©: AFP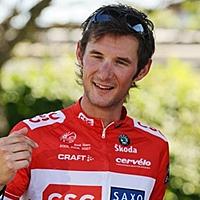 The CSC-Saxo Bank team narrowly missed out on gaining the yellow jersey after an impressive offensive on the slopes of the Col du Tourmalet and the later the climb of stage ten to the Hautacam ski resort. With Fränk Schleck now just one second behind new maillot janue Cadel Evans, the team will look to the Alpine stages to launch its next big push to seize the Tour de France lead.
"One second is nothing. Close your eyes and open them again, that's the difference," Fr├Ąnk Schleck said. The Luxembourg champion survived a frightening crash during the fifth stage of the Tour de Suisse, but wasn't planning on taking his rival down during one of the next stages. "I'm not going to crash Cadel Evans to get the jersey," Schleck joked, but knows that gaining that single second back on Evans will not be easy.
"Does anybody know an option to win a second on him? I've always dreamed about winning the Tour de France and now I'm only one second away from wearing the yellow jersey. There's still ten days to try and get it."
The Danish team went into the Hautacam stage with its three leaders, Carlos Sastre, and brothers Fränk and Andy Schleck, clustered at tenth, eleventh and twelfth overall, but more than a minute and a half down on Evans who was then second on the overall classification.
Director sportif Scott Sunderland told Cyclingnews that CSC had marked the tenth stage as the day where they would "put the hammer down" and try to break up the race. The high pace on the Col du Tourmalet set by Jens Voigt dislodged Caisse d'Epargne's GC hopefuls Alejandro Valverde and Oscar Pereiro as well as Lampre's leader Damiano Cunego.
The surge also cost the CSC team one if its leaders when Andy Schleck failed to keep the pace of the main group of contenders and conceded nearly nine minutes to the stage winner. He will now have to settle for a role as lieutenant, while Sastre and 28 year-old Fränk Schleck are now the team's major contenders for the general classification.
"I'm even hungrier now after I managed to drop big guys like Evans and Menchov."
-Fränk Schleck describes his desire to win the Tour.
Looking back on the climb to Hautacam, Fr├Ąnk Schleck explained that he probably used too much energy to jump away from the Evans group in order to take the yellow jersey. "When I went with Piepoli it was really hard. I paid for that in the end. I had to let go off them as I was '├á bloc'," Schleck said he was riding on his limit.
"I managed to keep them in sight, but eventually I thought that I would lose the jersey by 20 seconds. When I walked to the doping control truck our PR-representative Brian Nygaard was at the top and told me it would be tight.
"Two minutes later the general classification showed that I was in second position. I must admit that I had some tears in my eyes," Schleck said. "Nevertheless the Luxembourg dream goes on. I'm even hungrier now after I managed to drop big guys like Evans and Menchov. On the other hand Cobo dropped me, so that's a problem," he admitted. "On the other hand I don't think that a Saunier-Duval rider has a chance on the overall win, but a top five result is certainly within the reach of [Juan Jose] Cobo," he said.
Carlos Sastre (CSC-Saxo Bank)
Photo ©: Gregor Brown

Cyclingnews asked Schleck whether he preferred to ride conservatively and go for a podium sport in Paris, or gamble on the attack in search for the overall win while risking to miss out on the podium. "That's a tricky question," he replied. "I would be happy with the podium, but I'll have to attack for that too." Schleck, the winner of the 2006 Amstel Gold Race, has finished as high as eleventh in the Tour that same year, but knows it's a big leap from a near top-ten to a podium finish in Paris.
"It makes me feel proud to know that Cadel Evans is going to follow me like a shadow. He's been on the podium in Paris, he's a big name," said Schleck. "If he wins the Tour de France this year, it will be because he's a good time trialist. Although that doesn't mean he's not a great champion. I assume that he's scared now, or at least worried after my performance and that from our team.
"We have the strongest and the best team out here although that's not yet visible in results. Pulling in the front like our team-mates did is only possible for your best friends."
Fabian Cancellara (CSC-Saxo Bank)
Photo ©: AFP

Team-mate Fabian Cancellara looked back on the stage where he managed to get into, and stay in the breakaway until the top of the Tourmalet. "I was scared that they would fly past me before the top of the climb," said Cancellara. "Eventually it turned out that I had gone faster than needed. I probably could've taken a nature break, but I didn't dare to do that," he laughed.
Team manager Bjarne Riis realizes that the time trial on the penultimate stage in Saint-Amand-Montrond will be decisive for the overall win. CSC riders Schleck and Sastre aren't specialists against the clock and Riis has already calculated the desired gap for Cyclingnews to keep one of his riders in yellow, if that was the case. "Both Schleck and Sastre would need about three minutes on guys like Evans and Menchov when going into the time trial.
"If they wear the yellow jersey that might be a little bit less because that would be morale-boosting," said Riis. Schleck too realized he had a lot more work to do before he would be fighting for the overall win in the Tour de France. "The 53 kilometre-long time trial is not in my advantage. I'll need to repeat my performance from the Hautacam stage another two more times," he said.
Riis said that the Alps would be offering more spectacle for the fans. On stage 17, the Luxembourg champion will try to repeat his win 2006 win atop L'Alpe d'Huez and to make up more time on his major rivals Evans and Menchov. "It's not because I have won there in the past that I'll win there again. My brother is now in the same situation that I was in two years ago, and hopefully he can take profit of that," he said.
Clearly the CSC team was confident that they had a chance to clinch the overall win. "Carlos will get better in the last week and Fr├Ąnk was more than impressive on Hautacam. Creating a gap of two minutes on Evans is a lot," Riis said.
Fränk Schleck is clearly the main focus for the short-term, but said that like his brother Andy, he cannot guarantee that he would not have a bad day before the Tour is over. "We're humans, not machines," he said. "Our lives are not changing now that we're in the picture. We're still just the guys from Luxembourg."
Andy and Frank Schleck flank their father Johnny
Photo ©: AFP

Sitting next to his brother Andy, he pointed out that if he went well the team was to thank for that. "Andy didn't have a good day on Monday. That's because we're like twins: Andy gave all his energy to me and he had nothing left in the tank," he joked.
The Spaniard, Sastre, is not to be ignored, as he has shown consistency in the Grand Tours, and has many more of these races in his legs. "Our tactical situation is ideal as we have two riders in the top six," said Sastre.
After staying in the group with Evans on Hautacam, Sastre said to Cyclingnews that he thought about jumping away from Evans as well, but he didn't want to bring along another favourite. "I tried to jump away at the bottom of the climb, just before Fr├Ąnk got away. I felt right away that I couldn't drop Evans and certainly not Menchov, and I wasn't planning to have the latter on my wheel throughout the climb," said Sastre.
His compatriot Juan Jose Cobo from the Saunier Duval team could become a partner in the attacks during the final week's Alpine stages. "Saunier-Duval could help to decide the race in the mountains. Ricc├▓ is the best rider from Saunier Duval, but they are out of the general classification. We will not ask them to help us; we will use our own team. We already showed that tactically we have the cards to force things during the race," Sastre said.