Tech news flash: July 18, 2008
Saunier Duval-Scott sponsors to pull the plug?
By James Huang
After the recent doping scandal that will almost certainly wipe the team's three stage wins from the record books
Photo ©: James Huang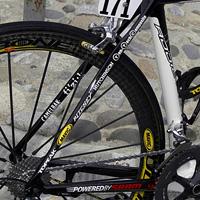 The doping scandal involving Saunier Duval-Scott's Riccardo Riccò and Leonardo Piepoli has unfortunately hit the cycling world hard yet again at a time when it can hardly withstand much more damage and now the obvious questions will be raised on whether or not the team's sponsors will continue on.
Saunier Duval spokesman Thierry Leroy has already dropped a hint to French radio station RTL that the team's days may be numbered, saying "It is highly probable that we will pull out of sponsoring cycling following this affair."
Likewise, team component sponsor SRAM has yet to formally announce anything but there was still some telling evidence found on a July 17 posting from the company's recently launched blog, The Road Diaries.
"We're extremely disappointed that a team that we sponsor would have athletes that act with such disregard for the rules and regulations," wrote SRAM global communications manager David Zimberoff. "At SRAM, we have a zero-tolerance policy when it comes to illegal behavior in the sponsorship game.
"We do not take lightly the actions of those that discredit the sport," he continued. "We take pride in our products and our brand's image and want to make sure that everyone knows what we stand for. We'll all learn more in the next 24 hours, but until then, we will stop supporting this team and its athletes… In the end, SRAM moves on."
While this statement is still far from any truly official release, it seems that the writing is on the wall at least as far as SRAM is concerned. Other major team sponsors Scott Bicycles and Mavic could not be reached for comment, but we wouldn't be surprised if they expressed the same sentiments as well.
A sad day for cycling, indeed.

Photography
For a thumbnail gallery of these images, click here
Images by James Huang/Cyclingnews.com