An interview with Christian Vande Velde, July 15, 2008
Vande Velde emerges a Tour contender
By Gregor Brown in ArgelŤ-Gazost (Hautacam), France
America's Christian Vande Velde (Team Garmin-Chipotle p/b H30) attacks his group
Photo ©: AFP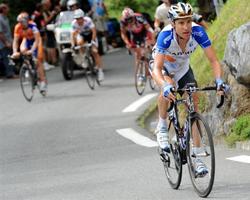 When the Tour route was announced last October not many had their eyes on Christian Vande Velde as a potential threat to the yellow jersey. Yet since his Garmin-Chipotle team stormed to victory on the first stage of the Giro d'Italia and the rider himself slugged it out with the big guns on the Pyrenean climbing stage to Hautacam, he has become a feared contender in the eyes of his rivals.
"I was really riding within myself today and it's great to be third overall after such a hard stage," said Vande Velde, when informed by Cyclingnews that he was now third overall, only 38 seconds behind race leader Cadel Evans (Silence-Lotto) and a further second down on Fršnk Schleck (Team CSC-Saxo Bank).
The 32 year-old American had just finished the first true test for the classification, a 156 kilometre stage, covering the Col du Tourmalet and finishing at the top of the Hautacam. He made the decisive cut of fourteen men at the top of the first climb and stayed with Evans' eight-man group on the final 14.4-kilometre climb. He closed the day with Evans and Menchov, 2'17" behind the winning move and cementing his position in the general classification.
"We really played a lot of cat and mouse. We lost a lot of time."
-Christian Vande Velde felt his group could have done better on Stage 10
Riding for the overall is something Vande Velde knows all about thanks to his time at the sides of Lance Armstrong and Carlos Sastre. It was within his first professional team, US Postal, where he came to know not only Armstrong but Jonathan Vaughters, who would go on to become his Team Manager 10 years later.
And it was last winter that Vaughters added significant fire power to his Professional Continental team when he announced that he was signing not only Vande Velde, but David Millar, David Zabriskie and Magnus Backstedt - all men who know how to ride a Grand Tour.
Christian Vande Velde (Team Garmin-Chipotle p/b H30) takes a drink
Photo ©: AFP

The evidence was there when in its first Grand Tour, the Giro d'Italia, the team took the opening time trial, allowing Vande Velde to wear the race leader's maglia rosa for one day. The team continued on through the Italian Grand Tour with Vande Velde finishing a creditably but unspectacular 52nd overall.
He then spent June prepping for the Tour de France, and boy how it's worked out. He stayed out of danger in the demanding Briton stages and threw down the time trialling hammer in the race against the clock at Cholet. An attack on Supper Besse and strong ride to BagnŤres de Bigorre had him ready to step into the position of 'possible race winner' as the Tour faced its first mountain-top finish in the high-mountains.
Hautacam day
Christian Vande Velde (Team Garmin-Chipotle p/b H30) arrives in Hautacam
Photo ©: AFP

"Attacks went from the bottom and I really thought that Cadel and Menchov were going to set a greater tempo to bring it back together," he said of the climb to Hautacam. "We really played a lot of cat and mouse, a lot of attacking and sitting, attacking and sitting. We lost a lot of time."
Despite such a set back Vande Velde's confidence remains high and he did not let the tag of possible 'race leader' add any extra burden. He calmly followed the wheels of Evans and Menchov when Saunier Duval started their attacks, while forcing the others to do the pace even when danger-man Fršnk Schleck jumped away.
"I felt fine, but they [Evans and Menchov] were not working together, we were attacking the crap out of each other. It was the worst place to be. We were doing these massive surges. That probably killed us more than anything."
As he studied the results he mused, "I don't know. This is not the top ten that I would have expected at this point in time. I mean, too have Valverde so far back... It will make for a very interesting Tour."
Team strength
America's Christian Vande Velde (Team Garmin-Chipotle p/b H30) leads former Tour de France
Photo ©: AFP

For the next phase of the race Vande Velde agreed that most attention would be focused on Team CSC. Although the team lost one of its three captains from the overall fight - Fršnk's brother, Andy - the Danish team still have Fršnk Schleck in second and Carlos Sastre in sixths at 1'28".
"They played the race in a textbook fashion," he said of his former team. "Having one of the strongest people on the flat [Fabian Cancellara], waiting on the top of the mountain and then just driving. It was sickening how fast we were going.
"I did not expect Andy to get dropped like that today. Carlos did well and put down a massive attack right at the bottom of the final climb; we all went together and then Fršnk kept on going. I was behind Menchov and Cadel but they did not go anywhere. I waited and then went with Bernard Kohl.'
Garmin-Chipotle's Christian Vande Velde rides ahead of
Photo ©: AFP

CSC showed well, but the same cannot be said for the collective efforts of Silence-Lotto and Garmin. The two teams lacked men in the finale to work for their respected leaders.
"Lotto did not have anyone up there and we were lacking too. But there are people without the whole teams up there. We still have a good team and we will just get better and better."
Vande Velde's strongest support comes from Millar and Trent Lowe, but he can count on Julien Dean, William Frischkorn, Ryder Hesjedal, Martyn Maaskant and Dan Pate for the flats. For now, those men will be saved of defending his position.
He believes that CSC will be left with the muscle work even if Evans is in the maillot jaune. "I think people ride if they have the jersey or not. CSC will ride whether or not they have the jersey - For Fršnk or for Carlos, or whoever. I don't think it will change that much," he continued.
Three-week man
After a week and a half of sitting in the right groups Christian Vande Velde (Team Garmin-Chipotle p/b H30)
Photo ©: AFP

With the tour being a three-week race of mental and physical attrition, Vande Velde was confident on his chances for the remainder of the Tour. "Tomorrow is a rest day," he said. "I felt like I recovered very well after yesterday's hard stage and I almost whish there was another mountain stage tomorrow." With the race on pause before it heads east for the Alpes starting on Wednesday. "The last couple days in Italy and Alpe d'Huez are going to be brutal."
Going in Vande Velde's favour is a final kick that Vaughters' believes he has within him. "He has always gone better in the last weeks of a three-week tour. There's also the final time trial where he will obviously be good too," Vaughters said.
Vande Velde agreed, somewhat. "It's true. In the past I always have improved, but that is when I did not train so much," he said with a laugh.
Photography
For a thumbnail gallery of these images, click here
Images by AFP Photo