An interview with Damiano Cunego, July 7, 2008
Cunego: One-hundred percent Tour committed
Damiano Cunego (Lampre) hopes it won't only be his hair
Photo ©: Gregor Brown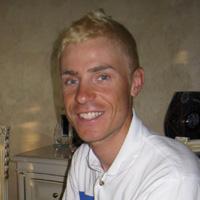 Despite being counted out as a contender by Lance Armstrong, Italy's Damiano Cunego is prepared to battle to bring home the Tour de France's maillot jaune. The Lampre rider has been building toward this goal since the end of last season, winning the Amstel Gold Race along the way. The 26 year-old told Cyclingnews' Gregor Brown why the Tour de France could be his to win.
Damiano Cunego was touted as Italy's next Tour de France contender after he won the 2004 Giro d'Italia at 23. But despite winning the young rider classification in his first appearance at the Tour in 2006, the Lampre rider fell short of expectations.
That all changed last fall when Cunego put in a brilliant ride to win the Giro di Lombardia – a performance which seemed to rekindle his desire to race at the very highest level of the sport. Following the off-season, he proved he was on track by winning a stage in País Vasco, Klasika Primavera and, above all, his first Spring Classic, the Amstel Gold Race.
Cunego then made an unusual decision for an Italian – he chose to skip his home Grand Tour to focus solely on the French goal. Until this year, Cunego has competed in every Giro d'Italia since 2003 and knows that the Tour de France will deliver a different set of obstacles.
"The hot weather, strong adversaries, climbs that are hard due to the heat – not for the gradient," he said. "Definitely, to be good at the Tour you need some time to mature and everything else.
"What I have learned in this last year – experience and great conviction – I hope to take something more [at the Tour]," he added. "We will see that there will be something more."
The course for Cunego
Cunego and his adversaries face a daunting 3500-plus-kilometre course around France that includes two time trials and five mountain top finishes. It is one of the most favourable editions of the Tour in recent years for the gifted climber.
"I am not interested in what he says at this point."
- Damiano Cunego has dismissed Lance Armstrong's criticisms of him
"I think if I am prepared well I can go well in the Tour or in the Giro," he stated. "Of course, the route has to suit your style. There are lots of climbs and a small amount of stages in which to recover."
Seven-time Tour winner, Lance Armstrong, recently delivered a verbal punch to Cunego.
Damiano Cunego (Lampre) finished way back
Photo ©: Roberto Bettini

"He'll never win the Tour," the American declared in an interview with Procycling. "Those Tour climbs... he can't climb like that. And he can't time trial like that. And that's not a slap at him. He's a little guy. I just don't think he's a Tour rider."
The comment clearly agitated Cunego. "I am not interested in what he says at this point," he said. "If he had given me a compliment I would have been happier, but he did not do that."
He acknowledged Armstrong's Tour de France record and admitted, "he knows more than I do". However, he was not happy with Armstrong's words. "To say it like this is not a compliment and not so nice," he said.
Cunego explained that he and the team made the decision to race the Tour. "Some will say that I am only adapted for one-day races, but they can say what they want," he said.
Italy's Damiano Cunego was busy studying the Tour's
Photo ©: Gregor Brown

Benefiting 'Il Piccolo Principe' is the limited number of time trialling kilometres. The Tour has been known for hosting long individual tests which riders like Spain's Miguel Indurain and Armstrong dominated. However, this year there are only two, and the first is just 29 kilometres.
Riccò?
Riccardo Riccò surprised his fellow Italian
Photo ©: Roberto Bettini

Recent news that Italian Riccardo Riccò is racing the Tour de France raised Cunego's eyebrow. "It was a surprise to hear from him that he will race the Tour de France," he admitted. "I have heard that he will race for stages and not for the classification."
Cunego noted his compatriot's abilities and expects that he will also aim for the classification. "At the Giro he demonstrated well and arrived second," he said. "I think at the Tour he will also aim for the classification."
Will Riccò steal the headlines in Italy's newspaper? "If he goes better and is on better form then he deserves it," admitted Cunego. "However, you have to go strong there; the idea of a vacation in France does not exist."
Tour 2006
"Remember that 2006 was a year that they were going strong and I think that some things have changed," recalled Cunego of his first Tour, seemingly referring to a cleaner sport.
Not jaune, but blonde
Cunego surprised Cyclingnews when he arrived with his hair died blonde. "I did it as soon as I returned from the Tour de Suisse," said Cunego. "It does not have any correlation to the Tour de France. Everyone says 'ah, you went blonde for the Tour.'"
Not only the Tour
Cunego stated that the win in the Amstel Gold Race allowed him to relax somewhat. "This is what I wanted to do," he said. "The season is already going well, but I look forward to the Tour because it is in the World's eyes. After that, there are still the Olympics and the Worlds; it is a season rich is possibilities."
Sports director Maurizio Piovani says
"You have to have a good team to handle these mountain stages: [Marzio] Bruseghin and [Sylvester] Szmyd, who have shown to be able to go well, [Marco] Marzano..." noted Piovani of the Tour de France team that also includes Alessandro Ballan, Matteo Bono, Massimiliano Mori, Daniele Righi and Paolo Tiralongo.
Cunego has looked carefully over the Tour map that was handed out at the presentation last October. "Here there is a time trial [stage four] where you will need to limit your losses, this climb [stage six to Super Besse] you have to be there, then, as it goes on [towards the mountains], the more chances there are to do well or lose time," he explained.
Cunego added, pointing to the mountain stages on the Tour de France map, "it will all happen in this area".
The race has five mountain top finishes. The first one, Super Besse, comes very early on in the race. "I have not gone and seen that one, but then [Alberto] Contador did not see any of the Giro parcours and won all the same," he said.
"According to me, it is a race where you are always on the defence and the only point to attack will be here," he pointed towards the 183-kilometre stage 15 that finishes up the Prato Nevoso. "We are at the end of the Tour and if you still have the energy to spend then you have to spend it here."
Some battle scars were showing on Damiano Cunego
Photo ©: Roberto Bettini

Prato Nevoso would be an opportune time for Cunego to try to gain time on the likes of Cadel Evans as the race enters his homeland of Italy. The stage starts in Digne les Baines, France, but crosses the boarder after 58 kilometres of racing. The following day, the race stays within Italy for the second rest day. That day in Cuneo will allow the Lampre team to plot the strategy for the next six stages – including l'Alpe d'Huez and a 53-kilometre time trial.
The day off from racing will not be a time to let down his guard, as the following day's stage passes over two major climbs. "[The] stage from Cuneo you hit the climb of 2800 metres," Cunego continued of the Col de la Bonette-Restefond pass that leads to the finish in Jausiers.
That only serves as a warm-up as the next day will be L'Alpe d'Huez. Two years have passed since Cunego battled on the 21 switchbacks of that climb only to be narrowly beaten to the line by Fränk Schleck. "I know the climb well," he said, and come July 23, he will have been replaying those last two kilometres where he lost contact with the Luxembourger again and again in his mind to formulate the perfect strategy.
"I think that if I am able to leave the stages – Alpe d'Huez and Saint Étienne – feeling well," he said, than things could go his way. "This [time trial] comes after the mountains and so it will be very hard. You will need lots of birre nelle gambe ['beer in the legs' or 'energy' - ed.]."
Adversaries
Lampre's Damiano Cunego was glad not to lose any time
Photo ©: Roberto Bettini

Armstrong does not rate Cunego highly because he knows the time trialling and climbing that is involved in winning the Tour de France. Australia's Cadel Evans (Silence-Lotto) is the pundits' top pick for the win, and he proved to have the beer needed last year by finishing just 23 seconds from the win last year. The missing 35 kilometres of time trialling in this year's parcours might not suit Evans, but it will favour another one of Cunego's rivals, Spaniard Alejandro Valverde (Caisse d'Epargne).
"They are the strongest and they will have to make the course, they will have to attack on the climbs," he said. "There are Evans and Valverde, but there also the likes of [Carlos] Sastre, Schleck – both of them – [Oscar] Pereiro.
"I believe that they are also worried about me," he added.
One rival missing will be defending champion and winner of this year's Giro d'Italia, Alberto Contador. The Spaniard was left in the cold when the Astana team did not get an invite from organiser Amaury Sport Organisation (ASO).
"I thought 'it is one less team, one less rival from a sporting point of view' and not in bad way," Cunego said of his thoughts when hearing that Team Astana was not invited. "I am a little sorry; it would have been nice to confront Contador, who is very strong. When I saw that he was going to race the Giro d'Italia I thought, 'surely he will win the Giro', and in fact he did."
Giving it all
Damiano Cunego (Lampre) is happy his big target
Photo ©: Roberto Bettini

Unlike fellow Italian Riccardo Riccò (Saunier Duval-Scott), who only just decided to race the Tour de France following his second place in the Giro d'Italia, Cunego is giving it all to this year's race. He passed on what would have been his sixth participation in his home Grand Tour to build his season around the Tour.
He notes a stage win would be nice, but insisted that his goal is to finish high up on the Tour's final general classification.
"I am going there to have the best possible place in the classification," he confirmed. "I have given all my physical and mental strength to arrive there or form. If I arrive in first, second, third or fourth, who knows.
"Only a stage win? No," he added. "If I win a stage it will be good, but the classification is important, to arrive as close as possible to the podium. To arrive on the podium would be great; it would be like a victory."
Photography
For a thumbnail gallery of these images, click here
Images by Roberto Bettini/www.bettiniphoto.net
Images by Gregor Brown/Cyclingnews.com