Stuart O'Grady's Tour diary
Stuart O'Grady has a lot of Tour experience
Photo ę: Jon Devich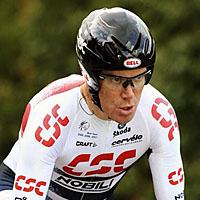 Australian Staurt O'Grady rides for Team CSC and is one of the most experienced riders in this year's Tour de France. The Aussie has already used up all the bad luck for the past year, returning from a horrible crash in the 2007 Tour and a broken collarbone in the 2008 Giro. O'Grady has won two stages in the Tour de France. He finished second in the points classification four times and has worn the yellow jersey. Things are looking promising for 2008 and Stuey will keep Cyclingnews' readers informed via his diary.
Tuesday, July 22, 2008
Game on leads to pain on
The team has worked brilliantly so far in this year's Tour. Every rider, director, mechanic and soigneur has done their job 100 percent. Frank taking his first yellow leader's jersey was the best way to reward not only his own brilliant form, but that of the entire team.
Up to this stage (there is plenty of racing left yet, I know) everything has gone according to plan. Each and every move we have done has been for a specific reason.
Whatever happens after here will happen. That's the beauty of the Tour.
Cadel Evans is still the man to beat. Frank may have taken the lead off him, but Cadel is much stronger in the time trial, so on the next couple of Queen stages we're going to see the fireworks really begin!
And how's Gerro's form winning one of the toughest stages in this year's Tour so far. Unreal. He really deserves it. He's a great guy and a real professional.
If your gonna win a stage in the Tour, make it a memorable one! That he did. Awesome.
Our Aussie team [for the Olympic Games - Ed.] in Beijing is going to be a force to be reckoned with! But that's later. First things first.
The third week of the Tour has started. There's plenty of pain in the legs. Walking to breaky hurts. Everything hurts. Massage hurts.
Bed, however, is good! And its time for me to sleep!
See you tomorrow
Stuart