87th Giro d'Italia - Grand Tour
Italy, May 8-30, 2004
Main Page Results Stage profile Live report Previous Stage
Stage 20 - May 30: Clusone - Milano, 149 km
The 2004 Giro: A tale of two Italians
Cunego wraps up overall, Petacchi sprints into record books
By Chris Henry
Ale-Jet does it in purple
Photo ©: Olympia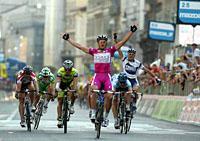 The final stage of the Giro d'Italia offered a summary of three weeks of racing as the victor's spoils went to two men: Damiano Cunego and Alessandro Petacchi. Cunego, Saeco's young sensation who stole the show from defending champion Gilberto Simoni, claimed victory in his first grand tour with four stage wins and considerable time in the maglia rosa along the way. Petacchi, without doubt the top sprinter in the peloton during the past two seasons, won an incredible nine stages with his closing victory in Milan on Sunday.
"Today, on the last day of the Giro, we're all really tired, but I have a really great team that supported me. Today I rode a beautiful sprint, with a great leadout...when Velo went, I didn't even know if I could get past him. I'm really happy today and I want to dedicate this win once again to Paolo Fassa...and all my teammates. To win nine stages, well, I've won almost half of the stages at the Giro, so it will be hard to repeat this feat! And to win in front of all my tifosi here in Milano is the maximum. I just can't say anything more!"
After he descended from the podium, Petacchi told RAI-TV's Alessandra Di Stefano that, "I really wanted to win here in Milano today because to win the last stage of a Grand Tour is very important. I won the last stage in the Vuelta in Madrid last year and I remembered that. I was a major protagonist at the Giro this year. Plus I wanted to win today because my girlfriend Annachiara is here and she is my good luck charm."
Cunego stays in the pink
Damiano Cunego (Saeco)
Photo ©: Sirotti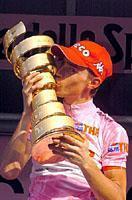 "This win is unexpected because I never expected to win four stages and the pink jersey," 2004 Giro winner Damiano Cunego said after Sunday's stage. "It's emotional because the support of the tifosi along the road is an incredible sensation, and it's moving because this win is a team win by the whole Team Saeco staff. No one is excluded."
Cunego, who still lives at home, had his family in Milano to share his win Sunday and his mother Mrs. Annamaria Cunego explained after the stage that, "We really just don't know what to say today...we're very happy to see how many people supported Damiano during the Giro and we had no idea whatsoever that this could happen. Now we just hope for the best for Damiano in his career."
A still somewhat bitter Gilberto Simoni tried to put the best face on the situation today as he raised Giro d'Italia champion Cunego's hand today after the stage. The disappointed Simoni explained that, "I tried yesterday and didn't make it...but today was a beautiful day with a lots of people and above all, it was a great success for our Saeco team...as for the rest, I'll already said all I have to say. About the Tour de France, I don't want to talk about it now; lets just enjoy the moment."
Saeco boss Sergio Zappela, who clearly had tried to mediate the tension between Simoni and Cunego over the last week declared that, "Saeco is happy to win the Giro with Cunego or Gibo, but the best moment for me was when Simoni and Cunego hugged on the podium..."
Saeco team director Beppe Martinelli, called Martino, has managed Pantani, Garzelli and now Cunego to Giro d'Italia wins and today, tears and emotion overcame him for a moment when he thought of the long and winding road that brought him to the Giro d'Italia final prize ceremony once again. "Certainly, when I saw the Giro trophy today, I thought of some one (Marco Pantani) who was important to me...beside all the riders I've had the luck to work win and win four Giri d'Italia, I was thinking of (Marco Pantani)."
Cunego and Simoni
Photo ©: Sirotti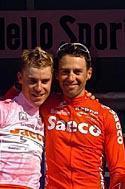 Soaked with spumante, Maglia Rosa Damiano Cunego explained post-race in Milano that, "Today is like a dream come true" hoisted onto the shoulders of Simoni and Fornaciari "I'm so happy I just cant explain it...we just had a big celebration on the podium and I'm soaked but that's OK!"
Regarding his recent rift with 2003 Giro winner Simoni, Cunego responded that "We worked everything out (with Simoni) and now it's fine. I have to really thank Saeco team who were always close to me and believed in me this last twenty days. And I've learned a lot from Simoni and the last two Giro's with him."
Simoni responded to Cunego's comments positively, saying that "Yes, Cunego helped me last year at the Giro and now and this year he was a the big champion."
Although Claudio Corti, Saeco's team manager was confident that "Simoni will be at the Tour De France with a very strong team", other voices in the peloton are saying that Gibo will ask for a release from his contract that runs through 2005 with Saeco.
Who might take Simoni? Lampre is one candidate, the team where Simoni won his first Giro d'Italia and perhaps QuickStep is another, as Patrick Lefevre doesn't have a legitimate GC contenders for the Grand Tours.
Gonchar steps up
The final podium (L to R):
Photo ©: Sirotti

The final podium was completed by Giro veteran Serguei Gonchar (De Nardi) and Simoni, who never stopped fighting but ultimately was outdone by Cunego. 34 year old Gonchar has finished five times in the top ten of the Giro d'Italia, and once again he powered his way to a stage victory in the key time trial. This year, however, he found his climbing legs and with the support of a De Nardi team entirely devoted to his success, was able to fend off the challenges from Simoni, Dario David Cioni (Fassa Bortolo), and fellow Ukrainian Yaroslav Popovych.
"I'm really happy today and very surprised. I have to thank my (DeNardi) team; we have a small team so this is kind of like winning for us...I have to thank Gianluigi Stanga, (De Nardi manager) who made me lose 3 kg this year and it's paid off for me. I'm still pretty surprised by it all. Now people can't just look at me as a time trial rider. But at least, I wish I had taken the Maglia Rosa in Trieste, but that didn't happen and Popovych got it. If only there had been a final time trial, things would have been different at this Giro."
Germany's Fabian Wegmann fought hard throughout the Giro to earn the green jersey of best climber, which he secured by a precious few points ahead of none other than Cunego. Non-stop attacking by Italian Raffaele Illiano (Colombia-Selle Italia) paid off with the Intergiro competition, while Saeco rode away with the team prize thanks to the Cunego-Simoni duo and a powerful supporting cast.
Ceremonial sprint
C'mon a little bit louder now
Photo ©: Olympia

As for stage 20, a ceremonial start gave way to a fast but steady tour around Milan with 10 laps of a short finishing circuit in the northern city. A short-lived attack by Dean Podgornik was the only break in the rhythm of Petacchi's Fassa Bortolo team, which put in its final flawless performance to deliver Ale-Jet to his ninth stage win ahead of Marco Zanotti (Vini Caldirola) and Aart Vierhouten (Lotto-Domo).
Petacchi had already wrapped up the points jersey and his stage win in Milan was nothing more than a final stamp on a Giro which saw him equal and then break the post-WWII record of seven stage victories in a single Giro. Only two riders were able to outdo Petacchi in the sprints: Robbie McEwen (Lotto-Domo) and Fred Rodriguez (Acqua & Sapone). Former world champion Mario Cipollini regrettably saw his Giro come to a premature end after a crash in the first week.
Revelations
Team Saeco
Photo ©: Sirotti

Even if between the two of them Cunego and Petacchi won 13 of the 20 stages in this year's Giro, there were more than a few revelations along the way. Cunego was the obvious surprise, not only surviving but thriving throughout the three week test. His warm-up wins at the Giro del Trentino signaled his arrival as a talented rider, but few expected him to go all the way in his first grand tour. Tensions began to mount within the Saeco camp as Simoni began to see his chances for a third Giro title slip away, but Cunego was generally faithful to his leader and to team orders. Depriving Simoni of the chance to sprint to victory in stage 18 was a rare occasion of Cunego openly racing against his leader.
Prologue winner Bradley McGee (FDJeux.com) completed an inspiring ride of his own, cracking the top ten for the first time in a grand tour. McGee has shown his strength in shorter stage races, and is already a double stage winner in the Tour de France, but this year his ambitions have been set higher. Initial plans to shine in the spring classics were derailed by a knee injury, allowing the determined Australian to arrive at the Giro fresh and ready to test himself as leader for a three week tour. McGee's prologue victory was confirmation of his status as an expert against the clock, but his successive results in the mountains were the true turning point as he kept himself among the favourites in the high mountains concentrated in the third week of racing.
The four jersey wearers (not of the Apocalypse)
Photo ©: Sirotti

With the first half of the Giro dominated by Alessandro Petacchi on the flats and the Cunego/Simoni duo in the early climbing stages, neo-pro Emanuele Sella (Ceramiche Panaria-Margres) provided the race with the first successful breakaway in stage 11, firing a warning shot of his own as an explosive climber to watch in the coming years. Sella broke clear on an animated stage and stayed away for 45 kilometres on the old stomping grounds of Marco Pantani to claim his first victory as a professional. Not resting on his laurels, he continued to attack and test himself and the other climbers in the mountain stages of the closing weeks.
The final week of racing also saw the emergence of Fassa Bortolo's Dario David Cioni. A former mountain biker, Cioni not only worked selflessly in the service of Petacchi throughout the Giro, but also showed he could challenge in the mountains. Cioni moved up the general classification in the closing weeks with increasingly aggressive riding for his own general classification interests. He finished a fine fourth overall, just 4'44 behind Cunego, after one more go-round for the team to set up Petacchi for his final sprint win.
The future is now
Damiano Cunego (Saeco)
Photo ©: Sirotti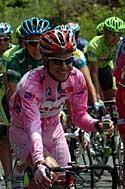 Damiano Cunego's team directors decided long before this Giro began that he would not race the Tour de France this year, but his success in the Giro leaves little doubt of his promise for the future. Five-time Tour winner Lance Armstrong, who took advantage of some time in Italy to train on the Mortirolo and kept a close eye on the racing, told the Italian press that Cunego could well be his successor for the Tour.
"I'm already thinking about the world championships in Verona and the Olympic Games in Athens are also a dream. I'm not going to ride the Tour de France this year and perhaps not even next year," Cunego said.
Saeco leader Gilberto Simoni, clearly disappointed with third place overall, will once more travel to this year's Tour, eager to avoid the mistakes of a year ago and arrive in better condition to challenge for the yellow jersey. Petacchi, meanwhile, remains the man to beat in the sprints, even if the usual cast of characters will be back in July to chase the Ale-Jet.
Photography
Images by Olympia Photo
Images by Fotoreporter Sirotti
Results
1 Alessandro Petacchi (Ita) Fassa Bortolo                          4.07.01 (37.406 km/h)
2 Marco Zanotti (Ita) Vini Caldirola-Nobili Rubinetterie                  
3 Aart Vierhouten (Ned) Lotto-Domo                                        
4 Olaf Pollack (Ger) Gerolsteiner                                         
5 Alejandro Albert Borrajo (Arg) Ceramiche Panaria-Margres                
6 Alexandre Usov (Blr) Phonak Hearing Systems                             
7 Marco Velo (Ita) Fassa Bortolo                                          
8 Simone Cadamuro (Ita) De Nardi                                          
9 Angelo Furlan (Ita) Alessio-Bianchi                                 0.03
10 Marcus Ljungqvist (Swe) Alessio-Bianchi                                
11 Crescenzo d'Amore (Ita) Acqua & Sapone-Caffe Mokambo                   
12 Gorik Gardeyn (Bel) Lotto-Domo                                         
13 Mauro Gerosa (Ita) Vini Caldirola-Nobili Rubinetterie                  
14 Maxim Rudenko (Ukr) Chocolade Jacques Wincor-Nixdorf                   
15 Manuele Mori (Ita) Saunier Duval-Prodir                                
16 David Canada Gracia (Spa) Saunier Duval-Prodir                         
17 Franco Pellizotti (Ita) Alessio-Bianchi                                
18 Damiano Cunego (Ita) Saeco                                         0.08
19 Eddy Mazzoleni (Ita) Saeco                                             
20 Serguei Gonchar (Ukr) De Nardi                                         
21 Gilberto Simoni (Ita) Saeco                                            
22 Michael Albasini (Swi) Phonak Hearing Systems                          
23 Philippe Gilbert (Bel) FDJeux.com                                      
24 Wladimir Belli (Ita) Lampre                                            
25 Yaroslav Popovych (Ukr) Landbouwkrediet-Colnago                        
26 Stefano Garzelli (Ita) Vini Caldirola-Nobili Rubinetterie              
27 Andrea Tonti (Ita) Saeco                                               
28 Juan Manuel Garate Cepa (Spa) Lampre                                   
29 Gorazd Stangelj (Slo) Saeco                                            
30 Bradley McGee (Aus) FDJeux.com                                         
31 Ruggero Marzoli (Ita) Acqua & Sapone-Caffe Mokambo                     
32 Alexandre Moos (Swi) Phonak Hearing Systems                            
33 Tadej Valjavec (Slo) Phonak Hearing Systems                            
34 Fred Rodriguez (USA) Acqua & Sapone-Caffe Mokambo                      
35 Alberto Ongarato (Ita) Fassa Bortolo                                   
36 Robert Forster (Ger) Gerolsteiner                                      
37 Gabriele Colombo (Ita) Domina Vacanze                              0.14
38 Andris Nauduzs (Lat) Domina Vacanze                                    
39 Ruben Lobato Elvira (Spa) Saunier Duval-Prodir                         
40 Fabian Wegmann (Ger) Gerolsteiner                                      
41 Pavel Tonkov (Rus) Vini Caldirola-Nobili Rubinetterie                  
42 Emanuele Sella (Ita) Ceramiche Panaria-Margres                         
43 Brett Lancaster (Aus) Ceramiche Panaria-Margres                        
44 David Derepas (Fra) FDJeux.com                                         
45 Graziano Gasparre (Ita) De Nardi                                       
46 Steve Zampieri (Swi) Vini Caldirola-Nobili Rubinetterie                
47 Dario David Cioni (Ita) Fassa Bortolo                                  
48 Paolo Fornaciari (Ita) Saeco                                       0.14
49 Michele Gobbi (Ita) De Nardi                                           
50 Johan Verstrepen (Bel) Landbouwkrediet-Colnago                         
51 Francisco Vila Errandonea (Spa) Lampre                                 
52 Gianluca Sironi (Ita) Vini Caldirola-Nobili Rubinetterie               
53 Christophe Brandt (Bel) Lotto-Domo                                     
54 Giuseppe Di Grande (Ita) Formaggi Pinzolo Fiave'                       
55 Cristian Moreni (Ita) Alessio-Bianchi                                  
56 Rinaldo Nocentini (Ita) Acqua & Sapone-Caffe Mokambo                   
57 Mario Scirea (Ita) Domina Vacanze                                      
58 Leonardo Bertagnolli (Ita) Saeco                                       
59 Mariano Piccoli (Ita) Lampre                                           
60 Bo Hamburger (Den) Acqua & Sapone-Caffe Mokambo                        
61 Daniele Righi (Ita) Lampre                                             
62 Marzio Bruseghin (Ita) Fassa Bortolo                                   
63 Nicola Loda (Ita) Tenax                                                
64 Andrej Hauptman (Slo) Lampre                                           
65 Alessandro Bertolini (Ita) Alessio-Bianchi                         0.23
66 Vladimir Miholjevic (Cro) Alessio-Bianchi                          0.27
67 Matthew Wilson (Aus) FDJeux.com                                    0.29
68 Nick Gates (Aus) Lotto-Domo                                            
69 Fabio Sacchi (Ita) Fassa Bortolo                                   0.38
70 Matteo Tosatto (Ita) Fassa Bortolo                                     
71 Andrea Ferrigato (Ita) Acqua & Sapone-Caffe Mokambo                0.40
72 Corrado Serina (Ita) Formaggi Pinzolo Fiave'                       0.42
73 Andrea Noe' (Ita) Alessio-Bianchi                                      
74 Gerhard Trampusch (Aut) Acqua & Sapone-Caffe Mokambo                   
75 Fortunato Baliani (Ita) Ceramiche Panaria-Margres                      
76 Ief Verbrugghe (Bel) Lotto-Domo                                        
77 Daniel Schnider (Swi) Phonak Hearing Systems                           
78 Alessandro Vanotti (Ita) De Nardi                                      
79 Mario Manzoni (Ita) Formaggi Pinzolo Fiave'                            
80 Dario Andriotto (Ita) Vini Caldirola-Nobili Rubinetterie               
81 Sergey Avdyeyev (Ukr) Landbouwkrediet-Colnago                          
82 Ruggero Borghi (Ita) De Nardi                                          
83 Luca Mazzanti (Ita) Ceramiche Panaria-Margres                          
84 Bostjan Mervar (Slo) Formaggi Pinzolo Fiave'                           
85 Marco Serpellini (Ita) Gerolsteiner                                    
86 Geert Verheyen (Bel) Chocolade Jacques Wincor-Nixdorf                  
87 Volodymyr Bileka (Ukr) Landbouwkrediet-Colnago                         
88 Giovanni Lombardi (Ita) Domina Vacanze                                 
89 Denys Kostuk (Ukr) Chocolade Jacques Wincor-Nixdorf                    
90 Luis Filipe Laverde Jimenez (Col) Formaggi Pinzolo Fiave'              
91 Mauricio Al Ardila Cano (Col) Chocolade Jacques Wincor-Nixdorf         
92 Raffaele Illiano (Ita) Colombia-Selle Italia                           
93 Kyrylo Pospyeyev (Ukr) Acqua & Sapone-Caffe Mokambo                    
94 Marlon Alirio Perez Arango (Col) Colombia-Selle Italia                 
95 Volodymir Gustov (Ukr) Fassa Bortolo                               0.49
96 Gert Steegmans (Bel) Lotto-Domo                                        
97 Oscar Mason (Ita) Vini Caldirola-Nobili Rubinetterie               1.08
98 Gabriele Bosisio (Ita) Tenax                                           
99 Igor Astarloa (Spa) Lampre                                             
100 Simone Masciarelli (Ita) Vini Caldirola-Nobili Rubinetterie           
101 Charly Wegelius (GBr) De Nardi                                        
102 Thomas Ziegler (Ger) Gerolsteiner                                     
103 Paolo Lanfranchi (Ita) Ceramiche Panaria-Margres                      
104 Daniele Pietropolli (Ita) Tenax                                       
105 Renzo Mazzoleni (Ita) Tenax                                           
106 Nico Sijmens (Bel) Landbouwkrediet-Colnago                            
107 Niki Aebersold (Swi) Phonak Hearing Systems                           
108 Ellis Rastelli (Ita) Alessio-Bianchi                                  
109 Juan Gomis Lopez (Spa) Saunier Duval-Prodir                           
110 Marcel Strauss (Swi) Gerolsteiner                                     
111 Oliver Zaugg (Swi) Saunier Duval-Prodir                               
112 Philippe Schnyder (Swi) Colombia-Selle Italia                         
113 Trent Wilson (Aus) Colombia-Selle Italia                              
114 Rubens Bertogliati (Swi) Saunier Duval-Prodir                         
115 Radoslav Rogina (Cro) Tenax                                           
116 Massimo Codol (Ita) Fassa Bortolo                                     
117 Ruber Alverio Marin (Col) Colombia-Selle Italia                       
118 Martin Derganc (Slo) Domina Vacanze                                   
119 Giancarlo Ginestri (Ita) Tenax                                        
120 Oscar Pozzi (Ita) Tenax                                               
121 Volodimyr Duma (Ukr) Landbouwkrediet-Colnago                          
122 Nicolas Vogondy (Fra) FDJeux.com                                      
123 Julio A. Perez Cuapio (Mex) Ceramiche Panaria-Margres                 
124 Leonardo Giordani (Ita) De Nardi                                      
125 Igor Pugaci (Mda) De Nardi                                            
126 Alessio Galletti (Ita) Domina Vacanze                                 
127 Giuseppe Muraglia (Ita) Formaggi Pinzolo Fiave'                       
128 Scott Davis (Aus) Ceramiche Panaria-Margres                           
129 Domenico Gualdi (Ita) Formaggi Pinzolo Fiave'                         
130 Marco Fertonani (Ita) Phonak Hearing Systems                          
131 Benoit Vaugrenard (Fra) FDJeux.com                                    
132 Jan Van Velzen (Ned) Chocolade Jacques Wincor-Nixdorf                 
133 Florent Brard (Fra) Chocolade Jacques Wincor-Nixdorf                  
134 Nicolas Fritsch (Fra) FDJeux.com                                      
135 Sylvester Szmyd (Pol) Saeco                                           
136 Uros Murn (Slo) Phonak Hearing Systems                                
137 Russell Van Hout (Aus) Colombia-Selle Italia                          
138 Francis Mourey (Fra) FDJeux.com                                   1.16
139 Alessandro Spezialetti (Ita) Saeco                                    
140 Dean Podgornik (Slo) Tenax                                        2.58
 
Points
 
1 Alessandro Petacchi (Ita) Fassa Bortolo                               25 pts
2 Marco Zanotti (Ita) Vini Caldirola-Nobili Rubinetterie                20
3 Aart Vierhouten (Ned) Lotto-Domo                                      16
4 Olaf Pollack (Ger) Gerolsteiner                                       14
5 Alejandro Albert Borrajo (Arg) Ceramiche Panaria-Margres              12
6 Alexandre Usov (Blr) Phonak Hearing Systems                           10
7 Marco Velo (Ita) Fassa Bortolo                                         9
8 Angelo Furlan (Ita) Alessio-Bianchi                                    9
9 Simone Cadamuro (Ita) De Nardi                                         8
10 Mariano Piccoli (Ita) Lampre                                          8
11 Marcus Ljungqvist (Swe) Alessio-Bianchi                               6
12 Alessandro Vanotti (Ita) De Nardi                                     6
13 Crescenzo d'Amore (Ita) Acqua & Sapone-Caffe Mokambo                  5
14 Gorik Gardeyn (Bel) Lotto-Domo                                        4
15 Philippe Schnyder (Swi) Colombia-Selle Italia                         4
16 Mauro Gerosa (Ita) Vini Caldirola-Nobili Rubinetterie                 3
17 Andrea Ferrigato (Ita) Acqua & Sapone-Caffe Mokambo                   3
18 Maxim Rudenko (Ukr) Chocolade Jacques Wincor-Nixdorf                  2
19 Manuele Mori (Ita) Saunier Duval-Prodir                               1
20 Raffaele Illiano (Ita) Colombia-Selle Italia                          1
 
Intergiro
 
1 Mariano Piccoli (Ita) Lampre                                     1.20.53
2 Alessandro Vanotti (Ita) De Nardi                                       
3 Philippe Schnyder (Swi) Colombia-Selle Italia                           
4 Andrea Ferrigato (Ita) Acqua & Sapone-Caffe Mokambo                     
5 Angelo Furlan (Ita) Alessio-Bianchi                                     
6 Raffaele Illiano (Ita) Colombia-Selle Italia                            
7 Daniele Righi (Ita) Lampre                                              
8 Rinaldo Nocentini (Ita) Acqua & Sapone-Caffe Mokambo                    
9 Aart Vierhouten (Ned) Lotto-Domo                                        
10 Andris Nauduzs (Lat) Domina Vacanze                                    
11 Crescenzo d'Amore (Ita) Acqua & Sapone-Caffe Mokambo                   
 
Most combative
 
1 Alessandro Petacchi (Ita) Fassa Bortolo                                6 pts
2 Marco Zanotti (Ita) Vini Caldirola-Nobili Rubinetterie                 5
3 Mariano Piccoli (Ita) Lampre                                           5
4 Aart Vierhouten (Ned) Lotto-Domo                                       4
5 Alessandro Vanotti (Ita) De Nardi                                      4
6 Olaf Pollack (Ger) Gerolsteiner                                        3
7 Philippe Schnyder (Swi) Colombia-Selle Italia                          3
8 Alejandro Albert Borrajo (Arg) Ceramiche Panaria-Margres               2
9 Andrea Ferrigato (Ita) Acqua & Sapone-Caffe Mokambo                    2
10 Alexandre Usov (Blr) Phonak Hearing Systems                           1
11 Angelo Furlan (Ita) Alessio-Bianchi                                   1
 
Azzurri d'Italia
 
1 Alessandro Petacchi (Ita) Fassa Bortolo                                4 pts
2 Marco Zanotti (Ita) Vini Caldirola-Nobili Rubinetterie                 2
3 Aart Vierhouten (Ned) Lotto-Domo                                       1
 
Trofeo Fast Team
 
1 Fassa Bortolo                                                   12.21.11
2 Alessio-Bianchi                                                     0.01
3 Vini Caldirola-Nobili Rubinetterie                                  0.03
4 Phonak-Hearing Systems                                              0.08
5 Lotto - Domo                                                        0.09
6 Acqua&Sapone-Caffe' Mokambo                                         0.11
7 Saunier Duval-Prodir                                                0.12
8 De Nardi                                                            0.14
9 Gerolsteiner                                                            
10 Saeco                                                              0.16
11 Ceramiche Panaria-Margres                                          0.20
12 FDJeux.com                                                         0.22
13 Lampre                                                                 
14 Domina Vacanze                                                     0.34
15 Landbouwkrediet-Colnago                                            0.56
16 Chocolade Jacques Wincor-Nixdorf                                   1.19
17 Formaggi Pinzolo Fiave'                                            1.30
18 Tenax                                                              2.22
19 Colombia-Selle Italia                                              2.24
 
Trofeo Super Team
 
1 Fassa Bortolo                                                         34 pts
2 Vini Caldirola-Nobili Rubinetterie                                    27
3 Lotto - Domo                                                          27
4 Alessio-Bianchi                                                       27
5 Gerolsteiner                                                          17
6 Ceramiche Panaria-Margres                                             16
7 Phonak-Hearing Systems                                                15
8 De Nardi                                                              14
9 Saunier Duval-Prodir                                                  11
10 Acqua&Sapone-Caffe' Mokambo                                          10
11 Chocolade Jacques Wincor-Nixdorf                                      7
12 Saeco                                                                 5
13 FDJeux.com                                                             
14 Lampre                                                                 
15 Landbouwkrediet-Colnago                                                
16 Domina Vacanze                                                         
17 Formaggi Pinzolo Fiave'                                                
18 Tenax                                                                  
19 Colombia-Selle Italia                                                  
 
Final general classification
 
1 Damiano Cunego (Ita) Saeco                                      88.40.43
2 Serguei Gonchar (Ukr) De Nardi                                      2.02
3 Gilberto Simoni (Ita) Saeco                                         2.05
4 Dario David Cioni (Ita) Fassa Bortolo                               4.36
5 Yaroslav Popovych (Ukr) Landbouwkrediet-Colnago                     5.05
6 Stefano Garzelli (Ita) Vini Caldirola-Nobili Rubinetterie           5.31
7 Wladimir Belli (Ita) Lampre                                         6.12
8 Bradley McGee (Aus) FDJeux.com                                      6.15
9 Tadej Valjavec (Slo) Phonak Hearing Systems                         6.34
10 Juan Manuel Garate Cepa (Spa) Lampre                               7.47
11 Franco Pellizotti (Ita) Alessio-Bianchi                            9.45
12 Emanuele Sella (Ita) Ceramiche Panaria-Margres                    10.26
13 Pavel Tonkov (Rus) Vini Caldirola-Nobili Rubinetterie             10.43
14 Christophe Brandt (Bel) Lotto-Domo                                10.50
15 Luis Filipe Laverde Jimenez (Col) Formaggi Pinzolo Fiave'         13.43
16 Ruben Lobato Elvira (Spa) Saunier Duval-Prodir                    21.11
17 Andrea Noe' (Ita) Alessio-Bianchi                                 22.33
18 David Canada Gracia (Spa) Saunier Duval-Prodir                    22.52
19 Steve Zampieri (Swi) Vini Caldirola-Nobili Rubinetterie           25.53
20 Giuseppe Di Grande (Ita) Formaggi Pinzolo Fiave'                  26.05
21 Eddy Mazzoleni (Ita) Saeco                                        27.44
22 Francisco Vila Errandonea (Spa) Lampre                            30.50
23 Ruggero Marzoli (Ita) Acqua & Sapone-Caffe Mokambo                31.41
24 Vladimir Miholjevic (Cro) Alessio-Bianchi                         32.06
25 Cristian Moreni (Ita) Alessio-Bianchi                             35.24
26 Gerhard Trampusch (Aut) Acqua & Sapone-Caffe Mokambo              39.16
27 Alexandre Moos (Swi) Phonak Hearing Systems                       46.16
28 Ruggero Borghi (Ita) De Nardi                                     47.02
29 Andrea Tonti (Ita) Saeco                                          47.11
30 Oscar Mason (Ita) Vini Caldirola-Nobili Rubinetterie              50.02
31 Mauricio Al Ardila Cano (Col) Chocolade Jacques Wincor-Nixdorf    51.05
32 Philippe Gilbert (Bel) FDJeux.com                                 57.58
33 Julio A. Perez Cuapio (Mex) Ceramiche Panaria-Margres             58.21
34 Rinaldo Nocentini (Ita) Acqua & Sapone-Caffe Mokambo              58.53
35 Raffaele Illiano (Ita) Colombia-Selle Italia                    1.05.13
36 Fabian Wegmann (Ger) Gerolsteiner                               1.06.50
37 Leonardo Bertagnolli (Ita) Saeco                                1.07.10
38 Bo Hamburger (Den) Acqua & Sapone-Caffe Mokambo                 1.07.49
39 Fortunato Baliani (Ita) Ceramiche Panaria-Margres               1.09.35
40 Marlon Alirio Perez Arango (Col) Colombia-Selle Italia          1.11.58
41 Niki Aebersold (Swi) Phonak Hearing Systems                     1.12.52
42 Kyrylo Pospyeyev (Ukr) Acqua & Sapone-Caffe Mokambo             1.13.05
43 Sylvester Szmyd (Pol) Saeco                                     1.15.54
44 Alessandro Vanotti (Ita) De Nardi                               1.20.55
45 Daniel Schnider (Swi) Phonak Hearing Systems                    1.22.38
46 Luca Mazzanti (Ita) Ceramiche Panaria-Margres                   1.26.22
47 Oliver Zaugg (Swi) Saunier Duval-Prodir                         1.27.53
48 Charly Wegelius (GBr) De Nardi                                  1.32.14
49 Geert Verheyen (Bel) Chocolade Jacques Wincor-Nixdorf           1.34.21
50 Volodymyr Bileka (Ukr) Landbouwkrediet-Colnago                  1.35.31
51 Nicolas Fritsch (Fra) FDJeux.com                                1.36.22
52 Rubens Bertogliati (Swi) Saunier Duval-Prodir                   1.38.22
53 Alessandro Bertolini (Ita) Alessio-Bianchi                      1.39.29
54 Dario Andriotto (Ita) Vini Caldirola-Nobili Rubinetterie        1.40.16
55 Marco Fertonani (Ita) Phonak Hearing Systems                    1.40.51
56 Igor Astarloa (Spa) Lampre                                      1.42.08
57 Giuseppe Muraglia (Ita) Formaggi Pinzolo Fiave'                 1.45.37
58 Marzio Bruseghin (Ita) Fassa Bortolo                            1.46.46
59 Mariano Piccoli (Ita) Lampre                                    1.48.33
60 Denys Kostuk (Ukr) Chocolade Jacques Wincor-Nixdorf             1.49.17
61 Paolo Lanfranchi (Ita) Ceramiche Panaria-Margres                1.50.25
62 Mauro Gerosa (Ita) Vini Caldirola-Nobili Rubinetterie           1.50.43
63 Marcus Ljungqvist (Swe) Alessio-Bianchi                         1.51.37
64 Thomas Ziegler (Ger) Gerolsteiner                               1.53.33
65 Volodimyr Duma (Ukr) Landbouwkrediet-Colnago                    1.53.45
66 Alessandro Spezialetti (Ita) Saeco                              1.54.07
67 Juan Gomis Lopez (Spa) Saunier Duval-Prodir                     1.55.39
68 Nico Sijmens (Bel) Landbouwkrediet-Colnago                      1.56.13
69 Massimo Codol (Ita) Fassa Bortolo                               1.56.19
70 Igor Pugaci (Mda) De Nardi                                      1.56.20
71 Marco Serpellini (Ita) Gerolsteiner                             1.56.52
72 Oscar Pozzi (Ita) Tenax                                         2.01.24
73 Ellis Rastelli (Ita) Alessio-Bianchi                            2.03.26
74 Nicola Loda (Ita) Tenax                                         2.03.33
75 Leonardo Giordani (Ita) De Nardi                                2.05.22
76 Manuele Mori (Ita) Saunier Duval-Prodir                         2.09.30
77 Gianluca Sironi (Ita) Vini Caldirola-Nobili Rubinetterie        2.09.36
78 Graziano Gasparre (Ita) De Nardi                                2.10.47
79 Alejandro Albert Borrajo (Arg) Ceramiche Panaria-Margres        2.12.03
80 Daniele Pietropolli (Ita) Tenax                                 2.13.39
81 Nicolas Vogondy (Fra) FDJeux.com                                2.14.10
82 Andrej Hauptman (Slo) Lampre                                    2.14.38
83 Ruber Alverio Marin (Col) Colombia-Selle Italia                 2.15.08
84 Andrea Ferrigato (Ita) Acqua & Sapone-Caffe Mokambo             2.15.21
85 David Derepas (Fra) FDJeux.com                                  2.15.45
86 Sergey Avdyeyev (Ukr) Landbouwkrediet-Colnago                   2.16.12
87 Radoslav Rogina (Cro) Tenax                                     2.17.10
88 Michael Albasini (Swi) Phonak Hearing Systems                   2.18.18
89 Alessio Galletti (Ita) Domina Vacanze                           2.21.16
90 Scott Davis (Aus) Ceramiche Panaria-Margres                     2.21.33
91 Simone Masciarelli (Ita) Vini Caldirola-Nobili Rubinetterie     2.22.36
92 Uros Murn (Slo) Phonak Hearing Systems                          2.23.26
93 Michele Gobbi (Ita) De Nardi                                    2.24.26
94 Johan Verstrepen (Bel) Landbouwkrediet-Colnago                  2.24.34
95 Gorazd Stangelj (Slo) Saeco                                     2.24.36
96 Daniele Righi (Ita) Lampre                                      2.26.05
97 Alessandro Petacchi (Ita) Fassa Bortolo                         2.27.44
98 Alexandre Usov (Blr) Phonak Hearing Systems                     2.27.48
99 Fred Rodriguez (USA) Acqua & Sapone-Caffe Mokambo               2.28.10
100 Paolo Fornaciari (Ita) Saeco                                   2.30.09
101 Marco Velo (Ita) Fassa Bortolo                                 2.30.41
102 Fabio Sacchi (Ita) Fassa Bortolo                               2.34.12
103 Volodymir Gustov (Ukr) Fassa Bortolo                           2.34.26
104 Francis Mourey (Fra) FDJeux.com                                2.35.51
105 Marcel Strauss (Swi) Gerolsteiner                              2.36.19
106 Andris Nauduzs (Lat) Domina Vacanze                            2.37.29
107 Matteo Tosatto (Ita) Fassa Bortolo                             2.37.41
108 Florent Brard (Fra) Chocolade Jacques Wincor-Nixdorf           2.39.04
109 Alberto Ongarato (Ita) Fassa Bortolo                           2.39.50
110 Aart Vierhouten (Ned) Lotto-Domo                               2.40.13
111 Renzo Mazzoleni (Ita) Tenax                                    2.41.06
112 Olaf Pollack (Ger) Gerolsteiner                                2.42.01
113 Nick Gates (Aus) Lotto-Domo                                    2.42.48
114 Marco Zanotti (Ita) Vini Caldirola-Nobili Rubinetterie         2.43.02
115 Ief Verbrugghe (Bel) Lotto-Domo                                2.44.56
116 Robert Forster (Ger) Gerolsteiner                              2.45.24
117 Gabriele Colombo (Ita) Domina Vacanze                          2.46.59
118 Giancarlo Ginestri (Ita) Tenax                                 2.47.03
119 Giovanni Lombardi (Ita) Domina Vacanze                         2.48.06
120 Simone Cadamuro (Ita) De Nardi                                 2.48.28
121 Mario Scirea (Ita) Domina Vacanze                              2.48.41
122 Jan Van Velzen (Ned) Chocolade Jacques Wincor-Nixdorf          2.49.28
123 Crescenzo d'Amore (Ita) Acqua & Sapone-Caffe Mokambo           2.49.38
124 Brett Lancaster (Aus) Ceramiche Panaria-Margres                2.50.32
125 Gorik Gardeyn (Bel) Lotto-Domo                                 2.51.16
126 Trent Wilson (Aus) Colombia-Selle Italia                       2.54.57
127 Martin Derganc (Slo) Domina Vacanze                            3.00.23
128 Angelo Furlan (Ita) Alessio-Bianchi                            3.00.46
129 Philippe Schnyder (Swi) Colombia-Selle Italia                  3.03.50
130 Bostjan Mervar (Slo) Formaggi Pinzolo Fiave'                   3.07.33
131 Gert Steegmans (Bel) Lotto-Domo                                3.11.11
132 Matthew Wilson (Aus) FDJeux.com                                3.22.02
133 Maxim Rudenko (Ukr) Chocolade Jacques Wincor-Nixdorf           3.22.09
134 Russell Van Hout (Aus) Colombia-Selle Italia                   3.25.27
135 Mario Manzoni (Ita) Formaggi Pinzolo Fiave'                    3.26.45
136 Benoit Vaugrenard (Fra) FDJeux.com                             3.30.00
137 Gabriele Bosisio (Ita) Tenax                                   3.30.36
138 Dean Podgornik (Slo) Tenax                                     3.46.50
139 Domenico Gualdi (Ita) Formaggi Pinzolo Fiave'                  3.55.37
140 Corrado Serina (Ita) Formaggi Pinzolo Fiave'                   4.03.22
 
Points classification
 
 Alessandro Petacchi (Ita) Fassa Bortolo                                  
2 Damiano Cunego (Ita) Saeco                                           153 pts
3 Olaf Pollack (Ger) Gerolsteiner                                      148
4 Alexandre Usov (Blr) Phonak Hearing Systems                          111
5 Marco Zanotti (Ita) Vini Caldirola-Nobili Rubinetterie               102
6 Fred Rodriguez (USA) Acqua & Sapone-Caffe Mokambo                     96
7 Bradley McGee (Aus) FDJeux.com                                        88
8 Gilberto Simoni (Ita) Saeco                                           78
9 Stefano Garzelli (Ita) Vini Caldirola-Nobili Rubinetterie             76
10 Serguei Gonchar (Ukr) De Nardi                                       73
11 Yaroslav Popovych (Ukr) Landbouwkrediet-Colnago                      73
12 Alejandro Albert Borrajo (Arg) Ceramiche Panaria-Margres             72
13 Eddy Mazzoleni (Ita) Saeco                                           71
14 Crescenzo d'Amore (Ita) Acqua & Sapone-Caffe Mokambo                 70
15 Andris Nauduzs (Lat) Domina Vacanze                                  68
16 Simone Cadamuro (Ita) De Nardi                                       61
17 Franco Pellizotti (Ita) Alessio-Bianchi                              60
18 Dario David Cioni (Ita) Fassa Bortolo                                48
19 Pavel Tonkov (Rus) Vini Caldirola-Nobili Rubinetterie                47
20 Angelo Furlan (Ita) Alessio-Bianchi                                  47
21 Raffaele Illiano (Ita) Colombia-Selle Italia                         45
22 Cristian Moreni (Ita) Alessio-Bianchi                                45
23 Rinaldo Nocentini (Ita) Acqua & Sapone-Caffe Mokambo                 40
24 Emanuele Sella (Ita) Ceramiche Panaria-Margres                       38
25 Robert Forster (Ger) Gerolsteiner                                    36
26 Alessandro Bertolini (Ita) Alessio-Bianchi                           36
27 Marlon Alirio Perez Arango (Col) Colombia-Selle Italia               35
28 Aart Vierhouten (Ned) Lotto-Domo                                     35
29 Juan Manuel Garate Cepa (Spa) Lampre                                 34
30 Marco Velo (Ita) Fassa Bortolo                                       33
31 Alexandre Moos (Swi) Phonak Hearing Systems                          32
32 Wladimir Belli (Ita) Lampre                                          29
33 Giuseppe Di Grande (Ita) Formaggi Pinzolo Fiave'                     29
34 Mariano Piccoli (Ita) Lampre                                         27
35 Julio A. Perez Cuapio (Mex) Ceramiche Panaria-Margres                27
36 Ruggero Marzoli (Ita) Acqua & Sapone-Caffe Mokambo                   26
37 Andrea Noe' (Ita) Alessio-Bianchi                                    26
38 Rubens Bertogliati (Swi) Saunier Duval-Prodir                        26
39 Tadej Valjavec (Slo) Phonak Hearing Systems                          25
40 Bo Hamburger (Den) Acqua & Sapone-Caffe Mokambo                      22
41 Philippe Gilbert (Bel) FDJeux.com                                    21
42 Alessandro Vanotti (Ita) De Nardi                                    21
43 Daniele Righi (Ita) Lampre                                           20
44 Marzio Bruseghin (Ita) Fassa Bortolo                                 18
45 Igor Astarloa (Spa) Lampre                                           14
46 Maxim Rudenko (Ukr) Chocolade Jacques Wincor-Nixdorf                 14
47 Russell Van Hout (Aus) Colombia-Selle Italia                         14
48 Ruben Lobato Elvira (Spa) Saunier Duval-Prodir                       13
49 Steve Zampieri (Swi) Vini Caldirola-Nobili Rubinetterie              12
50 Giuseppe Muraglia (Ita) Formaggi Pinzolo Fiave'                      12
51 Nicola Loda (Ita) Tenax                                              12
52 Christophe Brandt (Bel) Lotto-Domo                                   10
53 Luis Filipe Laverde Jimenez (Col) Formaggi Pinzolo Fiave'            10
54 Vladimir Miholjevic (Cro) Alessio-Bianchi                             8
55 Renzo Mazzoleni (Ita) Tenax                                           8
56 Manuele Mori (Ita) Saunier Duval-Prodir                               7
57 David Derepas (Fra) FDJeux.com                                        7
58 Francisco Vila Errandonea (Spa) Lampre                                6
59 Marcus Ljungqvist (Swe) Alessio-Bianchi                               6
60 Graziano Gasparre (Ita) De Nardi                                      6
61 Michael Albasini (Swi) Phonak Hearing Systems                         6
62 Michele Gobbi (Ita) De Nardi                                          6
63 Niki Aebersold (Swi) Phonak Hearing Systems                           5
64 Gerhard Trampusch (Aut) Acqua & Sapone-Caffe Mokambo                  4
65 Fabian Wegmann (Ger) Gerolsteiner                                     4
66 Fortunato Baliani (Ita) Ceramiche Panaria-Margres                     4
67 Juan Gomis Lopez (Spa) Saunier Duval-Prodir                           4
68 Mario Scirea (Ita) Domina Vacanze                                     4
69 Gorik Gardeyn (Bel) Lotto-Domo                                        4
70 Philippe Schnyder (Swi) Colombia-Selle Italia                         4
71 Gert Steegmans (Bel) Lotto-Domo                                       4
72 Radoslav Rogina (Cro) Tenax                                           3
73 Marcel Strauss (Swi) Gerolsteiner                                     3
74 Mauro Gerosa (Ita) Vini Caldirola-Nobili Rubinetterie                 3
75 Andrej Hauptman (Slo) Lampre                                          3
76 Johan Verstrepen (Bel) Landbouwkrediet-Colnago                        3
77 Giancarlo Ginestri (Ita) Tenax                                        3
78 Luca Mazzanti (Ita) Ceramiche Panaria-Margres                         2
79 Leonardo Bertagnolli (Ita) Saeco                                      1
80 Kyrylo Pospyeyev (Ukr) Acqua & Sapone-Caffe Mokambo                   1
81 Denys Kostuk (Ukr) Chocolade Jacques Wincor-Nixdorf                   1
82 Gorazd Stangelj (Slo) Saeco                                           1
83 Francis Mourey (Fra) FDJeux.com                                       1
 
Mountains classification
 
1 Fabian Wegmann (Ger) Gerolsteiner                                     56 pts
2 Damiano Cunego (Ita) Saeco                                            54
3 Gilberto Simoni (Ita) Saeco                                           36
4 Stefano Garzelli (Ita) Vini Caldirola-Nobili Rubinetterie             33
5 Alexandre Moos (Swi) Phonak Hearing Systems                           27
6 Vladimir Miholjevic (Cro) Alessio-Bianchi                             20
7 Raffaele Illiano (Ita) Colombia-Selle Italia                          16
8 Niki Aebersold (Swi) Phonak Hearing Systems                           15
9 Luis Filipe Laverde Jimenez (Col) Formaggi Pinzolo Fiave'             14
10 Bradley McGee (Aus) FDJeux.com                                       13
11 Dario David Cioni (Ita) Fassa Bortolo                                12
12 Franco Pellizotti (Ita) Alessio-Bianchi                              12
13 Juan Gomis Lopez (Spa) Saunier Duval-Prodir                          11
14 Emanuele Sella (Ita) Ceramiche Panaria-Margres                       10
15 Renzo Mazzoleni (Ita) Tenax                                           9
16 Serguei Gonchar (Ukr) De Nardi                                        8
17 Tadej Valjavec (Slo) Phonak Hearing Systems                           8
18 Fortunato Baliani (Ita) Ceramiche Panaria-Margres                     8
19 Alessandro Bertolini (Ita) Alessio-Bianchi                            7
20 Cristian Moreni (Ita) Alessio-Bianchi                                 7
21 Steve Zampieri (Swi) Vini Caldirola-Nobili Rubinetterie               6
22 Pavel Tonkov (Rus) Vini Caldirola-Nobili Rubinetterie                 6
23 Rinaldo Nocentini (Ita) Acqua & Sapone-Caffe Mokambo                  6
24 Julio A. Perez Cuapio (Mex) Ceramiche Panaria-Margres                 5
25 Alessandro Vanotti (Ita) De Nardi                                     5
26 Francisco Vila Errandonea (Spa) Lampre                                4
27 Igor Pugaci (Mda) De Nardi                                            4
28 Yaroslav Popovych (Ukr) Landbouwkrediet-Colnago                       3
29 Giuseppe Di Grande (Ita) Formaggi Pinzolo Fiave'                      3
30 Luca Mazzanti (Ita) Ceramiche Panaria-Margres                         3
31 Oliver Zaugg (Swi) Saunier Duval-Prodir                               3
32 Daniele Righi (Ita) Lampre                                            3
33 Marcel Strauss (Swi) Gerolsteiner                                     3
34 Wladimir Belli (Ita) Lampre                                           2
35 Ruben Lobato Elvira (Spa) Saunier Duval-Prodir                        2
36 Giuseppe Muraglia (Ita) Formaggi Pinzolo Fiave'                       2
37 Nico Sijmens (Bel) Landbouwkrediet-Colnago                            2
38 Oscar Pozzi (Ita) Tenax                                               2
39 Christophe Brandt (Bel) Lotto-Domo                                    1
40 Ruggero Marzoli (Ita) Acqua & Sapone-Caffe Mokambo                    1
41 Kyrylo Pospyeyev (Ukr) Acqua & Sapone-Caffe Mokambo                   1
42 Marzio Bruseghin (Ita) Fassa Bortolo                                  1
43 Mariano Piccoli (Ita) Lampre                                          1
 
Intergiro classification
 
1 Raffaele Illiano (Ita) Colombia-Selle Italia                    49.38.14
2 Crescenzo d'Amore (Ita) Acqua & Sapone-Caffe Mokambo                0.13
3 Mariano Piccoli (Ita) Lampre                                        0.19
4 Marlon Alirio Perez Arango (Col) Colombia-Selle Italia              0.22
5 Alessandro Vanotti (Ita) De Nardi                                   0.36
6 Aart Vierhouten (Ned) Lotto-Domo                                    0.39
7 Robert Forster (Ger) Gerolsteiner                                       
8 Daniele Righi (Ita) Lampre                                          0.44
9 Alessandro Bertolini (Ita) Alessio-Bianchi                          0.56
10 Yaroslav Popovych (Ukr) Landbouwkrediet-Colnago                    1.05
11 Serguei Gonchar (Ukr) De Nardi                                     1.08
12 Ruggero Marzoli (Ita) Acqua & Sapone-Caffe Mokambo                     
13 Giuseppe Muraglia (Ita) Formaggi Pinzolo Fiave'                    1.11
14 Marzio Bruseghin (Ita) Fassa Bortolo                               1.17
15 Bradley McGee (Aus) FDJeux.com                                     1.20
16 Stefano Garzelli (Ita) Vini Caldirola-Nobili Rubinetterie              
17 Angelo Furlan (Ita) Alessio-Bianchi                                1.21
18 Pavel Tonkov (Rus) Vini Caldirola-Nobili Rubinetterie              1.23
19 Rinaldo Nocentini (Ita) Acqua & Sapone-Caffe Mokambo               1.26
20 Bo Hamburger (Den) Acqua & Sapone-Caffe Mokambo                        
21 Rubens Bertogliati (Swi) Saunier Duval-Prodir                          
22 Marcel Strauss (Swi) Gerolsteiner                                  1.32
23 Radoslav Rogina (Cro) Tenax                                            
24 Vladimir Miholjevic (Cro) Alessio-Bianchi                              
25 Renzo Mazzoleni (Ita) Tenax                                            
26 Cristian Moreni (Ita) Alessio-Bianchi                              1.34
27 Russell Van Hout (Aus) Colombia-Selle Italia                       1.38
28 Michele Gobbi (Ita) De Nardi                                           
29 Andrea Ferrigato (Ita) Acqua & Sapone-Caffe Mokambo                1.39
30 Niki Aebersold (Swi) Phonak Hearing Systems                            
31 Nicola Loda (Ita) Tenax                                                
32 Philippe Schnyder (Swi) Colombia-Selle Italia                      1.44
33 Fred Rodriguez (USA) Acqua & Sapone-Caffe Mokambo                      
34 Paolo Lanfranchi (Ita) Ceramiche Panaria-Margres                       
35 Oliver Zaugg (Swi) Saunier Duval-Prodir                                
36 Gert Steegmans (Bel) Lotto-Domo                                        
37 Alejandro Albert Borrajo (Arg) Ceramiche Panaria-Margres               
38 Mario Scirea (Ita) Domina Vacanze                                      
39 Juan Gomis Lopez (Spa) Saunier Duval-Prodir                            
40 Marco Velo (Ita) Fassa Bortolo                                     1.48
41 Eddy Mazzoleni (Ita) Saeco                                             
42 Gilberto Simoni (Ita) Saeco                                            
43 Andrej Hauptman (Slo) Lampre                                           
44 Giancarlo Ginestri (Ita) Tenax                                         
45 Fortunato Baliani (Ita) Ceramiche Panaria-Margres                  1.49
46 Francisco Vila Errandonea (Spa) Lampre                             1.53
47 Luca Mazzanti (Ita) Ceramiche Panaria-Margres                          
48 Tadej Valjavec (Slo) Phonak Hearing Systems                            
49 Julio A. Perez Cuapio (Mex) Ceramiche Panaria-Margres                  
50 Alessandro Petacchi (Ita) Fassa Bortolo                            1.58
51 Gorazd Stangelj (Slo) Saeco                                            
52 Leonardo Bertagnolli (Ita) Saeco                                       
53 Francis Mourey (Fra) FDJeux.com                                        
54 Kyrylo Pospyeyev (Ukr) Acqua & Sapone-Caffe Mokambo                    
55 Oscar Pozzi (Ita) Tenax                                                
56 Fabian Wegmann (Ger) Gerolsteiner                                      
57 Wladimir Belli (Ita) Lampre                                        2.01
58 Andris Nauduzs (Lat) Domina Vacanze                                2.02
59 Gorik Gardeyn (Bel) Lotto-Domo                                         
60 Fabio Sacchi (Ita) Fassa Bortolo                                       
61 Sergey Avdyeyev (Ukr) Landbouwkrediet-Colnago                          
62 Dario David Cioni (Ita) Fassa Bortolo                                  
63 Graziano Gasparre (Ita) De Nardi                                       
64 Paolo Fornaciari (Ita) Saeco                                           
65 Damiano Cunego (Ita) Saeco                                             
66 Gerhard Trampusch (Aut) Acqua & Sapone-Caffe Mokambo                   
67 Ief Verbrugghe (Bel) Lotto-Domo                                        
68 Andrea Tonti (Ita) Saeco                                               
69 Florent Brard (Fra) Chocolade Jacques Wincor-Nixdorf                   
70 Massimo Codol (Ita) Fassa Bortolo                                      
71 Matteo Tosatto (Ita) Fassa Bortolo                                     
72 Volodymir Gustov (Ukr) Fassa Bortolo                                   
73 Maxim Rudenko (Ukr) Chocolade Jacques Wincor-Nixdorf                   
74 Simone Cadamuro (Ita) De Nardi                                         
75 Sylvester Szmyd (Pol) Saeco                                            
76 Olaf Pollack (Ger) Gerolsteiner                                        
77 David Canada Gracia (Spa) Saunier Duval-Prodir                         
78 Volodymyr Bileka (Ukr) Landbouwkrediet-Colnago                         
79 Nick Gates (Aus) Lotto-Domo                                            
80 Andrea Noe' (Ita) Alessio-Bianchi                                      
81 Marcus Ljungqvist (Swe) Alessio-Bianchi                                
82 Corrado Serina (Ita) Formaggi Pinzolo Fiave'                           
83 Juan Manuel Garate Cepa (Spa) Lampre                                   
84 Johan Verstrepen (Bel) Landbouwkrediet-Colnago                         
85 Mario Manzoni (Ita) Formaggi Pinzolo Fiave'                            
86 Daniele Pietropolli (Ita) Tenax                                        
87 Geert Verheyen (Bel) Chocolade Jacques Wincor-Nixdorf                  
88 Scott Davis (Aus) Ceramiche Panaria-Margres                            
89 Gabriele Bosisio (Ita) Tenax                                           
90 Giuseppe Di Grande (Ita) Formaggi Pinzolo Fiave'                       
91 Domenico Gualdi (Ita) Formaggi Pinzolo Fiave'                          
92 Martin Derganc (Slo) Domina Vacanze                                    
93 Alberto Ongarato (Ita) Fassa Bortolo                                   
94 Igor Astarloa (Spa) Lampre                                             
95 Alessandro Spezialetti (Ita) Saeco                                     
96 Christophe Brandt (Bel) Lotto-Domo                                     
97 Philippe Gilbert (Bel) FDJeux.com                                      
98 Uros Murn (Slo) Phonak Hearing Systems                                 
99 Mauro Gerosa (Ita) Vini Caldirola-Nobili Rubinetterie                  
100 Ruben Lobato Elvira (Spa) Saunier Duval-Prodir                        
101 Franco Pellizotti (Ita) Alessio-Bianchi                               
102 Alexandre Usov (Blr) Phonak Hearing Systems                           
103 Gianluca Sironi (Ita) Vini Caldirola-Nobili Rubinetterie              
104 Nico Sijmens (Bel) Landbouwkrediet-Colnago                            
105 Ruber Alverio Marin (Col) Colombia-Selle Italia                       
106 Denys Kostuk (Ukr) Chocolade Jacques Wincor-Nixdorf                   
107 David Derepas (Fra) FDJeux.com                                        
108 Daniel Schnider (Swi) Phonak Hearing Systems                          
109 Igor Pugaci (Mda) De Nardi                                            
110 Benoit Vaugrenard (Fra) FDJeux.com                                    
111 Nicolas Vogondy (Fra) FDJeux.com                                      
112 Simone Masciarelli (Ita) Vini Caldirola-Nobili Rubinetterie           
113 Ellis Rastelli (Ita) Alessio-Bianchi                                  
114 Nicolas Fritsch (Fra) FDJeux.com                                      
115 Ruggero Borghi (Ita) De Nardi                                         
116 Bostjan Mervar (Slo) Formaggi Pinzolo Fiave'                          
117 Matthew Wilson (Aus) FDJeux.com                                       
118 Jan Van Velzen (Ned) Chocolade Jacques Wincor-Nixdorf                 
119 Thomas Ziegler (Ger) Gerolsteiner                                     
120 Alexandre Moos (Swi) Phonak Hearing Systems                           
121 Michael Albasini (Swi) Phonak Hearing Systems                         
122 Manuele Mori (Ita) Saunier Duval-Prodir                               
123 Dean Podgornik (Slo) Tenax                                            
124 Leonardo Giordani (Ita) De Nardi                                      
125 Marco Serpellini (Ita) Gerolsteiner                                   
126 Brett Lancaster (Aus) Ceramiche Panaria-Margres                       
127 Emanuele Sella (Ita) Ceramiche Panaria-Margres                        
128 Trent Wilson (Aus) Colombia-Selle Italia                              
129 Charly Wegelius (GBr) De Nardi                                        
130 Steve Zampieri (Swi) Vini Caldirola-Nobili Rubinetterie               
131 Oscar Mason (Ita) Vini Caldirola-Nobili Rubinetterie                  
132 Marco Fertonani (Ita) Phonak Hearing Systems                          
133 Dario Andriotto (Ita) Vini Caldirola-Nobili Rubinetterie              
134 Volodimyr Duma (Ukr) Landbouwkrediet-Colnago                          
135 Marco Zanotti (Ita) Vini Caldirola-Nobili Rubinetterie                
136 Alessio Galletti (Ita) Domina Vacanze                                 
137 Giovanni Lombardi (Ita) Domina Vacanze                                
138 Gabriele Colombo (Ita) Domina Vacanze                                 
139 Luis Filipe Laverde Jimenez (Col) Formaggi Pinzolo Fiave'             
140 Mauricio Al Ardila Cano (Col) Chocolade Jacques Wincor-Nixdorf        
 
Most combative classification
 
1 Alessandro Petacchi (Ita) Fassa Bortolo                               59 pts
2 Damiano Cunego (Ita) Saeco                                            40
3 Fabian Wegmann (Ger) Gerolsteiner                                     31
4 Olaf Pollack (Ger) Gerolsteiner                                       31
5 Raffaele Illiano (Ita) Colombia-Selle Italia                          29
6 Gilberto Simoni (Ita) Saeco                                           25
7 Stefano Garzelli (Ita) Vini Caldirola-Nobili Rubinetterie             25
8 Bradley McGee (Aus) FDJeux.com                                        23
9 Crescenzo d'Amore (Ita) Acqua & Sapone-Caffe Mokambo                  22
10 Marco Zanotti (Ita) Vini Caldirola-Nobili Rubinetterie               22
11 Alexandre Moos (Swi) Phonak Hearing Systems                          19
12 Fred Rodriguez (USA) Acqua & Sapone-Caffe Mokambo                    18
13 Alessandro Bertolini (Ita) Alessio-Bianchi                           18
14 Alessandro Vanotti (Ita) De Nardi                                    17
15 Mariano Piccoli (Ita) Lampre                                         16
16 Aart Vierhouten (Ned) Lotto-Domo                                     16
17 Pavel Tonkov (Rus) Vini Caldirola-Nobili Rubinetterie                15
18 Serguei Gonchar (Ukr) De Nardi                                       15
19 Daniele Righi (Ita) Lampre                                           15
20 Marlon Alirio Perez Arango (Col) Colombia-Selle Italia               15
21 Rinaldo Nocentini (Ita) Acqua & Sapone-Caffe Mokambo                 15
22 Cristian Moreni (Ita) Alessio-Bianchi                                14
23 Robert Forster (Ger) Gerolsteiner                                    13
24 Alexandre Usov (Blr) Phonak Hearing Systems                          13
25 Emanuele Sella (Ita) Ceramiche Panaria-Margres                       12
26 Yaroslav Popovych (Ukr) Landbouwkrediet-Colnago                      11
27 Renzo Mazzoleni (Ita) Tenax                                          11
28 Eddy Mazzoleni (Ita) Saeco                                           11
29 Alejandro Albert Borrajo (Arg) Ceramiche Panaria-Margres             11
30 Ruggero Marzoli (Ita) Acqua & Sapone-Caffe Mokambo                   10
31 Franco Pellizotti (Ita) Alessio-Bianchi                              10
32 Niki Aebersold (Swi) Phonak Hearing Systems                          10
33 Giuseppe Muraglia (Ita) Formaggi Pinzolo Fiave'                      10
34 Andris Nauduzs (Lat) Domina Vacanze                                  10
35 Angelo Furlan (Ita) Alessio-Bianchi                                  10
36 Vladimir Miholjevic (Cro) Alessio-Bianchi                             9
37 Dario David Cioni (Ita) Fassa Bortolo                                 9
38 Tadej Valjavec (Slo) Phonak Hearing Systems                           9
39 Bo Hamburger (Den) Acqua & Sapone-Caffe Mokambo                       9
40 Steve Zampieri (Swi) Vini Caldirola-Nobili Rubinetterie               8
41 Marcel Strauss (Swi) Gerolsteiner                                     7
42 Luis Filipe Laverde Jimenez (Col) Formaggi Pinzolo Fiave'             7
43 Rubens Bertogliati (Swi) Saunier Duval-Prodir                         7
44 Julio A. Perez Cuapio (Mex) Ceramiche Panaria-Margres                 6
45 Marzio Bruseghin (Ita) Fassa Bortolo                                  6
46 Juan Gomis Lopez (Spa) Saunier Duval-Prodir                           6
47 Marco Velo (Ita) Fassa Bortolo                                        6
48 Radoslav Rogina (Cro) Tenax                                           5
49 Fortunato Baliani (Ita) Ceramiche Panaria-Margres                     5
50 Michele Gobbi (Ita) De Nardi                                          4
51 Simone Cadamuro (Ita) De Nardi                                        4
52 Russell Van Hout (Aus) Colombia-Selle Italia                          4
53 Ruben Lobato Elvira (Spa) Saunier Duval-Prodir                        3
54 Giuseppe Di Grande (Ita) Formaggi Pinzolo Fiave'                      3
55 Luca Mazzanti (Ita) Ceramiche Panaria-Margres                         3
56 Oliver Zaugg (Swi) Saunier Duval-Prodir                               3
57 Igor Astarloa (Spa) Lampre                                            3
58 Paolo Lanfranchi (Ita) Ceramiche Panaria-Margres                      3
59 Nicola Loda (Ita) Tenax                                               3
60 Andrea Ferrigato (Ita) Acqua & Sapone-Caffe Mokambo                   3
61 Mario Scirea (Ita) Domina Vacanze                                     3
62 Philippe Schnyder (Swi) Colombia-Selle Italia                         3
63 Gert Steegmans (Bel) Lotto-Domo                                       3
64 Igor Pugaci (Mda) De Nardi                                            2
65 Andrej Hauptman (Slo) Lampre                                          2
66 Giancarlo Ginestri (Ita) Tenax                                        2
67 Juan Manuel Garate Cepa (Spa) Lampre                                  1
68 Francisco Vila Errandonea (Spa) Lampre                                1
69 Gerhard Trampusch (Aut) Acqua & Sapone-Caffe Mokambo                  1
70 Philippe Gilbert (Bel) FDJeux.com                                     1
71 Nico Sijmens (Bel) Landbouwkrediet-Colnago                            1
 
Azzurri d'Italia classification
 
1 Alessandro Petacchi (Ita) Fassa Bortolo                               38 pts
2 Damiano Cunego (Ita) Saeco                                            18
3 Olaf Pollack (Ger) Gerolsteiner                                        8
4 Bradley McGee (Aus) FDJeux.com                                         7
5 Gilberto Simoni (Ita) Saeco                                            6
6 Fred Rodriguez (USA) Acqua & Sapone-Caffe Mokambo                      6
7 Serguei Gonchar (Ukr) De Nardi                                         5
8 Marco Zanotti (Ita) Vini Caldirola-Nobili Rubinetterie                 5
9 Pavel Tonkov (Rus) Vini Caldirola-Nobili Rubinetterie                  4
10 Stefano Garzelli (Ita) Vini Caldirola-Nobili Rubinetterie             4
11 Emanuele Sella (Ita) Ceramiche Panaria-Margres                        4
12 Cristian Moreni (Ita) Alessio-Bianchi                                 3
13 Dario David Cioni (Ita) Fassa Bortolo                                 2
14 Franco Pellizotti (Ita) Alessio-Bianchi                               2
15 Rinaldo Nocentini (Ita) Acqua & Sapone-Caffe Mokambo                  2
16 Alessandro Bertolini (Ita) Alessio-Bianchi                            2
17 Yaroslav Popovych (Ukr) Landbouwkrediet-Colnago                       1
18 Crescenzo d'Amore (Ita) Acqua & Sapone-Caffe Mokambo                  1
19 Tadej Valjavec (Slo) Phonak Hearing Systems                           1
20 Steve Zampieri (Swi) Vini Caldirola-Nobili Rubinetterie               1
21 Alexandre Moos (Swi) Phonak Hearing Systems                           1
22 Alejandro Albert Borrajo (Arg) Ceramiche Panaria-Margres              1
23 Alexandre Usov (Blr) Phonak Hearing Systems                           1
24 Marco Velo (Ita) Fassa Bortolo                                        1
25 Andris Nauduzs (Lat) Domina Vacanze                                   1
26 Aart Vierhouten (Ned) Lotto-Domo                                      1
27 Simone Cadamuro (Ita) De Nardi                                        1
28 Angelo Furlan (Ita) Alessio-Bianchi                                   1
 
Trofeo Fuga Piaggio classification
 
1 Daniele Righi (Ita) Lampre                                           482 pts
2 Raffaele Illiano (Ita) Colombia-Selle Italia                         398
3 Giuseppe Muraglia (Ita) Formaggi Pinzolo Fiave'                      277
4 Alessandro Bertolini (Ita) Alessio-Bianchi                           248
5 Niki Aebersold (Swi) Phonak Hearing Systems                          231
6 Mario Scirea (Ita) Domina Vacanze                                    197
7 Giancarlo Ginestri (Ita) Tenax                                       195
8 Russell Van Hout (Aus) Colombia-Selle Italia                         194
9 Rubens Bertogliati (Swi) Saunier Duval-Prodir                        184
10 Luca Mazzanti (Ita) Ceramiche Panaria-Margres                       179
11 Gert Steegmans (Bel) Lotto-Domo                                     179
12 Marlon Alirio Perez Arango (Col) Colombia-Selle Italia              178
13 Ruggero Marzoli (Ita) Acqua & Sapone-Caffe Mokambo                  177
14 Radoslav Rogina (Cro) Tenax                                         175
15 Mariano Piccoli (Ita) Lampre                                        174
16 Michele Gobbi (Ita) De Nardi                                        164
17 Julio A. Perez Cuapio (Mex) Ceramiche Panaria-Margres               140
18 Renzo Mazzoleni (Ita) Tenax                                         138
19 Bo Hamburger (Den) Acqua & Sapone-Caffe Mokambo                     134
20 Marco Velo (Ita) Fassa Bortolo                                      133
21 Fabian Wegmann (Ger) Gerolsteiner                                   132
22 Pavel Tonkov (Rus) Vini Caldirola-Nobili Rubinetterie               129
23 Oliver Zaugg (Swi) Saunier Duval-Prodir                             107
23 Kyrylo Pospyeyev (Ukr) Acqua & Sapone-Caffe Mokambo                 107
25 Fortunato Baliani (Ita) Ceramiche Panaria-Margres                    89
26 Alessandro Vanotti (Ita) De Nardi                                    86
27 Paolo Lanfranchi (Ita) Ceramiche Panaria-Margres                     78
28 Andrej Hauptman (Slo) Lampre                                         65
29 Vladimir Miholjevic (Cro) Alessio-Bianchi                            64
30 Oscar Pozzi (Ita) Tenax                                              54
31 Gilberto Simoni (Ita) Saeco                                          50
31 Stefano Garzelli (Ita) Vini Caldirola-Nobili Rubinetterie            50
31 Emanuele Sella (Ita) Ceramiche Panaria-Margres                       50
34 Tadej Valjavec (Slo) Phonak Hearing Systems                          47
35 Francisco Vila Errandonea (Spa) Lampre                               41
36 Nicola Loda (Ita) Tenax                                              30
37 Nico Sijmens (Bel) Landbouwkrediet-Colnago                           29
38 Michael Albasini (Swi) Phonak Hearing Systems                        27
38 Thomas Ziegler (Ger) Gerolsteiner                                    27
38 Manuele Mori (Ita) Saunier Duval-Prodir                              27
41 Dean Podgornik (Slo) Tenax                                           25
42 Oscar Mason (Ita) Vini Caldirola-Nobili Rubinetterie                 24
42 Igor Pugaci (Mda) De Nardi                                           24
44 Daniel Schnider (Swi) Phonak Hearing Systems                         13
45 Igor Astarloa (Spa) Lampre                                           12
45 Rinaldo Nocentini (Ita) Acqua & Sapone-Caffe Mokambo                 12
45 Steve Zampieri (Swi) Vini Caldirola-Nobili Rubinetterie              12
48 Damiano Cunego (Ita) Saeco                                           11
48 Alexandre Moos (Swi) Phonak Hearing Systems                          11
50 Gorazd Stangelj (Slo) Saeco                                           9
51 Luis Filipe Laverde Jimenez (Col) Formaggi Pinzolo Fiave'             6
52 Marco Serpellini (Ita) Gerolsteiner                                   5
52 Sergey Avdyeyev (Ukr) Landbouwkrediet-Colnago                         5
52 Bradley McGee (Aus) FDJeux.com                                        5
52 Martin Derganc (Slo) Domina Vacanze                                   5
52 Ellis Rastelli (Ita) Alessio-Bianchi                                  5
 
Trofeo Fast Team classification
 
1 Saeco                                                          265.52.05
2 Vini Caldirola-Nobili Rubinetterie                                 19.15
3 Lampre                                                             26.12
4 Alessio-Bianchi                                                    29.13
5 Saunier Duval-Prodir                                               39.21
6 Ceramiche Panaria-Margres                                          43.02
7 Acqua&Sapone-Caffe' Mokambo                                        57.54
8 Phonak-Hearing Systems                                           1.03.04
9 De Nardi                                                         1.20.18
10 Formaggi Pinzolo Fiave'                                         2.04.05
11 FDJeux.com                                                      2.06.16
12 Landbouwkrediet-Colnago                                         2.09.02
13 Gerolsteiner                                                    2.54.17
14 Fassa Bortolo                                                   3.20.50
15 Colombia-Selle Italia                                           3.24.48
16 Chocolade Jacques Wincor-Nixdorf                                3.42.00
17 Lotto - Domo                                                    4.02.44
18 Tenax                                                           4.44.27
19 Domina Vacanze                                                  5.46.06
 
Trofeo Super Team classification
 
1 Alessio-Bianchi                                                      384 pts
2 Saeco                                                                359
3 Fassa Bortolo                                                        339
4 Lampre                                                               327
5 Acqua&Sapone-Caffe' Mokambo                                          315
6 Vini Caldirola-Nobili Rubinetterie                                   301
7 Ceramiche Panaria-Margres                                            273
8 Phonak-Hearing Systems                                               265
9 Gerolsteiner                                                         250
10 De Nardi                                                            217
11 Lotto - Domo                                                        215
12 FDJeux.com                                                          194
13 Saunier Duval-Prodir                                                160
14 Landbouwkrediet-Colnago                                             151
15 Domina Vacanze                                                      132
16 Formaggi Pinzolo Fiave'                                              94
17 Tenax                                                                82
18 Chocolade Jacques Wincor-Nixdorf                                     75
19 Colombia-Selle Italia                                                67
 
Fair Play classification
 
1 Phonak-Hearing Systems                                                 5 pts
2 Colombia-Selle Italia                                                  7
3 Landbouwkrediet-Colnago                                               20
4 Lampre                                                                35
5 Fassa Bortolo                                                         43
6 Formaggi Pinzolo Fiave'                                               50
7 Ceramiche Panaria-Margres                                             75
8 Saunier Duval-Prodir                                                  95
9 Vini Caldirola-Nobili Rubinetterie                                   100
10 Alessio-Bianchi                                                     117
11 Gerolsteiner                                                        140
12 De Nardi                                                            152
13 FDJeux.com                                                          188
14 Acqua&Sapone-Caffe' Mokambo                                         239
15 Domina Vacanze                                                      260
16 Tenax                                                               270
17 Chocolade Jacques Wincor-Nixdorf                                    293
18 Lotto - Domo                                                        358
19 Saeco                                                               478