Recently on Cyclingnews.com
87th Giro d'Italia - Grand Tour
Italy, May 8-30, 2004
Anyone speak English 'round here?
Brad McGee was back to his best at Romandie
Photo ©: Chris Henry/CN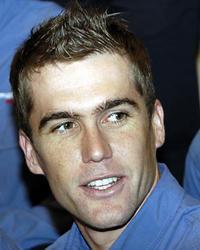 A record ten Anglophones will be participating in this year's Giro d'Italia, with eight Australians, one Brit and an American. Each have their designated roles; most will ride in the service of others, while some will be granted the freedom to go for glory. Cyclingnews' Anthony Tan reports.
With confirmation of Bradley McGee's (FdJeux.com) participation coming from his manager literally a few hours ago, the 28 year-old is perhaps the most exciting prospect out of all the Anglophones in the '04 Giro. After a nagging knee problem that began in early February at the Tour Méditerranéen was finally put to rest, Brad Macca displayed a sensational return to form at the recent Tour de Romandie, where he won the prologue, held on to the leader's jersey for three days, scored a huge second-place behind Phonak's Tyler Hamilton in the final time trial, and finished ninth overall.
McGee has never been short of talent. A previous world pursuit champion at junior and senior levels, the Pedal Pusher from Parra has managed to transform his track prowess onto the road, achieving every rider's dream by taking the prologue of last year's Tour and being the first rider the don the golden fleece in the race's centenary year. Brad is aiming to replicate this feat once more and somehow muster the energy to go for gold just two weeks later in the individual pursuit at the Athens Olympic Games. Only scheduled to ride the Giro as his manager Marc Madiot believed McGee may not have enough racing miles in his legs before the Tour de France, McGee's sizzling form is obviously too good not to take advantage of.
A well-deserved coldie for the Aussie champ
Photo: © Mark Gunter

Joining Brad will be current Australian road champ, Matt Wilson (FdJeux.com). Wilson has selflessly spent the majority of his career in the service of his team-mates McGee and Baden Cooke, but in Buninyong this January, "Batman" showed his class by tearing the field apart, and in doing so, earned the honour of wearing the green and gold stripes across his back for the remainder of the season. For FdJeux.com, Le Tour is really their "thing", so each of their nine riders will be allowed considerably more freedom to do "their thing" at the Giro. Having said that, Philippe Gilbert is an outside chance for the podium, so their freedom may well be short-lived.
Great Britain's Charles Wegelius (De Nardi) has had a relatively uneventful career thus far, despite being groomed in the best possible manner in his early years at Mapei-Quick Step. In his five years as a professional, his best result is a third place on Stage 4 of the 2002 Tour de Suisse, where he was involved in a breakaway with his then team-mate Daniele Nardello and stage winner Leon Van Bon. In the Giro, Wegelius will most likely be assigned the task of helping this year's Veenendaal-Veenendaal winner Simone Cadamuro in the sprints, as well as been given the freedom to go for stage wins. The 25 year-old may have youth on his side, but this could well be a make or break year for him.
Robbie McEwen: no more seconds, please
Photo: © Jean-François Quénet

After an amazing season in 2002 that included the Australian road championship, the points competition and two stages in the Tour de France, two stages in the Giro d'Italia and second in the world road championships, Robbie McEwen (Lotto-Domo) appears to have disappeared from the limelight. Not that his subsequent years have been without success - it's more a case of not as much success - but more annoyingly, his arch-rival Baden Cooke (FdJeux.com) has capitalised on that; the most prominent being Cooke's overall victory in the points competition at last year's Tour de France.
Already this year, Bad Boy Baden is ahead on wins (by a margin of two), and Pocket Rocket Robbie has nine seconds and four thirds - so expect to see McEwen whenever the road doesn't go uphill. Going off his past record at the Giro, McEwen has won two stages apiece in the 2002 and 2003 editions, so he'll be expecting no less before he most likely decides to hop off midway throughout the race to focus on seeking redemption at Le Tour.
Nick Gates (Lotto-Domo), McEwen's long-time Gold Coast buddy and also a former Australian road champion, will be travelling to Italy for Robbie and only for Robbie. "Gatesy's" job is simply said but harder done, and goes something like this: 1. Find back number #141 - a.k.a. Robbie McEwen - with 10 kilometres to go; 2. Ask #141 whether he thinks a stage win is on the cards; 3. If answer to 2. is a resounding "You betcha baby!", then drag #141 from wherever he may be to the front of the peloton while simultaneously trying to convince a few others from the Lotto-Domo clan to pitch in; 4. Position #141 as best as possible coming into the final kilometre, and wish him good luck; 5. Celebrate in the event of a stage win, commiserate in the event of anything else.
Larrikins: "Willo" and "Russ"
Photo: © Trent Wilson

Larrikin Aussies Trent "Willo" Wilson and Russel "Russ" Van Hout (Colombia Selle-Italia) will be performing an almost identical role to Davis, with both riders also very capable of protecting their mountain men on the flatter stages too as shown at this year's Tour de Langkawi. However, with four climbers on the team, Russ and Willo will certainly have their work cut out for them, as well as being their first Grand Tour outing. Look out for Willo's special brand of Aussie humour right here on Cyclingnews.
The sole US rider in this year's race, sprinter Fred Rodriguez (Acqua & Sapone-Caffe Mokambo) will be adopting a similar strategy to that of McEwen, although his preference is geared towards tougher parcours rather than flat-out, big bunch kicks, as exemplified by his previous second places in Milan-San Remo, Gent-Wevelgem and back-to-back USPRO Championship wins. At 30 years of age, he should be in his prime, but so far this year, Fast Freddy has failed to deliver. Being an Italian-registered team with Italian co-sponsors, success in the Giro is all-important for Acqua & Sapone-Caffe Mokambo, so the pressure will be on the quiet American.
Freedom for Brett Lancaster
Photo: © Mark Gunter
A member of the world record-breaking quartet at last year's World Track Championships, Brett Lancaster (Ceramiche Panaria-Margres) has all the qualities to become a fantastic roleur. The 24 year-old's pursuiting experience has enabled him to deliver team sprinter Graeme Brown to numerous stage wins across the globe, but with Brown out due to a nagging Achilles tendon problem, "Burt" (as he's known to his mates) will have the opportunity to go for victory himself. Such situations aren't foreign to him, and it's something he demonstrated to perfection on the third stage of this year's Tour de Langkawi, where he successfully staged a two-man breakaway with New Zealander Scott Guyton that lasted 150 kilometres.
Lancaster's equally youthful Aussie team-mate and best Australian finisher at the 2000 Baby Giro in 30th place, Scott Davis (Ceramiche Panaria-Margres) was considered by some as a future Grand Tour star, but has struggled since joining the major leagues under Bruno and Roberto Reverberi a year and a half ago. With Giuliano Figueras and attacking Mexican climber Julio Perez Cuapio firmly positioned as Ceramiche Panaria-Margres's men for the general classification, Davis will be spending much of his time setting the pace on the climbs as the race hits the infamous Dolomiti mountains.
Giro d'Italia home More Giro d'Italia features