Recently on Cyclingnews.com
87th Giro d'Italia - Grand Tour
Italy, May 8-30, 2004
The contenders: Who will take out the '04 Giro?
Will it be another Simoni-Garzelli showdown?
Photo ©: Sirotti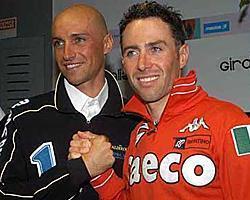 Many of us have already predicted another Simoni-Garzelli showdown in the vein of Armstrong v. Ullrich. If that it is the case, then this alone is reason enough to stay tuned. However, there are a handful of others worth watching out for in the quest for the overall. Anthony Tan reports.
To say Gilberto Simoni (Saeco) has returned to form in the nick of time would be an understatement. Who would have believed that this rider, who only a month ago was struggling to finish a race, let alone win one, would be a serious challenger for the general classification at this year's Giro d'Italia? After premature exits from two important lead-up races in early April, Saeco management were a more than a tad edgy - especially after Simoni blamed his lacklustre performances on the weather, and nothing else.
Though true to his word, as the sun shone throughout the Giro del Trentino - just eight days after his second early exit at the Vuelta a Aragon, which arch-rival Stefano Garzelli won - Gibo came good, finishing the 2.2-ranked race third overall behind Jure Golcer (Formaggi Pinzolo Fiave') and his team-mate and winner Damiano Cunego, who will no doubt be a source of invaluable support for Simoni as the Giro hits the Dolomiti. And should anything happen to Simoni, 22 year-old Cunego could quite possibly pull of a podium finish himself.
Sun or no sun, however, Gibo's Achilles heel is the time trial. With Garzelli in top form, the 32 year-old mountain man must improve in this area to reap the benefits of his ability in the mountains, but with just one time trial shortly after the race's midway point, the parcours of the 2004 Giro is in Simoni's favour. Should he win a third Tour of Italy, he will become one of only nine riders to do so since the race's inception in 1909, joining Gino Bartali, Alfredo Binda, Giovanni Brunero, Fausto Coppi, Felice Gimondi, Bernard Hinault, Fiorenzo Magni and Eddy Merckx, with Coppi and Merckx in a league of their own with five wins apiece. Simoni also has his sights set on a high overall placing at the Tour de France, but don't expect this rider from Trentino to hold back if he's in contention to win.
Garzelli has youth on side
Photo: © Sirotti

Together with Simoni, Stefano Garzelli (Vini Caldirola-Nobili Rubinetterie) is the equal race favourite. Maybe even more so; at 30 years old, Marco Pantani's former lieutenant is two years younger and a seemingly a little hungrier for victory.
Not only that, but Garzelli's rise to prominence has been noticeably swifter than Simoni's. In 1997, he took the mountains competition at the Tour de Suisse in his first year as a professional; the following year, Garzelli won the race - including two stages, the points and combination classifications - before riding at the service of his idolised and recently departed leader, Marco Pantani at the Giro d'Italia, which Pantani won. After the '99 Giro, where Pantani was controversially thrown out on the penultimate stage while leading the race (that in many respects was the beginning of the end for poor Marco), Garzelli got his chance the very next year and did not disappoint, triumphing over Francesco Casagrande and Simoni in a fine display of power riding.
Some say Garzelli's rise has been at the expense of Pantani's demise, but he too has experienced his fair share of ups and downs since Il Pirata's fall from grace. In an eerily similar situation to the drug-troubled '99 edition, Garzelli was forced to leave the 2002 Giro while lying second overall after testing positive for probenecid, and was subsequently banned from racing for nine months. Not much was expected from him at the last year's Giro after an extended lapse from racing, but Garzelli and Ukrainian Yaroslav Popovych proved to be Simoni's only real challengers, Garzelli finishing second overall along with two stage wins.
Garzelli won the Giro in 2000 on his time trialling skills. However, that year featured 76 kilometres of time trials split between two stages, as opposed to just one 52 kilometre ride against the clock on the thirteenth stage in 2004. To win, Garzelli will need to ride on the offensive until this point in an attempt to gain as much time as possible before the final week, and then switch to defensive mode, limiting his losses in the high mountains. And just like Simoni's loyal aid in Cunego, Garzelli will have his own domestique-deluxe in '96 Giro winner Pavel Tonkov, the strong-as-an-ox Ruskie still able to beat the best on his day.
Popovych strong in Spring
Photo: © Sirotti

Yaroslav Popovych (Landbouwkrediet-Colnago) is one of the biggest future stage race talents the cycling world has to offer, and while his third place in the 2003 Giro was "a little bit of a surprise" as "Popo" puts it, it wasn't totally unexpected.
A winner of the espoir world championships and U23 Paris-Roubaix, Popo has stepped up nicely to the pro ranks, enjoying a smooth but swift transition. As a neo-pro, he won the young riders' competition in the Tour de la Region Wallonne, finished fourth overall in a tough Brixia Tour, and came 12th in his first Giro d'Italia. Last year, as well as finishing on the podium at the Giro along with three top-five placings on some of the hardest stages, the 24 year-old won the young riders' competition in Giro della Liguria and finished seventh in the Tour de Romandie.
After posting solid results in Flèche Wallonne (finishing 14th at 22 seconds) and Liège-Bastogne-Liège (28th at 25 seconds), Popovych appears to be coming into form at just at the right time; whether he repeats or betters his 2003 Giro placing will in large part depend on the strength of his team, with Simoni's Saeco and Garzelli's Vini Caldirola-Nobili Rubinetterie squads boasting some serious back-up.
Last chance for Noe'
Photo: © Sirotti

Steady improver: Franco Pellizotti
Photo: © Sirotti

With a Giro palmarès that includes two fourths and one sixth overall, veteran Andrea Noe' is Alessio-Bianchi's best bet for the classifica generale, and at 35 years old and after 12 years in the peloton, this may well be his last chance to crack the podium.
At one point or another, Noe' was tipped to be a Giro winner, coming closest in 2000 and 2003, but for one reason or another, he has come up short, lacking that edge in the time trials and the killer instinct in the montagne grandi.
Noe's team-mate, 26 year-old, curly-haired blonde Franco Pellizotti (Alessio-Bianchi) will provide solid back-up for his leader, having the ability to do well in both one-day classics and stage races, with two and three wins respectively in each, among them the Giro del Friuli, Stage 4 of the Vuelta al Pais Vasco and Stage 6 of Tirreno-Adriatico in 2002 and most recently, the GP Chiasso semi-classic in February this year.
In Grand Tours, he has been steadily improving his overall placing, from his 20th placing at the 2001 Vuelta a España to 16th in his first Giro d'Italia the following year, and at last year's Giro, Pelizzotti finished ninth overall at 14.26 behind Simoni. So if Noe' cracks and he has the form, 2004 could be Pellizotti's year - all he needs is a little more power to stay with the best on the toughest mountain stages and limit his losses on the Stage 13 time trial in Trieste.
At 33 years of age, Wladimir Belli (Lampre) may well be past his prime, but don't discount this rider from a top 10 placing on the general classification at the very least. In his thirteen years on the pro circuit, Belli has excelled in week-long stage races, having finished on the podium three times at the Tour de Suisse, twice at the Tour de Romandie, Tour Méditerranéen and Volta a Portugal, and once at the Vuelta a Murcia, Vuelta al Pais Vasco, Vuelta Valenciana, Dauphiné Libéré, Setmana Catalana, Giro Della Liguria and the Giro del Trentino, the latter which he won way back in 1996.
With his string of solid stage race performances, great things were expected of Belli at the Giro and the Tour de France, but it seems Belli lacks the consistency required to finish on the podium in the Grand Tours, more often than not having one or two off days interspersed with moments of brilliance. Belli has finished as high as ninth at the Tour (1999) and sixth at Giro (1997), and was on song for his best-ever result at the 2001 Giro before his temper got the better of him on the fourteenth stage, with Belli punching a spectator in the face and being subsequently thrown out of the race while lying third overall. The spectator, from the "Simoni Hooligans" fan club, turned out to be Simoni's nephew - who somewhat surprisingly admitted afterwards he understood why got he got KO'd, and that Belli's disqualification was unjust. Unfortunately, race director Carmine Castellano didn't see it that way.
For Saunier Duval-Prodir, Juan Carlos Dominguez is probably their best hope for a high finish on the overall classification, though like Belli, Dominguez appears to excel in shorter stage races and crumble come the Tours. A twice winner of the Vuelta a Aragon and Vuelta a Asturias, with stage victories also in the Setmana Catalana, Vuelta Valenciana, Vuelta a Murcia, Bicicleta Vasca and the Ruta del Sol - including numerous podium places in time trials - 32 year-old Dominguez exhibits all the qualities to be a great Grand Tour rider, but for one reason or another, has never finished higher than 18th place at the '97 Vuelta a España.
Gonzalez and Marin dominant in Langkawi
Photo: © Mark Sharon

The Colombia-Selle Italia trio of Fredy Gonzalez Martinez, Marlon Alirio Perez Arango and Ruben Albeiro Marin are, at least on paper, a extremely formidable force in the mountains. Gonzalez and Marin are the team's two best climbers, the two demonstrating their uphill prowess at this year's Tour de Langkawi (Gonzalez won the race while Marin won the mountains classification). 49 kilo Fredy is also a two-time winner of the mountains classification at the Giro (2001 and 2003), while Perez can both climb and time trial, himself a former national time trial champion. Directorre sportivo Gianni Savio's men will probably aim for victory in the mountains classification once again with 28 year-old Gonzalez as their main man, but don't be surprised if these guys have a real go at the overall. Unfortunately for Colombia-Selle Italia, the team has already suffered their first serious blow before the race has even begun, with Uberlino Mesa being declared unfit to race after routine pre-race blood tests returned abnormal values last Thursday.
Moos victorious in Romandie
Photo: © Reuters

Despite the absence of Tyler Hamilton, Phonak Hearing Systems are sending a strong outfit to the '04 Giro, with Tadej Valjavec and Alexandre Moos both capable of a high overall placing.
In his first four years as a professional with Fassa Bortolo, Tadej Valjavec took some excellent results: as a neo-pro in 2000, he finished third overall at the Midi Libre; two years later, he scored his first victory in the Settimana Ciclista Lombarda, as well as finishing sixth at the Giro del Trentino, 10th in the Tour de Suisse and 18th in the Vuelta a España. Then last year, Valjavec became champion of Slovenia, along with a podium placing at the Giro del Trentino and finishing fifth overall in the Tour de Suisse. In 2004, the now 27 year-old's rise has continued, most recently finishing fourth overall at the Tour de Romandie behind his team-mate and race winner Hamilton, and looks set for a top-10 finish.
Winner of the third stage and sixth overall at Romandie, Alexandre Moos will be there to support Valjavec in the Dolomiti, but should he falter, Moos is more than capable of taking over as leader. However, the question mark on both boys in the green and gold is their consistency - neither have achieved high overall placings so far in three-week stage races.
The sole Austrian in this year's Giro, Gerhard Trampusch (Acqua & Sapone-Caffe Mokambo), has been a solid though not spectacular stage race performer since joining the pro ranks with Team Deutsche Telekom four years ago. His best performance to date was his fourth place overall as a neo-pro in the 2000 Midi Libre, but most recently finished a very promising sixth overall in the Giro del Trentino that featured a number of the contenders in this year's Giro d'Italia, including Gilberto Simoni. At 25, Trampusch has youth on his side, and has nothing to lose and everything to gain by having a crack at a top 10 finish in Milano in three weeks' time.
Figueras a dark horse
Photo: © Olympia Photo

Ceramiche Panaria-Margres' Giuliano Figueras and Julio Perez Cuapio are certainly two of the most exciting riders to watch, particularly Perez Cuapio after his audacious stage wins in the 2001 (one stage) and 2002 Giro (two stages), the latter year also seeing the Mexican a worthy winner of the mountains classification.
Figueras achieved his best overall placing in a Grand Tour at the 2001 Giro, finishing 10th overall, but like so many others, 28 year-old Giuliano finds the going tough after more than 10 or so days' racing. Having said that, Figueras won his first stage race (including the mountains competition) just over a month ago at the Settimana Ciclista Internazionale, as well as placing fourth overall at the recent Giro del Trentino, so we may have a late-bloomer before us.
The French speaking part of Belgium (Wallonia) has only a handful of professionals in the peloton compared to Flanders, and of those one young rider stands out in particular. 21 year old Philippe Gilbert (FdJeux.com) is only in his second year as a pro, but under the careful guidance of directeur-sportif Marc Madiot, he has already shown great promise. After winning a stage and the points classification in the Tour de l'Avenir last year, Gilbert opened his account in 2004 with a stage win and the U23 classification in the Jacob's Creek Tour Down Under in Australia, finishing fourth overall. He followed that up with a 14th place in Milan-San Remo, and acquitted himself well in the rest of the classics, his most recent a fine second place behind Christophe Moreau in the Trophée des Grimpeurs. He may not win the Giro or Tour this year, next year, or even the year after - but Gilbert is one of the more promising climbers to come out of Belgium and could one day be a Grand Tour star.
Giro d'Italia home More Giro d'Italia features