BMC Software Australian Open Road Championships
Ballarat, Victoria, Australia, January 15-18, 2004
Home Start list Live report Results Previous Race
Day 4 - January 18: Elite Men's road race, 180 km
Way of the Warrior: Matt Wilson becomes 2004 Australian Road Champion
By Gabriella Ekström in Buninyong
Matt Wilson
Photo ©: Mark Gunter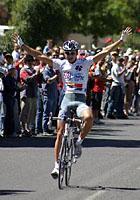 FDJeux/Victorian rider Matt Wilson took the green and gold jersey in grand style after a long and productive day in the sun, most of it spent ahead of the peloton on the hilly Buninyong course.
Although weather reports spoke of low temperatures and clouds, the day improved by the minute as the riders started the first of their eighteen laps of the ten kilometre course. The pace was moderate as they hit the first long climb, but the peloton instantly strung out when the front riders tagged along at sixty kilometres an hour down the slopes of Fisken road. As early as the second lap, a handful of riders tested their legs on the first metres of the ascent. Very soon, a front group was formed, and Philip Thuaux, Robert Tighello, Russell Van Hout, Stephen Cunningham, Troy Glennan, Peter Pape, Klayten Smith and David Tanner soon built up a lead of almost three minutes.
As the crowds thickened alongside the road, more and more riders started to take interest in the break ahead, and Peter Ladd was bravely trying to bridge across together with Dylan Newell. With 140 kilometres to go, the peloton with all the big names who were still just rolling their legs over, sat five minutes behind the leaders who were riding along at a brisk speed. Shortly after, a second group consisting of James Meadley, Rodney McGee, Richard Moffat, Ben Brooks, Matt Wilson, Robert McLachlan and Paul Crake, broke away from the main group and soon caught up with Ladd and Newell.
The main bunch
Photo ©: Mark Gunter

With 120 kilometres to go, the peloton started to pick up time on the two groups ahead on the road, with FDJeux closely monitoring all the action in the bunch. A small group with David Betts, Trent Wilson and Tony Mann jumped ahead of the peloton in an attempt to reach the front riders. At the same time, the second chase group started to feel as if they had the leaders within reach, and at the halfway mark of the race, they had the first eight riders within a minute.
By now, the experienced pros in the peloton started to heat things up, and the big field was soon split into smaller groups as FDJeux put on the Brad & Baden show. With some fifty kilometres to go, both front groups were starting to fall apart, and when McLachlan launched a serious attack at the climb, Matt Wilson was right behind him, trying to follow as a new front group was being formed.
McLachlan explained after the race that he had wanted to form a stronger group, since most of the riders at the front were starting to show signs of weakness after having spent all day up the road, and that he was worried that some of the strong riders back in the peloton would start to come across.
Wilson and McLachlan
Photo ©: Mikkeli Godfree

With McLachlan came Wilson, as well as Russell Van Hout, Robert Tighello, Paul Crake and Klayten Smith, and Van Hout was quick to counter when his opportunity came. Simon Gerrans and David McKenzie fought to join up with the leaders as the peloton broke up even more, and Nathan O'Neill and Robert McEwen were among the riders who had to call it a day with one more hour of racing to go.
The early break started to look as though it had been a really good idea, as Van Hout rode away, 50 seconds clear of Matt Wilson and Robert McLachlan, who were now alone in their pursuit. However, the tough course started to take its toll, and Wilson and McLachlan were merciless in their chase. As the bell rang for the last lap, Van Hout was caught and passed and it looked certain that the selection would be made from Wilson and McLachlan. Charging up the Midland Highway climb for the last time, Wilson started to put in meter after meter between him and McLachlan, and the gap grew so big over the last kilometres that Wilson could afford celebrating his jersey as soon as he got the finishing line within sight. Robert McLachlan came in as second, 1'10 down on the winner, and David McKenzie outsprinted Simon Gerrans for third.
Matt with Marc Madiot
Photo ©: Mark Gunter

After having received a pat on the neck by Baden Cooke and a kiss on the forehead by Brad McGee, Wilson spoke to the press, dripping from the champagne he had just been soaked with. "I've been waiting for a win like this all my life, and I felt pretty confident during my ride today. McLachlan was a good rider to get in a break with, and after we got away at the end, we just drove it. He got a bit tired at the climb with two laps to go, but I waited up, because he was of good use on the way down."
"This was a great win for me, having my boss here to watch and all. I'm really excited to go to Tour Down Under with this jersey on, it always causes some extra tension."
Second placed Robert McLachlan made a great comeback to cycling with his performance during the day, having quit the sport ten years ago, and only been back on the bike for a year. "About a year ago I just felt like starting to ride my bike again after having been off it for ten years. I didn't have any major goals, I have just been riding a few local races and things like that. I'm absolutely stoked with my podium placing here, but I don't have any regrets having been out of the sport for so long. I figure I've had ten quite enjoyable years off the bike."
Third placed David McKenzie was less thrilled, having finished 3.13 down on the jersey he was after. "I wanted it badly," he said after the race. "I wanted to start this season in a big style. As I attacked with two laps to go, not many riders tried to go with me, and I felt really good, so I told myself that I really should have done this earlier, but it's always hard to know. You can only go with the feeling you have at the moment. I give FDJeux full credit for this win, and perhaps if I have had my Navigators team, or if Allan had ONCE, we could have changed the outcome, but today it wasn't possible. I'm happy that Matt won it though, because I've known him for years, and if I can't win it for myself, I'm happy for him to get it."
(Also see: Karen Forman's recent interview with Matt Wilson, "Just a rider", December 12, 2003.)
Photography
Images by Mark Gunter/www.pbase.com/gunterphotograph
Images by Karen Forman/Cyclingnews.com
Images by Mikkeli Godfree
Images by Domenic Briscomb
Images by Jean-Francois Quenet
Results
1 Matthew Wilson (Vic) FDJeux.com       4.47.43
2 Robert Mclachlan (ACT)                   1.10
3 David Mckenzie (Vic) Navigators          3.13
4 Simon Gerrans (Vic)                      3.14
5 Paul Crake (ACT)                         3.32
6 Robert Tighello (Vic)                    3.44
7 Baden Cooke (Vic) FDJeux.com                 
8 Russell Van Hout (SA) Selle Italia       3.45
9 Klayten Smith (NSW)                          
10 Alan Davis (Qld) Liberty Seguros        7.53
11 Gene Bates (SA)                             
12 Peter Pape (Vic)                            
13 Rory Sutherland (ACT) Rabobank*             
14 William Walker (Vic)                        
15 David Mcpartland (Vic)                      
16 Caleb Manion (Tas)                          
17 Craig Gordon (NSW)                          
18 Bradley Mcgee (NSW) FDJeux.com          7.58
19 Patrick Jonker (SA)                         
20 Troy Glennan (NSW)                      9.37
21 Robbie Mcewen (Qld) Lotto-Domo         10.27
22 Andrew Wyper (NSW)                          
23 Samuel Lee (NSW)                            
24 Peter Milostic (NSW)                   10.29
25 Joshua Flemming (NSW)                       
26 Stephen Cunningham (SA)                12.07
27 Robert Lyte (NSW)                      12.54
28 Luke Roberts (SA) ComNet               13.55
29 Adam Hansen (Qld)                      14.56
30 David Tanner (NSW) McGee-NSWIS              
31 Cristopher Sutton (NSW) McGee-NSWIS    15.59
32 Ben Brooks (NSW) Jelly Belly                
33 Christopher Fry (Vic)                       
 
U23 Australian championship
 
1 Rory Sutherland (ACT) Rabobank